This easy 4-ingredient Keto Ravioli is loaded with sausage and spinach and only has 1.3 net carbs per serving!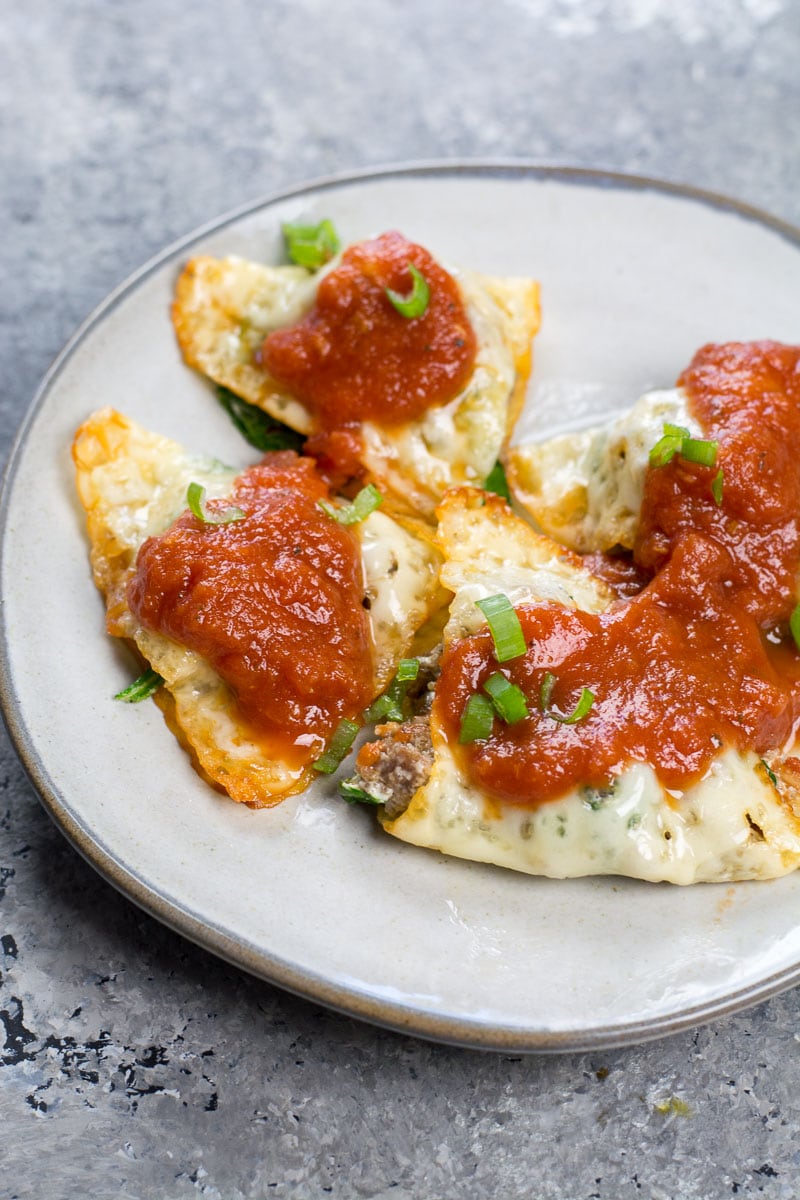 You guys! Keto RAVIOLI! I am so pumped to share this easy low-carb ravioli recipe. It is not only delicious and crazy low-carb (under 2 net carbs per serving!), but it will also satisfy your pasta cravings!
We have been gluten-free for over 10 years so ravioli is a distant memory for us, but it used to be one of my favorite dishes. After I made my Keto Chicken Taquitos, I knew I wanted to try other things using the same method.
As with my Keto Chicken Taquitos we use cheese to create a shell that is stuffed with sausage, spinach and cream cheese.
What Ingredients Do You Need for Keto Ravioli?
The best part of this recipe is how easily it comes together! As written, the ingredients you will need to make keto ravioli are:
Mozzarella slices
Cooked sausage
Cream cheese
Spinach
Low-carb marinara sauce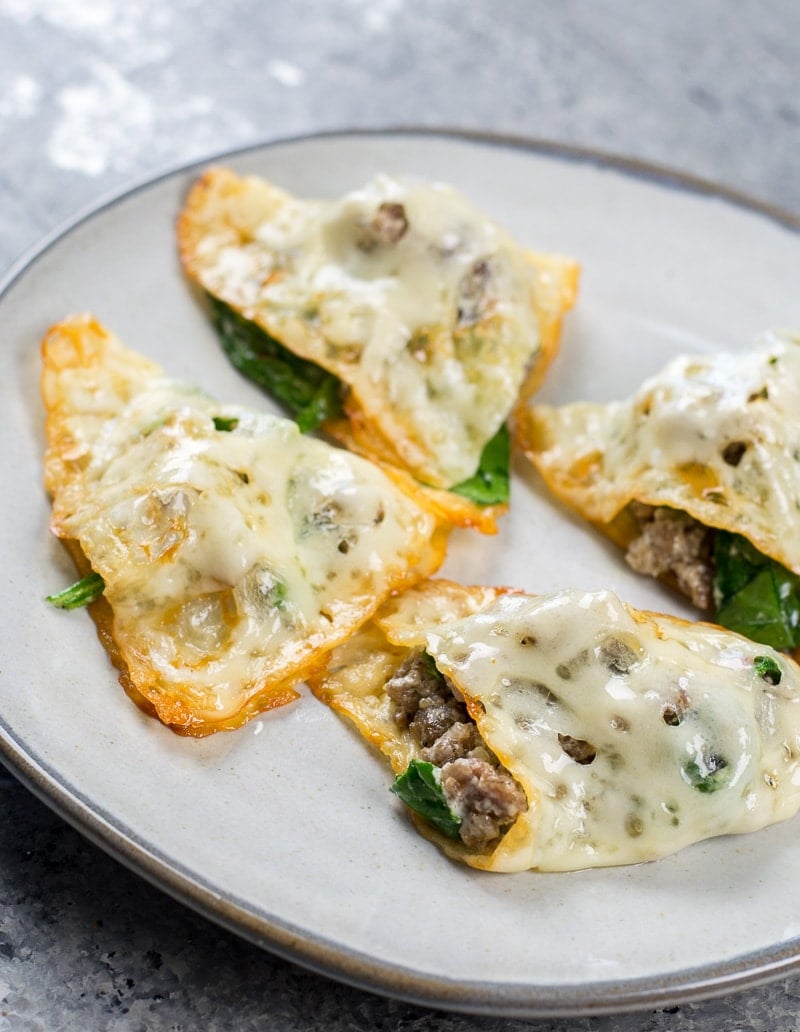 How to Make Keto Ravioli
Making Keto Ravioli is so easy! There are just two simple steps to follow. The first is making the ravioli shells and the second is stuffing them.
In a large skillet, cook the sausage and drain off any excess fat.
While the sausage is still warm, add the cream cheese and torn spinach leaves to the skillet. Stir well.
Preheat the oven to 350 degrees F.
Slice the mozzarella cheese slices diagonally so each square creates two triangles.
Place the slices on a silicone baking sheet and bake until the edges are brown.
Remove from the oven and place 1 tablespoon of the sausage filling on one side of the baked cheese shells, then carefully pull the other side over to create a ravioli pocket.
Serve immediately with warm low-carb marinara.
As with the taquitos, we bake the sliced mozzarella cheese to form a shell. The difference here is that we slice the cheese diagonally so we can create little ravioli.
The second difference is that we do not cook the cheese quite as long. I remove my cheese from the oven when the edges have browned, but not when they are completely brown like I did with the taquitos.
This makes sense if you think about it, taquitos are modeled off a corn tortilla so you want them to be crunchy. Alternatively, ravioli is soft so the cooking time is going to be less.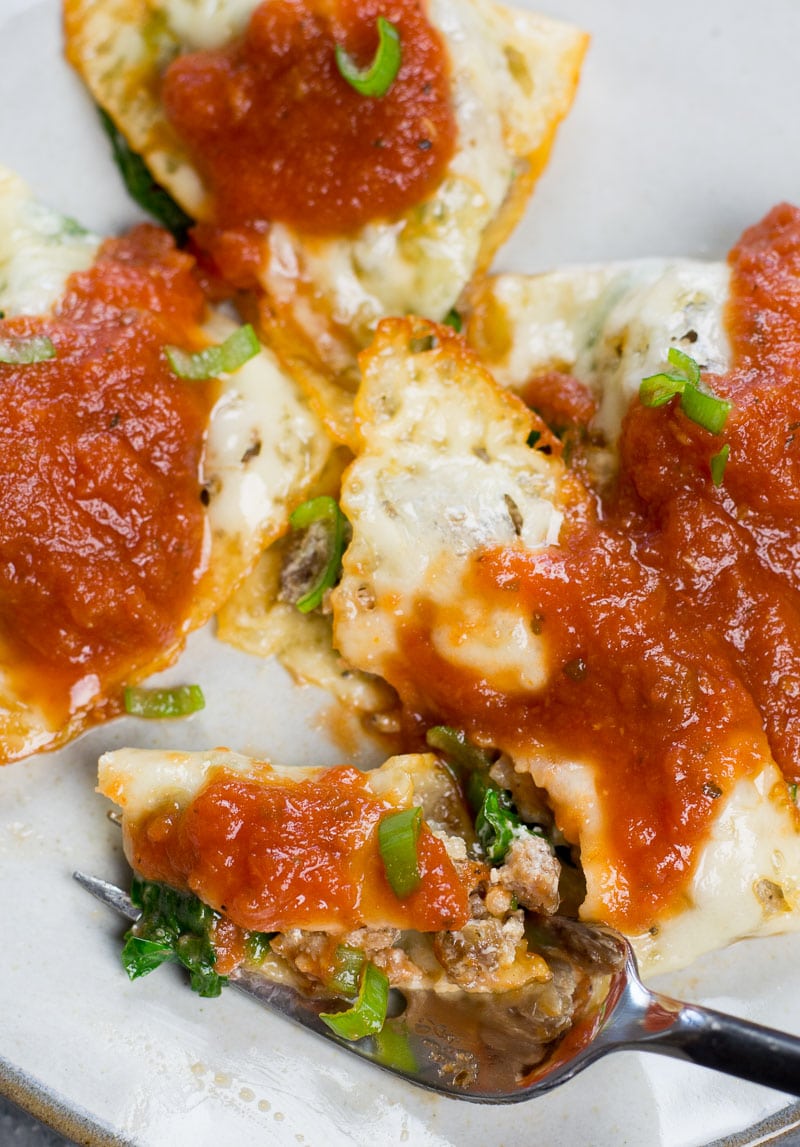 Can I Use Another Type of Cheese?
Of course! Mozzarella is the least greasy, but we've also made this healthy ravioli recipe with cheddar, provolone, and gouda and they all worked great.
Can This Recipe Be Meal Prepped?
I imagine you could assemble the low-carb ravioli and freeze them for later. To reheat, place in the oven (frozen) and bake at 350ºF until warmed through.
If you don't want to freeze the ravioli but plan on eating them throughout the week, I would make the filling ahead of time in bulk, but wait to assemble and bake fresh for the best taste.
Tips for Making Low-Carb Ravioli
You can customize this recipe based on your preferences. If you like things hot, try a spicy Italian sausage. Likewise, you can substitute chopped kale for the spinach, and so on.
You can also completely switch things up and use a totally different protein or veggie if you desire.
You must use a silicone baking sheet so the cheese does not stick. This is the same baking sheet I used for this recipe. I use this set from Amazon, two come in a package and they are great for baking all sorts of things because nothing ever sticks.
More Keto Pasta Recipes:

Other Easy Keto Recipes
If you are new to Keto try my favorite Sausage Egg and Cheese Bites, they contain less than one net carb per bite and they are perfect for meal prep! One of my favorite easy low carb dinners is this One Pan Cabbage Casserole. It is so easy, cheesy and delicious and it has less than 9 net carbs per serving. Some other favorites, Keto Chocolate Cookies, Pimento Cheese and Bacon Stuffed Peppers and Sausage and Cream Cheese Pinwheels!