Fruit Spice Tea combines orange, pineapple, and pomegranate juice with spices for the perfect winter tea!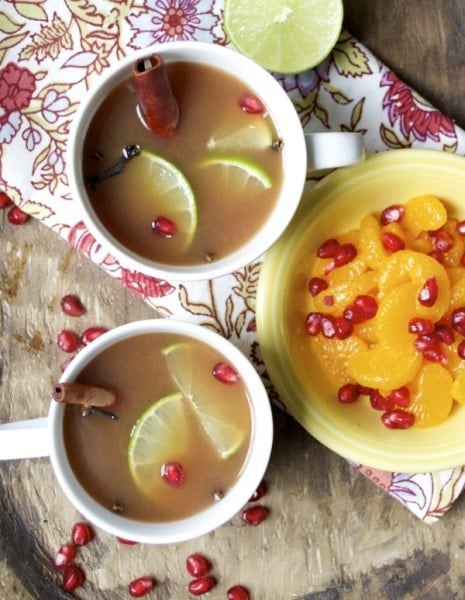 Last night was a low of 4 degrees. Now, I know you folks to the north of me that have been living in un-Godly temperatures for weeks now are scoffing at a measly 4 degrees, but let me tell you. I am from the South; we are built to withstand humidity, not cold.
The schools actually closed here because it was too cold. Not because of snow, ice, or anything else. Just because it is too freaking cold to go outside. So, obviously, I am doing whatever I can to keep our little home and all the bodies in it warm. That includes making boatloads of Spice Tea.
Now my absolute favorite spice tea ever is this Cranberry Pineapple Spice Tea. It is amazing, and it would be hard for anything to beat it, but this Fruit Spice Tea comes awfully close. It is a combination of pineapple, orange, and pomegranate juice simmered with cinnamon sticks, cloves, and of course, tea bags.
In my mind this was going to be a really beautiful color and I was going to float some pomegranate seeds and mandarin oranges to make it really festive. But the thing is when you combine orange, yellow and purple juices together with cinnamon cloves you get brown juice. So while the flavor is fantastic, the color is not really what I had in mind.
Then when I went to add the oranges and pomegranate they sunk right to the bottom. Oops. Doesn't science know it needs to to cooperate when food bloggers are trying to garnish their dishes?! Sheesh!
Nevertheless! This warm, soul soothing tea that is just what you need on a cold day.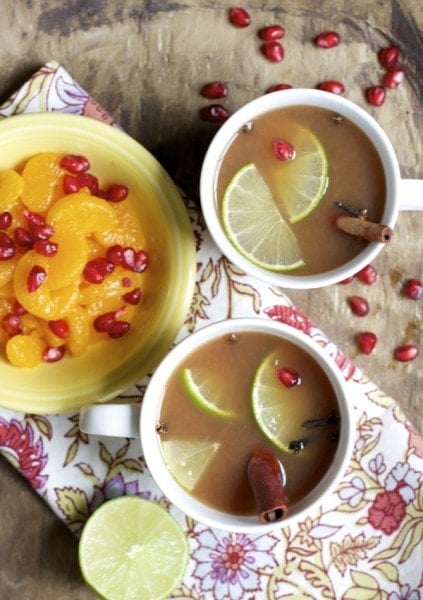 Ingredients for Fruit Spice Tea
As always, this is a quick overview of what you'll need. For exact measurements and instructions, keep scrolling to the recipe card down below!
Pineapple juice (canned, not from concentrate)
Orange juice
Pomegranate juice
Cinnamon sticks
Tea bags (black tea, family size)
How do I make hot fruit tea?
This recipe is so simple, and it fills the whole house with a beautiful fruity, fall-inspired smell!
All you have to do is toss ALL the ingredients in a pot on medium heat, let it simmer for 30 minutes, take out the spices and tea bags, and boom–You're done. You have delicious, fruity tea to warm up during cold weather.
Tip: If you just pour 2 teaspoons of cloves in, it can be difficult to scoop them all out later. Instead, cut a small piece of cheesecloth and tie up the cloves into a little sachet. Then after it has simmered at least 30 minutes, you can just scoop out the little baggy!
Can I make this drink ahead of time?
Yes! This drink reheats beautifully, and the flavors just get better. Simply strain the spices out, let it cool, and then store covered in the fridge up to 5 days. When you store it, make sure there are no fruits or whole spices in it. These can infuse a little TOO much flavor if left in the drink too long.
You could reheat individual cups in a microwave, or you could pour the entire thing into a slow cooker to warm it up. This is perfect for potluck gatherings or parties–It stays warm AND provides a fantastic, festive scent!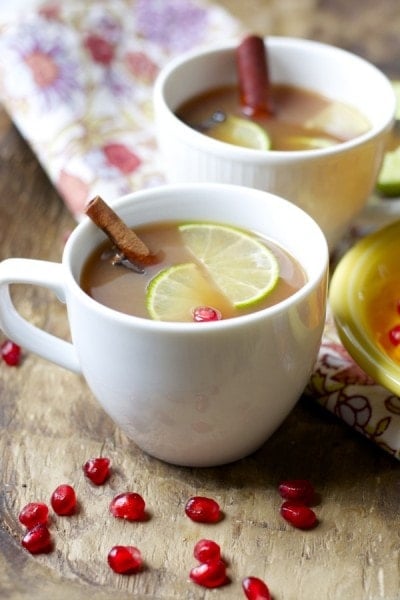 What should I serve with Fruit Spice Tea?
This tea has great winter spices brightened with fruit juice, so it goes super well with most holiday-themed party spreads!
If you're serving with a brunch, you could prepare Easy Italian Sausage Balls and Cinnamon Rolls! Or maybe serve with a large stack of these Orange Poppy Seed Pancakes with Cranberry Syrup or these Sweet Potato Bacon Pancakes.
For dinner, you can't go wrong with the classics! The warm spices would be perfect with a Smoked Turkey, Sausage Stuffing, Rosemary Garlic Rolls, Green Bean Almondine, and Cranberry Sauce!
Cherry Almond Brie Bites would be an excellent appetizer. Butter Pecan Cheesecake or White Chocolate Cranberry Bread would be tasty desserts, too!
More Warm Drinks for Winter: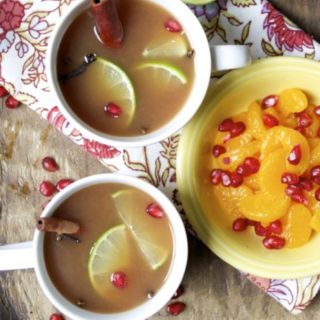 Fruit Spice Tea
Fruit Spice Tea combines orange, pineapple, and pomegranate juice with spices for the perfect winter tea!
Ingredients
1 can (46 ounces) pineapple juice
1 cup orange juice
1 cup pomegranate juice
2 cinnamon sticks
2 teaspoons cloves
2 family size tea bags
Instructions
Pour juices in a large pot and heat to medium heat. Add tea bags, cinnamon sticks, and cloves.
Bring mixture to a light simmer for 30 minutes.
Reduce heat to low and remove the tea bags and spices.
Serve warm and garnish with fruit slices if desired
Notes
*I cut a small square of cheesecloth and place the spices in it and tie it closed. This makes removing the spices easier.
Nutrition Information:
Yield:

8 cups
Serving Size:

1
Amount Per Serving:
Calories:

122
Total Fat:

0.5g
Cholesterol:

0mg
Sodium:

10mg
Carbohydrates:

29.6g
Fiber:

0.6g
Sugar:

24.5g
Protein:

0.9g