This Cranberry Pineapple Spice Tea is full of mulled spices like cinnamon and cloves along with fresh fruit. This festive tea is essential for holiday entertaining!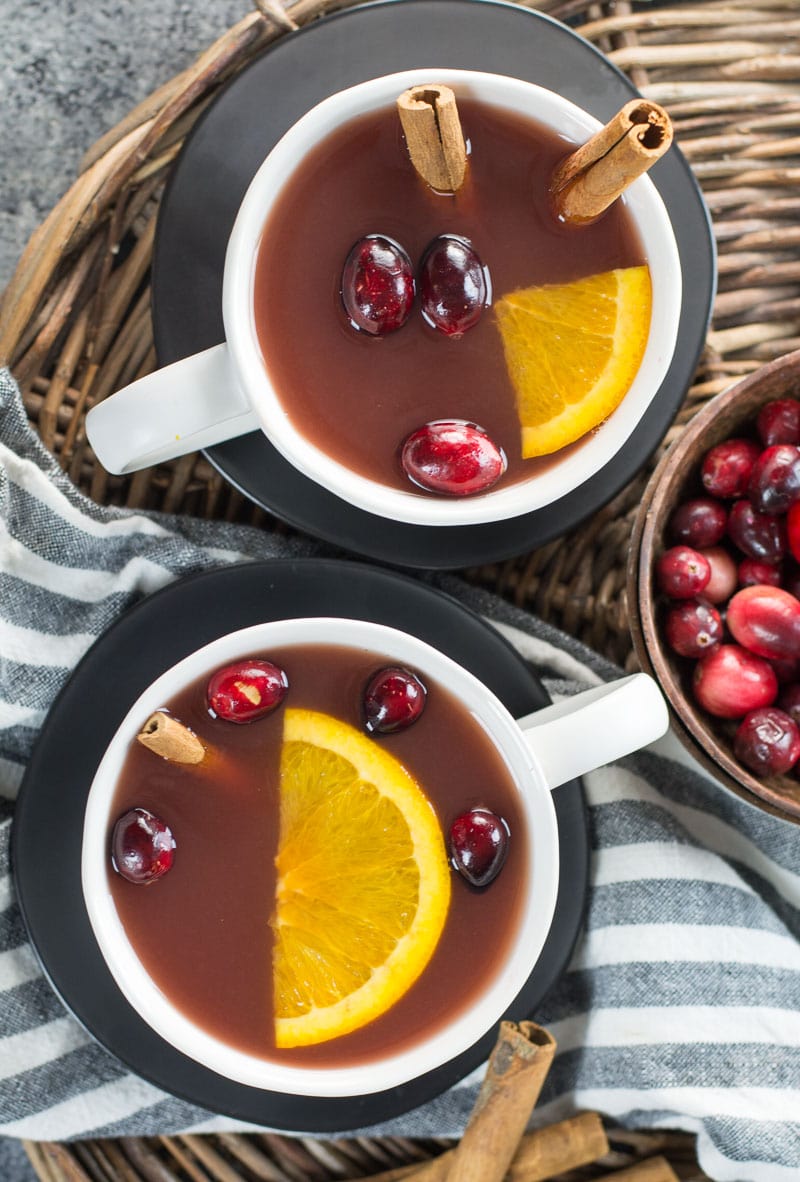 Some foods are meant to nourish your soul, not necessarily your body. Those foods are the ones who's taste and smell can take you back in time or remind you of someone. Or especially a time of year- don't we all have things that instantly take us to the holidays?
Last weekend, as I made this Cranberry Pineapple Spice Tea, the smell of cinnamon, cranberries and cloves began to fill my house. It was raining outside and the dogs were sleeping and the fireplace was flickering. I was folding warm, fresh towels straight out of the dryer and I looked around my sleepy quiet house. It made me smile because this is the exact opposite from how my parents house feels when my Mom makes this tea.
I am the oldest of four kids, so there was always lots of noise in our house. Mom would be in the kitchen cooking, usually with music playing. Dad would be in and out of the house with all of the dogs following closely. The four of us kids would be talking, laughing or arguing, but definitely not being quiet. The TV would be on somewhere in the house and if it was Christmas you could bet A Wonderful Life was being watched.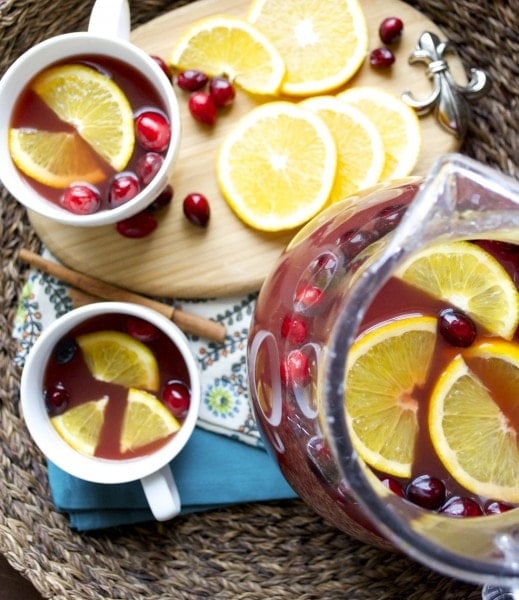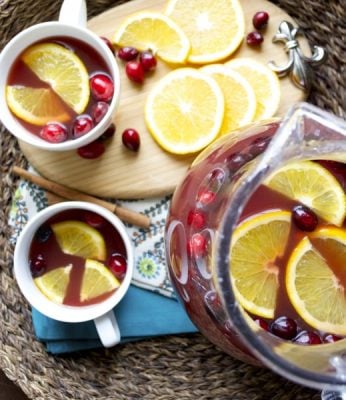 I get a lot of inspiration for my recipes from my mom. She was the influence behind my Smoked Whole Turkey and this Slow Cooker Hot Chocolate. She somehow kept four rambunctious kids alive and well and I think that is a feat all of it's own!
That busy little house is all I could think about while sipping on this tea in my quiet home. My three siblings and I do not live together anymore. Actually, we all live in four different places, but as the Holidays creep closer, that void that they have left in my heart grows bigger.
I find myself wanting something, anything to make them feel a little closer. This tea is the only cure I could think of this weekend. It worked too.
As I sipped cup after cup, I couldn't help but smile and think to myself, my house may be quiet but my heart is full. Mulled tea is made for the holidays, right? For those moments when you smile to yourself at the simple peace you can feel in your own home.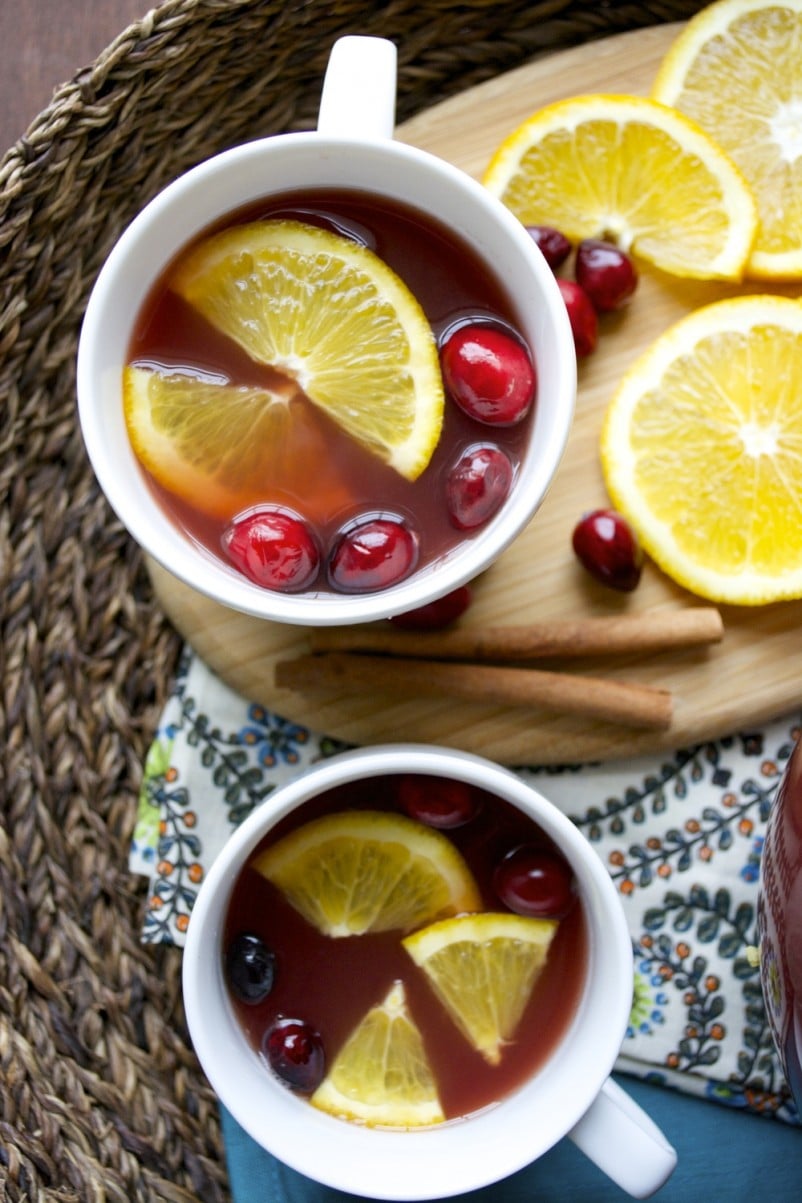 What is in Cranberry Pineapple Spice Tea?
There are many variations of this type of tea, but this is my all time favorite. For this recipe you need just a few simple ingredients:
Cranberry Juice
Pineapple Juice
Tea bags- I just used regular Lipton tea
Cinnamon Sticks- whole
Cloves
Orange Slices
Fresh Cranberries- optional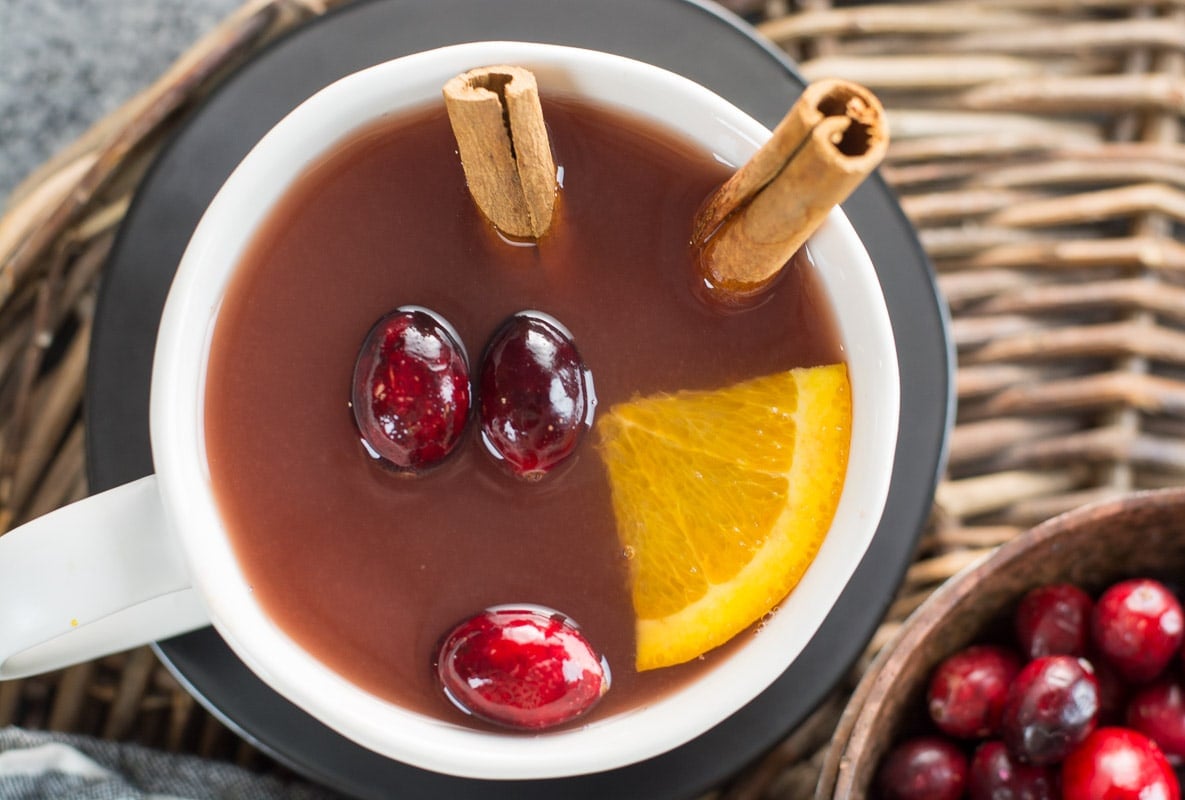 How do you Prepare Cinnamon Pineapple Tea?
Start by combining your Pineapple juice and Cranberry juice in a large pot. Heat to medium heat. Next, add the teabags, cinnamon sticks, cloves, orange slices and cranberries to your pot. Bring your tea to a low simmer and cook for 40 minutes.
Reduce your heat to low and remove the teabags, fruit and spices. I put my spices into a bit of cheesecloth and close them in it so I can remove them easily. And voila, you're done!
Serve this tea warm and delicious Pineapple Tea will have you singing carols before you've finished a cup. When you combine the ingredients and allow them to simmer, this creates the most delicious mulled fruit flavor that compliments those holiday spices so well.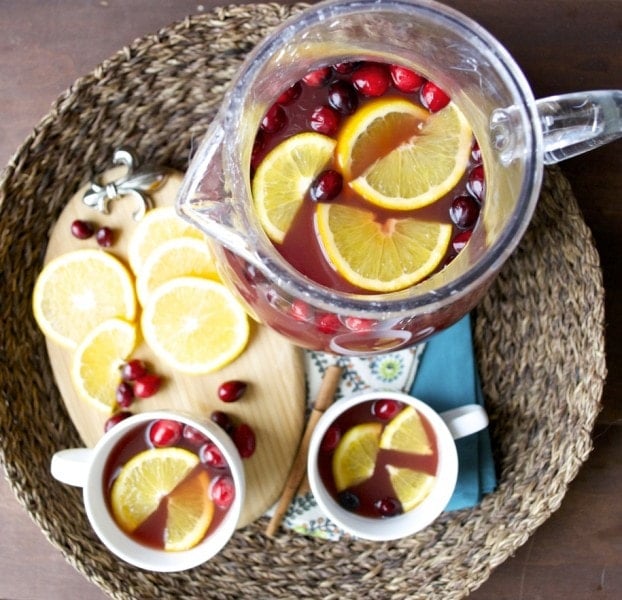 Can you make Mulled Tea ahead of time?
Yes! This tea is very easy to make ahead of time. Feel free to make your house smell like the Holidays any time you want and keep a pitcher of this in the fridge! I recommend serving this Pineapple Tea warm, so whenever you are ready to dish out some yummy goodness, I would just warm it on the stove top first.
Can you make Pineapple Tea in the Slow Cooker?
Yes! This tea is very simple to make in the slow cooker. Simply combine all your ingredients in the crock pot (I would still recommend putting the teabags, fruit and spices into a cheesecloth) and set the heat to low. Allow your tea to cook for two to two and a half hours and you're good to go!
Other Easy Keto Recipes
While this recipe is not keto, I have many that are! If you are new to Keto try my favorite Sausage Egg and Cheese Bites, they contain less than one net carb per bite and they are perfect for meal prep!
One of my favorite easy low carb dinners is this One Pan Cabbage Casserole. It is so easy, cheesy and delicious and it has less than 9 net carbs per serving. Some other favorites, Keto Chocolate Cookies, Pimento Cheese and Bacon Stuffed Peppers and Sausage and Cream Cheese Pinwheels!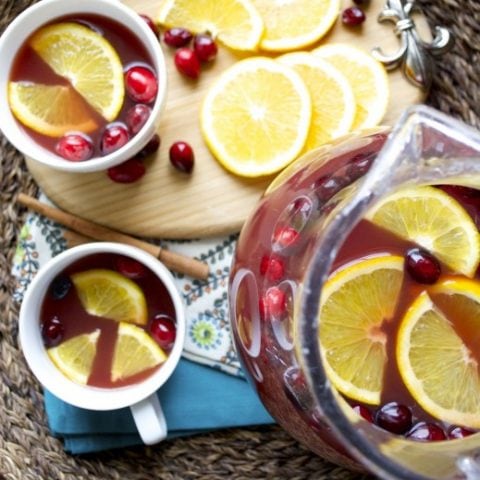 Cranberry Pineapple Spice Tea
 This Cranberry Pineapple Tea is full of mulled spices like cinnamon and cloves along with fresh fruit. This festive tea is essential for holiday entertaining!
Ingredients
1 46 ounce can pineapple juice
1 64 ounce bottle cranberry juice
2 family size tea bags
2 cinnamon sticks*
1 teaspoon cloves*
1 orange, sliced
1/3 cup fresh cranberries, optional
Instructions
Pour juices in a large pot and heat to medium heat. Add tea bags, cinnamon sticks, cloves, orange slices and cranberries.
Bring mixture to a light simmer for 40 minutes.
Reduce heat to low and remove the tea bags, fruit and spices.
Serve warm.
*I cut a small square of cheesecloth and place the spices in it and tie it closed. This makes removing the spices easier.
Nutrition Information:
Yield:

12
Serving Size:

1
Amount Per Serving:
Calories:

144
Total Fat:

0g
Saturated Fat:

0g
Trans Fat:

0g
Unsaturated Fat:

0g
Cholesterol:

0mg
Sodium:

13mg
Carbohydrates:

35g
Fiber:

1g
Sugar:

29g
Protein:

1g