These Green Chile Corn Fritters are loaded with Tex Mex flavor and bacon! This is the perfect easy appetizer or gluten free dinner!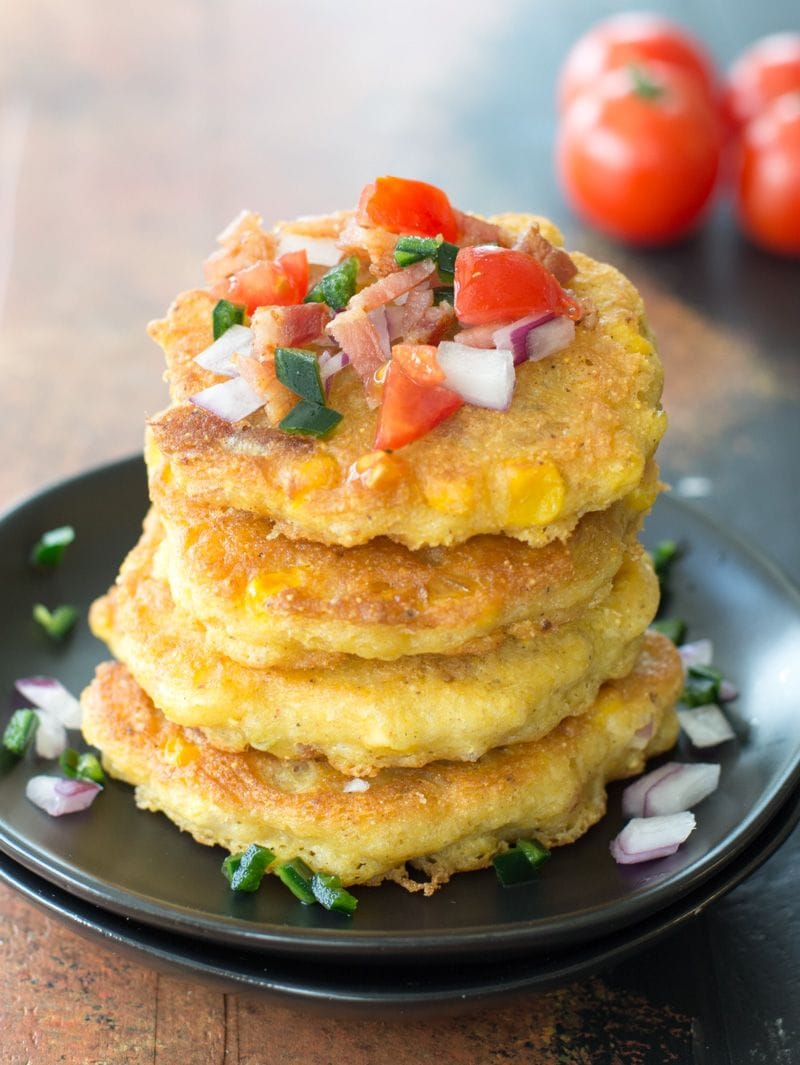 Sometimes I have a really cute story or antidote about life to go along with a recipe. Like that time I made fun of my Mom's love of crock pots, or got all mushy, or that one time I wrote a tribute to a tractor. Today, is not one of those days. Because today is all about the food. These. Fritters.
More than once while Mr. Maebell was devouring these Green Chile Corn Fritters he declared these were the best things I had ever made. I kind of agree. They are packed with corn, green chiles, red onion, spices, and bacon. How the heck can something with so many good things not be delicious?!
What ingredients do you need to make Green Chili Corn Fritters?
Bacon
Corn
Creen Chiles
Red onion
Corn meal
Buttermilk
Gluten Free Bisquick
Egg
Baking powder
Spices: cumin. onion powder, garlic powder, salt, chili powder, pepper
Oil for frying
How do you make Green Chili Corn Fritters?
Combine all ingredients in a large mixing bowl and stir completely combining all ingredients well.
Heat a large skillet to medium heat, pour enough oil to cover the bottom of the skillet.
Using an ice cream scoop or small measuring cup scoop the fritter mixture into the skillet.
Lightly press the mixture so it spreads out uniformly.
Cook 3-4 minutes until crisp and golden brown, then flip.
Place fitters on a wire rack to drain any remaining grease.
Can these corn fritters be made ahead of time?
I made these fritters two ways. I mixed up the batter and immediately fried them up, and made the batch but put them in the refrigerator for several hours then fried them up. I didn't find much of a difference in flavor or texture at all.
The second batch might have stayed together slightly better? But barely enough for me to notice. So, this is something you can make ahead of time and actually cook later if you are a prep first, eat later kind of person like me.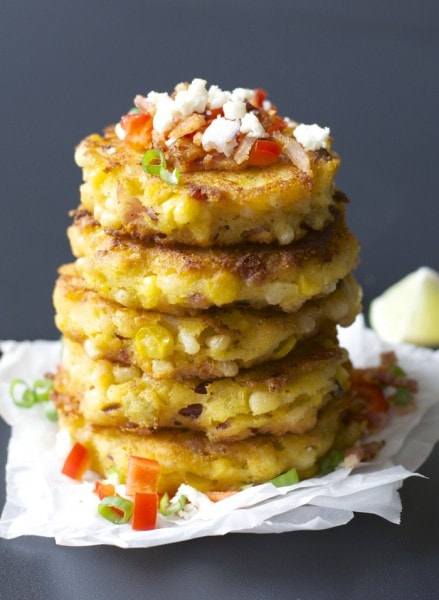 This also makes quite a lot, we had these as a main dish and had leftovers (though they didn't last long) so they would be perfect for a fun dinner or a appetizer for a dinner party.The thing that really makes the dish is the garnishes, you absolutely have to serve with lime wedges to squeeze over the top, queso fresco, green onions and red bell pepper!
It brings such a wonderful zesty, fresh flavor to the dish! And if you like to live on the wild side, you can top it with additional bacon – I won't tell!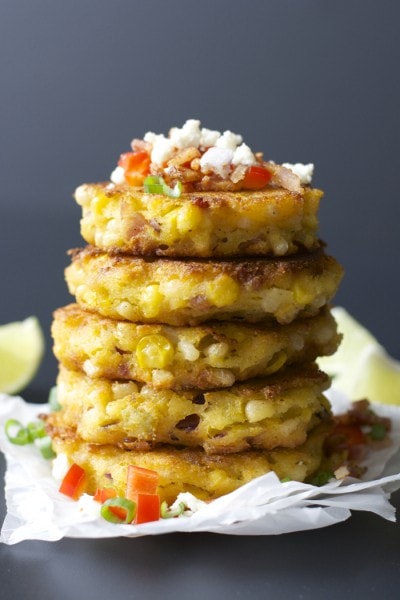 Other Easy Recipes
While this recipe is not keto, we have many others that are! If you are new to Keto try my favorite Sausage Egg and Cheese Bites, they contain less than one net carb per bite and they are perfect for meal prep! One of my favorite easy low carb dinners is this One Pan Cabbage Casserole. It is so easy, cheesy and delicious and it has less than 9 net carbs per serving. Some other favorites, Keto Chocolate Cookies, Pimento Cheese and Bacon Stuffed Peppers and Sausage and Cream Cheese Pinwheels!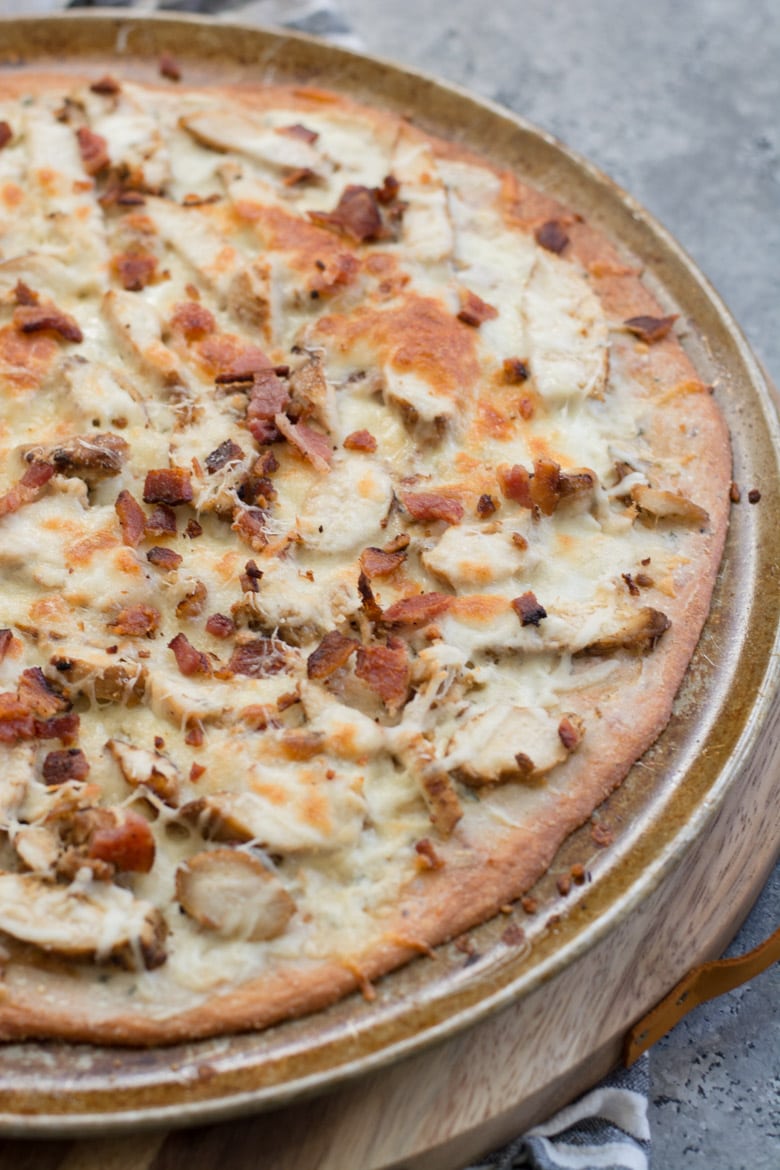 Keto Chicken Bacon Ranch Pizza