Jalapeño Popper Burgers are the ultimate man sandwich! Super easy and loaded with flavor!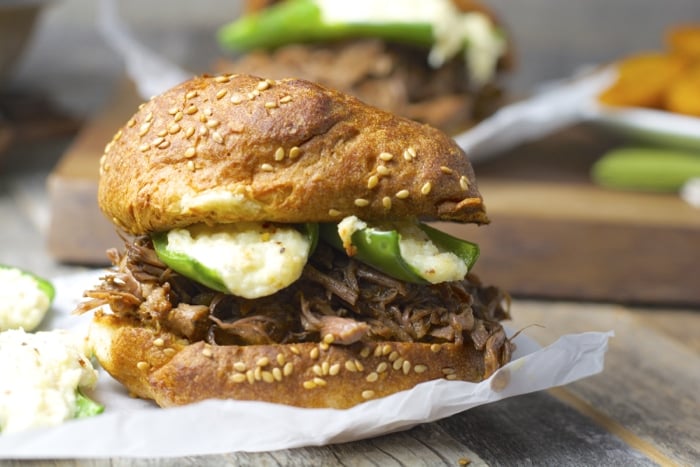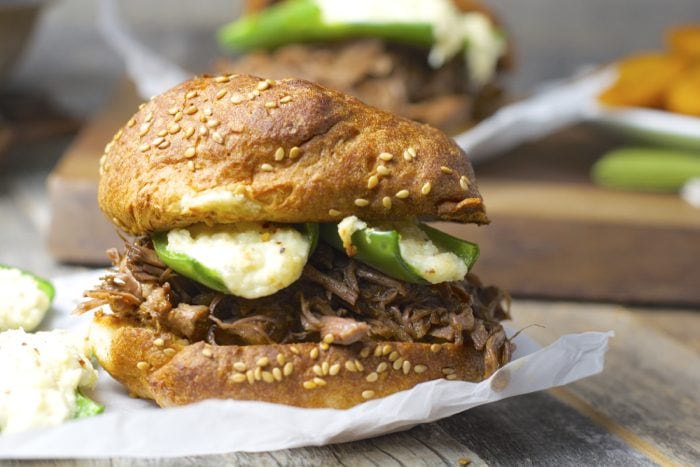 This is the dinner that would have sparked a marriage proposal – if I wasn't already married. Whhhhyyy didn't I know about this dish years ago?! ha!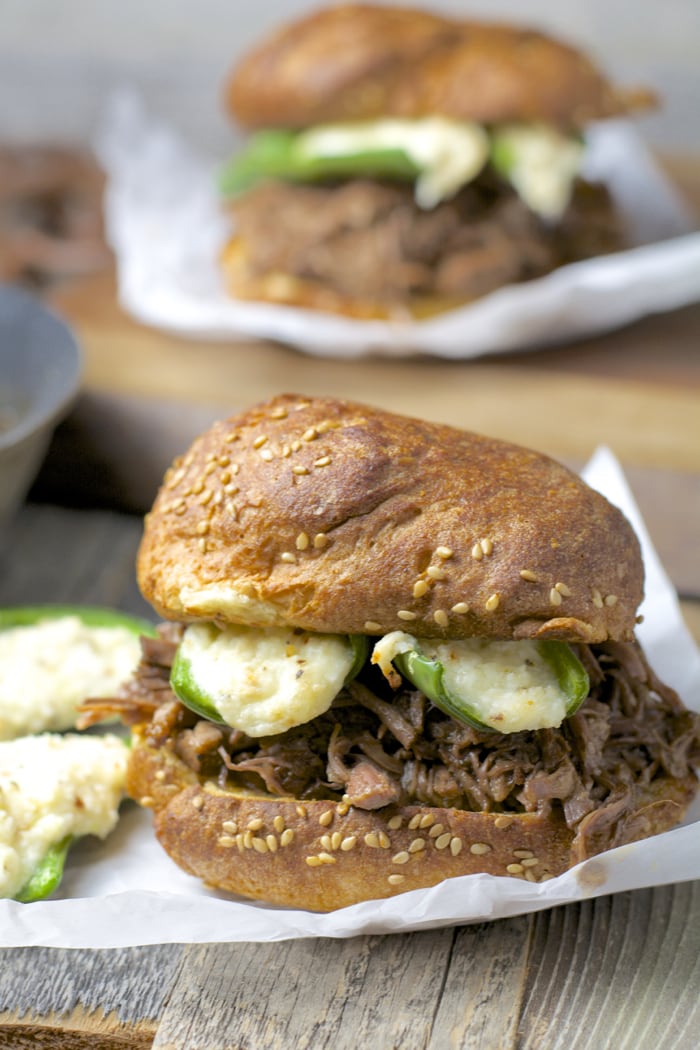 I had been kicking around the idea for these sandwiches for a while. I knew I wanted to involve the flavors of a jalapeño popper, and I knew I wanted it to be a big meaty man sandwich. I played around with a few different things, like grilling a big juicy burger and putting a "jalapeño popper" spread on a nice toasted bun, but it didn't quite do it for me.
Then it kind of hit me, why not make some delicious shredded beef and pile it high on a bun then top it with actual jalapeño poppers?! Genius I tell you, genius! And as a big bonus, you get to use your slow cooker!
We're obsessed with our slow cooker and I love using it to whip a tender meat dish. Mr. Maebell is a huge fan of this Slow Cooker Ginger Garlic Pork Tenderloin and Keto Cabbage and Beef Soup. I'm a huge fan of any dinner I can put in the crock pot and forget about!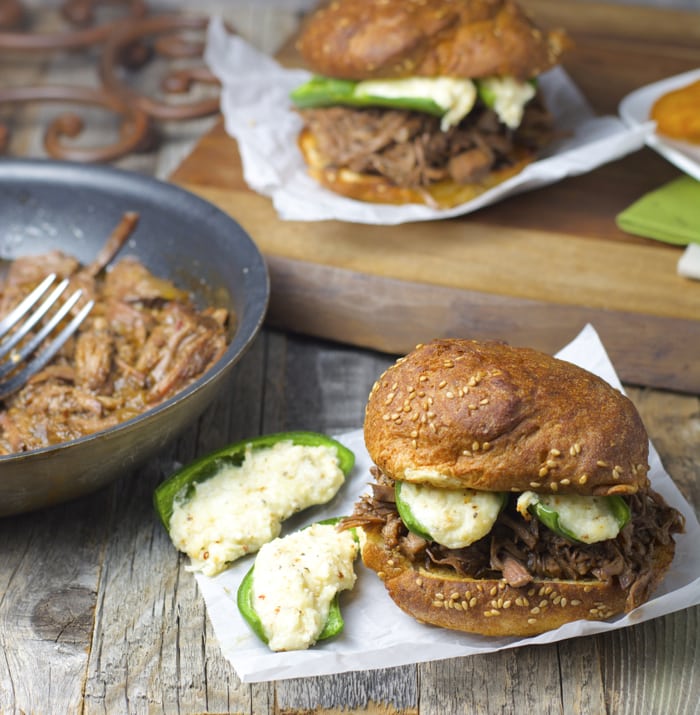 Ingredients for Jalapeno Popper Burgers
As always, here's a quick overview of the ingredients used to make Jalapeno Popper Burgers. For the complete recipe, just keep scrolling.
For the Shredded Beef:
Chuck pot roast- I used a 2.5 pound roast
Spices- Onion powder, Garlic powder, Chili powder and Oregano
Steak marinade- Allegro is my favorite and basically the best marinade ever
Beef broth- I used reduced sodium
Onion
For the Jalapeño Poppers:
Whole jalapeños
Cream cheese- I used reduced fat
Shredded pepper jack- you can use cheddar if you don't want spice
Dry Italian dressing seasoning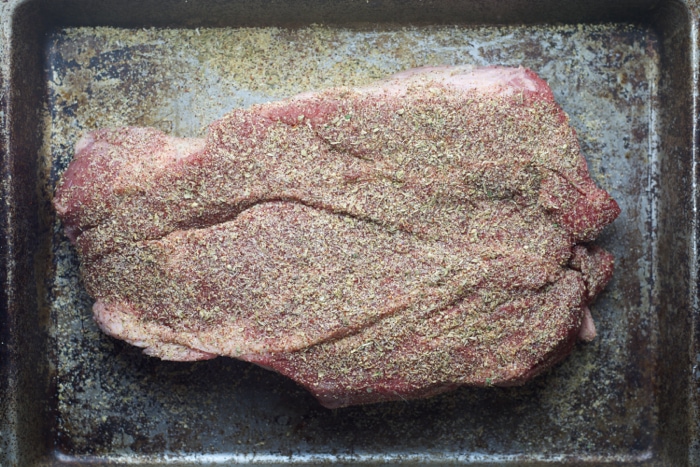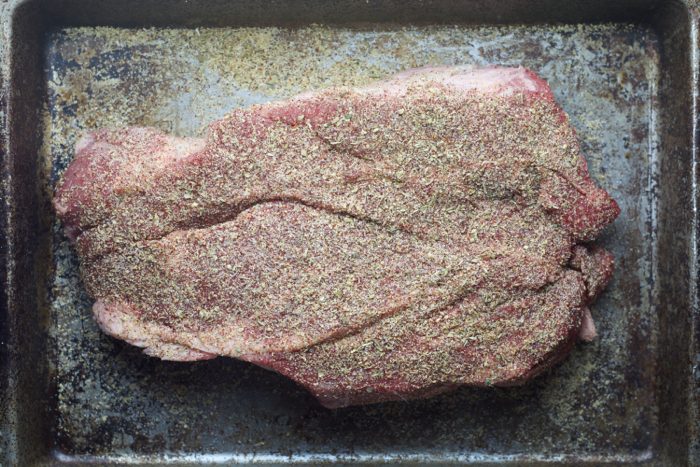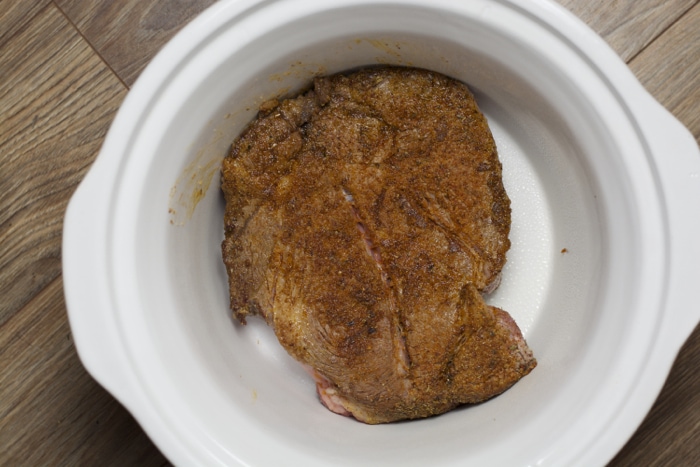 How do you make Jalapeno Popper Burgers?
Here is how we do it! First, I threw some spices together and rubbed a nice big cut of roast with it. Then I popped it in the skillet to give it a nice quick sear.
This helps those spices to really hold on and make a flavorful crust to the meat. I actually did this the night before because, who has time to do this in the morning?! Hello, not me.
Then I just poured some beef broth, steak marinade and an onion right onto of the meat. I stuck the lid on and let that baby simmer all day long.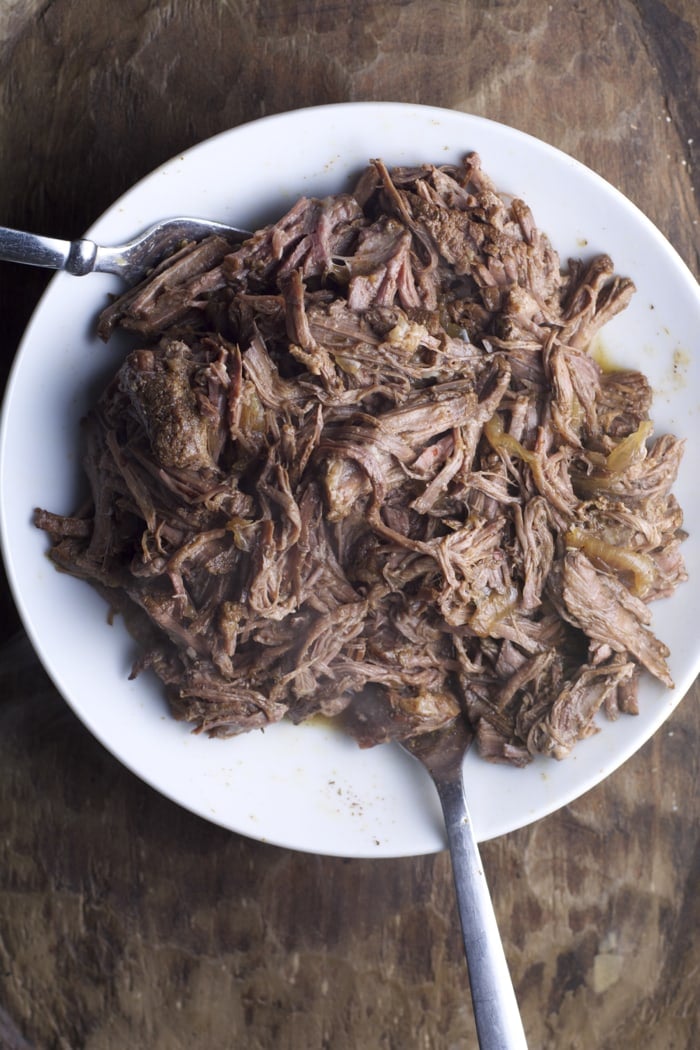 Next, fast forward 8 hours and this is what you get! Behold! Beautiful, flavorful, shredded beef. You can remove the onion or you can just shred it up with the beef, which is exactly what I did.
Now that your meat is done you just need to make the jalapeño poppers. Core and slice some jalapeños, mix some cream cheese, shredded cheese and seasoning up and place a spoonful in each jalapeño. Toss the jalapeños in the oven for 15-20 minutes until the jalapeños are tender and the cheese is bubbly.
Just toast some buns (Canyon Bakehouse is gluten free and totally delicious) and pile that shredded beef high and top with a warm cheesy jalapeño popper. There you have it! Totally delicious and super easy Jalapeño Popper Burgers.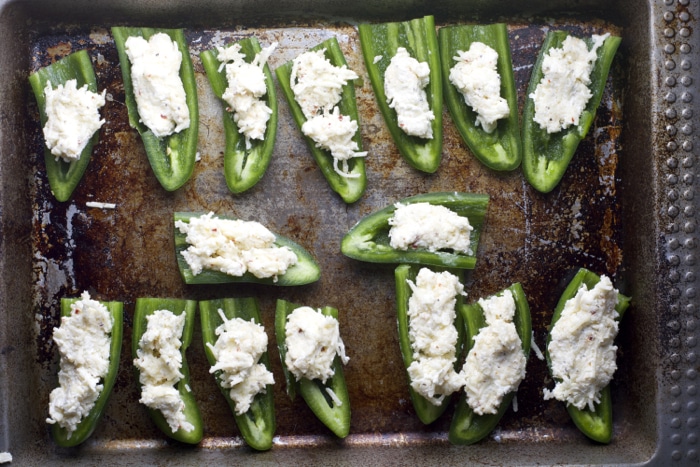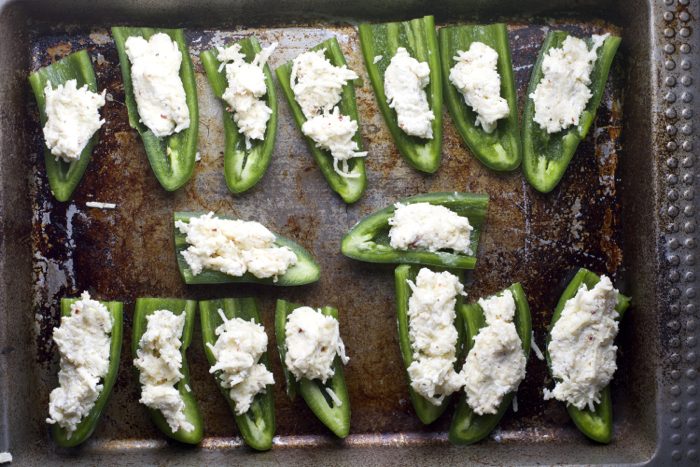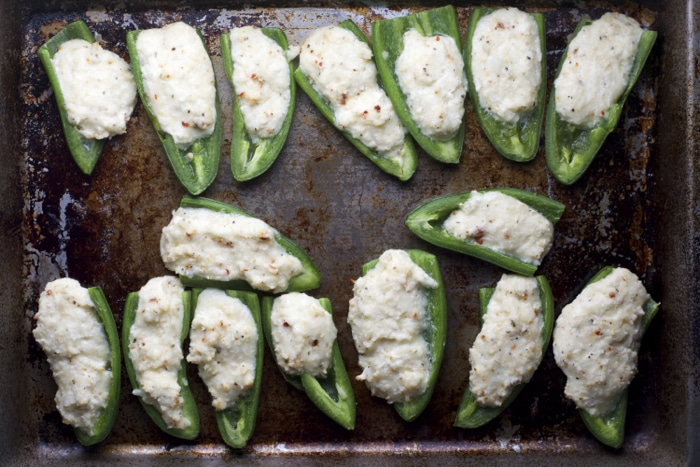 Can you store and reheat Jalapeno Burgers?
Yes! These burgers are super easy to store and reheat. For the shredded beef, simply store in an airtight container for 4-5 days in the refrigerator. To reheat, place on a microwave safe plate and reheat in 30 second increments until the beef reaches your desired temperature.
For the Jalapeno Poppers, I would recommend storing these in an airtight container in the fridge as well. They will stay good in the fridge for 3 days. To reheat, I would warm these on a baking sheet in the oven (or in your air fryer) at 350 for 5-10 minutes, or until the cheese is bubbly.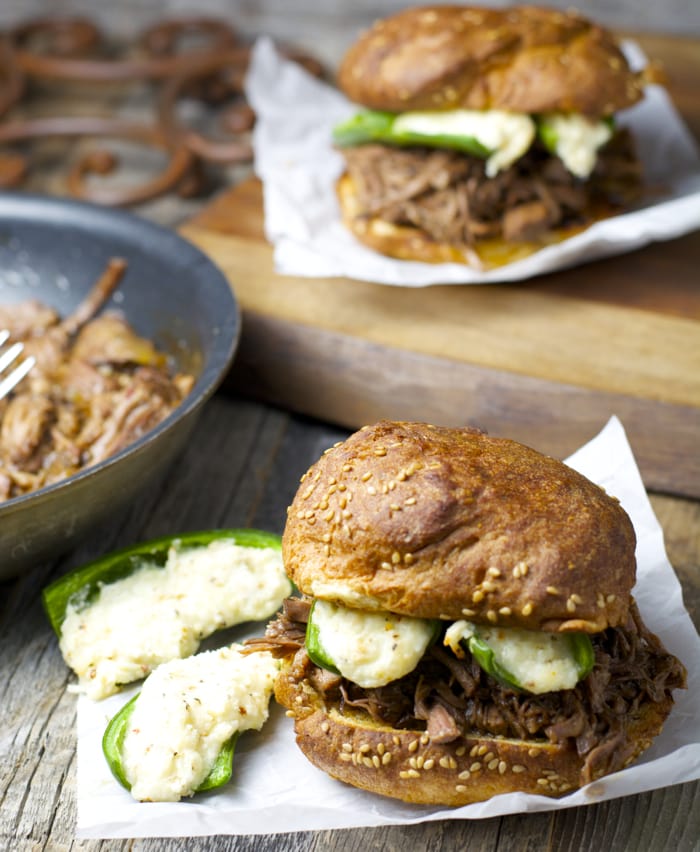 Can you prepare the Jalapeno Poppers ahead of time?
The beauty of these burgers is their ease to your schedule! Obviously a slow cooker does the work for you on the beef, but if you're stretched for time on the night you want to serve these Jalapeno Popper Burgers, never fear!
Jalapeno Poppers are super easy to meal prep. Prepare the Jalapeno Poppers as described above, place on a baking sheet and freeze for 12-24 hours. Once they are completely frozen, place in a freezer safe bag.
You can freeze them before or after you cook them in the oven, it's totally up to you. If you choose to freeze them right after preparing them, they may need a minute or two extra in the oven.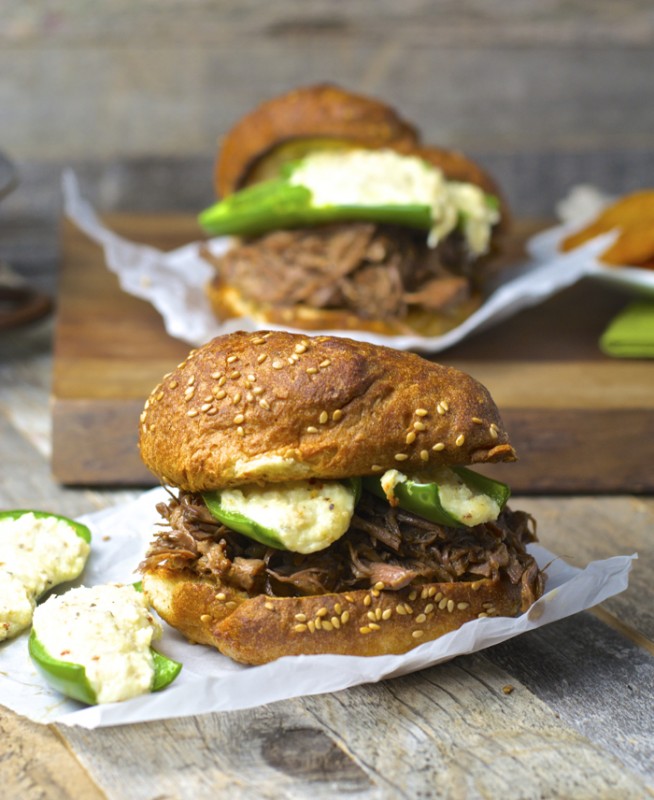 Other Easy Dinner Ideas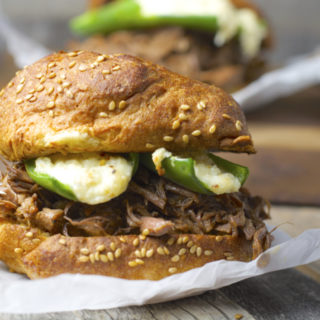 Jalapeno Popper Burgers
Total Time:
8 hours
20 minutes
Jalapeño Popper Burgers are the ultimate man sandwich! Super easy and loaded with flavor!
Ingredients
For the Shredded Beef:
2.5 pound chuck pot roast
2 teaspoons onion powder
1 teaspoon chili powder
2 teaspoons garlic powder
1 teaspoon oregano
1/4 cup steak marinade (Allegro is my favorite and basically the best marinade ever)
2 cups beef broth
1 onion, peeled and quartered
For the Jalapeno Poppers:
8 jalapenos
2 ounces reduced fat cream cheese
1 cup shredded pepper jack (or cheddar if you don't want the spice)
1.5 tablespoons dry Italian dressing seasoning
Instructions
For the Shredded Beef:
Combine the onion powder, garlic powder, chili powder and oregano in a small bowl and combine. Heat a skillet to medium heat, and spray with cooking spray. Rub the meat with the spices and pan sear approximately one minute on each side.
Place roast in slow cooker and add marinade, beef broth and onion.
Cook on low for 8 hours.
After 8 hours shred beef and onion.
For the Jalapeño Poppers:
Preheat oven to 350 degrees.
Slice and core jalapeños and place in a single layer on a baking sheet.
Combine the cream cheese, shredded cheese and dry Italian dressing seasoning in a bowl. Add a spoonful of the mixture to each jalapeño.
Bake 15-20 minutes until jalapeños are tender and cheese is bubbly.
To assemble sandwiches toast buns, add shredded beef, top with jalapeño poppers.
Nutrition Information:
Yield:

4
Serving Size:

1
Amount Per Serving:
Calories:

734
Total Fat:

19.1g
Cholesterol:

253.2mg
Sodium:

3558.7mg
Carbohydrates:

19.9g
Net Carbohydrates:

9.6g
Fiber:

6.4g
Sugar:

10.3g
Protein:

81.6g