This Easy Keto Taco Skillet is packed with taco meat, cauliflower rice, vegetables and cheese. This is perfect for keto lunch meal prep or a quick and easy dinner around 6 net carbs per serving!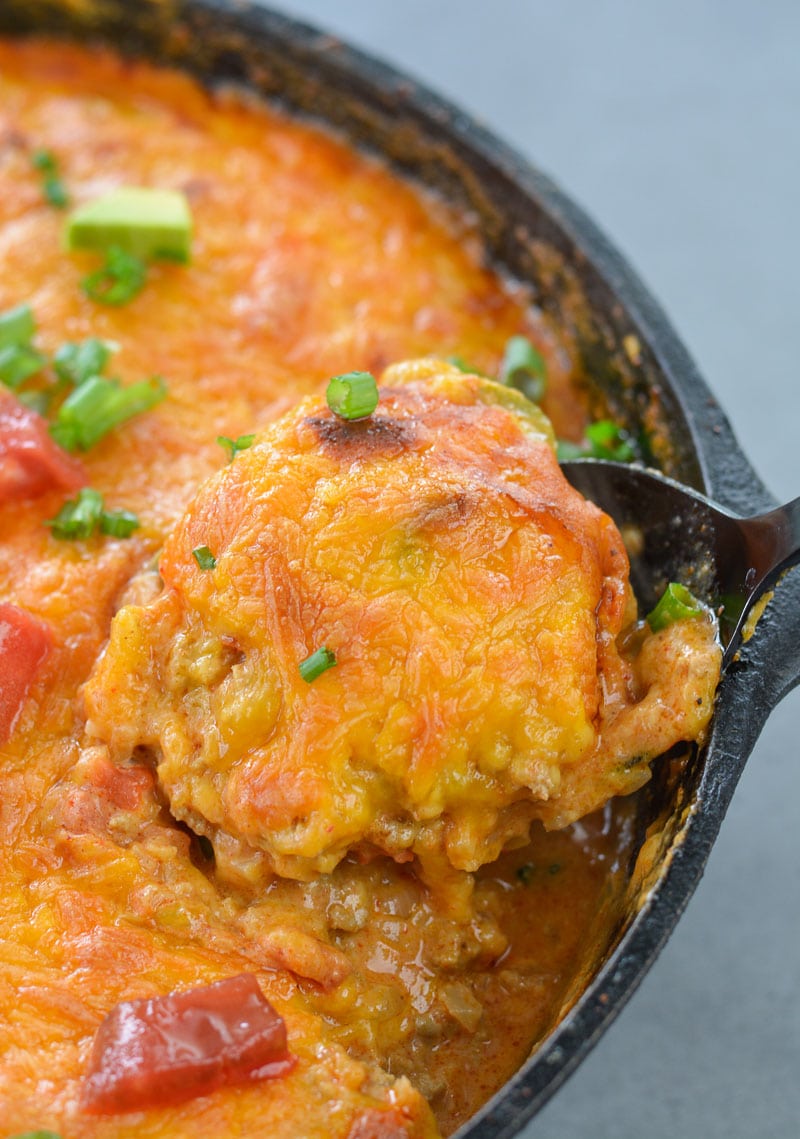 In my pre-keto days, one of our weekly staples were these One Pan Enchiladas. They are incredibly quick and easy. I love that they have all the flavor of enchiladas, but none of the work! Since transitioning to a low carb diet, I've missed my One Pan Enchiladas, but I knew I could find another way to get that delicious Mexican food fix!
This Easy Keto Taco Skillet is excellent for a quick and easy low carb dinner! It also works perfectly for keto meal prep lunches! This dish is packed with meat, vegetables, cauliflower rice, spices and tons of cheese. It is an easy one pan recipe, that is the perfect way to get your keto Mexican food fix!
Ingredients Needed for Keto Taco Skillet
Ground beef or ground turkey
Onion
Bell Pepper
Jalapeno
Frozen Cauliflower Rice
Canned Tomatoes with Green Chilies
Taco Seasoning
Tomato sauce
Cream Cheese
Cheddar Cheese
Optional: Sour Cream, Hot Sauce, Avocado, Red or Green Onions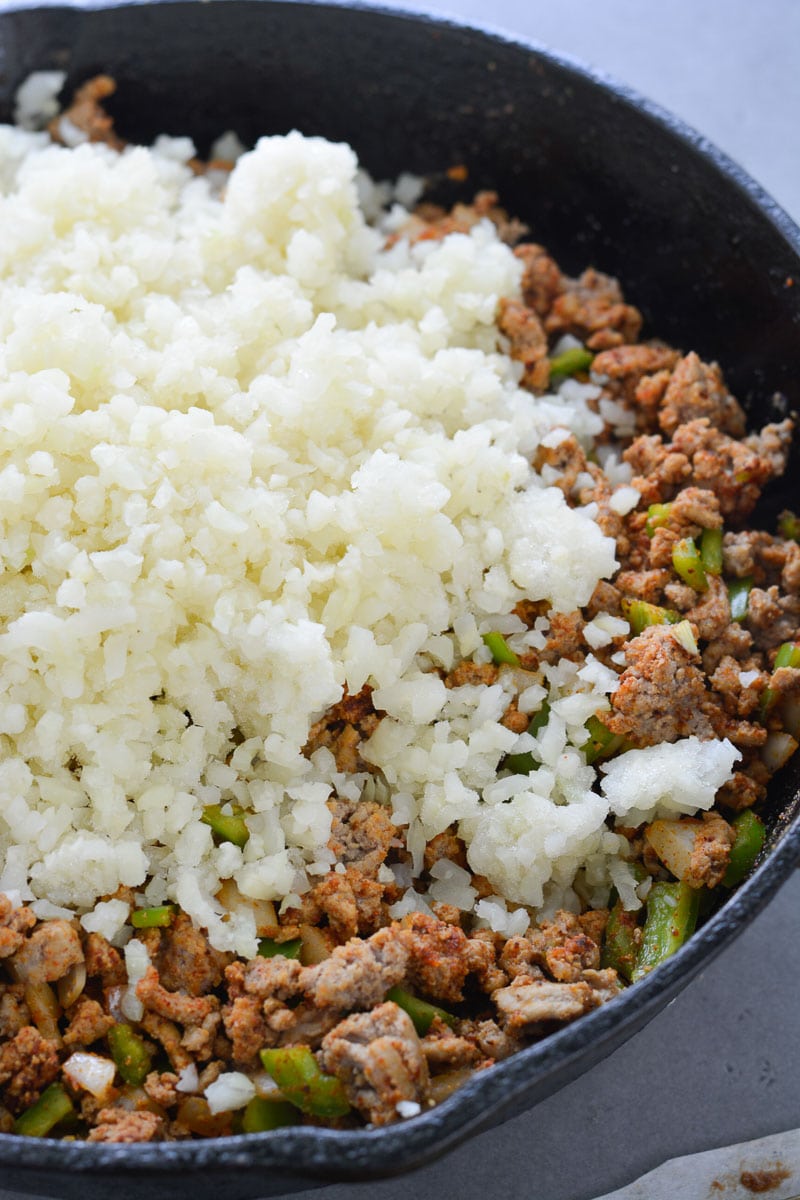 What Keto Taco Seasonings Should I Use
There are many foods that have hidden carbs you might not have considered. One of those tricky foods is packaged taco seasoning. Often it includes corn starch or other additives to help thicken the taco seasoning as it cooks.
If you want to use a packaged taco seasoning, just be sure to check the nutritional information for those hidden carbs. I use this Homemade Taco Seasoning that contains basic spices, that you probably already have in your pantry.
How to Make a Low Carb Taco Skillet
Preheat the oven to 350 degrees F.
Heat a large ovenproof skillet to medium heat. Brown the ground beef or ground turkey and drain off any grease.
Add the onion, bell pepper, jalapeño, taco seasoning and frozen cauliflower rice, stir well to break up any frozen clumps of rice.
Stir in the undrained can of tomatoes with green chilies.
Add the tomato sauce and stir in the cubes of cream cheese, until melted and creamy.
Top with shredded cheddar cheese and bake for 18-20 minutes, until the cheese is bubbly.
Can I Meal Prep This Keto Taco Skillet
Absolutely! You can make the recipe completely, except the final two steps of adding shredded cheese and baking. Simply make the recipe, following steps 1-5, transfer to a medium size baking dish and store in the fridge until ready to cook.
When ready to eat, preheat the oven to 350 degrees F and top with shredded cheese. Bake for 25-30 minutes, until the cheese is bubbly and the casserole is warmed through.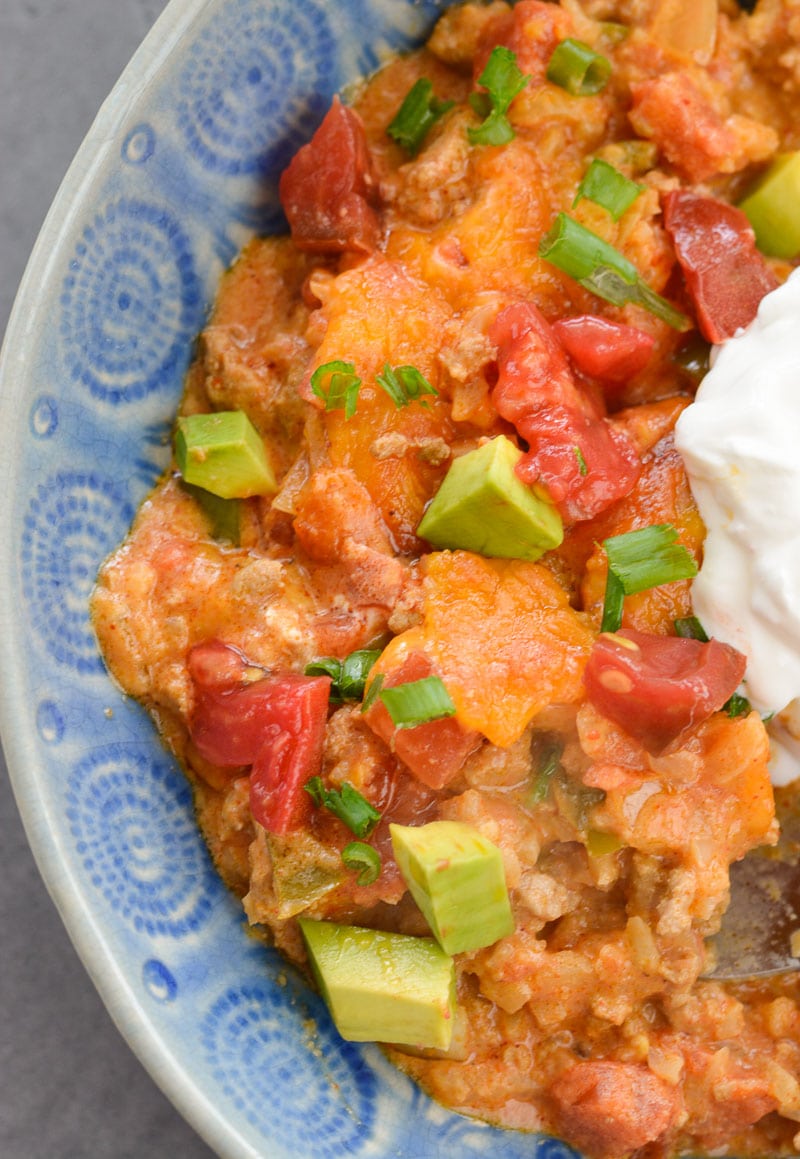 How to Reheat This Keto Taco Skillet
To reheat this taco dish in individual portions heat in 30 second increments until warm, on a microwave safe dish.
To reheat the entire dish, heat the oven to 350 degrees F and cover with foil (this helps prevent the casserole from drying out) and heat 25-30 minutes until warmed through.
Tips for Making This Cheesy Taco Skillet
My grocery carries cauliflower "rice" in the produce section that is not frozen. I find that it is not as fine as the bags of frozen cauliflower "rice". I think the frozen version works much better in this recipe and other recipes, where you are trying to mimic the texture of rice.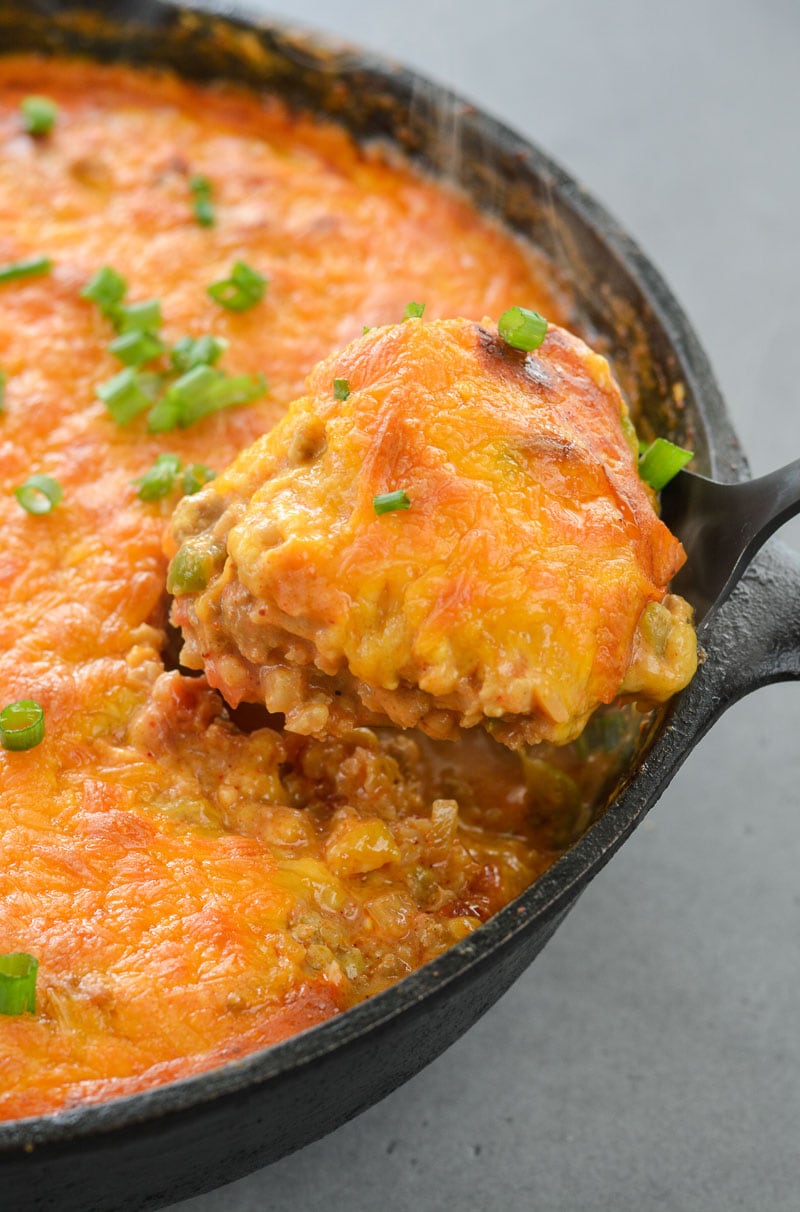 More Keto Mexican Recipes