Buffalo Chicken Casserole is packed with spicy buffalo chicken, broccoli, cheddar cheese and bacon! This low carb casserole has under 6 net carbs per serving!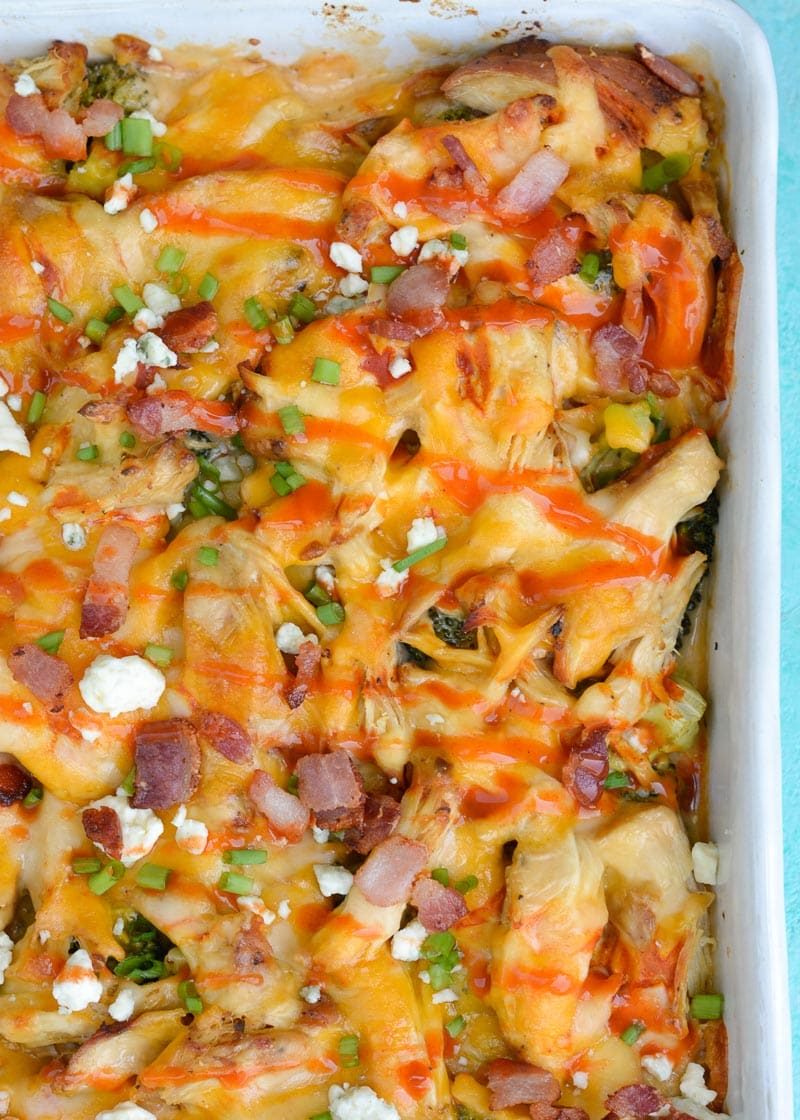 Buffalo Chicken Casserole
Sometimes, after a long day it can be tough to have the energy to pull dinner together. I love hearty, satisfying meals that come together quickly, and utilize shortcuts like rotisserie chicken. Casseroles are a well loved staple in our home. One of my go to dinners is this Broccoli Chicken Casserole. come together in a matter of minutes, reheats well and even my pickiest eaters enjoy it!
This Buffalo Chicken Casserole is a spicy spin on my favorite classic chicken casserole. It pairs leftover, or rotisserie chicken with fresh broccoli, a creamy cheese sauce and of course a tangy dose of buffalo sauce! If you really want to take things up a notch top this easy chicken casserole with crispy bacon, chopped green onions and bleu cheese crumbles!
Ingredients for Buffalo Chicken Casserole
As always, here is a quick overview of the ingredients used in our keto chicken casserole. For the complete recipe, just scroll to the bottom of the page.
Cooked Chicken: I use leftover shredded chicken, but a rotisserie chicken would be a great shortcut!
Broccoli florets and celery: fresh broccoli and celery are recommended for this recipe.
Chicken broth: a good quality chicken stock is best for this recipe. Vegetable broth will also work.
Cream cheese: full or reduced fat will work.
Heavy cream: creates a perfect creamy sauce.
Shredded Cheddar: you can use a different variety of cheese if you prefer.
Buffalo Sauce: adds the perfect tangy, spicy element.
Toppings: cooked, crispy bacon, green onions and bleu cheese.
Optional: I suggest using a xantham gum or cornstarch and water mixture to thicken the sauce. This is not required, but recommended. You can read more about this in the recipe card below.


How do I make Buffalo Chicken Casserole?
This is such an easy recipe, you really just need to follow three basic steps:
Layer broccoli, celery, cooked chicken in a prepared casserole dish, add salt and pepper to taste.
Next, make the cheese sauce by combining the chicken broth, cream cheese, heavy cream and cheddar cheese. There is an additional optional, but recommended step to add a corn starch or xantham gum slurry to help thicken the sauce. Pour the cheese sauce over the chicken and broccoli, top with buffalo sauce and the remaining cheddar and bake until bubbly.
Top with crispy bacon, green onions, bleu cheese and additional buffalo sauce.


Can I use Frozen Broccoli?
Fresh broccoli will provide the best results in this recipe. Frozen broccoli does release a lot of moisture which can result in a soggy casserole. If you are in a pinch and need to use frozen broccoli, steam the broccoli for half the amount of time on the package and allow it to rest on paper towels while you make the cheese sauce.
Next, add the steamed broccoli to the casserole and reduce the cooking time to 15-20 minutes total cooking time. The casserole is done when the broccoli is tender and the cheese has melted.
Do I have to use corn starch?
No, you do not. A thickening agent is optional. Xanthan gum can be used for those on strict keto, if you prefer. The cornstarch is an optional ingredient, 1 tablespoon of corn starch adds a very minimal amount of carbs, if you want to leave this out you can, but it does thicken the sauce nicely. This dish serves 6 and 1 tablespoon of cornstarch has 6 net carbs, this only adds 1 net carb per serving.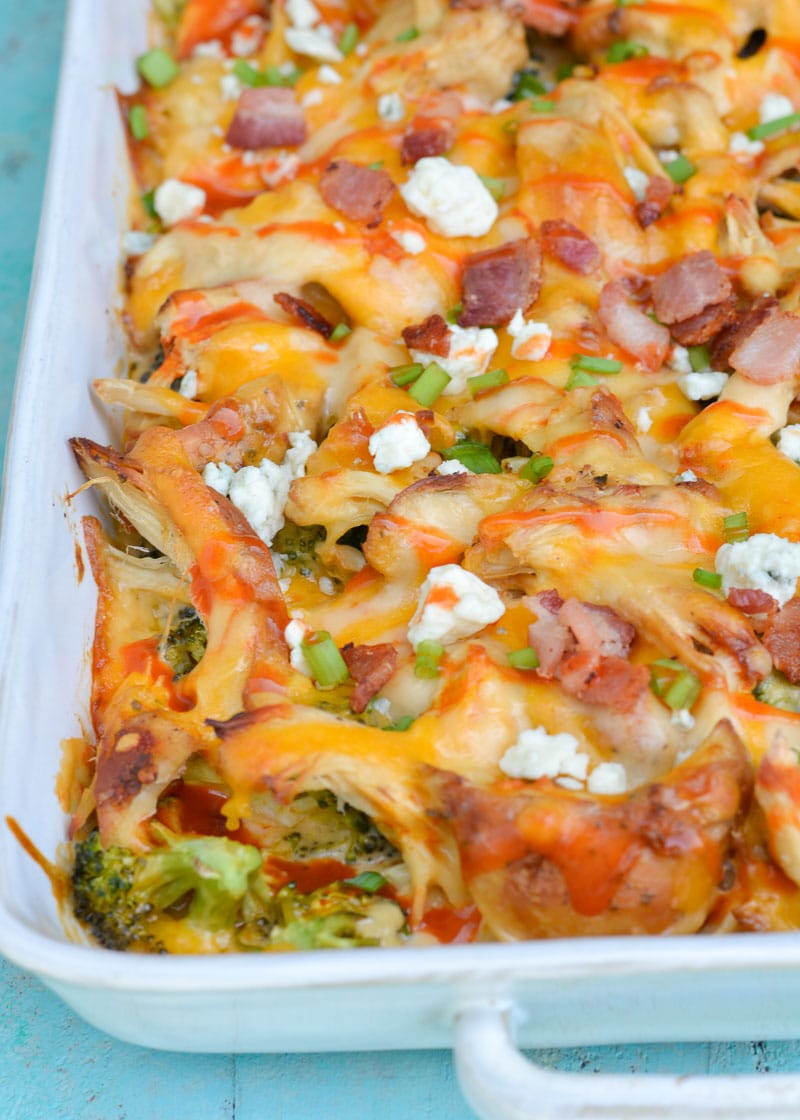 Can you make Chicken Casserole ahead of time?
Absolutely! This keto chicken casserole is very easy to make ahead of time and serve later. You can make this casserole and cover with a lid or aluminum foil and place in the fridge. This casserole will stay fresh in the fridge for up to four days. To reheat, place in the oven at 350 for 10-12 minutes. You could also place this casserole in smaller portions in plastic containers and warm in the microwave, making it perfect for meal prep!
More Keto Chicken Recipes
If you are looking for more low carb chicken meals, see this list of 25+ Easy Keto Chicken Recipes. If you have more shredded chicken to use up, check out this post for more Keto Meal Prep Ideas!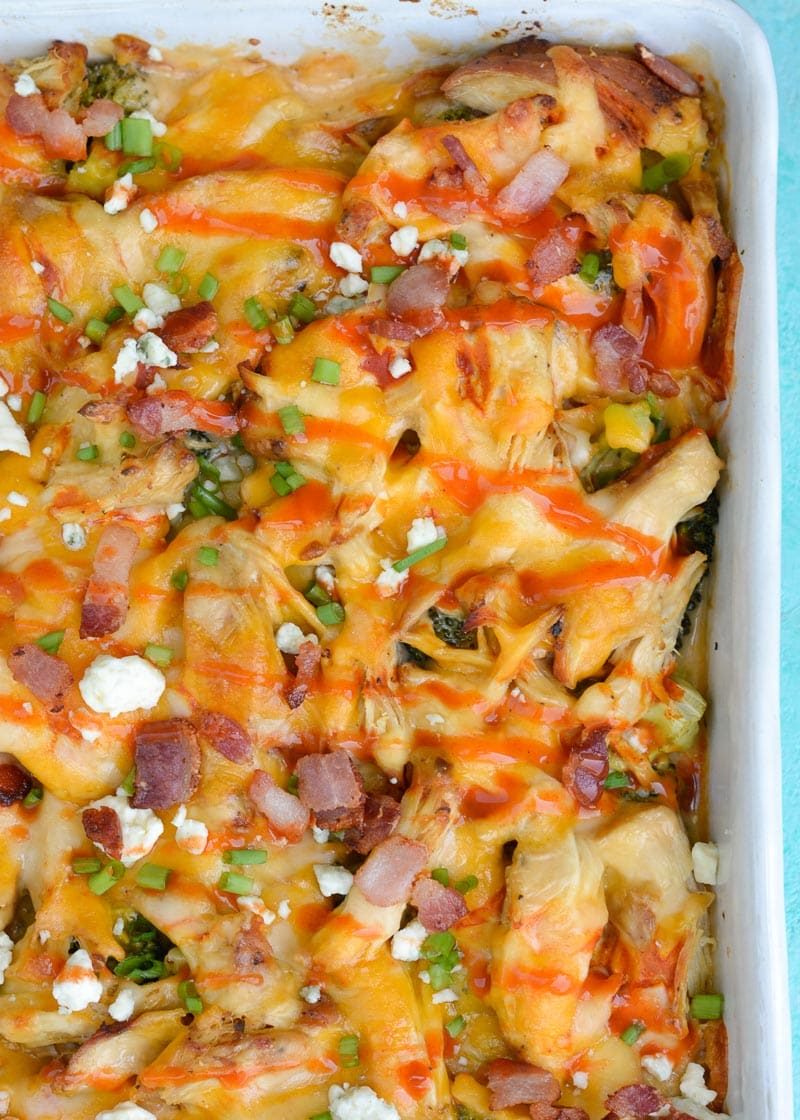 Buffalo Chicken Casserole (keto + low carb)
Ingredients
3 cups fresh broccoli florets
1/2 cup celery, chopped
4 cups cooked shredded chicken
1/4 cup buffalo sauce (more if desired)
1 cup chicken broth
3 ounces cream cheese, cubed
1/4 cup heavy cream
*1 tablespoon corn starch (OR 1 teaspoon xanthan gum) + 1 tablespoon water
2 cups shredded cheddar, divided
salt and pepper to taste
Optional toppings: 1/4 cup cooked bacon, 2 tablespoons green onions, 2+ tablespoons bleu cheese crumbles
Instructions
Preheat the oven to 350 degrees F.
In a lightly greased 7x11 baking dish spread the shredded chicken evenly across the bottom and place the broccoli on top. Add salt and pepper to taste, set aside.
Heat a deep skillet to medium heat and add the chicken broth, and cubed cream cheese, stir until the cream cheese has dissolved. Add the heavy cream and 1 cup of the cheddar. Bring mixture to a slight simmer and allow it to cook 4-5 minutes until it has begun to thicken.
OPTIONAL, but recommended: If you want to thicken the sauce even more (like a cream of soup consistency) you can combine 1 tablespoon corn starch and 1 tablespoon cold water OR 1 teaspoon xanthan gum + 1 tablespoon cold water and slowly pour it into the cheese sauce as you stir. The sauce will thicken almost immediately.
Pour the cheese sauce over the chicken and broccoli. Top with the buffalo sauce and remaining shredded cheese.
Bake 25-30 minutes until the broccoli is tender and the cheese has begun to brown.
Nutrition Information:
Yield:

6
Amount Per Serving:
Calories:

342
Total Fat:

23.6g
Cholesterol:

106mg
Sodium:

520mg
Carbohydrates:

6.8g
Net Carbohydrates:

5.5g
Fiber:

1.3g
Sugar:

1.6g
Protein:

25g