Sweet and sticky gluten free Keto Cinnamon Rolls packed with cinnamon and pecans! Less than 3 net carbs per roll!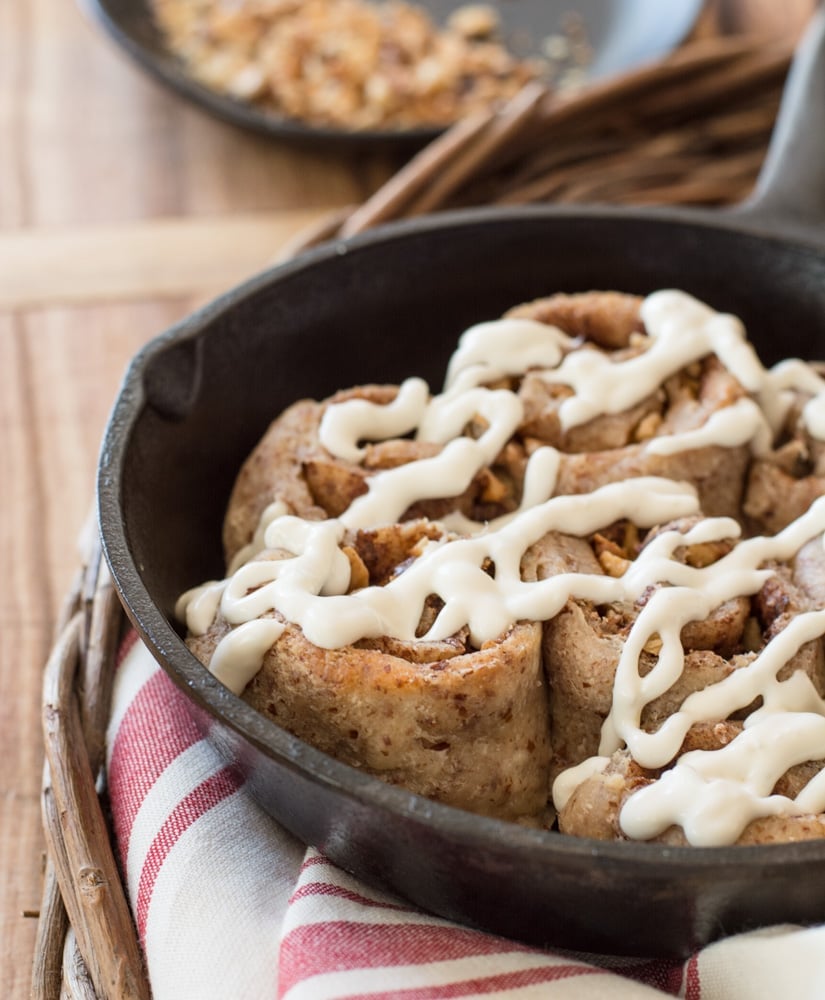 We have been a gluten free family since 2006 and there are only a couple things I still crave: crescent rolls and cinnamon rolls. I feel like I've been able to come up with a gluten free alternative for just about everything except those delicious gluten-full treats! Luckily I have figured out how to get my cinnamon roll fix!
These easy Keto Cinnamon Rolls are super low in carbs, coming to just under 3 net carbs per roll, with the cream cheese frosting! They also do not contain any eggs, so perfect for those with allergies! This is a great keto breakfast that you can enjoy without blowing your diet! I've included step by step photos so you can enjoy these at home too!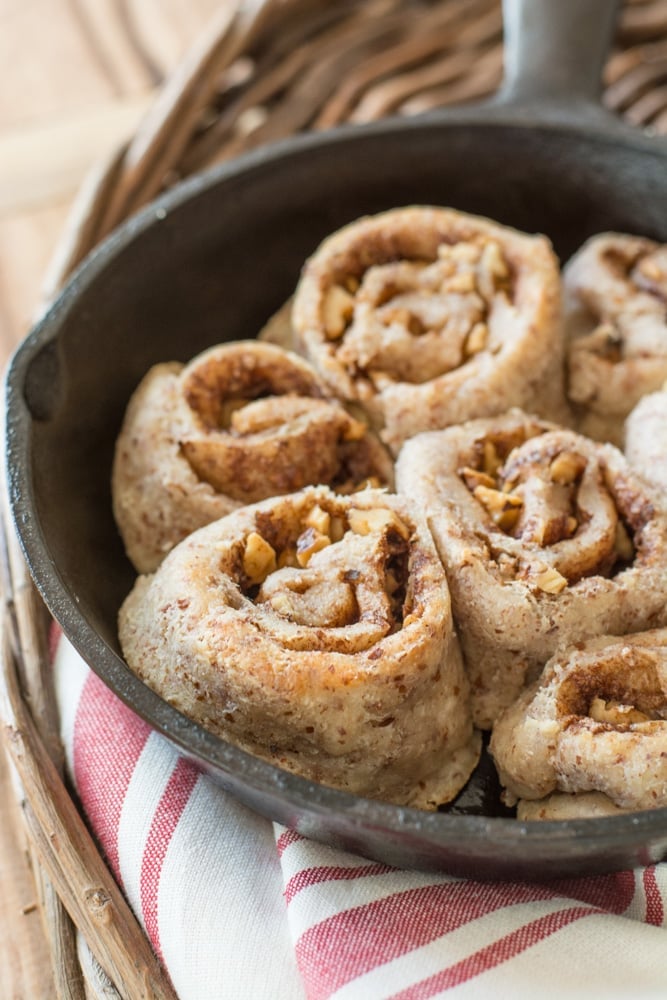 Start by melting mozzarella cheese (weird I know, but just go with it) and mixing it with almond flour and flax meal. This is how you make a classic "fat head dough" you can also some step by step photos in the Best Keto Dinner Rolls post. The amazing thing about this dough is that once it is well incorporated it is quite easy to work with. It spreads easily and has a nice elastic quality that gluten free dough typically lacks.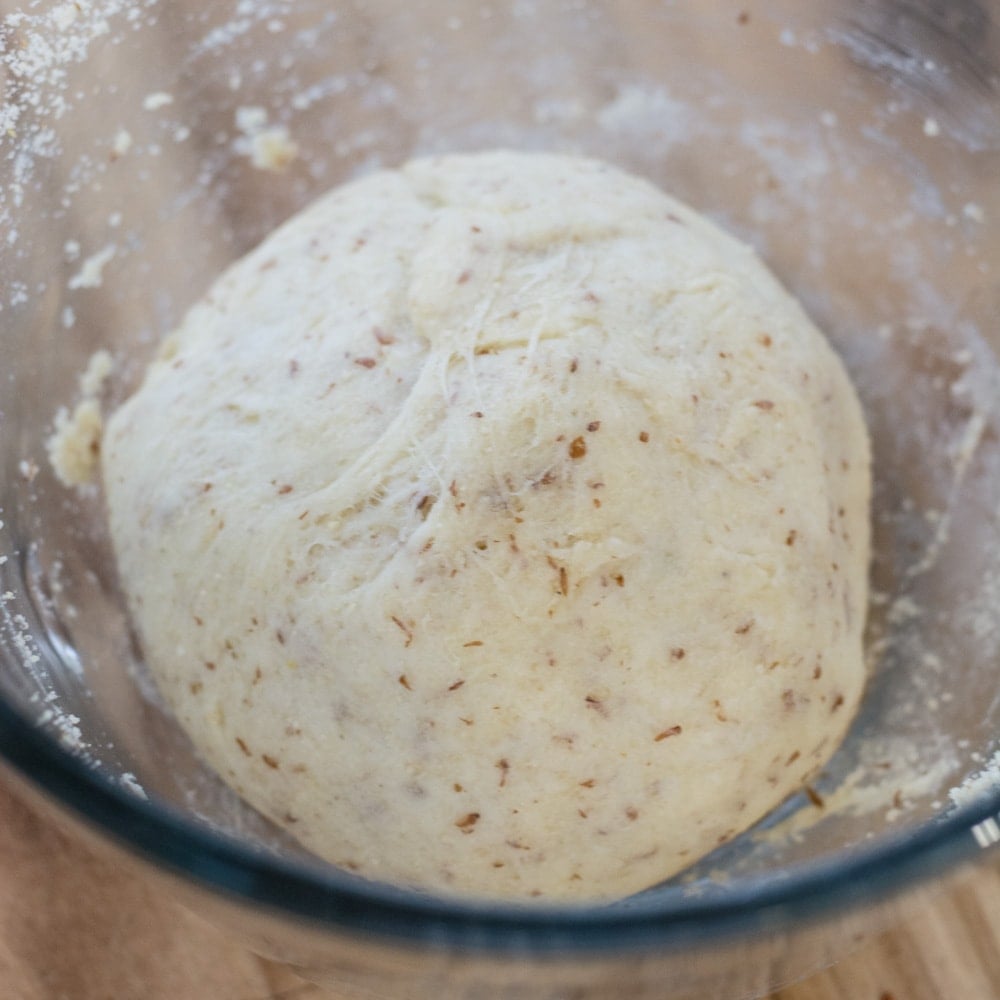 Next, we need to roll our dough out. You can spread your dough on parchment paper or wax paper but my favorite way to do this is to place the dough between two silicone baking mats. This makes it SO much easier because the dough never sticks and the baking mats are much sturdier than parchment paper so you don't have to chase it around your table while you work. It also has no waste! Roll your dough into a nice even rectangle. Mine was roughly 13×10 inches.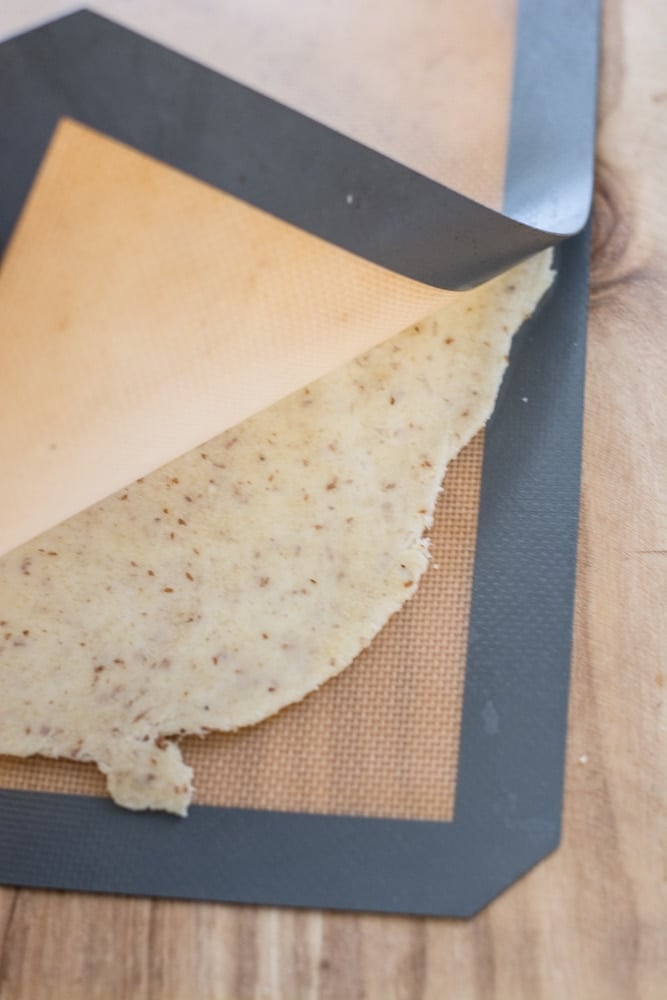 Next, brush your dough with softened butter. If you accidentally melt your butter completely that is okay, just let is sit in the fridge for a few minutes and allow it to firm up just a bit. Sprinkle with cinnamon, Swerve (Erythritol) and chopped nuts. We want nice big cinnamon swirls so spread your mixture all the way to the edges. Starting at one end carefully roll your sheet of dough into "rolls."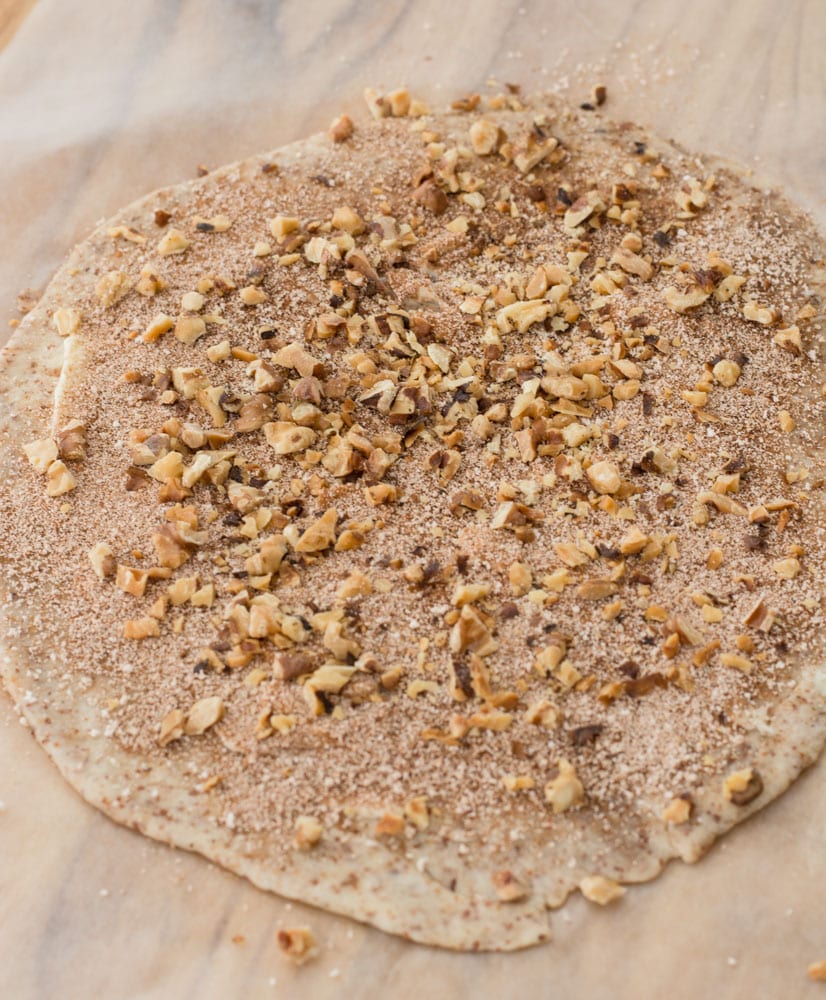 I cut my rolls into 8 even sections. Roughly, this was about the length of two finger widths. Before you place the rolls in the baking dish pinch the bottom of the cinnamon rolls together just a bit with your fingertips, this helps the butter from cooking out of your rolls, it keeps all of that delicious filling in each cinnamon roll!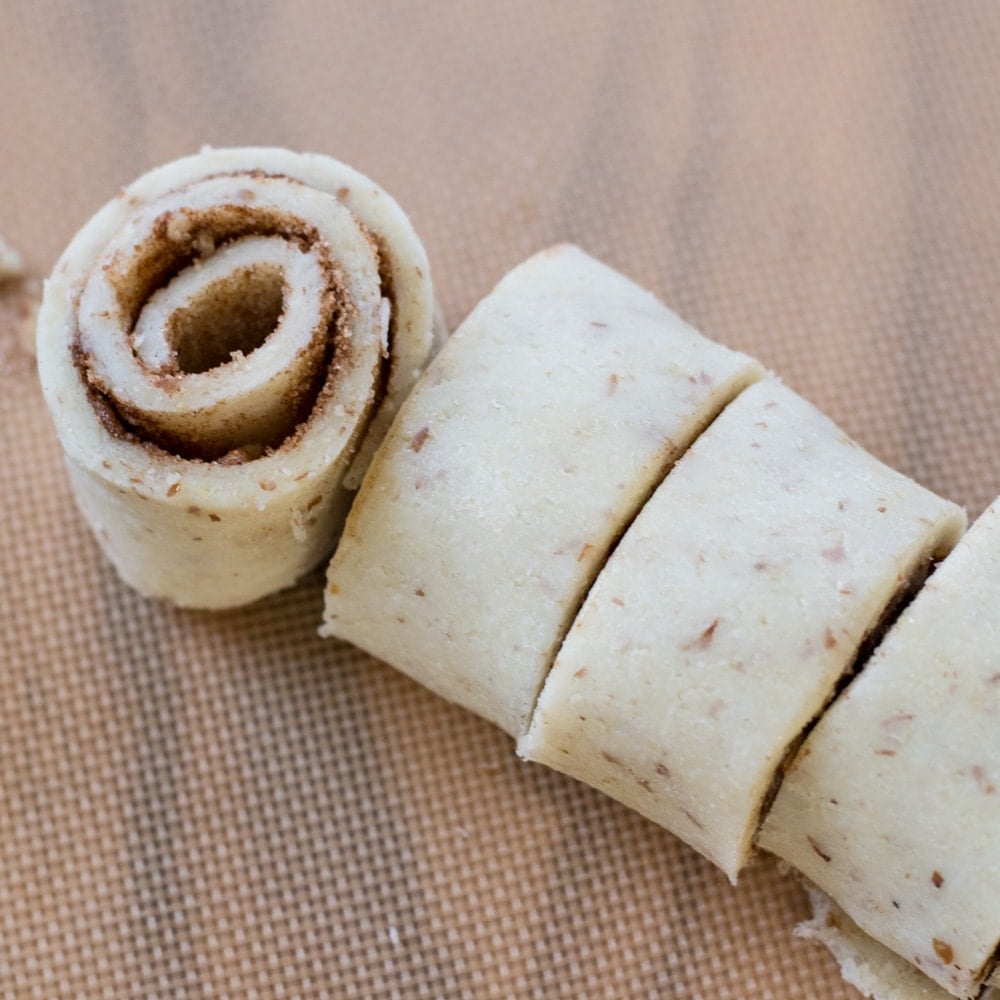 Pop them in the oven and make our favorite cream cheese glaze while you wait! For one roll with cream cheese glaze is under 2 net carbs! The full nutritional breakdown is just below the recipe card.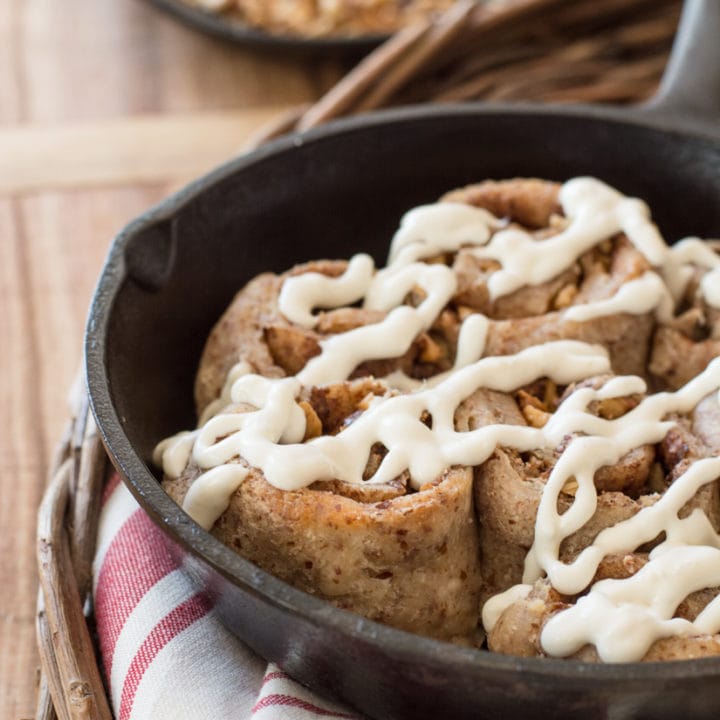 Keto Cinnamon Rolls
Sweet and sticky gluten free Keto Cinnamon Rolls packed with cinnamon and pecans! Less than 3 net carbs per roll!
Ingredients
For the Rolls
2 cups shredded mozzarealla cheese
3 ounces cream cheese
3/4 cup almond flour
1 teaspoon baking powder
1 tablespoon ground flax meal
Filling
1 tablespoons butter, softened but not melted
2 tablespoons pecans, chopped
1 tablespoon cinnamon
2 tablespoons Swerve or Monkfruit
Icing
2 tablespoons cream cheese
2 tablespoons heavy cream (If subbing any other kind of liquid like almond milk start with less because it is not as thick as heavy cream)
2 tablespoons powdered Swerve or Monkfruit
Instructions
Preheat oven to 350
For the Rolls: In a microwave proof mixing bowl combine the shredded mozzarella cheese and cream cheese. Heat in 30 second increments, stirring in between until completely melted. Add the almond flour, baking powder and ground flax meal.
Mix the dough well until you have a soft ball (see step by step images above)
Between two silicone baking mats or parchment paper roll the dough into a rectangle roughly 13x10.
For the filling: Brush the softened butter on the dough, all the way to the edges.
Combine the cinnamon and sweetener in a small bowl and sprinkle on top of the butter
Top with chopped nuts
Starting at one end roll your dough as tightly as you can into a log.
Cut into 8 equal portions (roughly the width of two fingers)
Spray a muffin tin or small 8 inch baking dish with cooking spray.
Before placing the rolls in the muffin tin or baking sheet lightly pinch the bottom seam together a bit to help the butter and filling from coming out while cooking.
Place rolls in baking dish.
Bake 12-15 minutes until golden brown.
For the cream cheese icing: combine the cream cheese, heavy cream and powdered swerve in a blender or food processor and mix until smooth.
**Note: the icing is for a mildly sweet, thick frosting. If you prefer it sweeter or thinner just add additional ingredients as needed after taste testing.
Recommended Products
As an Amazon Associate and member of other affiliate programs, I earn from qualifying purchases.
Nutrition Information:
Yield:

8 Rolls
Serving Size:

Nutrition Calculated By Roll
Amount Per Serving:
Calories:

146
Total Fat:

10.3g
Cholesterol:

31mg
Sodium:

268mg
Carbohydrates:

3.8g
Net Carbohydrates:

2.6g
Fiber:

1.2g
Sugar:

1.3g
Protein:

10.5g

Other Keto Recipes
Sausage Egg and Cheese Bites (low carb + KETO) Less than one net carb!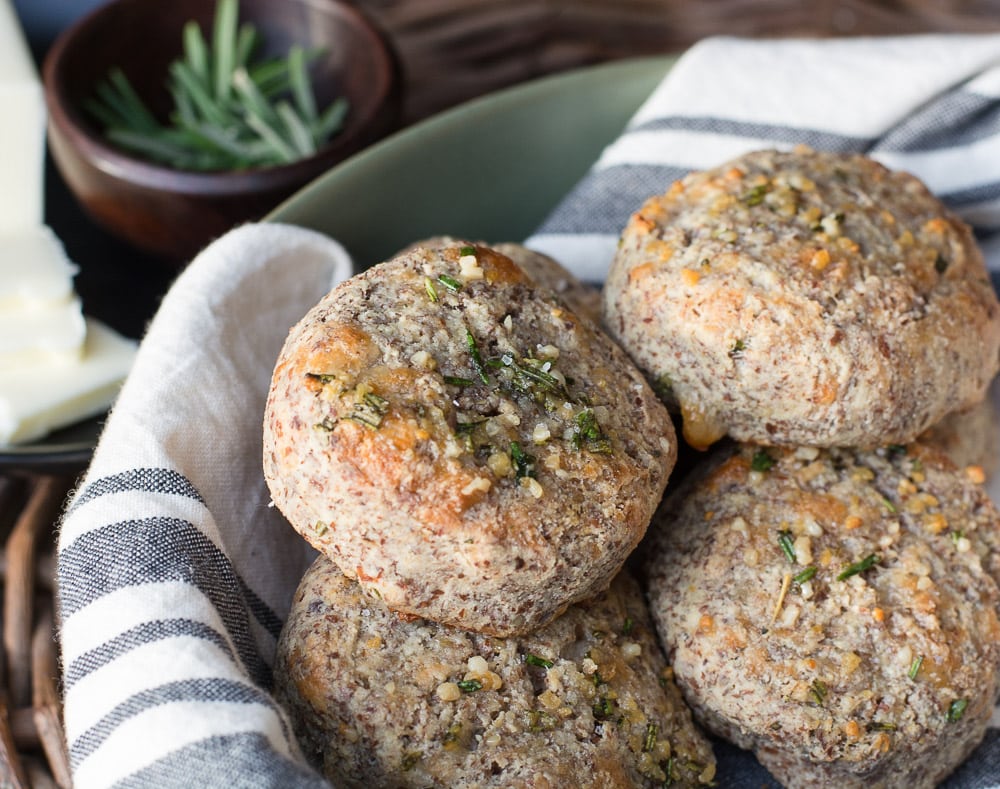 Rosemary Garlic Keto Dinner Rolls