Quick and easy One Pan Chipotle Potatoes! This is the perfect sweet and spicy side dish to mix up your dinner routine!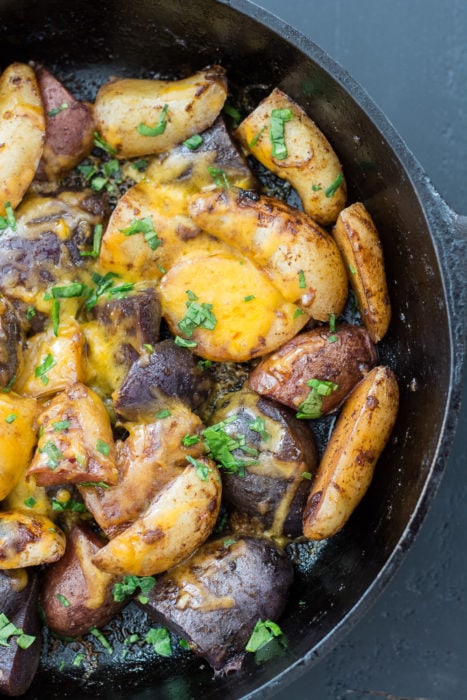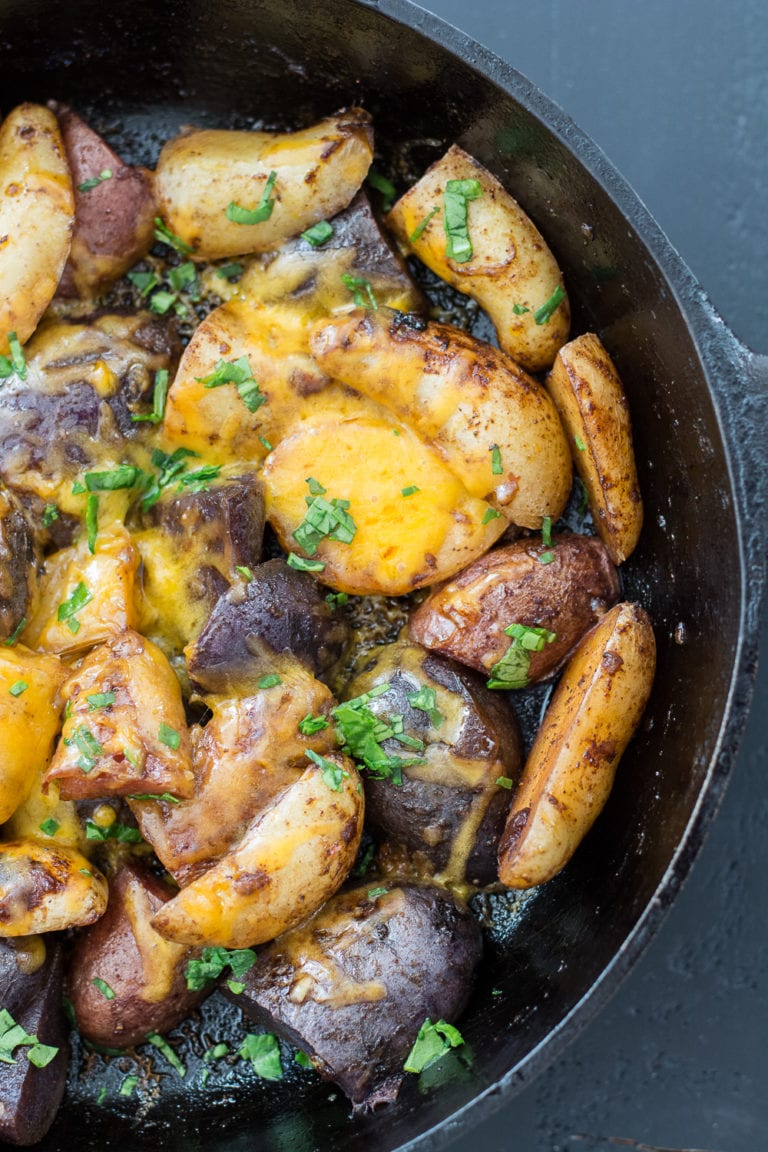 I am all about quick and easy dishes. I have a ton of go to slow cooker recipes, one pan dinners, and casseroles, but sometimes you need a fresh side dish to jazz up your go to grilled chicken or steak! These One Pan Chipotle Potatoes are quick, easy and packed with flavor!
For this dish, I didn't just use any old potato. I used Fingerling potatoes. If you aren't familiar with Fingerlings, they are 2-4 inches long and are (as their name suggests) finger-shaped little potatoes that come in variety of colors. The potatoes in my batch ranged from purple, blue, and yellow.
These funny looking little potatoes don't just add to the appearance of your dish; they also have a robust flavor! Fingerling potatoes have a bit of a nutty or buttery taste. They are great for pan frying or roasting, as it enhances those flavor notes perfectly.
Also, due to the medium sugar content and smaller size, these make a great option for your favorite potato recipe! Honestly, I could eat potatoes any day of the week. If you can't get enough potatoes (who can, really?) give these Smashed Potatoes with Pesto or impress your guests with Spinach and Artichoke Stuffed Potato Skins!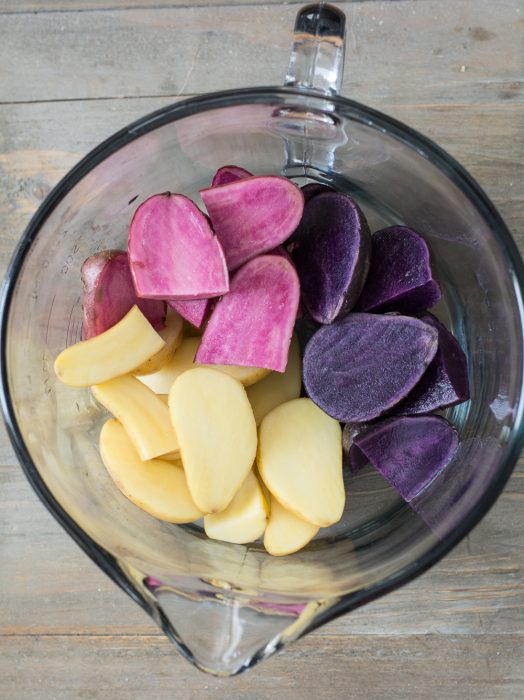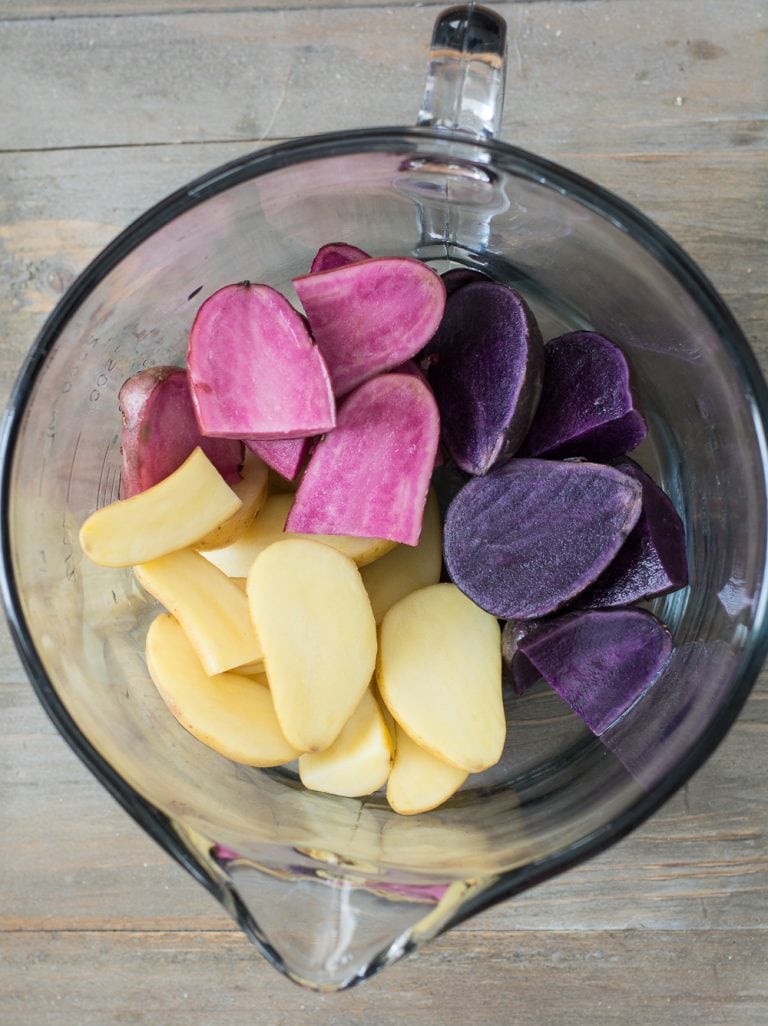 Ingredients for Chipotle Potatoes
Fingerling potatoes- I highly recommend this type of potato if your store carries them. If you can't find them, a red potato is the best substitute.
Olive oil- any type you have on hand should work fine.
Garlic- minced garlic or oven roasted and crushed garlic are both great here!
Canned chipotle peppers- you only need a small amount in this recipe, so to save the leftovers, I froze mine in individual servings in an ice cube tray.
Chili powder- if you want more spice, use chipotle chili powder!
Brown sugar- light or dark both work well here.
Garlic salt- this is a great thing to have in your pantry if you don't have it already.
Cumin- this spice always brings out the best flavors in a dish, in my opinion.
Smoked paprika- if you only have regular paprika, that's okay.
Sharp cheddar- this is optional, but who doesn't love cheddar on a potato? You can also add parsley and green onions for a topping.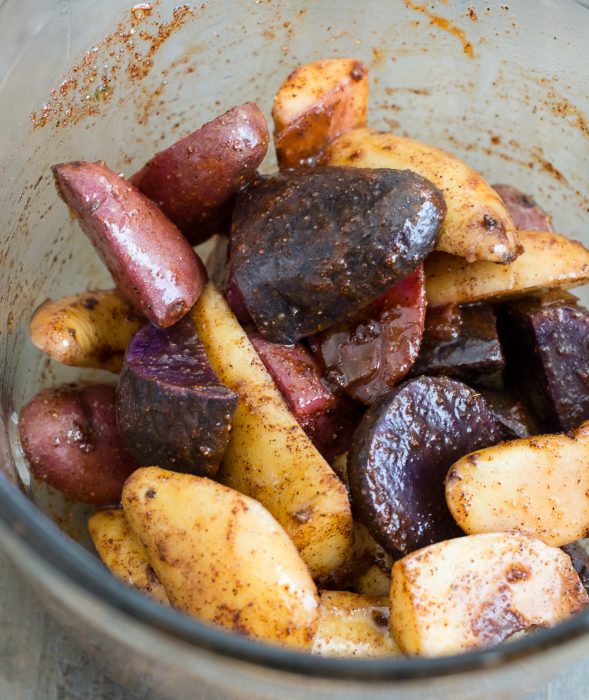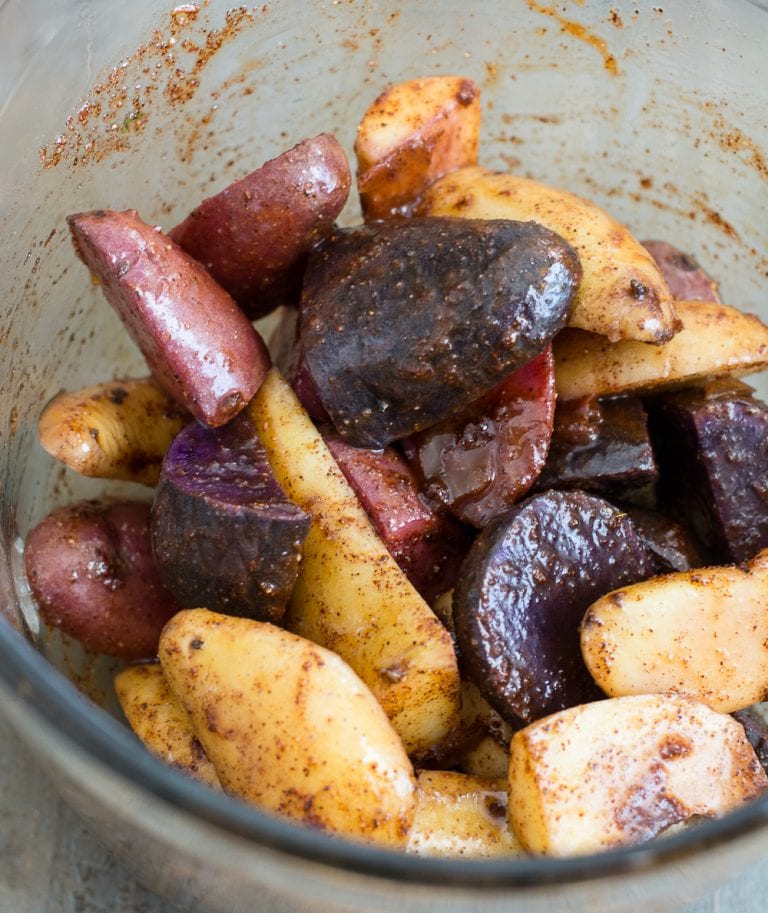 How do you make one pan potatoes?
Here is how we make it! First, chop your fingerling potatoes lengthwise. For the longer ones, I sliced them in half so the potatoes are semi uniform in size.
Next, in a mixing bowl, combine the potatoes with a drizzle of olive oil and stir to coat. In a small bowl, I mixed my spices, brown sugar and the chipotle peppers. Toss your spice mixture over your potatoes and stir to coat.
Now, grab a skillet and heat it to medium heat. Next, add a little olive oil to your skillet and a bit of crushed garlic and sauté it for 30 seconds, stirring occasionally. Add your potatoes to the skillet.
At this step, your potatoes need to cook about 15 minutes, stirring occasionally as they cook. After 15 minutes check to see if the potatoes are fork tender. You'll notice the chipotle mixture has thickened into a sweet and spicy sauce the potatoes are simmering in!
Top with a bit of sharp shredded cheese, if you wish, and a bit of chopped parsley or green onions and that's it! An easy flavorful side dish done in under twenty minutes! Mr. Maebell very heartily approved of these potatoes and I'm sure your family will too!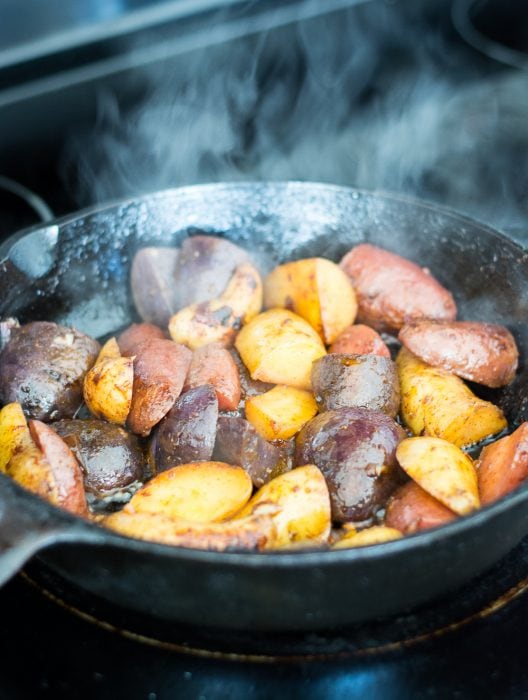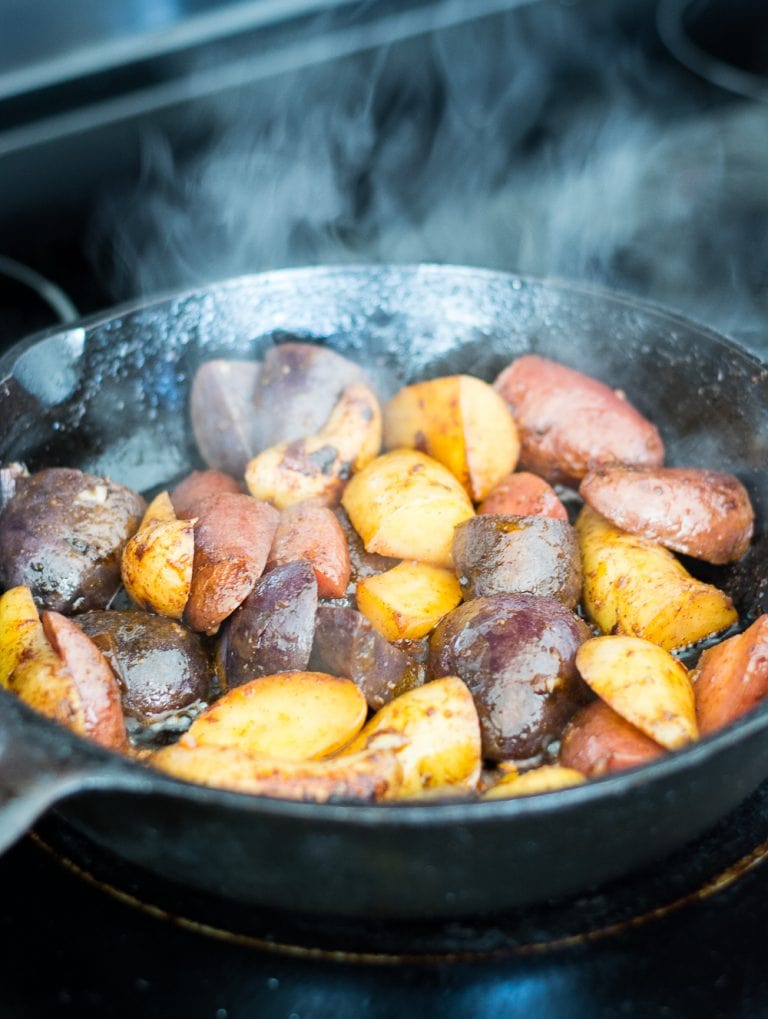 How to Store and Reheat Roasted Potatoes
I stored these potatoes in an airtight container in the fridge. You can use a plastic or glass container, whichever you prefer. I wouldn't layer the potatoes on top of each other, because you don't want the tops to get too soft.
These potatoes will stay fresh in the fridge for up to four days. To reheat, you can either place the potatoes back in your cast iron skillet and put them in the oven to get a nice crisp to them, or warm them in the microwave in 20 second increments. You could also warm them in your air fryer.
Skillet Use
I want to take a minute to talk about the skillet here. I used my trusty cast iron skillet for this recipe. You can use a nonstick skillet or whatever you have handy but this dish has a sweet and spicy, AKA "sticky sauce," that the potatoes simmer in.
If you allow the potatoes to cook without stirring, turn the heat too high, or allow the mixture to sit after you serve your potatoes, your skillet may be difficult to clean. To avoid this, I stirred my potatoes regularly and removed them from the skillet when they were done and immediately rinsed our my skillet with hot water and clean up was a breeze.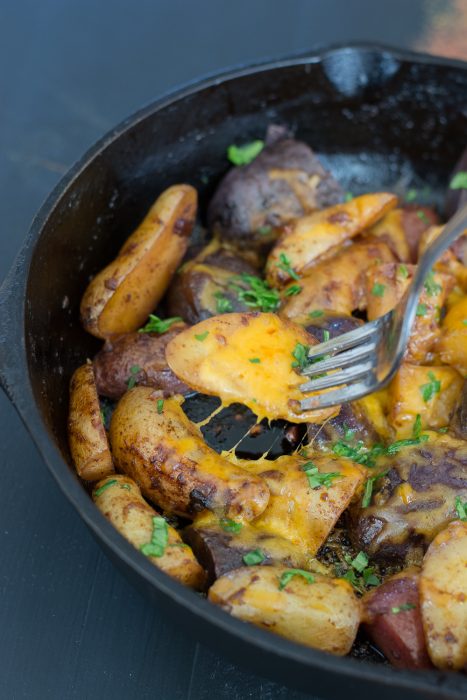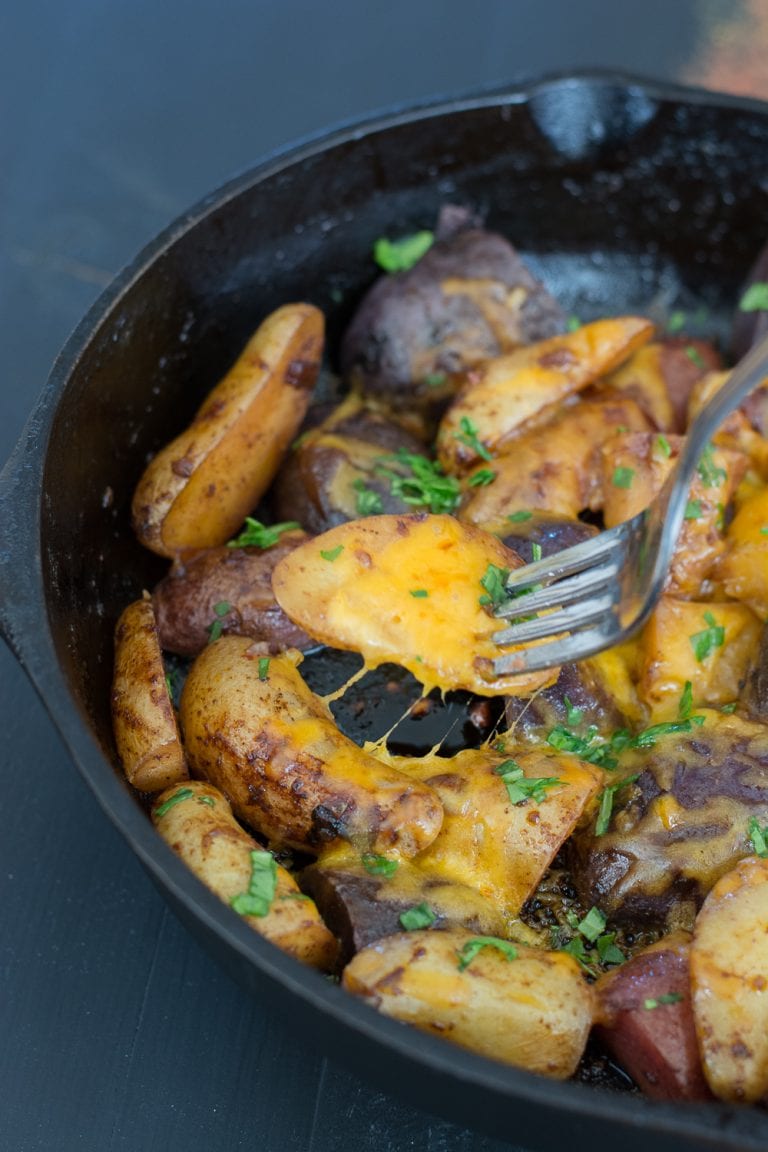 What to Serve with Roasted Potatoes?
Potatoes are an amazing side dish, but you want some great main dishes to go with them! Here's a few of my favorite options:
Other Potato Recipes You May Enjoy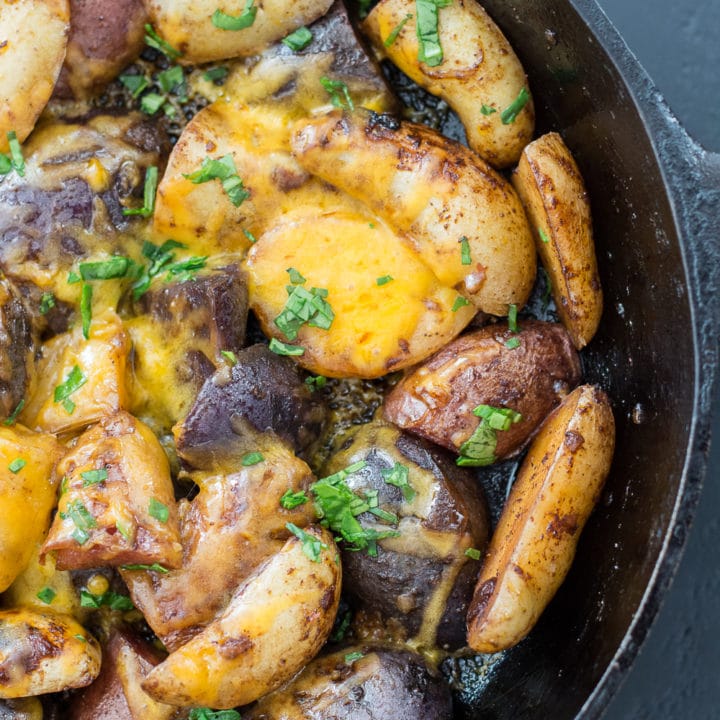 One Pan Chipotle Potatoes
Quick and easy One Pan Chipotle Potatoes! This is the perfect sweet and spicy side dish to mix up your dinner routine!
Ingredients
1 lbs fingerling potatoes
2 tablespoons olive oil (divided)
1/2 teaspoon cumin
2 teaspoons chopped canned chipotle peppers
1 teaspoon chili powder
2 cloves of garlic, crushed
1 teaspoon brown sugar
1/2 teaspoon garlic salt
1/8 teaspoon smoked paprika
1/4 cup shredded sharp cheddar (optional)
Instructions
Chop Fingerling potatoes lengthwise and slice any long potatoes in half so all your potatoes are similar in size.
Place potatoes in a medium size mixing bowl.
Drizzle one tablespoon of the olive oil over the potatoes and stir to coat evenly.
In a small bowl combine the garlic, chipotle peppers, spices and brown sugar. Sprinkle over the potatoes and stir to coat evenly.
Heat a cast iron or nonstick skillet to medium heat and add remaining tablespoon of olive oil.
Cook potatoes for 12-15 minutes stirring regularly (at least every two minutes) so the sauce does not burn and the potatoes do not stick.
The potatoes are done when they are a bit crisp on the outside and fork tender.
Sprinkle with shredded cheddar if desired.
Notes
Type of potato: Fingerling
Dietary: Gluten Free
Cook Method: Pan sear
Nutrition Information:
Yield:

5
Serving Size:

1
Amount Per Serving:
Calories:

127
Total Fat:

5.8g
Cholesterol:

0mg
Sodium:

141.7mg
Carbohydrates:

17.2g
Net Carbohydrates:

15g
Fiber:

2.2g
Sugar:

1.4g
Protein:

2.1g