This Easy Buffalo Roast Chicken is packed with flavor and makes an easy and delicious dinner! Try this spicy twist on a classic!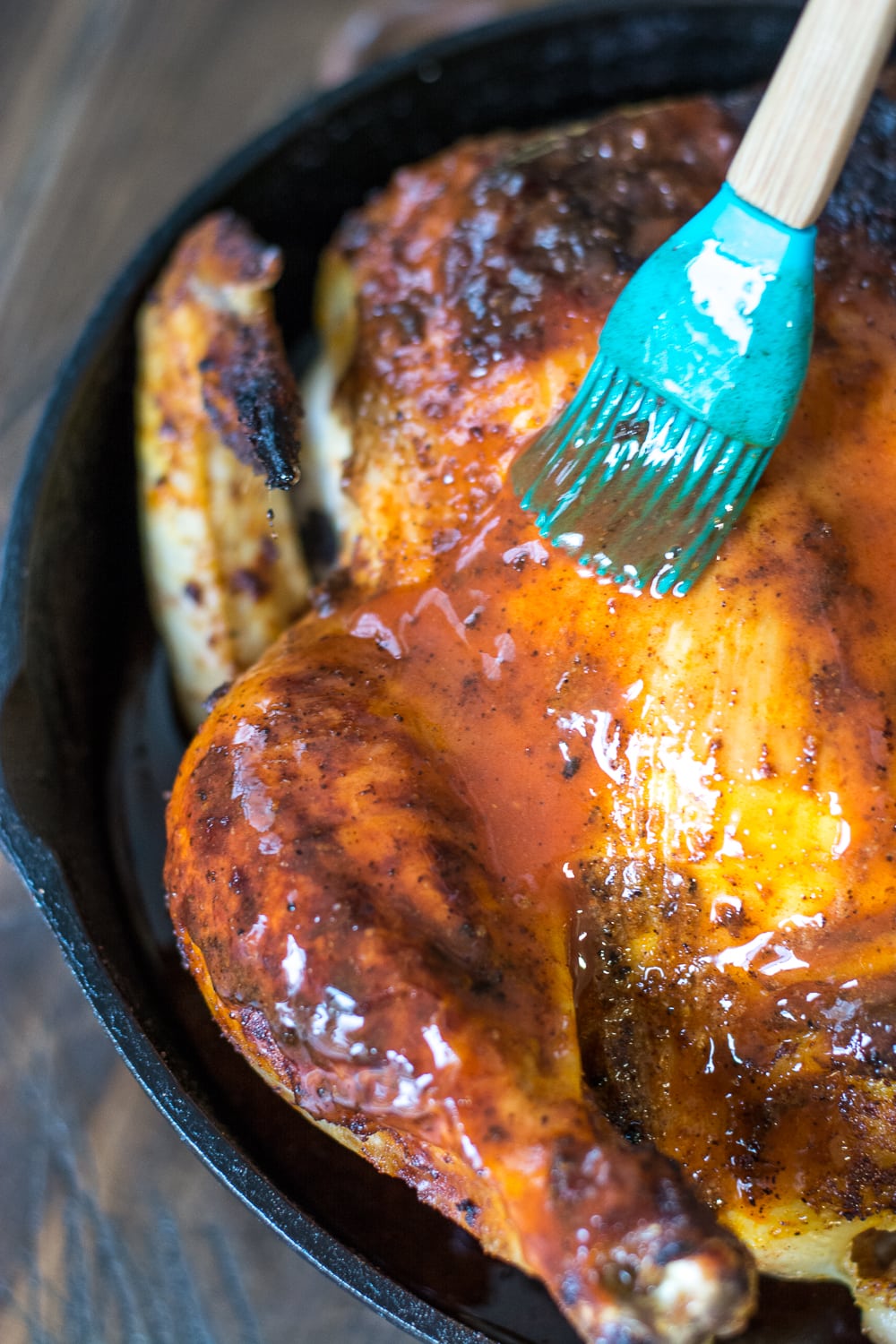 Do you have a weekly staple on your menu? You know, like taco Tuesday or pizza Friday? We do, we are such creatures of habit we have variations of the same kinds of dinner almost weekly. One of our go-to is an easy roast chicken. I love the simplicity of a roast chicken. It takes very little prep work, makes a good amount of food to give you a jumpstart on the week, and you can make a million different variations of it!
We are Buffalo Chicken addicts here, we've got recipes for Buffalo Chicken Chili, Buffalo Chicken Sweet Peppers, and Buffalo flavored Tenders, so creating a delicious buffalo flavored roast chicken was a must! This easy chicken is rubbed with a savory combination of our favorite spices. Most of the spices you probably already have in your cabinet like chili powder, garlic salt, and paprika.
What ingredients are needed for Roasted Buffalo Chicken?
This buffalo chicken recipe comes together quickly with minimal ingredients. Here's what you'll need to make a buffalo roasted chicken:
Whole chicken
Garlic salt
Chili powder
Garlic powder
Cayenne pepper
Paprika
Smoked paprika
Olive oil
Buffalo sauce
Apple cider vinegar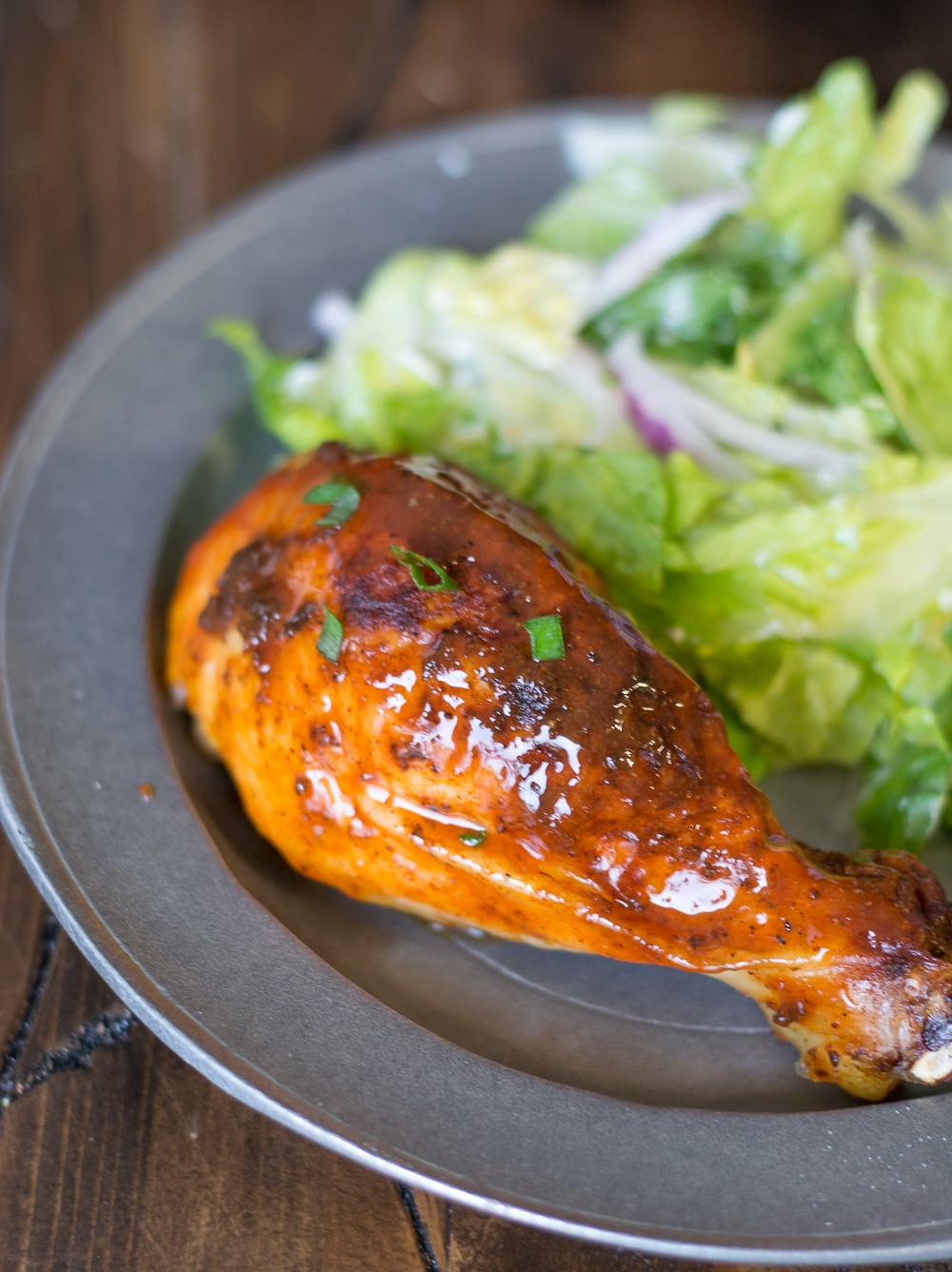 How do you make Roast Chicken?
Here is how we make it! Unwrap and remove anything from the inside cavity of your chicken (I use tongs and put this straight into a plastic bag to dispose of easily) and rinse with cool water. Pat your chicken dry and place it on a cutting board or clean work surface.
Sprinkle half the seasonings on one side of the chicken and rub it evenly so it is completely coated, flip the chicken and repeat with the other side. Place your chicken in a medium-size cast-iron skillet or baking dish. Drizzle the top of the chicken with olive oil and rub it on so that it is completely covered. And pop it in the oven!
Meanwhile, I combine a bit of buffalo sauce and apple cider vinegar in a small saucepan on the stove and bring it to a simmer, then reduce to heat to low for 10-15 minutes just so the sauce has some time to thicken and for those flavors to meld together, then set aside. After about 45 minutes check your chicken with a meat thermometer and when it reaches an internal temp of 160 degrees it's done! Allow your chicken to rest a few minutes before cutting, then brush on that tangy buffalo sauce! There you have it, an easy hearty dinner that is a fun twist on a classic!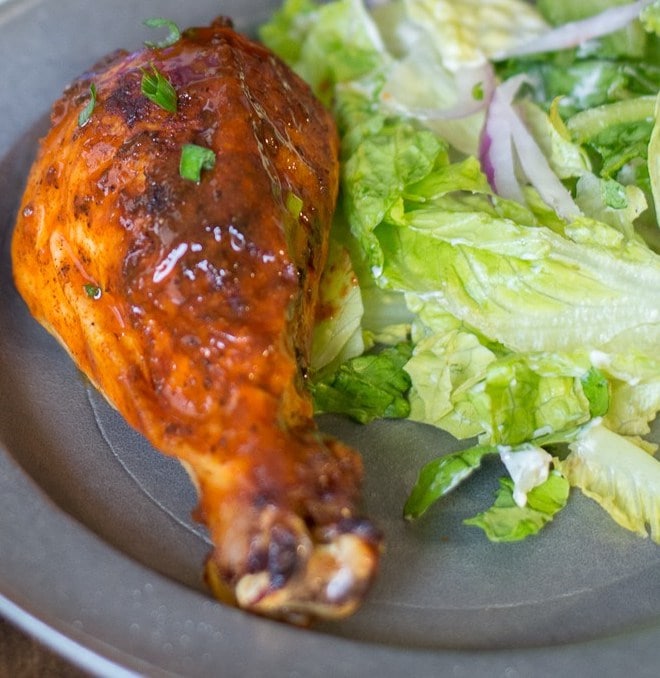 Is this Buffalo Chicken Keto-friendly?
Yes! This Healthy Roasted Buffalo Chicken makes 6 servings and has only 0.4 net carbs per serving! Just be sure to use a low-sugar buffalo sauce.
What to Serve with Easy Buffalo Roast Chicken
This easy and healthy roasted chicken takes very little prep work and makes a good amount of food to give you a jumpstart on the week, and you can make a million different variations of it! Here are a few of our favorite side dishes.
Other Low-Carb Chicken Dinners:
SaveSave
SaveSave
SaveSave
SaveSave
SaveSave
SaveSave
SaveSave
SaveSave
SaveSave
SaveSave
SaveSave