This Slow Cooker Potato Soup is a lightened up version of a classic! The potato soup simmers all day in a crockpot, and you'd never guess this recipe is packed with veggies!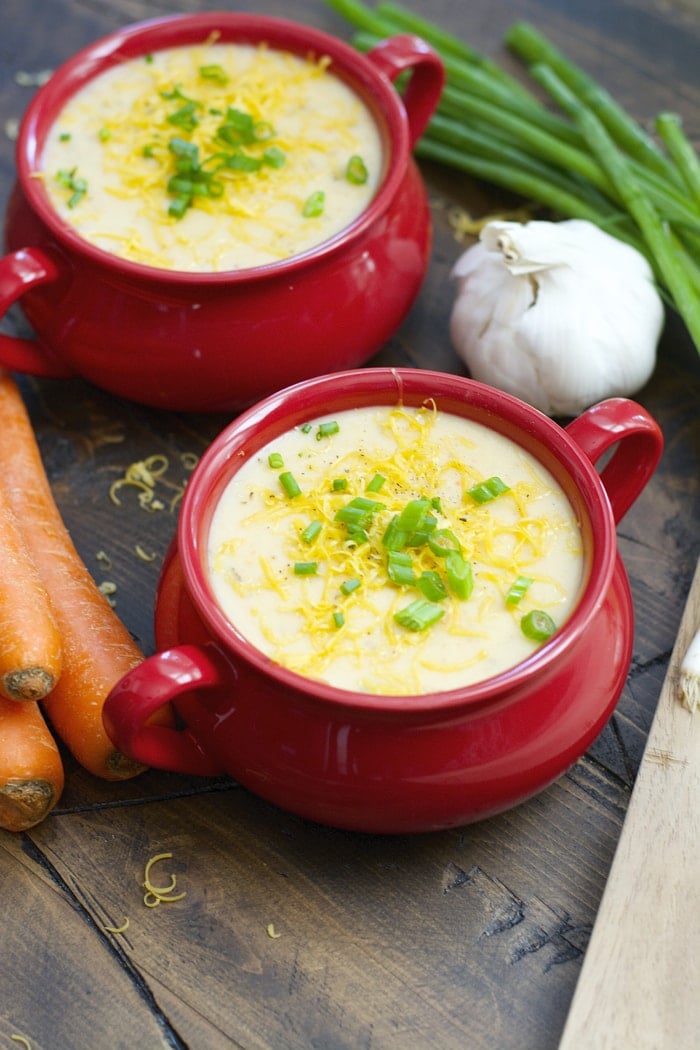 Mr. Maebell was a picky eater. Actually, picky eater is kind of an understatement. He ate meat and cheese, and that is about it. I distinctly remember a very heated discussion when I tried to get him to eat a bell pepper. I knew then I was in for an uphill battle.
So, while others may have given up or feed him only Buffalo Chicken for the rest of his life, I decided to get creative. And by creative, I mean I lied to him all. the. time. about what was in his food.
He bragged on my cheesy mashed potatoes — they were actually half cauliflower. He could eat my marinara sauce with a spoon but he had no idea I blended mushrooms, onions and peppers right into it. I snuck fruits and vegetables into anything I possibly could. If he noticed, he never said anything but it lead me to think I was quite clever.
Fortunately, over time he started to venture out and eat lots of things he never would have considered before. Now, there isn't really anything he won't eat! One of his new favorites is this Chicken Taco Soup, so I decided to keep going with the soup trend!
While I was making this easy creamy potato soup — which is actually loaded with leeks, onions, garlic and carrots — I was thinking about those first few years we lived together and how I had to sneak all those things in our meals. Then I realized I didn't have to hide it from him that this soup was actually loaded with veggies … but for old time's sake, I decided to anyway. 🙂
Bring out your crock pot because this potato soup recipe gets to simmer away all day!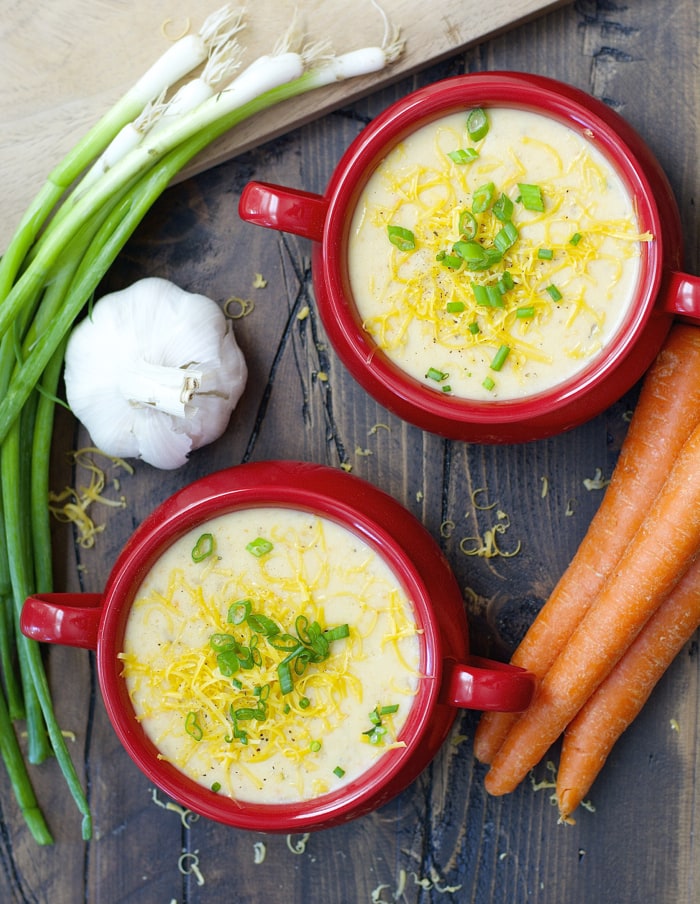 Ingredients in Slow Cooker Potato Soup
The ingredients list for this homemade potato soup is short and simple:
Olive oil
Vegetables: Russet Potatoes, Leeks, carrots, white onion, garlic
Chicken broth
Cream cheese
Shredded cheddar cheese
Salt and pepper
The only "tools" you need are a crock pot or slow cooker as well as a blender. I used an immersion blender, but you could ladle it into a normal blender if that's best for you.
What Are the Best Potatoes for Potato Soup?
I prefer using russet potatoes in this simple potato soup recipe. Russet potatoes are high in starch, which results in an ultra thick and creamy potato soup.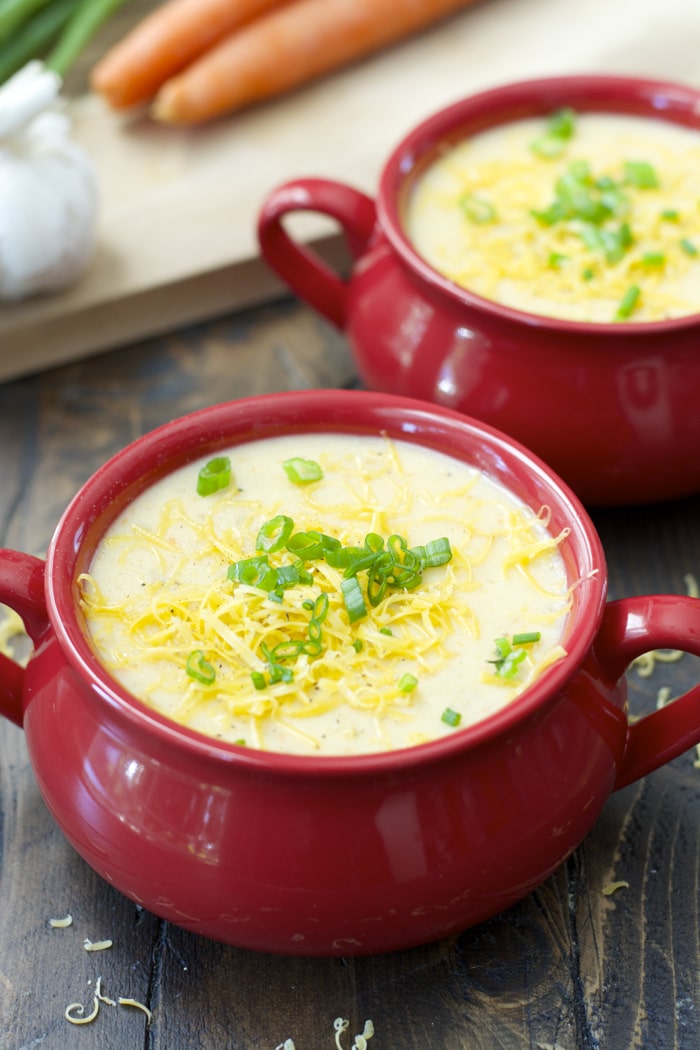 How to Make Potato Soup in a Slow Cooker
This Crockpot creamy potato soup is a breeze to make! Here's an overview of the process:
Sauté the leeks in a skillet until tender.
Add the leeks, onions, carrots, garlic cloves, potatoes, and broth to the slow cooker.
Cook on low for 8 hours.
Stir in the cream cheese, then use an immersion blender to blend the soup to the desired consistency.
Stir in the shredded cheddar and dig in!
Toppings for Potato Soup:
I LOVE to add toppings to my soup! It's a great way to add more flavor and textures–Plus, everyone can customize their own bowls! Here are some of my favorites:
Bacon, crispy ham, pork belly
Crumbled or shredded cheese (cheddar, parmesan, asiago, etc.)
Sour cream or plain, unsweetened Greek yogurt
Chives, green onions
Roasted broccoli, brussels sprouts, or chopped asparagus spears
Toasted almonds or pecans
What to Eat With Potato Soup
Not sure what to serve alongside this homemade potato soup? Here are some side dish suggestions: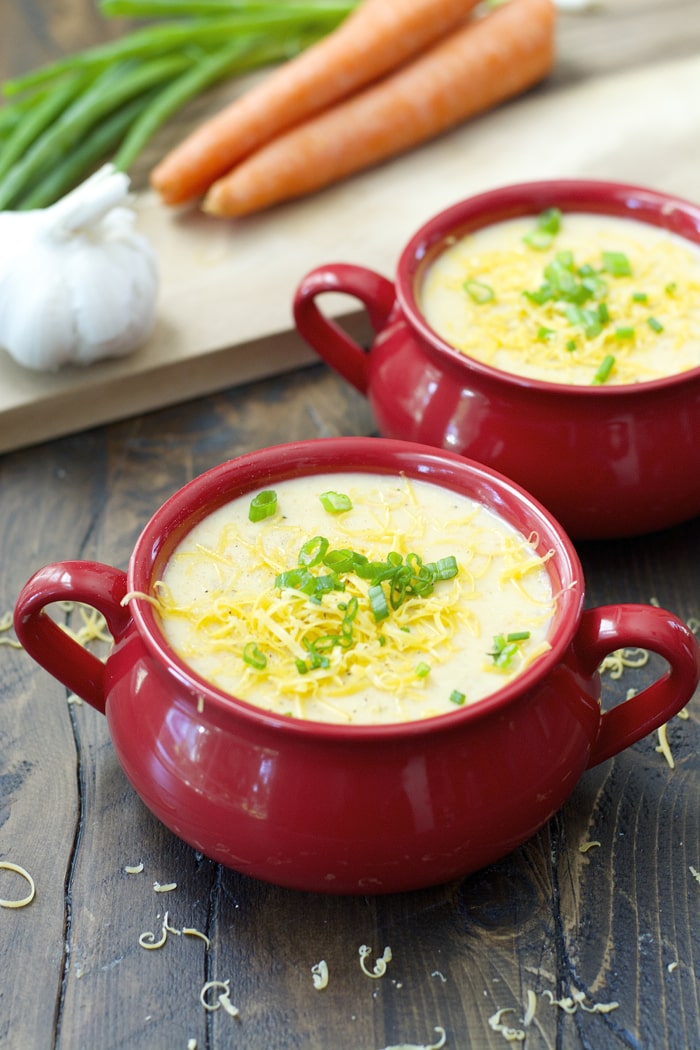 Can You Freeze Crockpot Potato Soup?
Because this slow cooker potato soup contains shredded cheese and cream cheese, I don't recommend freezing it. It'd likely develop a grainy texture once frozen and reheated.
You could definitely cook the soup, then cool and freeze BEFORE adding the cream cheese and shredded cheese, though! When ready to serve, just thaw, warm in the crock pot, add your additional ingredients, and blend!
How should I reheat potato soup?
This potato soup recipe is super easy to warm up. If you have a lot to warm up, you could put it right back into the crockpot, and let it slowly warm up over an hour, occasionally stirring.
If you need it warm quicker, you can easily microwave bowls in 30-second increments, stirring between bursts so it warms evenly. You could also warm it in a stockpot on the stove.
Tips for Making Homemade Potato Soup in a Crockpot
For a creamy potato soup, be sure to peel the potatoes before cooking them. Otherwise you'll wind up with pieces of skin in the soup (which I don't mind, but some people do!).
Thoroughly rinse the leek under running water before sautéing it. Leeks can have lots of sand hiding in them.
Puree this soup all the way or leave it chunky. Up to you!
More Slow Cooker Soup Recipes: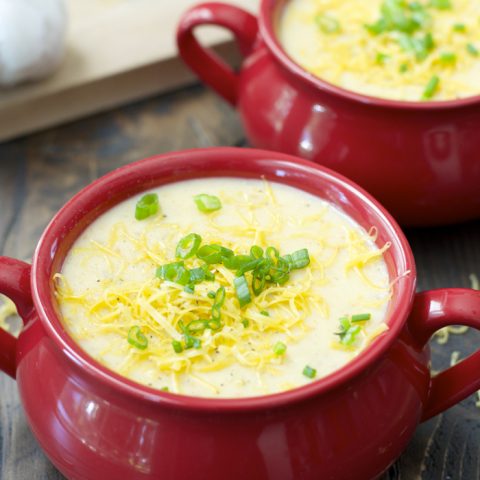 Slow Cooker Potato Soup
Total Time:
8 hours
15 minutes
This Slow Cooker Potato Soup is a lightened up version of a classic creamy potato soup! You'd never guess it is packed with veggies!
Ingredients
2 teaspoons olive oil
1 medium leek, thinly sliced
1 medium size carrot, sliced
5 cloves of garlic
1 small white onion, chopped
5 large russet potatoes, quartered
1 (32 ounce) carton of chicken broth
8 ounces (1 block) reduced fat cream cheese
1 cup shredded cheddar
1/2 teaspoon black pepper
1/2 teaspoon salt
Instructions
Heat the olive oil in a large skillet and add the thinly sliced leeks. Cook for 2-3 minutes until they are tender.
Scrape the leeks into the bottom of a large slow cooker. Add the onions, carrots and garlic cloves to the slow cooker.
Top with quartered potatoes and the chicken broth.
Cook on low for up to 8 hours.
When ready to serve, turn off slow cooker and add the cream cheese in small cubes. Use an immersion blender to blend the soup to the desired consistency.
Stir in cheddar cheese and salt and pepper.