This is a sponsored post for HemisFares™ brand that is available exclusively at Kroger family of stores.  All opinions are honest and 100% my own.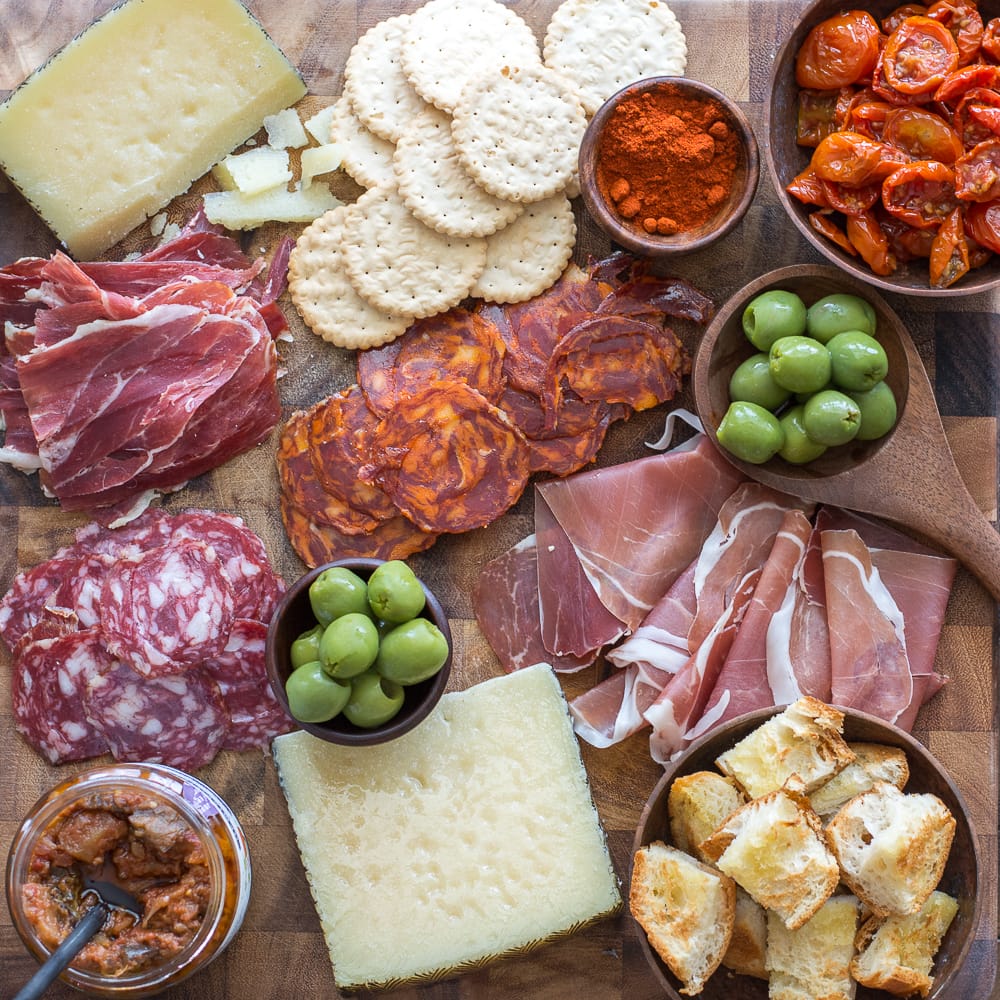 I am a sucker for a good appetizer platter. There is nothing better than a nice big Charcuterie board packed with cured meats and fancy cheeses. It is fun, it is easy and it is perfect for parties! I like to think of the Charcuterie board as the perfect "recipe" for the reluctant entertainer. If you have a nice big cutting board, meats, cheeses, olives, antipasto and rich tomatoes you can make an impressive dish!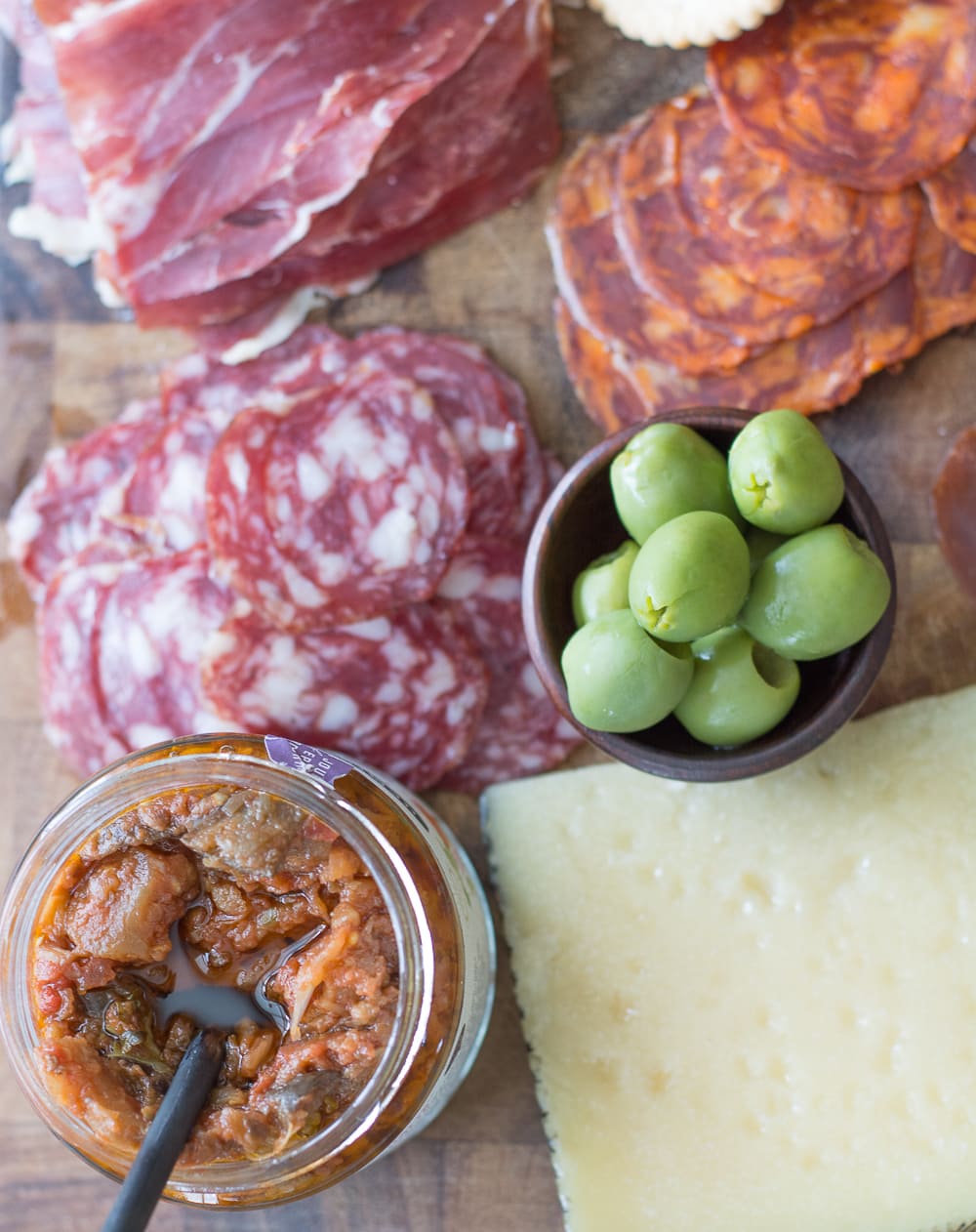 The word charcuterie originates from the French words for "meat" and "cooked" so naturally the meat is generally the star of the show. A staple for most Charcuterie boards includes cured prosciutto and salami. These flavor rich meats pair great with a variety of cheeses and go well with crackers and breads. For this Charcuterie board I decided to stick with a Spanish style board inspired by HemisFares impressive line of gourmet ingredients curated from around the world!  In addition to the more common cured meats I  also added slices of savory  HemisFares Chorizo and Iberia Pork Ham.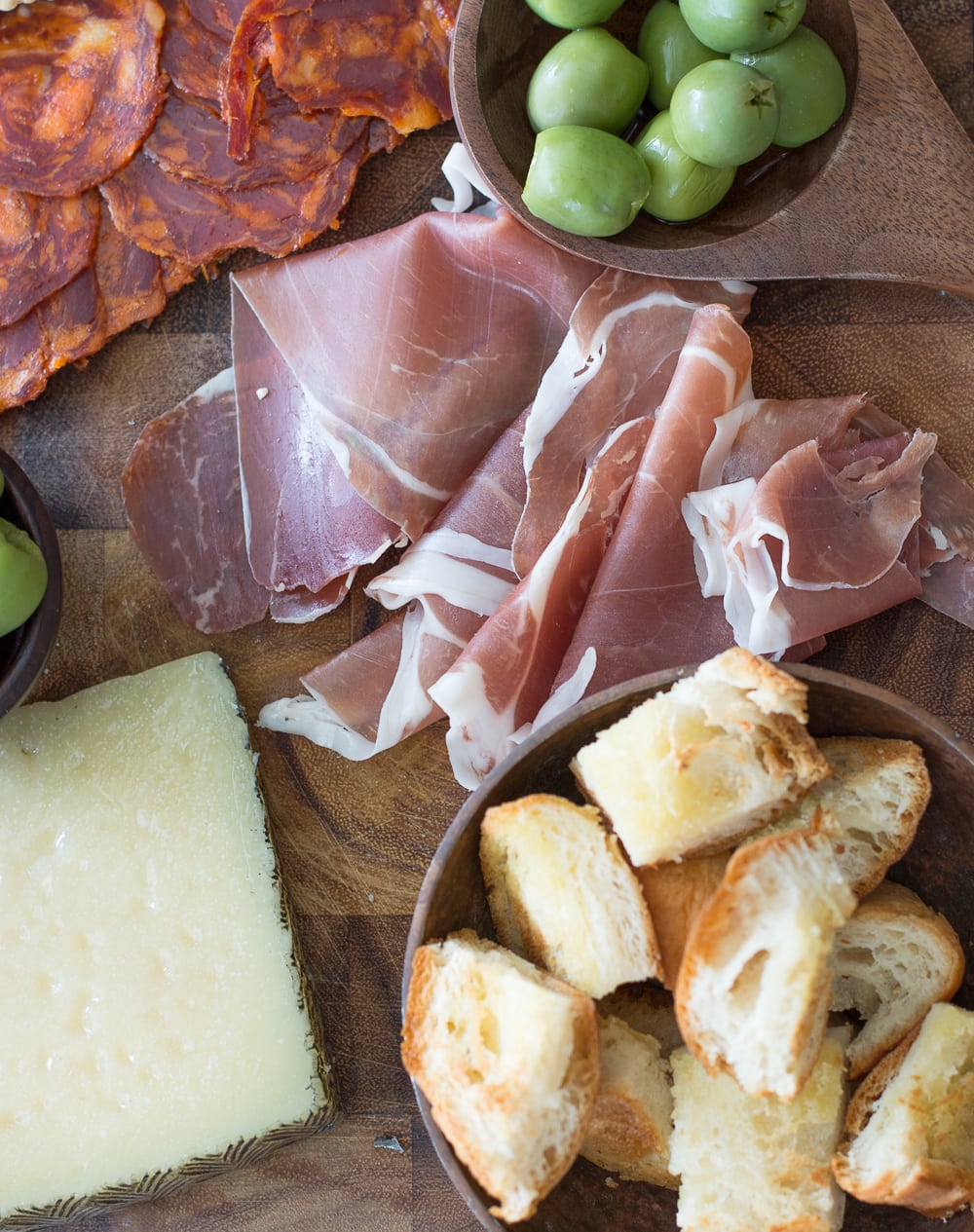 The easiest part of a Charcuterie board is always the cheese! You simply cannot make a bad choice when selecting gourmet cheeses! You can offer a variety of flavors like brie or smoked gouda. However, if you prefer to keep the flavors more mild you can offer something like a semi-hard HemisFares Manchego cheese like I did. It goes well with everything else on the board and doesn't have an over powering taste.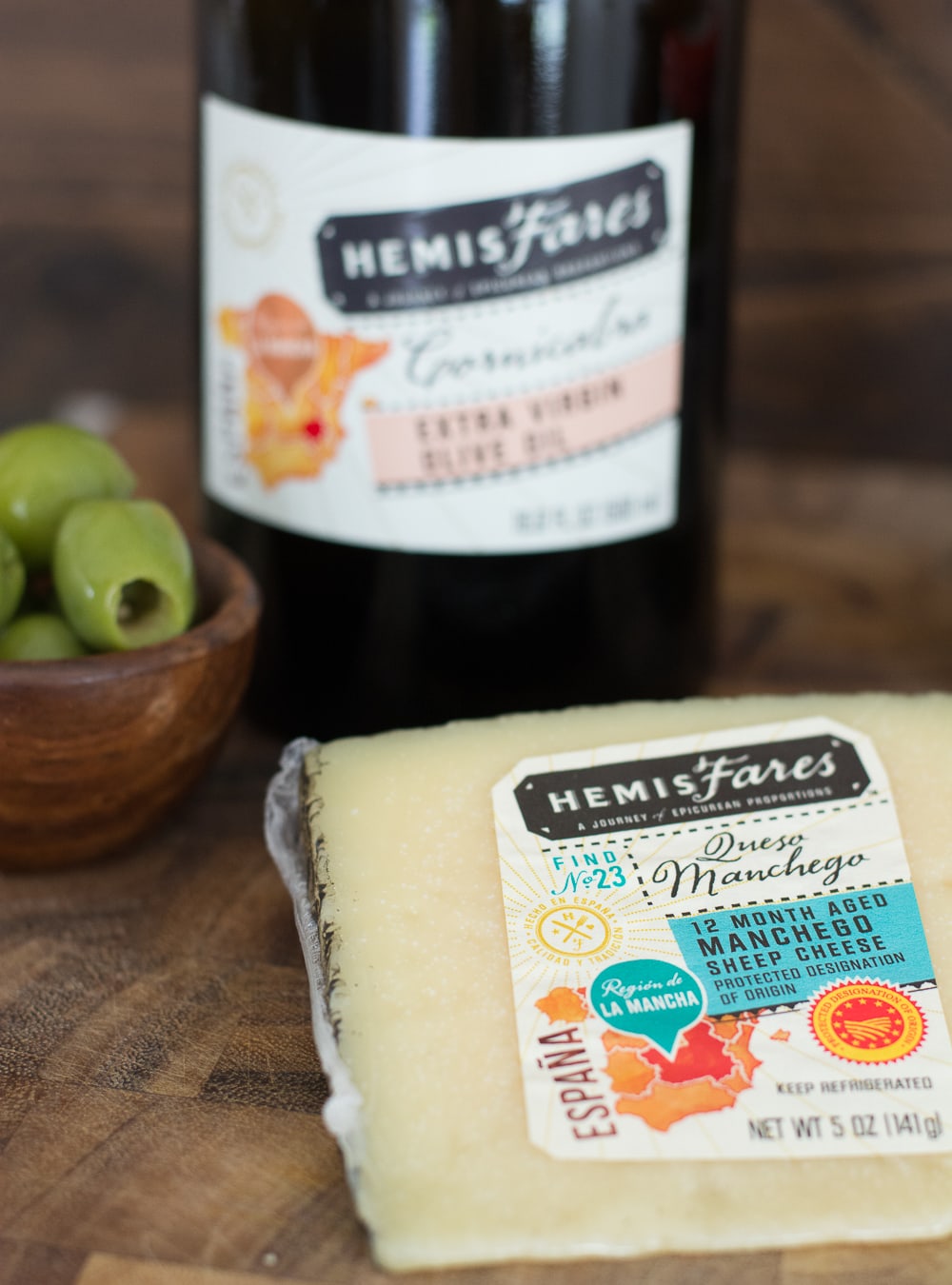 Once you have the meat and cheeses in place it is time to add the "jewels" as I like to call them. These are the pops of color (and flavor) that you add to your board. Since I was sticking closely with a Spanish style board I added tangy brined green olives, rich smoked paprika for sprinkling, delicious herb packed Semi-Dried Tomatoes and a simple Eggplant Antipasto that goes great with everything. All of these ingredients can be found in the HemisFares line at your local Kroger which makes entertaining a breeze!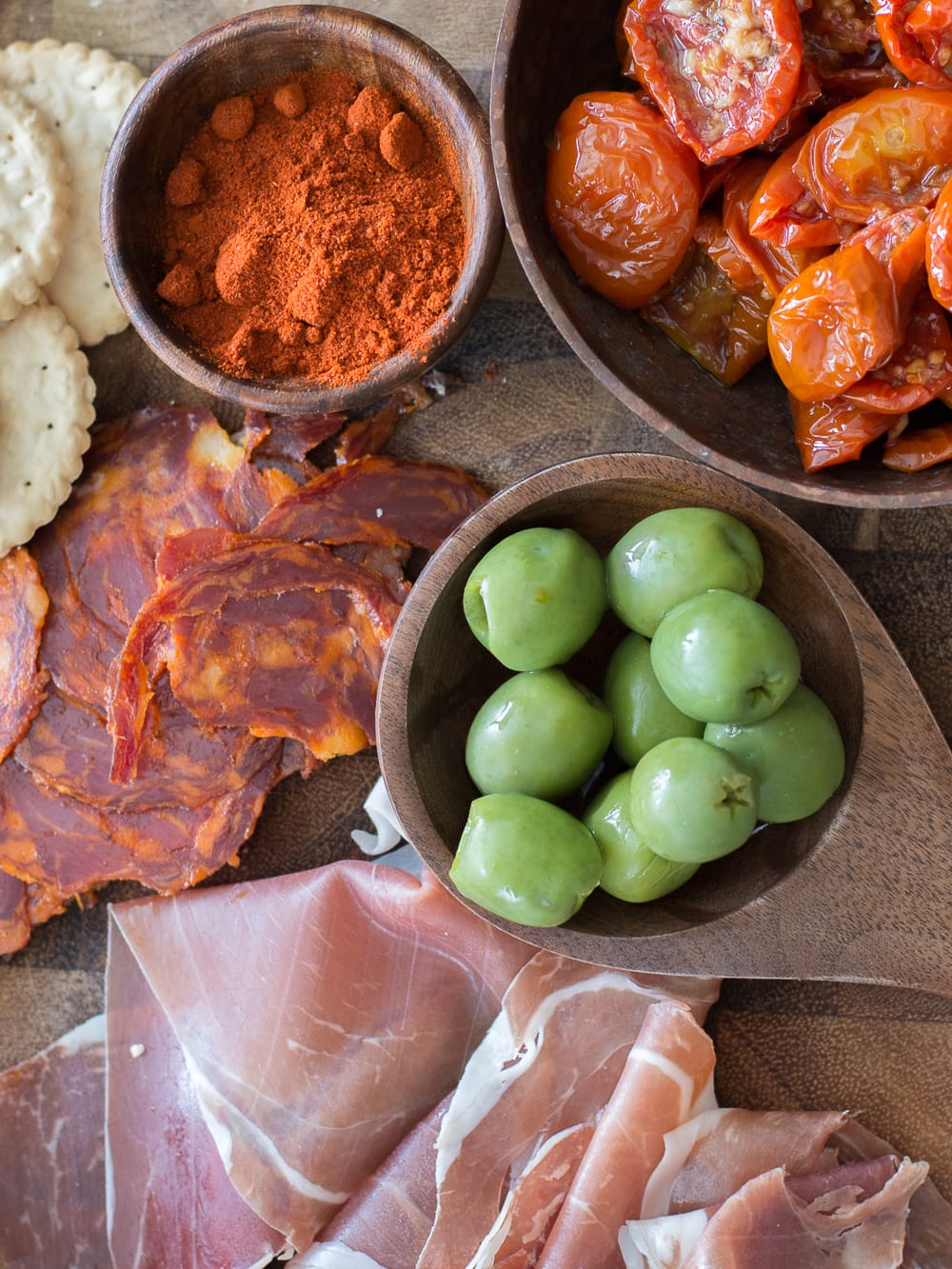 To finish off your board add any kind of bread, crackers, pretzels! You can also add small groups of your favorite fruits, jams and nuts.
Shopping List
(1) HemisFares Find No. 46 Green Castelvetrano Olives
(1) HemisFares Find No. 24 Extra Virgin Olive Oil
(1) HemisFares Find No. 29 Dry Cured Acorn Fed Iberico Pork Ham
(1) HemisFares Find No. 30 Dry Cured Acorn Fed Iberico Chorizo
(1) HemisFares Find No. 31 Dry Cured Acorn Fed Iberico Salami
(1) HemisFares Find No. 23 Queso Manchego Cheese
(1) HemisFares Find No. 28 Smoked Spanish Paprika
(1) HemisFares Find No. 38 Eggplant Antipasto
(1) HemisFares Find No. 37 Semi Dried Cherry Tomatoes
(1) HemisFares Find No. 44 Italian Mountain Speck
Assembly
Grab a large cutting board and arrange your meats, cheeses, bread, crackers and other items to your liking. Use small bowls, large tasting spoons or jars to house your olives, antipasti and spices.
Most importantly, have fun! Your guests will love the presentation and you will love how simple this is!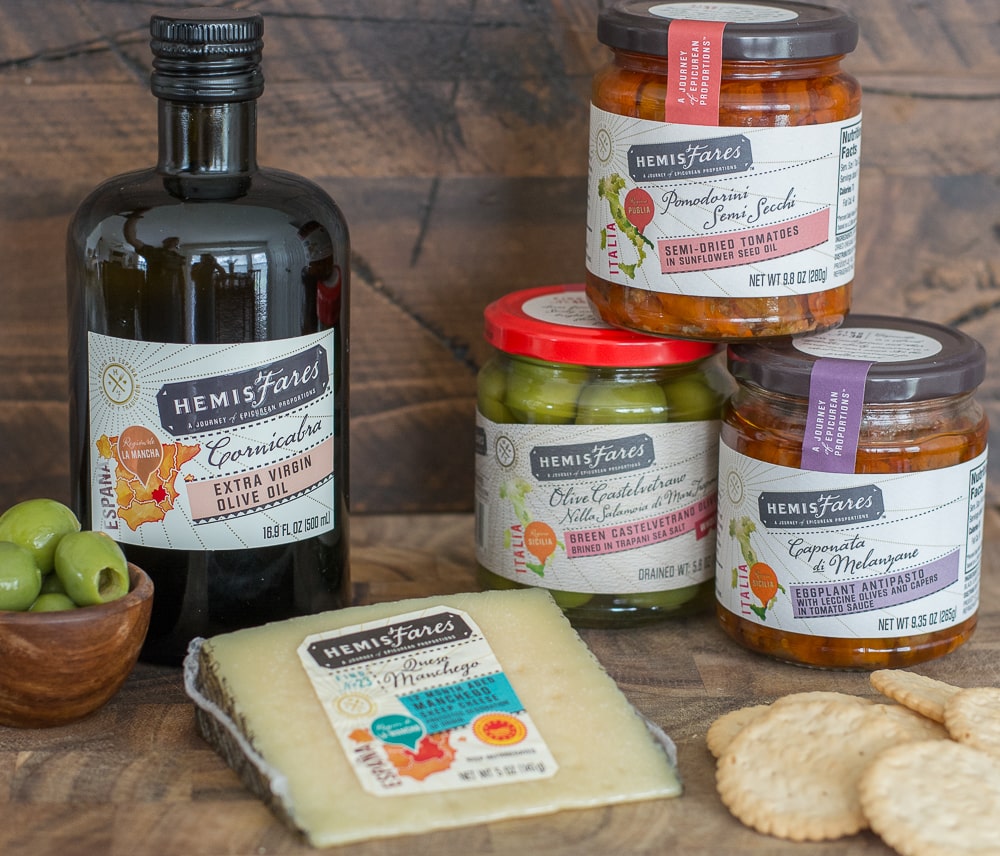 Check your local Kroger for these and other HemisFares products especially curated with you in mind! For more information on HemisFares you can check out the website HemisFaresFinds.com or visit them on Facebook for more easy recipe ideas!