Learn how to make the Perfect Charcuterie Board loaded with the best meats, cheeses, spreads and spices! This is the perfect tutorial to make entertaining a breeze!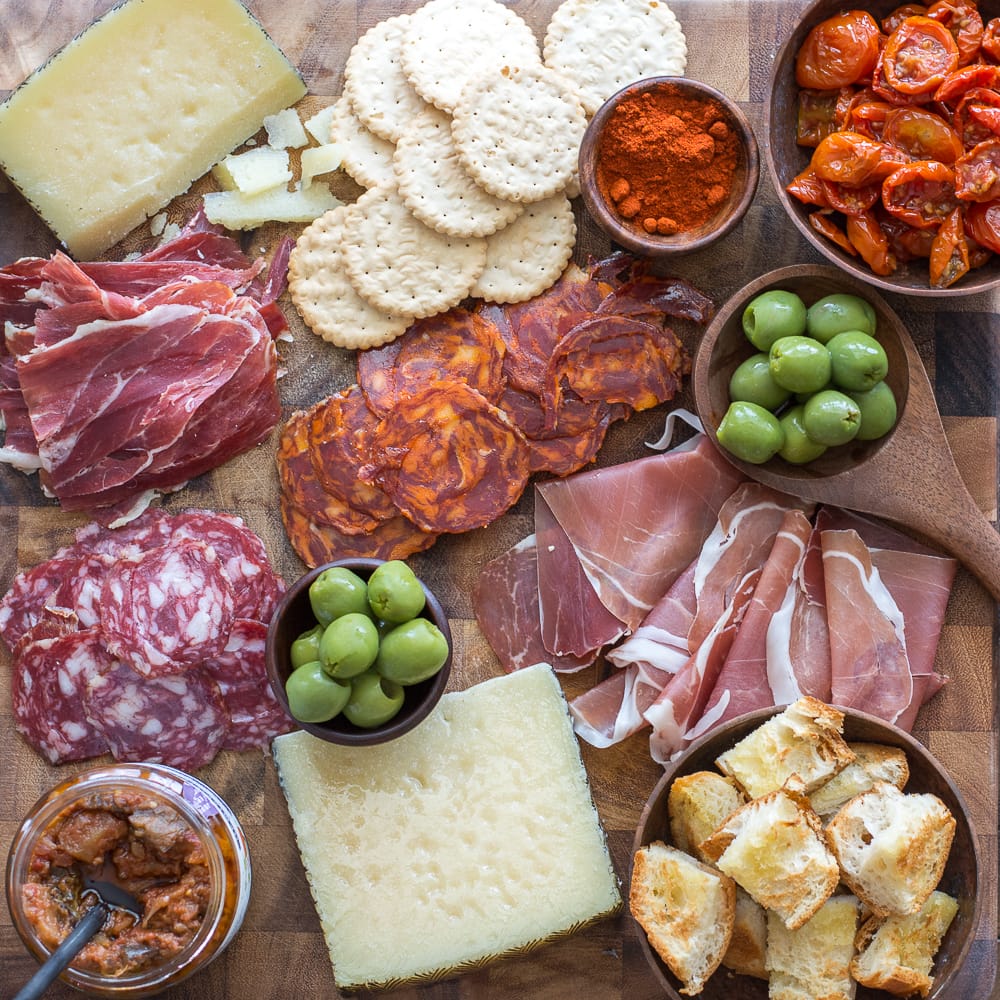 I am a sucker for a good appetizer platter. There is nothing better than a nice big charcuterie board packed with cured meats and fancy cheeses. It is fun, it is easy and it is perfect for parties! I like to think of the charcuterie board as the perfect "recipe" for the reluctant entertainer. If you have a nice big cutting board, meats, cheeses, olives, antipasto and rich tomatoes, you can make an impressive dish!
What is a Charcuterie Board?
The word charcuterie originates from the French words for "meat" and "cooked" so naturally the meat is generally the star of the show. A staple for most charcuterie boards includes cured prosciutto and salami. These flavor-rich meats pair great with a variety of cheeses and go well with crackers, breads, fruits, and vegetables. The best thing about charcuterie boards, though, is that you can customize it specifically for your tastes and occasion!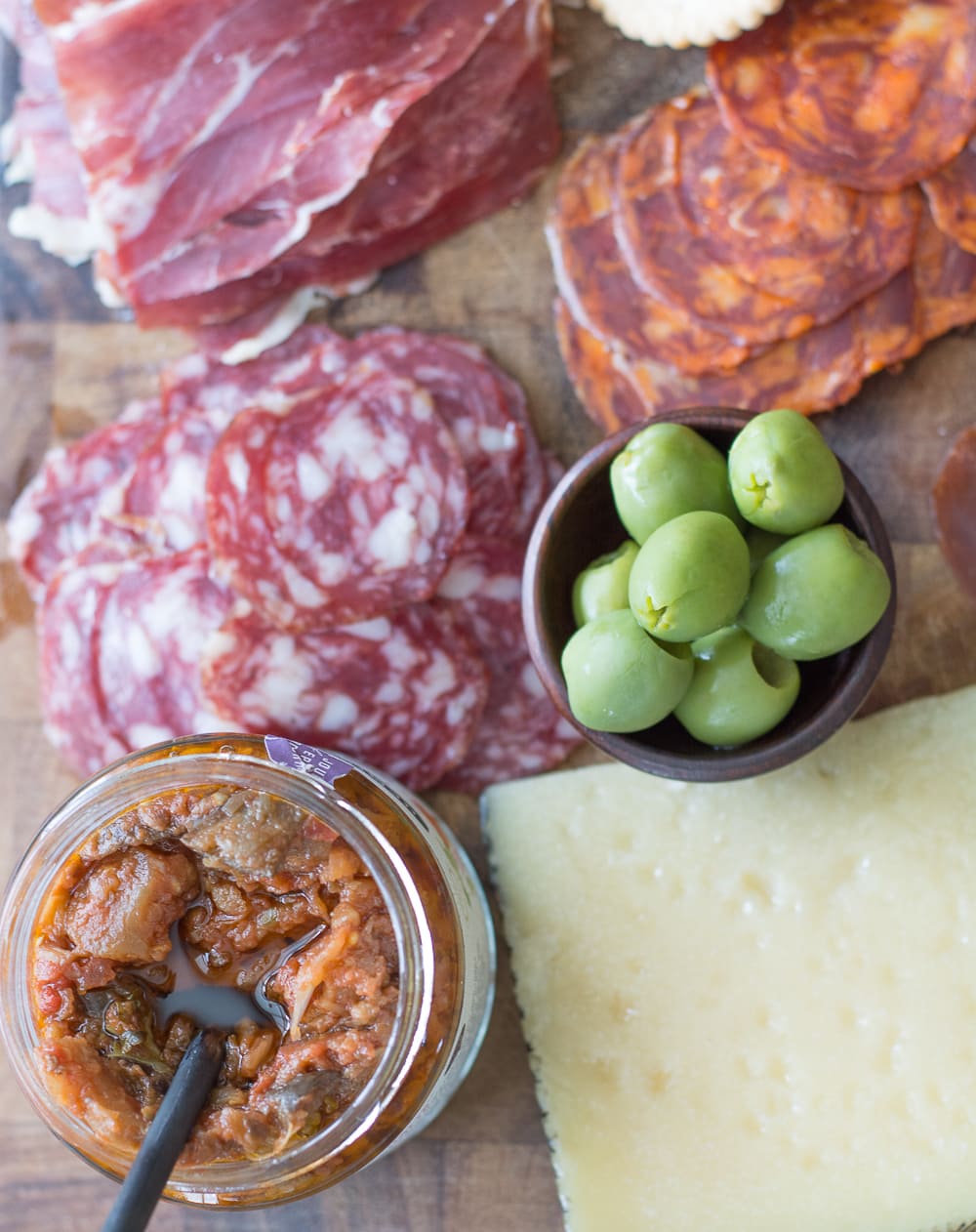 How do you make a Charcuterie Board?
The design aspect is a fun part of serving a charcuterie board. It's often said that we eat with our eyes first, so how and where you lay out your snacking goods can be an intentional entertaining choice! Of course, you're welcome to just toss it all on a cutting board–It'll still taste delicious. But when I want to design a feast for my guests' eyes, here's how I like to start start:
First, I place nuts, olives, dips, fruits, and spices into small bowls, ramekins, or jars. Set these out around the board, grouping them to look interesting. Often I like to match contrasting colors and textures… Bright green olives with deep red roasted tomatoes, black olives near bright-colored spices, shiny dates near a grainy mustard, etc.
Next, the cheeses, crackers, toasted breads, etc. For cheese, you can either place a large chunk and provide a cheese knife for guests to cut off portions OR you can provide sliced and/or cubed cheese. Variety adds to the allure of the charcuterie board, so you can do all three if you'd like! You can fan out your crackers or keep them tightly lined up to save space. You can also lean them against the bowls you added in the first step!
Finally, the meats. You can place them folded or rolled to save space and to add visual interest. Prop them between bowls or lay them flat on the board–Whatever you think looks the most appealing!
If you want your board to look super full, you can fill in any spaces with pretzels, fruits, fresh herbs, etc. This isn't necessary, it's just all about the visual factor!
How do you know what to put on a Charcuterie Board?
There are countless options out there, but it's most important that you pick food that you like! Try to choose a variety of textures and flavors, but don't feel the need to add a "pretty" ingredient if you don't think anyone will want to eat it.
For this Charcuterie board I decided to stick with a Spanish style board inspired by items curated from around the world! In addition to the more common cured meats, I also added slices of savory Chorizo and Iberia Pork Ham. You can choose any theme you wish, or mix and match your favorite ingredients.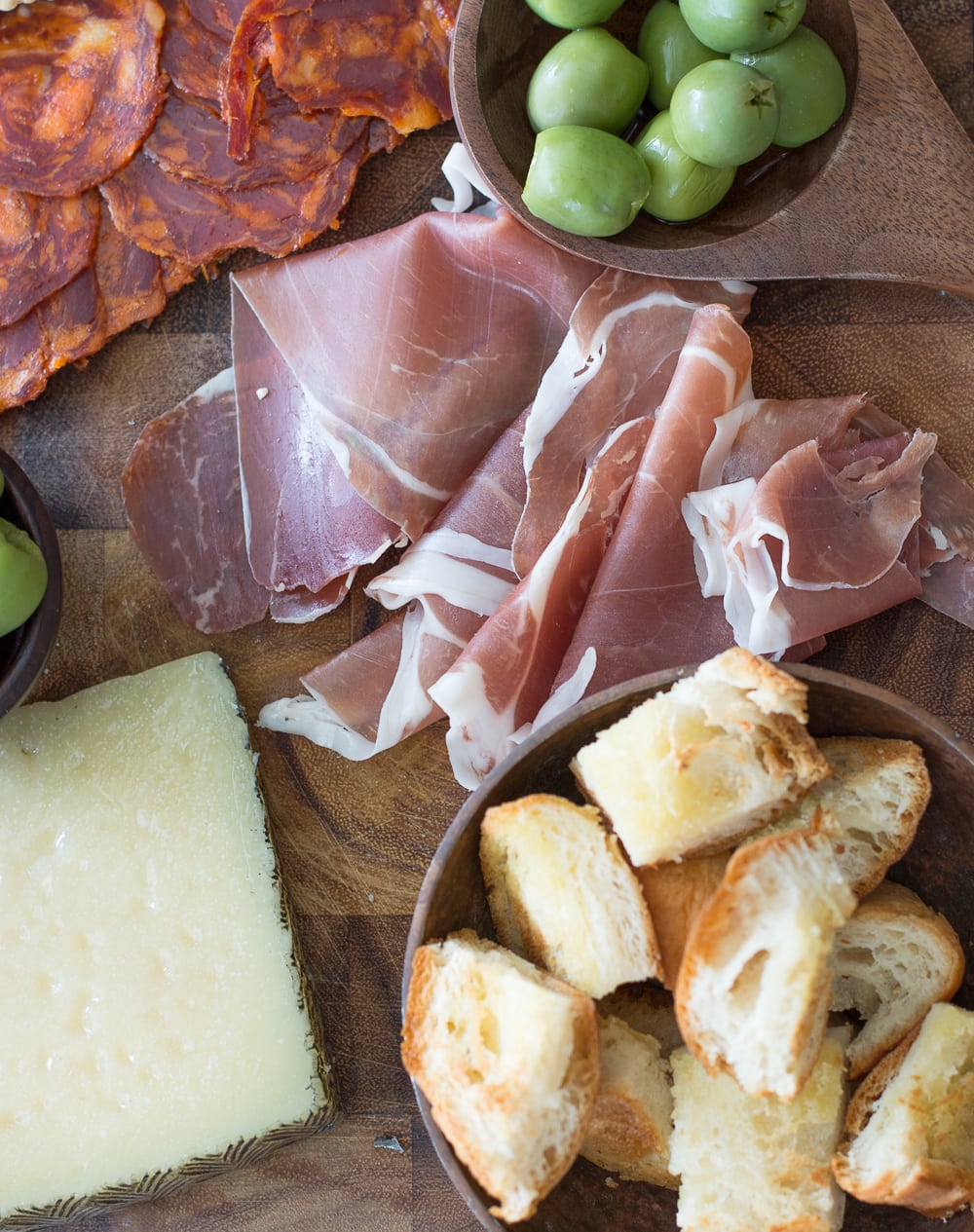 What is the best charcuterie board cheese?
The easiest part of a Charcuterie board is always the cheese! You simply cannot make a bad choice when selecting gourmet cheeses. You can offer a variety of flavors like brie or smoked gouda. However, if you prefer to keep the flavors more mild you can offer something like a semi-hard Manchego cheese like I did. It goes well with everything else on the board and doesn't have an overpowering taste.
Including a mix of hard, soft, and in-between cheeses is great for texture variety. Here are some of my favorites:
Hard cheeses: Asiago, Parmesan, Gouda (easiest served in chunks)
Semi-hard or semi-soft cheeses: Cheddar, Havarti, Gruyere, Manchego (can be served sliced, cubed, or as a wedge with a knife)
Soft cheeses: Mozzarella, Gorgonzola, Burrata, Brie (can be served marinated or alone with toothpicks or as wedges with knives)
What else do you add to a cheese board?
Once you have the meat and cheeses in place it is time to add the "jewels" as I like to call them. These are the pops of color (and flavor) that you add to your board. Since I was sticking closely with a Spanish style board I added tangy brined green olives, rich smoked paprika for sprinkling, delicious herb packed Semi-Dried Tomatoes and a simple Eggplant Antipasto that goes great with everything. Jams and preserves also offer a great contrasting taste and texture!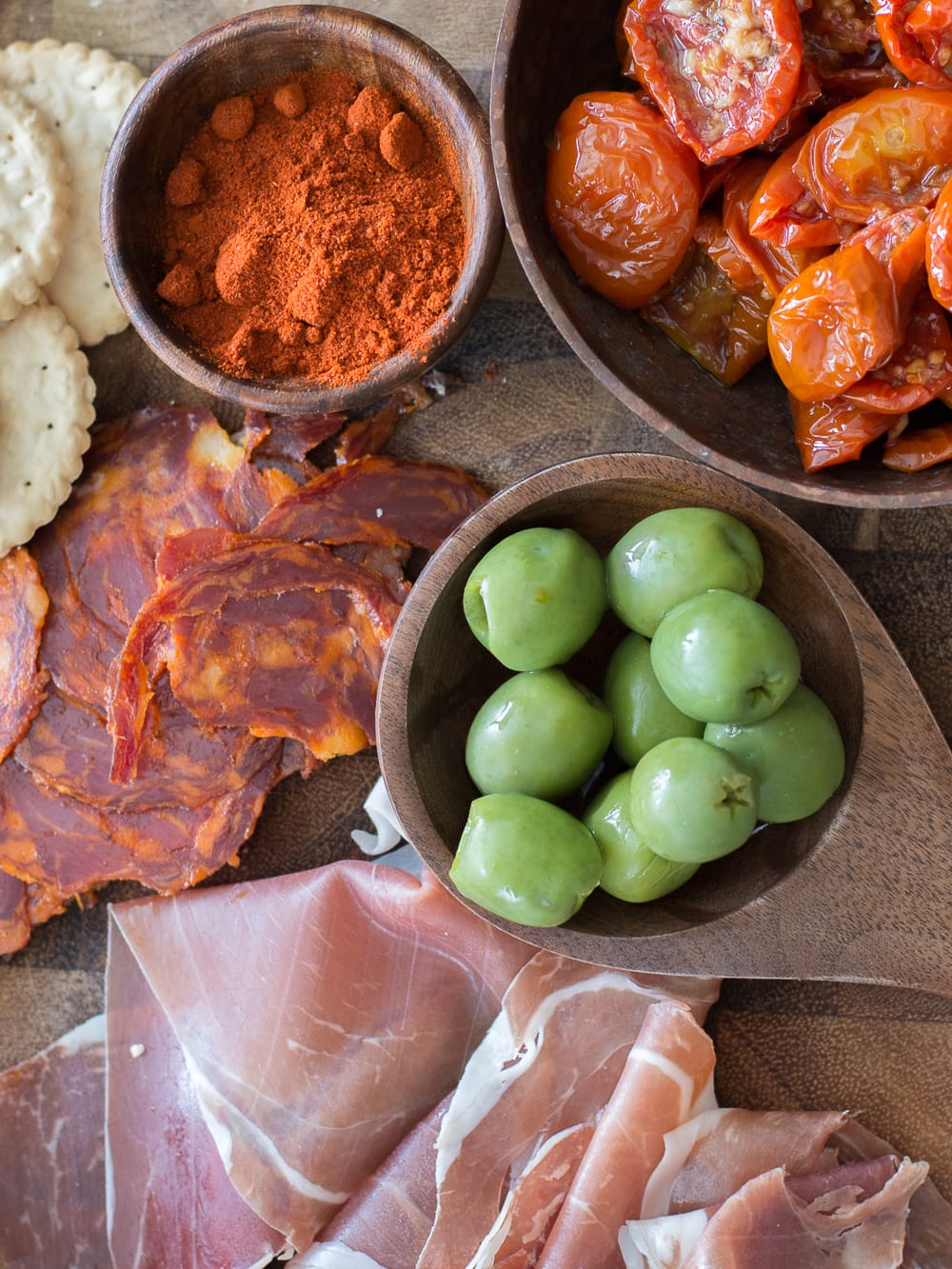 Shopping List for The Perfect Charcuterie Board
Jar Pitted Green Olives
Extra Virgin Olive Oil
Dry Cured Acorn Fed Iberico Pork Ham
Italian Mountain Speck
Dry Cured Acorn Fed Iberico Chorizo
Dry Cured Acorn Fed Iberico Salami
Manchego Cheese
Smoked Spanish Paprika
Eggplant Antipasto
Semi Dried Cherry Tomatoes
Best Charcuterie Boards for Serving:
Technically, you can serve charcuterie on anything! All you need is a large, flat surface, so a cutting board will do the trick. However, if you want to impress guests and make serving even easier, you can purchase boards specifically made for charcuterie.
For entertaining a large number of guests, these charcuterie board sets have you covered! They make fantastic gifts as they include tons of space for meats, cheeses, fruits, nuts, and more. All three of these options have drawers to make storage easy AND gives you ultimate flexibility to serve a couple guests or a dozen!
The first SMIRLY Cheeseboard Set includes a stone plate perfect for cheeses or desserts (keeps them nice and cool so they don't soften too much as they sit). It also has three small bowls that fit perfectly in their spots so your dips and olives won't easily fall out.
The second SMIRLY Cheeseboard Set is extra large and can hold a TON! It has two ceramic bowls plus four cute slate labels you can use for cheeses! There's even a wine opener, making this possibly the best all-in-one entertaining set for gifting (or to treat yourself!).
The HBLife Acacia Cheeseboard Set is a bit smaller but doesn't skimp on the features! The slate slab is right in the middle, perfect for your cheese. There are several indentions to fill with meats, nuts, fruits, crackers, and more, plus two small bowls for dips!
Simple Boards for Serving Charcuterie:

If you prefer a simpler set up, here are my favorites!
The Juvale Charcuterie Stone Plates make it easy to keep your snacks the right temperature, and you can label right on the board! The Birdrock Home Acacia Wooden Cheeseboard is as simple as it gets, but the beautiful woodgrain and length make it standout. The CTFT Cheeseboard Set gives the benefits of added utensils, a slate plate, and indentions while still being beautifully simple!
If you're interested in a tray to make serving easy, try out these DIY Wooden Tray! You can easily customize it with a stencil, making it a beautiful, thoughtful, inexpensive gift.
Other Appetizer Recipes
The Perfect Charcuterie Board
This Spanish-inspired Charcuterie Board offers delicious textures and flavors, perfect for an easy appetizer or meal! Mix and match your favorite ingredients for the perfect charcuterie board recipe.
Ingredients
Pitted Green Olives
Extra Virgin Olive Oil
Dry Cured Acorn Fed Iberico Pork Ham
Dry Cured Acorn Fed Iberico Chorizo
Italian Mountain Speck
Dry Cured Acorn Fed Iberico Salami
Manchego Cheese
Smoked Spanish Paprika
Eggplant Antipasto
Semi Dried Cherry Tomatoes
Instructions
Place your pitted olives, olive oil, paprika, antipasto, and cherry tomatoes in their own separate small bowls or jars around the board.
Arrange your cheese and meats around the bowls.
Notes
You generally want 3 ounces of charcuterie per person for an appetizer or 6 ounces for a main course.