Cheesy Shrimp and Grits are the ultimate southern meal! Cheesy grits, spicy shrimp, crispy bacon and fresh green onions are perfect comfort food!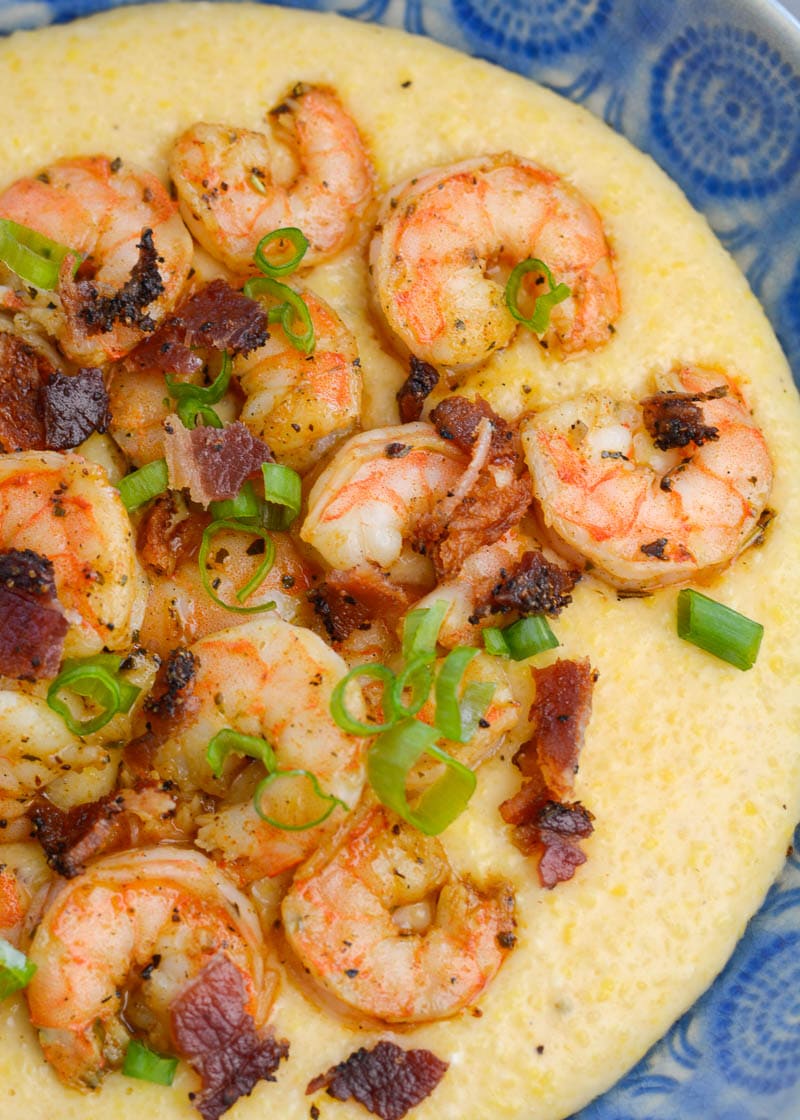 Heaven help. I do make a great effort to eat healthy, I hope that is at least semi obvious from this blog. I definitely enjoy the occasionally indulgence, but I really try to keep our little family on the right track. However, sometimes…well, sometimes you just need comfort food. Comfort food that soothes your soul, and eases your mind. On those rare occasions when I really need a meal like this I ignore any consideration for calories. Hey, you have to live a little!

One of our favorite comfort foods is this Shrimp and Grits. Oh my gahhhh this is so freaking good. I kid you not, this makes me a little weak in the knees.
For this recipe, plump shrimp are tossed in spices and perfectly sautéed. Grits are cooked in chicken broth then mixed with cream cheese, extra sharp shredded cheddar cheese to make the creamiest, cheesiest grits you have ever had! And if that doesn't sound like enough, top it all with freshly chopped green onions, crisp bacon, and freshly ground black pepper.
If you are only going to try one recipe on this site, let it be this! It is better than any restaurant quality shrimp and grit dish I have ever had. And trust me, I've had more than a few.
If you have never made the leap and tried shrimp and grits before, this is the recipe that should push you over the edge. The grits do not have a distinctive taste on their own, instead they just soak up the flavor of the shredded cheddar, cream cheese, and chicken broth. Really, just give it a try! It is very simple, and comes together pretty quickly. Just take a good look, this is too good to resist!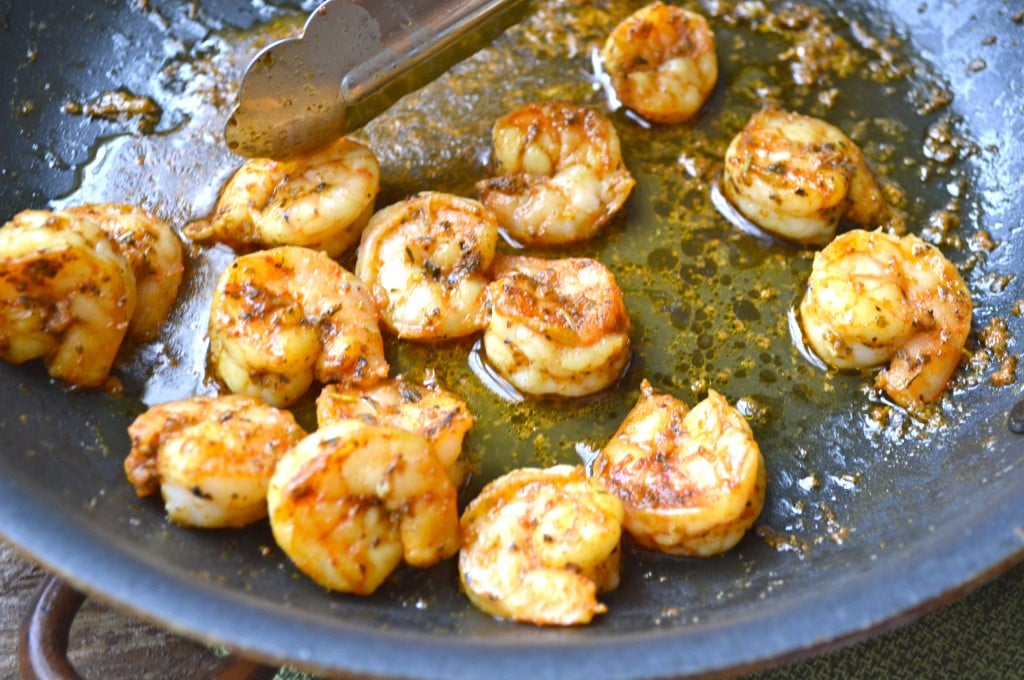 Ingredients in Creamy Shrimp and Grits
To make the spiced shrimp and cheese grits, you'll need the following ingredients:
Shrimp
Olive oil
Spices: Old Bay seasoning, Italian seasoning, Garlic powder, Smoked paprika
Chicken broth
Yellow corn grits
Cream cheese
Shredded sharp cheddar cheese
Green onions
Bacon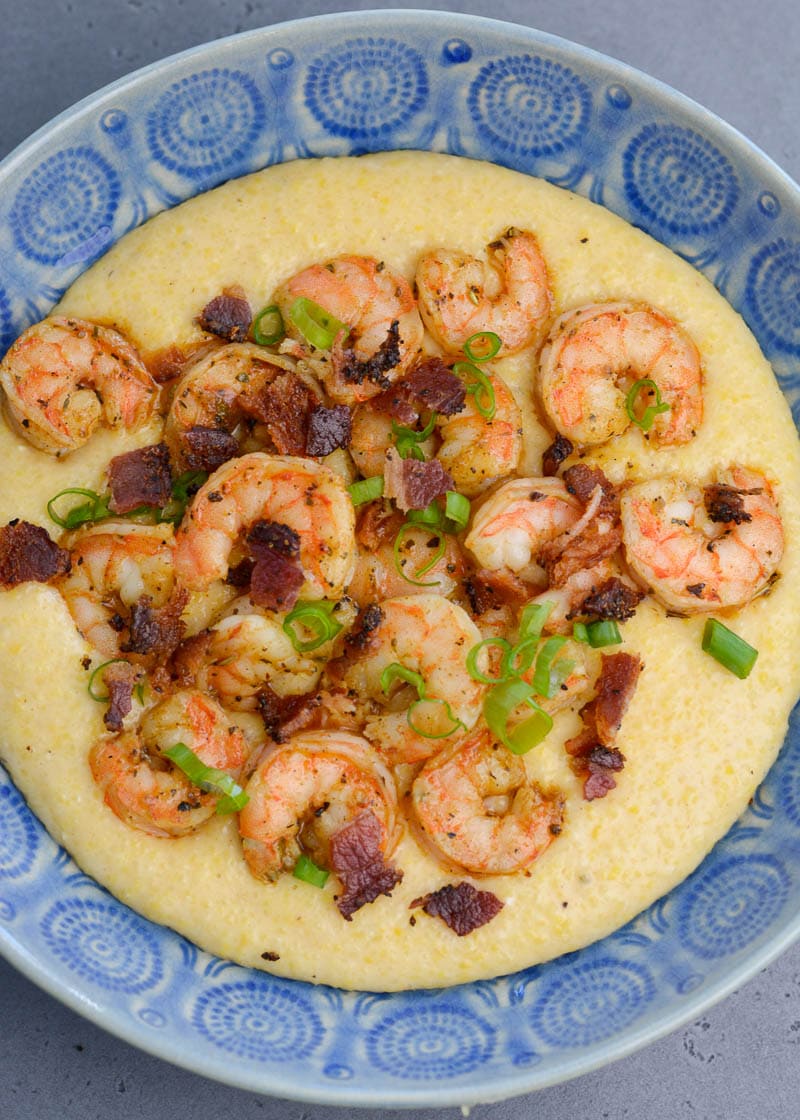 How to Make Shrimp and Grits
This Southern shrimp and grits is so easy to make! The creamy, cheesy grits are cooked first since they take longer than the shrimp does. Here's an overview of the cooking process:
In a skillet, cook the bacon until crisp. Remove to a plate and crumble. Set aside.
In a saucepan, bring the broth to a boil. Add in the grits and cook until the liquid is absorbed.
To the grits, add the cream cheese, cheddar cheese, salt and pepper.
Season the shrimp, then cook in the same skillet you fried the bacon in.
Spoon the creamy grits into bowls, top with shrimp, and garnish with green onion.
Can I Use Quick Cooking Grits?
No, I recommend using regular grits to make this shrimp grits recipe.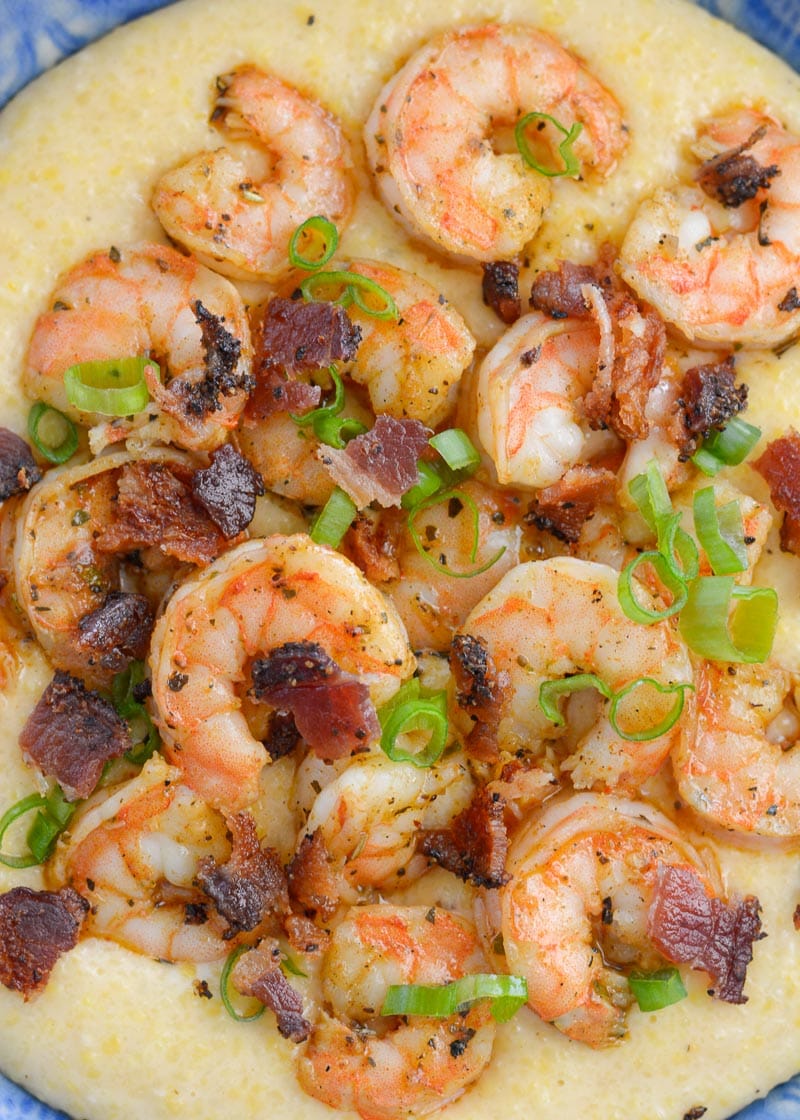 Tips for the Best Shrimp and Grits
After cooking the bacon, wipe the skillet clean. It's okay if there's a little fat left in it, but you don't want too much.
Be sure to buy raw shrimp for this recipe. If the shrimp are frozen, defrost before cooking.
For the best texture, buy a block of cheddar cheese and shred it yourself.
More Easy Shrimp Recipes: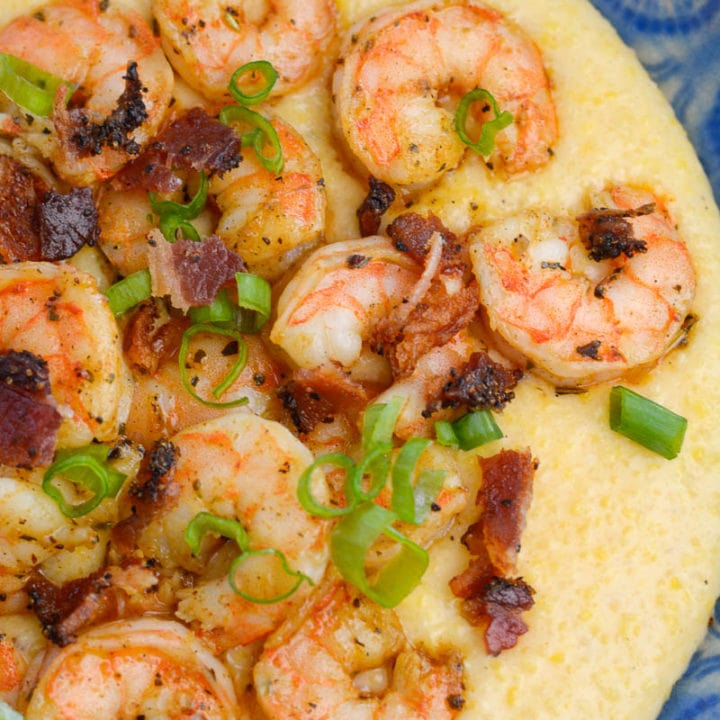 Shrimp and Creamy Cheesy Grits
Easy Shrimp and Creamy Cheesy Grits! The ultimate southern meal! Cheesy grits, spicy shrimp, crispy bacon and fresh green onions make the ultimate comfort food!
Ingredients
1/2-3/4 pound deveined and shelled shrimp
2 tablespoons Olive oil
2 teaspoons Old Bay seasoning
1 teaspoon Italian seasoning
1/4 teaspoon garlic powder
1/4 teaspoon smoked paprika
2 cups chicken broth
1/2 cup yellow corn grits
2 ounces cream cheese
1 cup shredded sharp cheddar cheese
2 green onion stalks, chopped
2 slices bacon
salt and pepper to taste
Instructions
In a large skillet cook two slices of bacon over medium heat until crisp, remove bacon from skillet, roughly chop. Wipe skillet clean and set aside to use later for the shrimp.
In a medium to large sauce pan bring chicken broth to a boil, add grits and reduce heat to low. Cover and let grits simmer for 7 minutes, stirring occasionally.
When grits have absorbed the liquid add cream cheese, shredded cheese and salt and pepper to taste.
Stir mixture well, cover and remove from heat.
Place shrimp in a large plastic bag or mixing bowl, add Old Bay, Italian seasoning, garlic powder and smoked paprika and toss until shrimp is coated.
Heat olive oil in a large pan over medium high heat. Add shrimp and cook 3 minutes on each side or until shrimp is pink and tender.
To assemble the shrimp and grits add a heaping serving of grits to two shallow bowls. Top with shrimp, chopped green onions, chopped bacon and additional pepper.
Nutrition Information:
Yield:

2
Serving Size:

1
Amount Per Serving:
Calories:

414
Total Fat:

67g
Saturated Fat:

31g
Trans Fat:

1g
Unsaturated Fat:

28g
Cholesterol:

360mg
Sodium:

1842mg
Carbohydrates:

16g
Fiber:

1g
Sugar:

3g
Protein:

37g