This cheesy Keto Shrimp and Grits recipe is the ultimate low-carb comfort food! At under 5 net carbs per serving this will be a new favorite!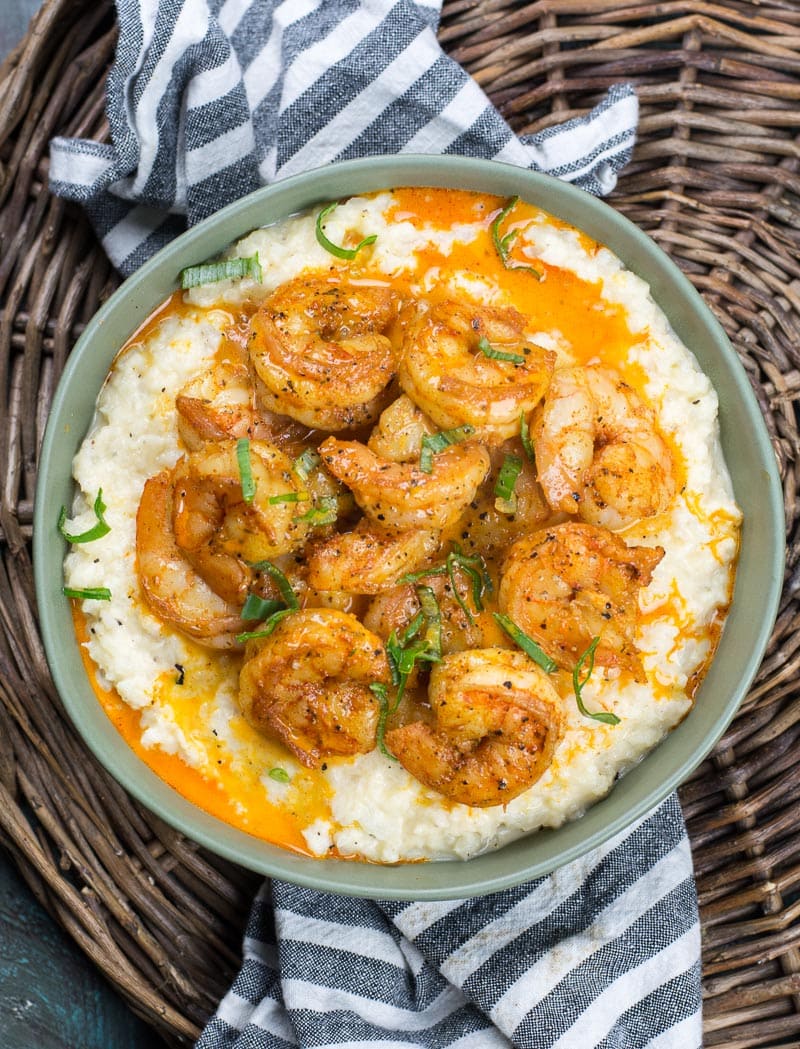 In my pre-keto days, shrimp and grits were a staple in our house. In fact, my classic Cheesy Shrimp and Grits recipe is still one of the most popular recipes on this site.
After I made my Loaded Cauliflower Casserole, I knew I could come up with a delicious keto grits recipe, and these do not disappoint! This is just what you need when you are craving low-carb comfort food!
Ingredients for Keto Shrimp and Grits
I wanted to keep this low-carb shrimp and cheese grits recipe as close to my classic recipe as possible so that is what I based this recipe on. In my opinion, grits should be creamy and ultra cheesy and the shrimp should be perfectly tender with a hint of spice!
For this shrimp and cauliflower grits recipe, you will need:
Cauliflower
Chicken broth
Cream Cheese
Cheddar Cheese
Green Onions
Shrimp
Butter
Garlic
Heavy Cream
Spices: paprika, Italian seasoning, red pepper, onion powder, garlic powder, salt and pepper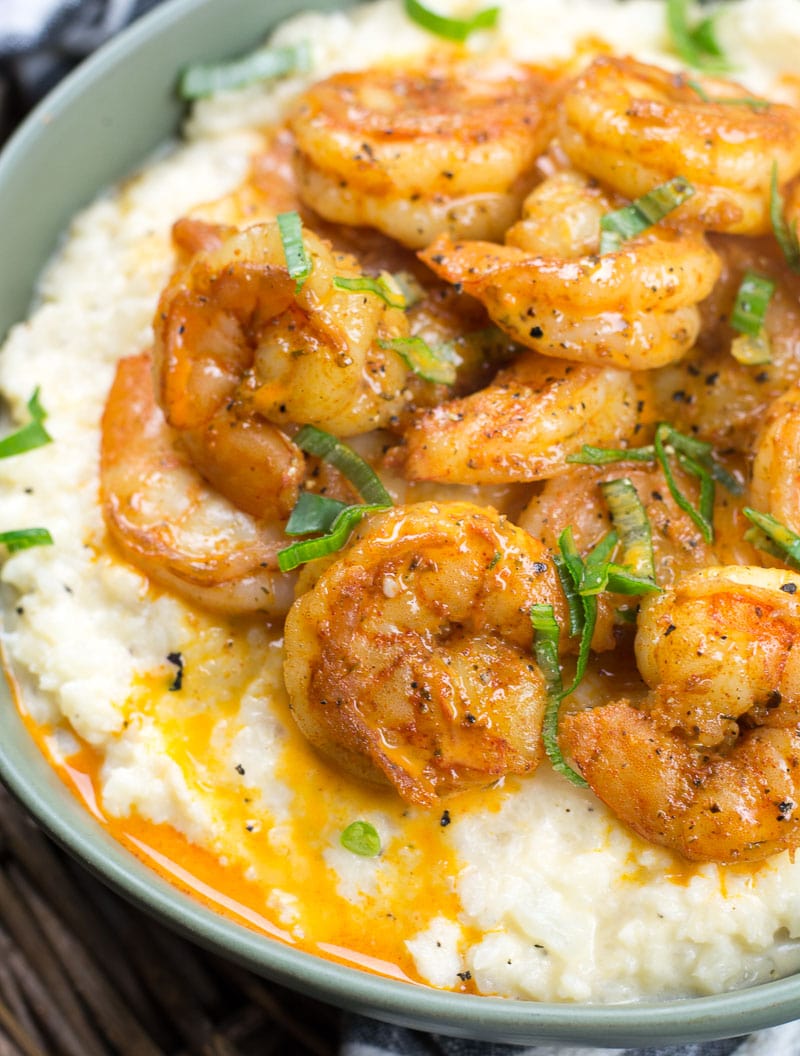 How to Make Keto Shrimp and Grits
This keto recipe with shrimp begins by simmering cauliflower florets in chicken broth until they are tender.
Once the cauliflower is tender, drain off the remaining broth and add cream cheese, cheddar cheese, butter, salt and pepper and mash until it resembles the texture of grits. This is made especially easy by using a potato masher.
Cover the keto grits to keep warm while you make the shrimp. For this recipe, I use a cajun seasoning that adds a little bit of spice, but it is balanced with a creamy butter sauce.
To cook the shrimp, heat a large skillet to medium heat, melt butter and add the raw, shelled shrimp to the skillet and sprinkle the cajun spices over the shrimp. Stir well so it is evenly coated. Cook the shrimp 3-4 minutes, and when it is pink and tender add the butter and heavy cream to the skillet and stir to form the delicious creamy sauce.
To assemble your low-carb shrimp and grits, divide the cauliflower grits evenly among four bowls, top with shrimp, green onions, and drizzle of the cream sauce.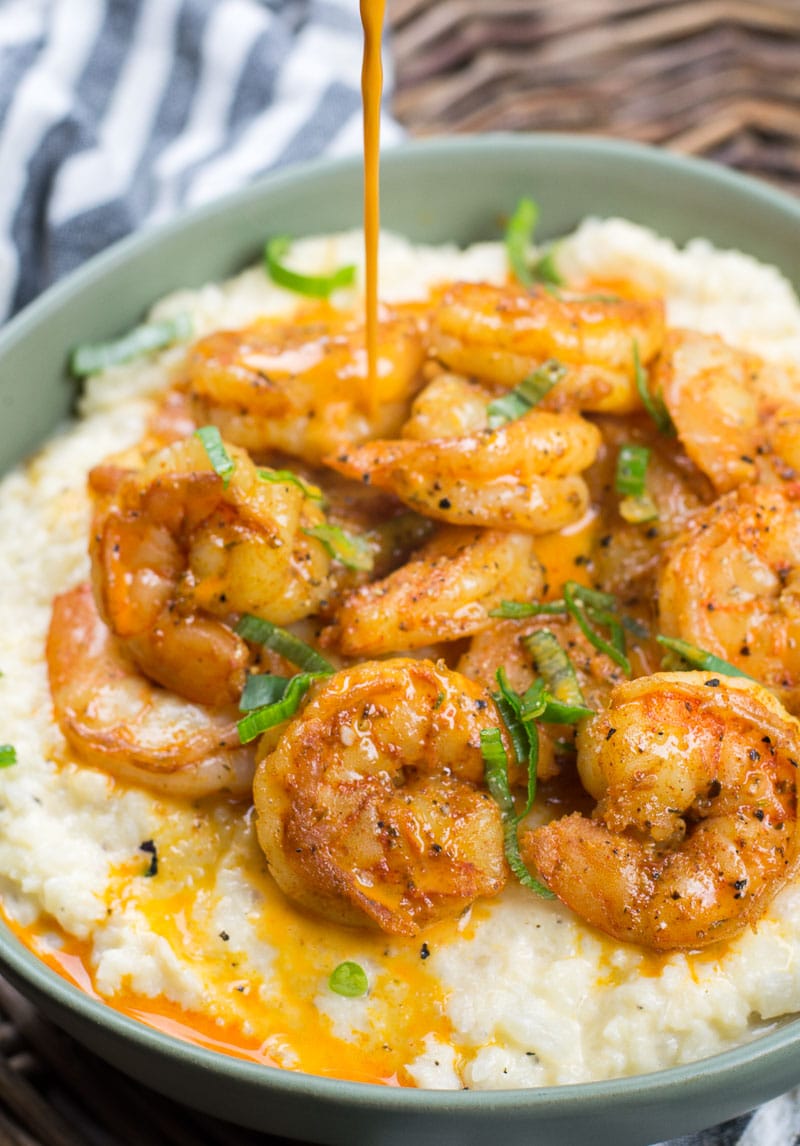 How Many Net Carbs Are in Keto Shrimp and Grits?
You won't believe this. A heaping cup of cheesy cauliflower grits and about 1/4 of a pound of cajun shrimp with cream sauce comes to less than 5 net carbs per serving! This really is an excellent option for a keto comfort food!
Can I Use Riced Cauliflower Instead?
A few people have asked if they can start with pre-made riced cauliflower instead of cauliflower florets. You likely can, but be careful not to overcook the cauliflower rice as you don't want it to turn to complete mush.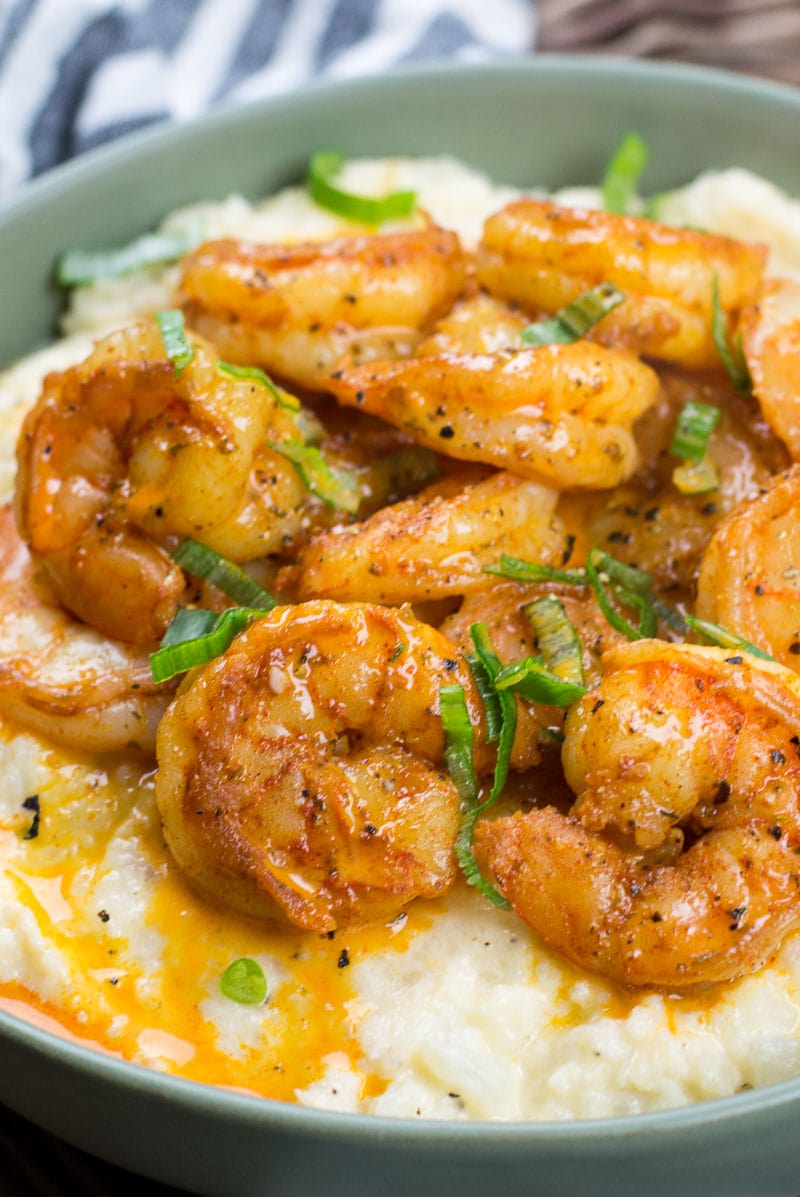 Tips for Making Keto Cheesy Shrimp and Grits
Simmer the cauliflower in broth instead of water. Broth adds a great savory flavor that helps mask the cauliflower, so even if you aren't a huge cauliflower fan chances are you will like this!
If you want your cauliflower grits to be a smoother texture, just use an immersion blender rather than a potato masher.
I recommend using larger sized shrimp since they stay juicier than smaller shrimp do.
More Low-Carb Comfort Foods:
If you are missing some of the traditional comfort foods, I can help! These are some of my favorite keto comfort foods:
Other Easy Keto Recipes
If you are new to Keto try my favorite Sausage Egg and Cheese Bites, they contain less than one net carb per bite and they are perfect for meal prep! One of my favorite easy low carb dinners is this One Pan Cabbage Casserole. It is so easy, cheesy and delicious and it has less than 9 net carbs per serving. Some other favorites, Keto Chocolate Cookies, Pimento Cheese and Bacon Stuffed Peppers and Sausage and Cream Cheese Pinwheels!