Perfectly creamy, tangy grits are packed with Gouda cheese, topped with plump shrimp and covered with crispy Brussels Sprouts and bacon. This is a game changer!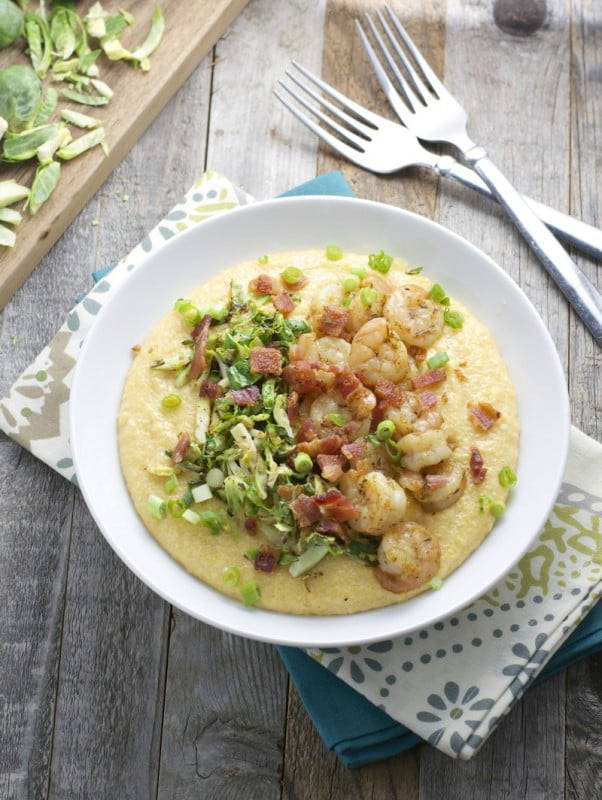 I know I am a broken record at this point. But, I am going to say it again. I love shrimp and grits. LOVE it.
Out of 200+ recipes on this blog I can tell you the two that get made the most in our house are this one and this one. I couldn't even give it up when I went keto which is how we got this one!
Even if I buy shrimp with something else in mind I usually end up making shrimp and grits instead. It is just so darn good!
So a few Friday nights ago Mr. Maebell was working late. I put on some yoga pants, poured some wine, and pulled out all the ingredients in my fridge. I knew I wanted shrimp and grits, and I knew I wanted a fun and unique spin on it.
What I finally settled on was super creamy, tangy Gouda grits topped with perfectly plump shrimp and super crispy shredded Brussels sprouts. Oh, and don't forget the chopped bacon and green onions. You definitely can't have grits without bacon.
Hands down, this is my favorite.
Maybe it is the crispy sprouts that I love? Or maybe it's the Gouda? Or maybe it is the combination of so many good ingredients packed into one dish that makes this so irresistible. Whatever it is, I am obsessed.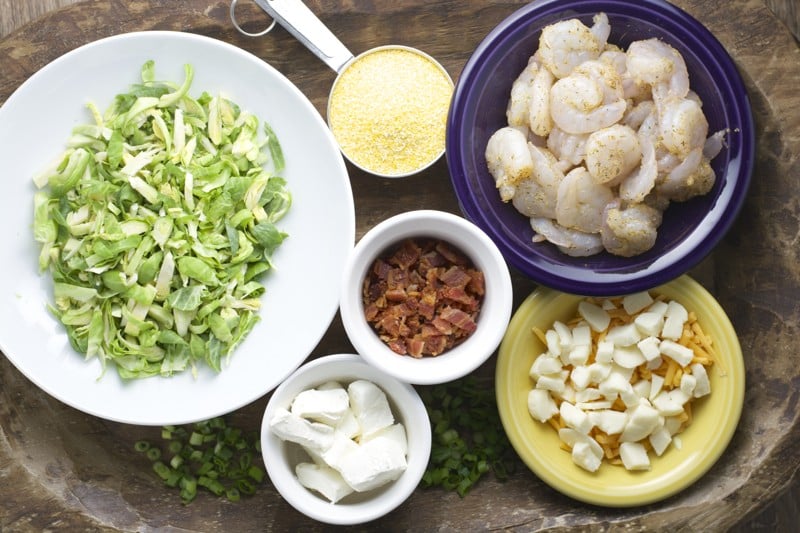 Ingredients for Shrimp and Gouda Grits:
Here's a quick overview of the ingredients you'll need to pick up for this dish. Keep scrolling down to the recipe card for specific measurements and instructions!
Shrimp (peeled & deveined; fresh or frozen are fine)
Seasonings: Garlic powder, Oregano, Cayenne, Garlic salt, Salt, and Pepper
Brussels Sprouts (very thinly sliced)
Olive oil
Chicken broth
Yellow corn grits
Cream cheese (I used reduced fat, but you can use full fat if you prefer)
Gouda cheese
Sharp cheddar
Green onions
Bacon
How do I make Gouda Grits with Shrimp?
This recipe does require several steps, but I promise it is SO worth it!
First you'll want to fry your bacon. I cooked mine in a pan on the stove, but you can bake or air fry yours if you prefer. Then you'll place your thinly sliced Brussels into a pan (medium high heat) with olive oil and cook for about 3 minutes. We just want to crisp these up, not cook them to death!
Next, you'll bring a pot of chicken broth to a boil, pour in grits, reduce heat to low, and cover. The grits will need to simmer for about 7 minutes, stirring occasionally to ensure they don't stick to the bottom.
When the grits have absorbed all the liquid, add the cream cheese, cheddar, gouda, then salt and pepper to taste. Stir, cover, and remove from heat.
Finally, the shrimp! To make sure each one is well seasoned, I like to toss the shrimp in a bag with the garlic powder, oregano, cayenne, and garlic salt. Once well covered, cook about 3 minutes on each side in a pan with olive oil. You know shrimp is finished when they are opaque and tender!
To serve, fill two large bowls with the grits, then top with crispy Brussels, bacon, and shrimp. I like to add chopped green onions for texture as well!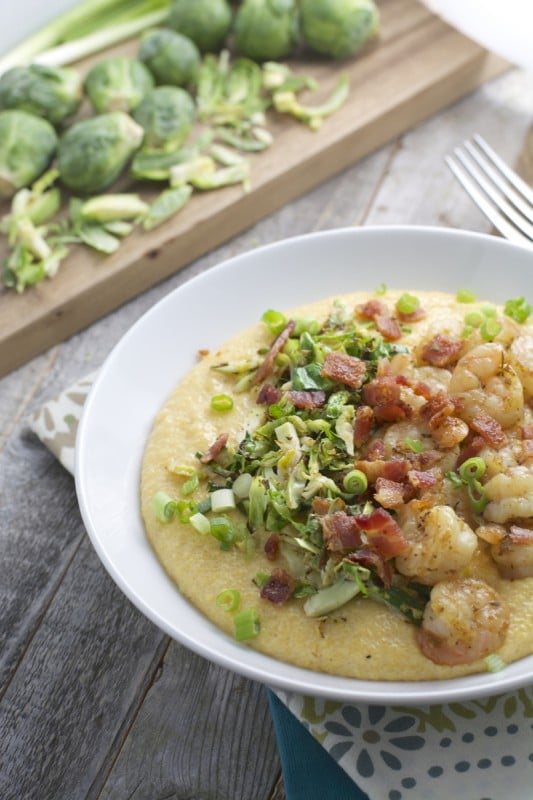 Can I prepare Shrimp and Grits ahead of time?
Portions of this dish can be prepared in advance, but the components should stay separated until ready to serve. I would not recommend freezing.
Grits can be cooked up to 4 days before serving as long as they are kept in an air-tight container in the fridge. When reheating, you may need to add a bit of liquid (broth, milk, cream, water, etc.) to thin them out.
The shrimp and bacon can both be made up to 3 days in advance. I suggest slightly undercooking both the shrimp and bacon if cooking ahead of time to ensure they don't overcook when reheating. These should be stored separately in the fridge to keep their best textures.
The Brussels sprouts don't stay crispy if made in advance, so I recommend cooking them gently in the pan right before serving. They cook quickly, so you could easily cook the Brussels while reheating the pre-made grits, bacon, and shrimp!
How do I reheat Shrimp and Gouda Grits?
If you somehow have leftovers, I recommend storing the components of this dish separately to preserve the amazing textures! The shrimp and grits may be stored together, but I like to store them separately so I can make sure the shrimp doesn't get overcooked when reheating.
To reheat the shrimp and grits, microwave in 30-second intervals, stirring and checking to see if it's warmed throughout each time. Alternatively, you could also warm these in a covered pot on low.
Grits can get quite thick after cooling, so you may need to add a tablespoon of liquid to get a thinner consistency. I like to use broth for added flavor or milk for creaminess.
The Brussels and bacon can be stored together in the fridge. To reheat these, I warm them in a hot pan (medium heat), stirring to make sure they get crispy but not burnt.
More Shrimp Recipes: