This Strawberry Limeade Keto Fruit Pizza features a sweet almond flour cookie crust, a refreshing lime frosting and a sweet strawberry topping!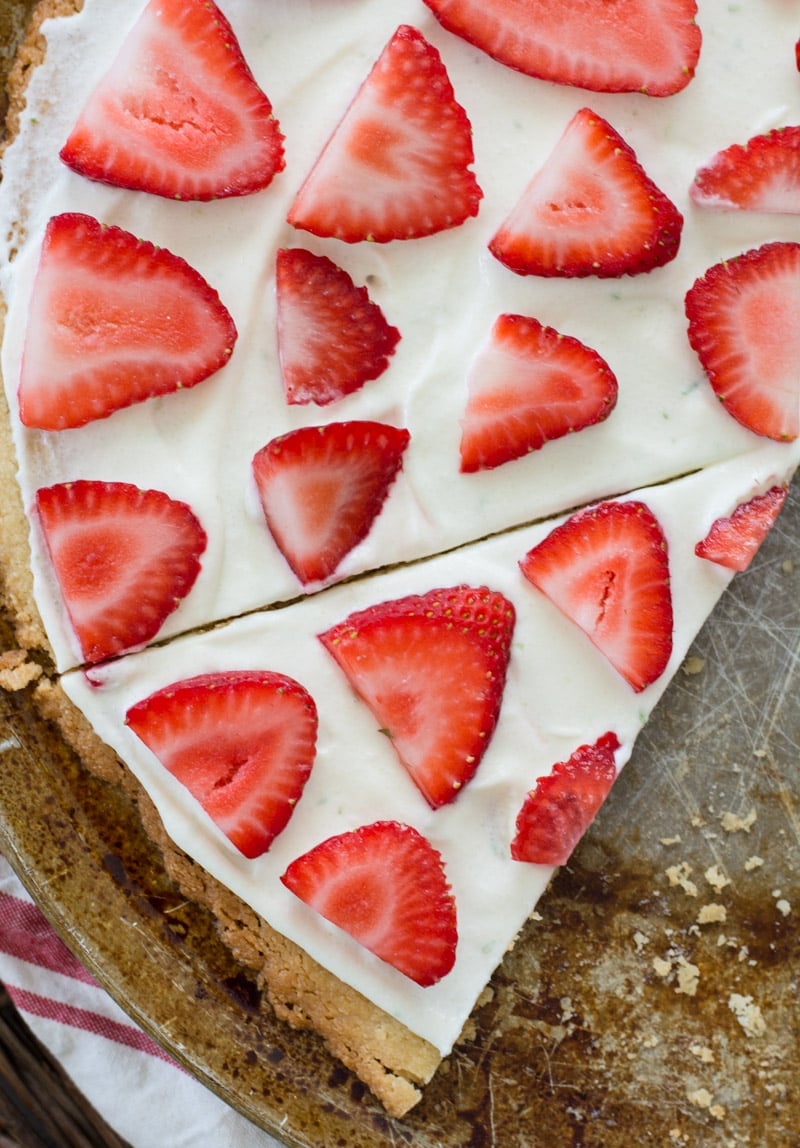 Are you following my keto blog, The Best Keto Recipes? If you aren't, you might have missed this insanely delicious Keto Fruit Pizza I shared! This beauty has less than 3 net carbs per slice and tastes very close to the carbful version of the classic! We enjoyed it so much that I decided to create another flavor combination perfect for summer- Strawberry Limeade Fruit Pizza!
This easy low carb dessert features a sweet almond flour crust that resembles a sugar cookie. Then covered in a sweet and tangy lime frosting and topped with fresh strawberries! It is everything you want on a hot summer day!
Ingredients for Keto Fruit Pizza
Here is a list of the ingredients used to make our Limeade Fruit Pizza. As always, there is a detailed list at the bottom of this recipe.
For the Crust:
Almond flour- this is a great flour for keto baking
Swerve– my favorite keto sweetener!
Vanilla
Butter- melted
For the Cream Cheese Lime Frosting:
Cream cheese- room temperature
Confectioners Monkfruit Sweetener– this is a great keto powdered sugar
Heavy cream
Almond milk
Vanilla
Lime zest- one lime's worth
Lime juice- also one lime's worth
For the topping:
Strawberries- thinly sliced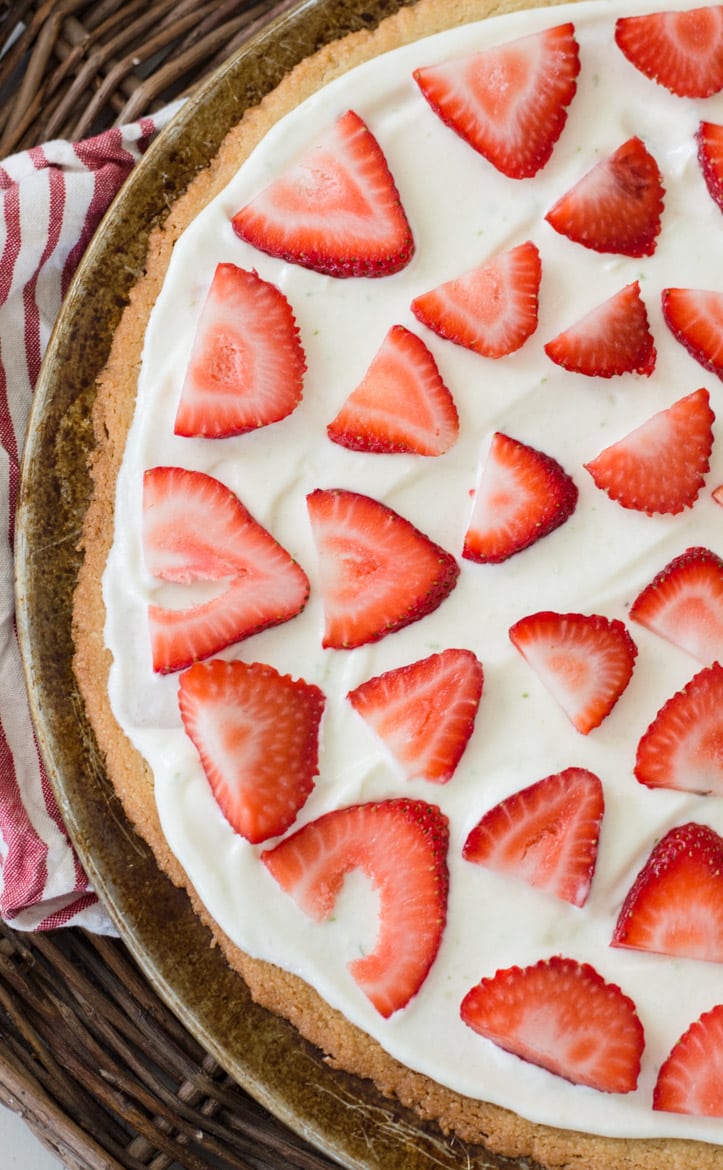 How to make Low Carb Dessert Pizza
This delicious keto dessert pizza comes together in a flash! Just combine your ingredients for your crust, mix and bake. While your crust is cooling, mix the ingredients for the cream cheese lime frosting. Spread your frosting and top with sliced strawberries!
How do you make a keto Dessert Pizza crust?
This crust sounds tricky, but it's really very easy! The crust is the same base I used for The Best Keto Lemon Bars, but instead of using it to make a thicker "bar style" crust in an 8×8 pan, I spread this crust thinner on a pizza pan to create that perfect sugar cookie crust.
When putting my crust onto my baking pan, I place a silicone baking sheet on top and roll out my crust. This way, I know I've got an even layer of crust! My crust is about 10-11 inches in diameter.
Just be careful not to over-bake this crust- as soon as it begins to brown and is set in the middle you are ready to go. Because this is almond flour, it is prone to crumbling easier than a traditional wheat or rice flour crust would, so keep that in mind. This Strawberry Limeade Fruit Pizza comes in at 2.7 net carbs per slice!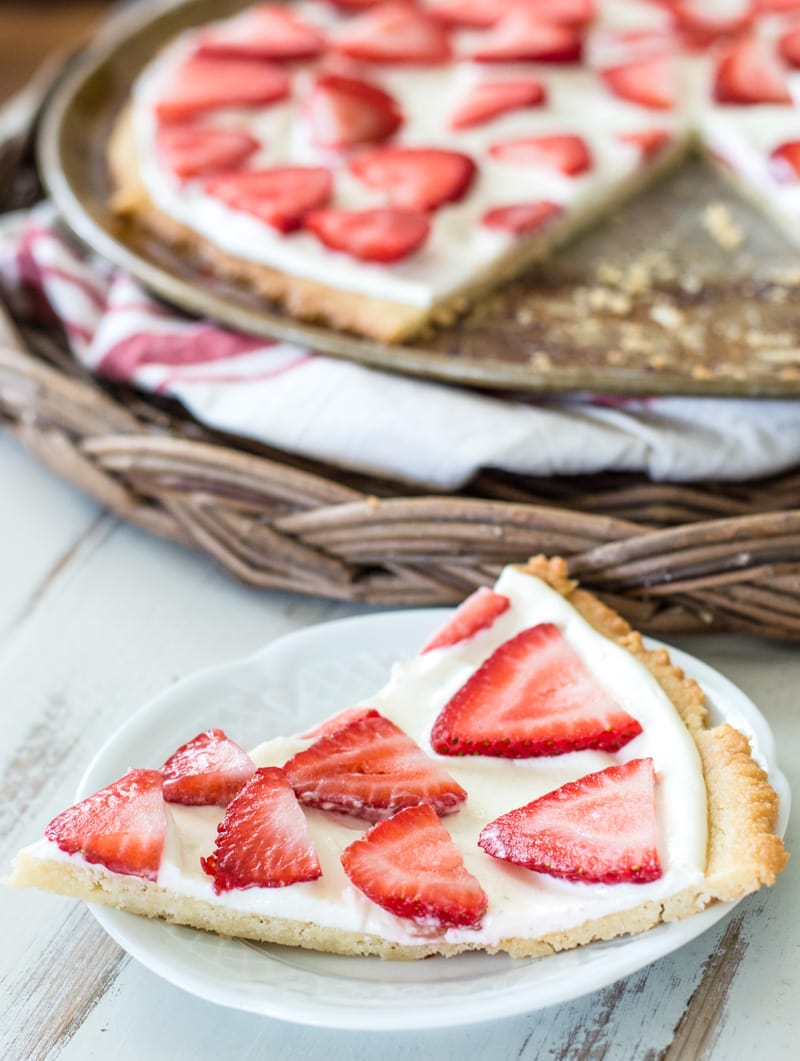 Tips for the best Keto Dessert Pizza
Don't overbake the crust. This step is essential! Bake for 6-7 minutes and check your crust regularly to be sure it isn't getting too brown.
To ensure your crust is an even thickness, I recommend placing a silicone baking sheet on top to roll it out.
Give your cream cheese time to get to room temperature- it will be much easier to mix.
Be sure to give your crust ample time to cool!
I recommend serving this keto fruit pizza cold- the flavors are so refreshing when chilled!
What fruit is keto?
Berries are a safe fruit for a keto diet. I prefer strawberries for a topping on this fruit pizza, but blueberries, raspberries, blackberries would all be delicious! Fruit does contain natural sugars, so be sure to enjoy in moderation.
Other Keto Desserts