This Habanero Chicken with Mango Salsa is grilled to perfection and packed with flavor!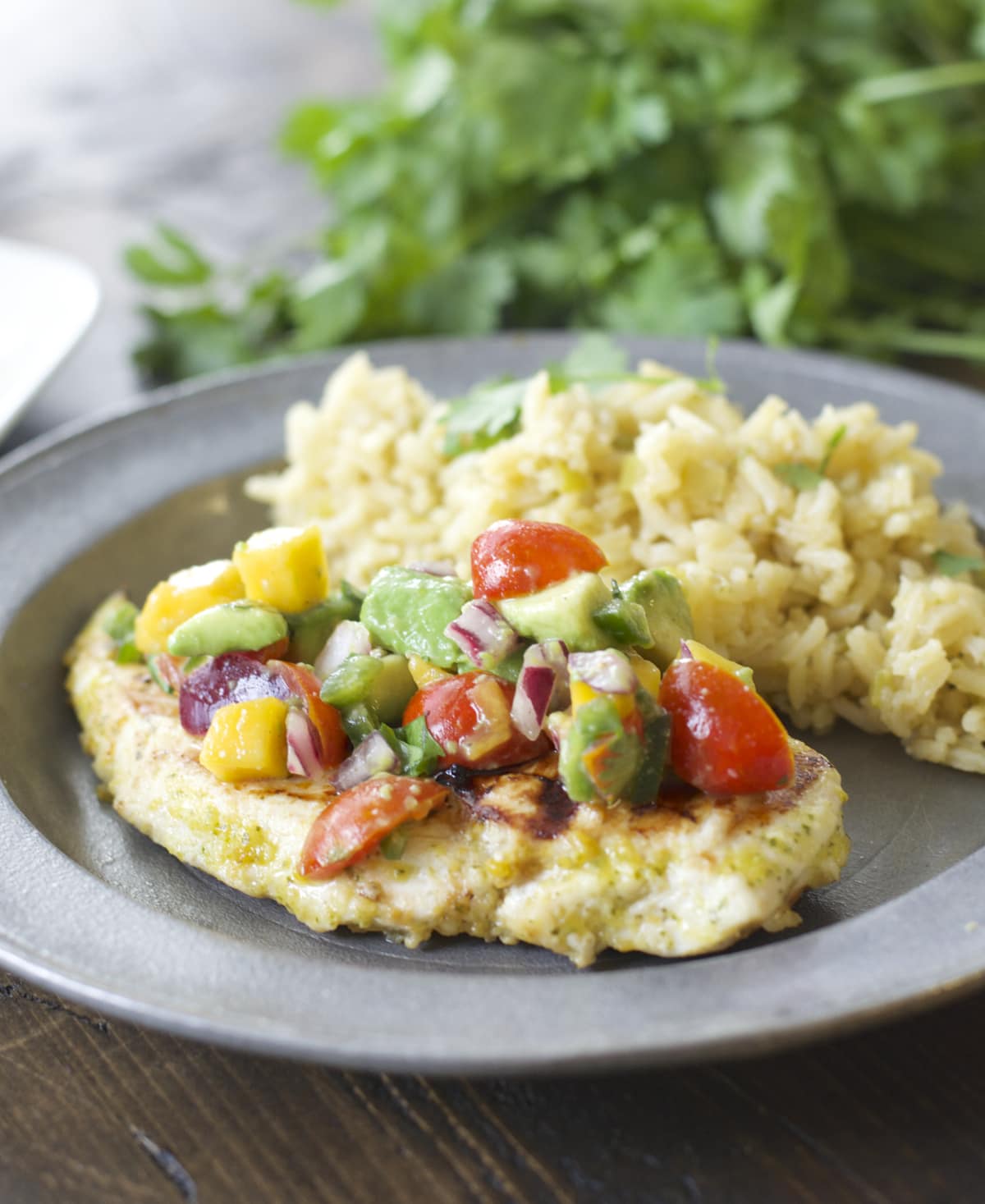 Hi there! Welcome back! I hope you are enjoying the last couple weeks of Summer! Are you spending the weekends soaking up the last bit of pool time? Or are you counting down the days until Fall? Here on the farm we are enjoying the slightly cooler temps, our big garden and grilled dinners!
We will welcome Fall with open arms, but right now we are enjoying the sunshine, long days and fresh produce summer has to offer!
How do you make Habanero Chicken?
I've got a really delicious dinner for you today. This Sweet and Spicy Habanero Chicken with Mango Salsa is a flavor packed dinner that is lean and loaded with protein, fruit and vegetables. Here is how we make it!
For this dish we make our very own habanero mango marinade. Just a few simple ingredients provide you with a rich marinade that is loaded with delicious ingredients like habanero, mango, brown sugar and cilantro!
To make our marinade we just combine our ingredients in a blender and blend until it is completely smooth. Your marinade will be nice and creamy because of the fresh mango. Use 3/4 of the marinade for one pound of chicken and reserve the rest for brushing on your chicken while it is on the grill.
Just grill your Habanero Chicken for 3-4 minutes over medium heat. Brush with the remaining marinade to keep them nice and moist and loaded with flavor.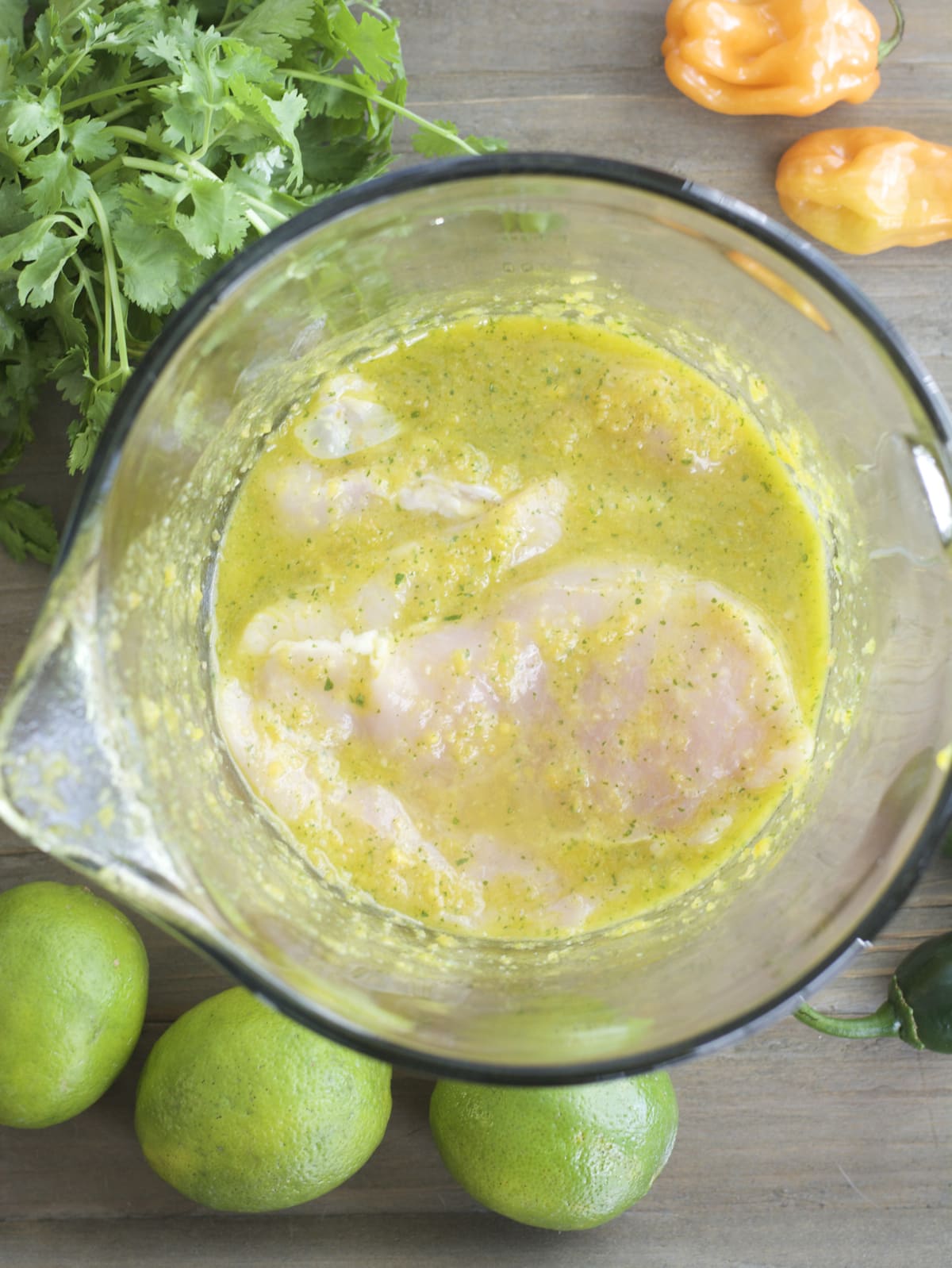 How do you make Mango Salsa?
While your chicken is cooking you can make a quick mango salsa. This salsa is the stuff dreams are made of! It is delicious with chips, over chicken or just by itself. We just combine mango, avocado, tomatoes, red onion, cilantro and some lime juice.
Spoon your salsa right over your habanero chicken for an easy delicious dinner you will love! The sweet and spicy combo is irresistible and it pairs perfectly with a simple rice or salad side.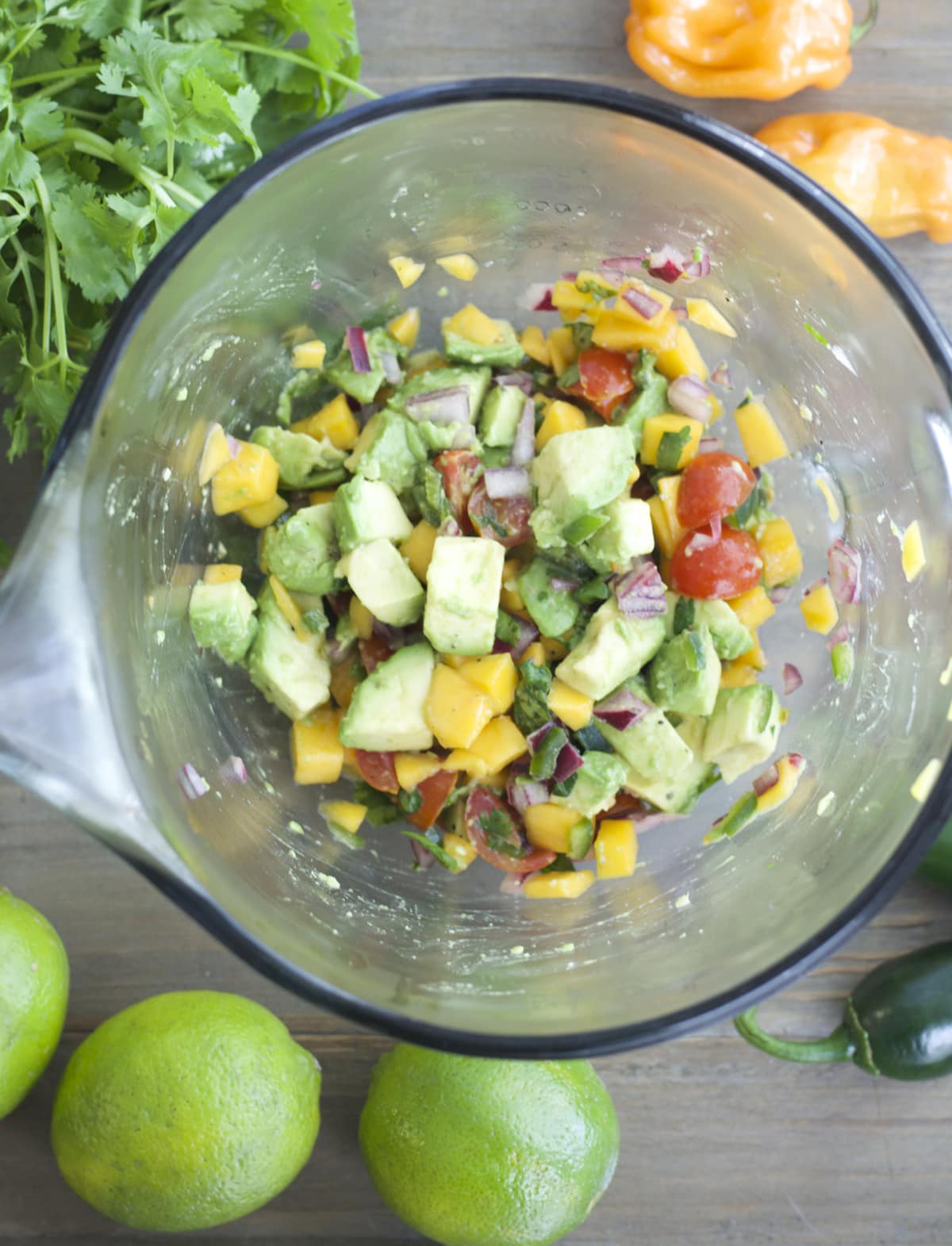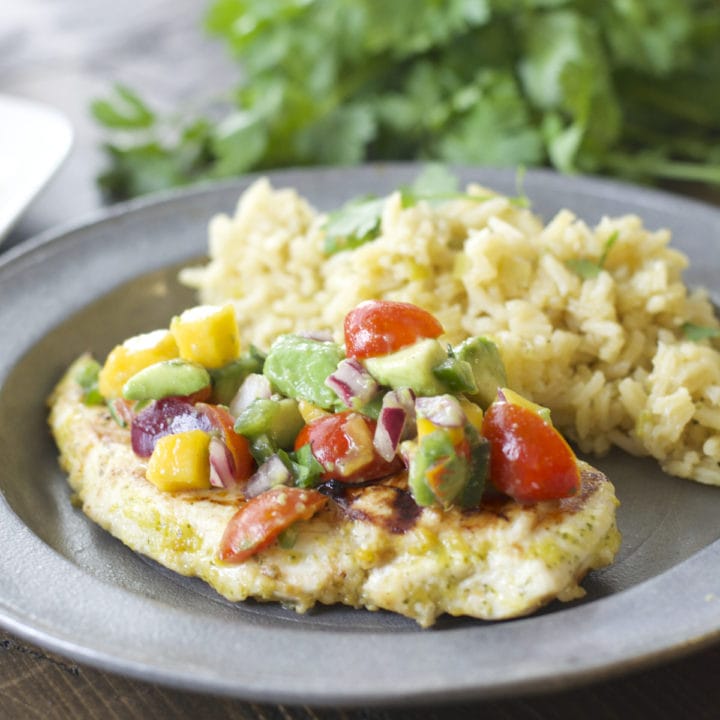 Habanero Chicken with Mango Salsa
This Sweet and Spicy Habanero Chicken with Mango Salsa is grilled to perfection and packed with flavor!
Ingredients
For the Habanero Chicken
1/4 cup olive oil
1 habanero pepper, seeded and sliced
1/4 cup mango, chopped
2 tablespoons brown sugar
2 tablespoons cilantro
1 tablespoon rice vinegar
1/2 lime juiced
1 teaspoon garlic
salt and pepper to taste
1 pound thinly sliced chicken breast
For the Mango Salsa
1 mango, diced
1 tomato, diced
1 avocado, diced
1 jalapeño, seeded and chopped
3 tablespoons chopped cilantro
3 tablespoons chopped red onion
1 lime, juiced
1 pinch of cumin (optional)
salt and pepper to taste
Instructions
In a blender or food processor combine the marinade ingredients and blend until smooth. In a bowl or ziplock bag combine 3/4 of the marinade and the chicken together and let sit in a refrigerator at least 1 hour.
Reserve the remaining 1/4 cup marinade for glazing the chicken breast as the cook.
Heat a grill to medium heat and cook the chicken 3-4 minutes on each side until it reaches an internal temperature of 165 degrees.
To make the Mango Salsa:
Combine all of the salsa ingredients with the lime juice and toss gently.
Serve the warm chicken breast with fresh mango salsa over the top. This is great with rice, black beans and tortilla chips!
Recommended Products
As an Amazon Associate and member of other affiliate programs, I earn from qualifying purchases.
Nutrition Information:
Yield:

4
Serving Size:

1
Amount Per Serving:
Calories:

346
Total Fat:

25g
Saturated Fat:

4g
Trans Fat:

0g
Unsaturated Fat:

20g
Cholesterol:

96mg
Sodium:

242mg
Carbohydrates:

28g
Net Carbohydrates:

22g
Fiber:

6g
Sugar:

21g
Protein:

38g
To avoid any confusion I remove erythritol from the final carb count and net carb count, as it is not known to affect blood glucose levels. To calculate Keto recipes listed on this site carbs - fiber = net carbs. I use Nutrifox as my nutrition calculator. This nutrition information is an estimate based on the information provided by Nutrifox and the specific ingredients I used.