Tender Lime Beans are combined with tomatoes and peppers and tossed in a zesty sauce! Grab some chips and get to snacking! You will love this easy Lima Bean Salsa!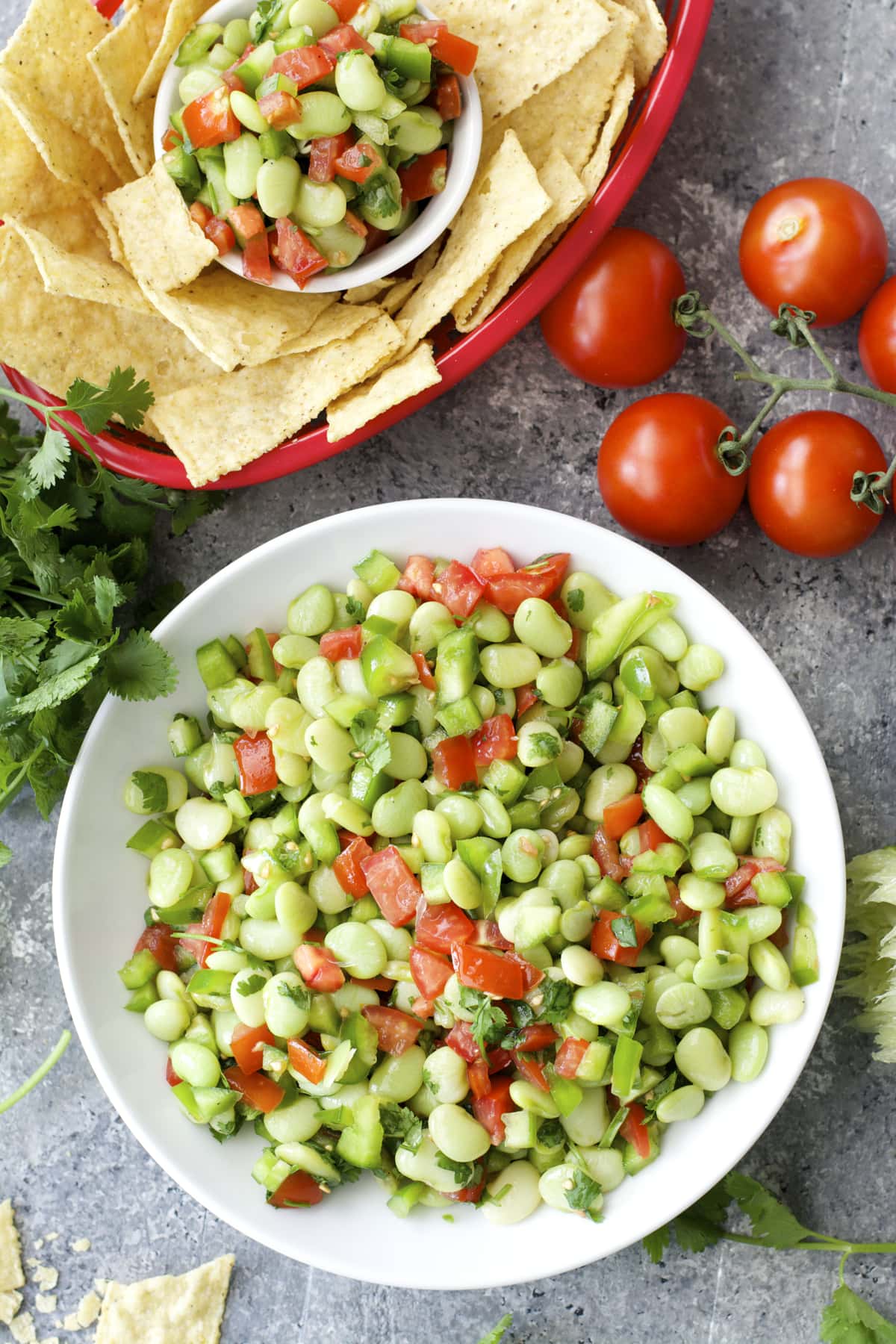 If I were stranded on a desert island and could only take three things with me, one of them would probably be lima beans. To tell you I love them would be an understatement, they are my favorite. Love love love lima beans.
But the funny thing is, you don't see these little green gems pop up very often, which is such a shame! So I set out to create the perfect easy and delicious appetizer staring lima beans!
This recipe is from my Five Ingredient eCookbook. The eBook came out last October and all of the great Fall recipes like Pumpkin Pie French Toast and Sweet Potato and Bacon Pancakes were getting all the love. The Summer recipes like this one were kind of irrelevant at the time so I wanted to spotlight this salsa because it is so perfect for Summer!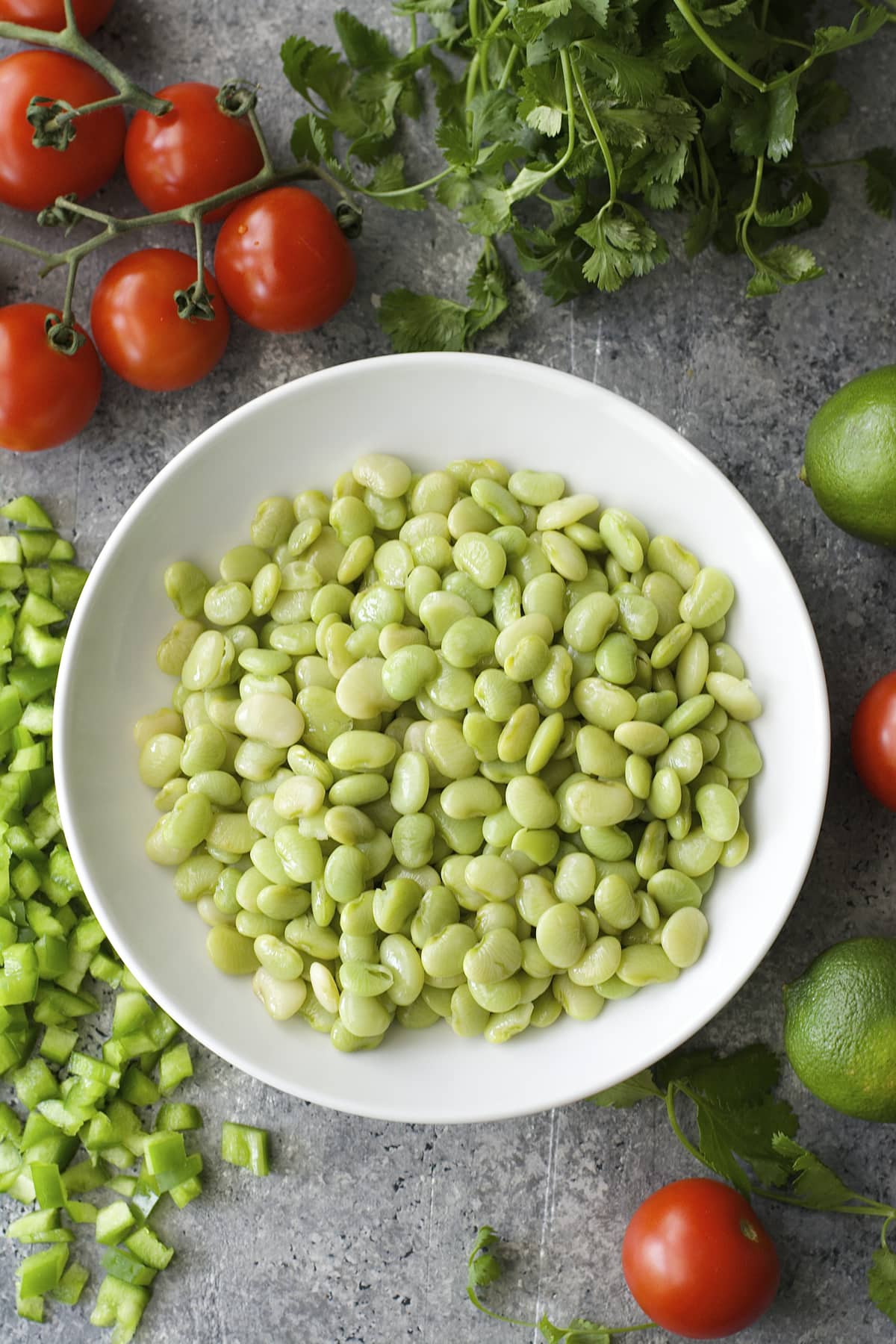 Lima Bean Salsa Ingredients:
Lima Beans (I used frozen)
Tomatoes
Fresh Cilantro
Lime Juice
Salt & Pepper
How do I make Lima Bean Salsa?
This salsa comes together pretty easily, you don't need to do much prep work at all! Just cook your lima beans in boiling water until they are nice and tender and rinse with cool water, then set aside.
Then just chop your tomatoes, green bell peppers and cilantro and combine with a bit of lime juice and salt and pepper to taste. Chill your salsa and serve with tortilla chips!
Viola! The perfect Summer appetizer!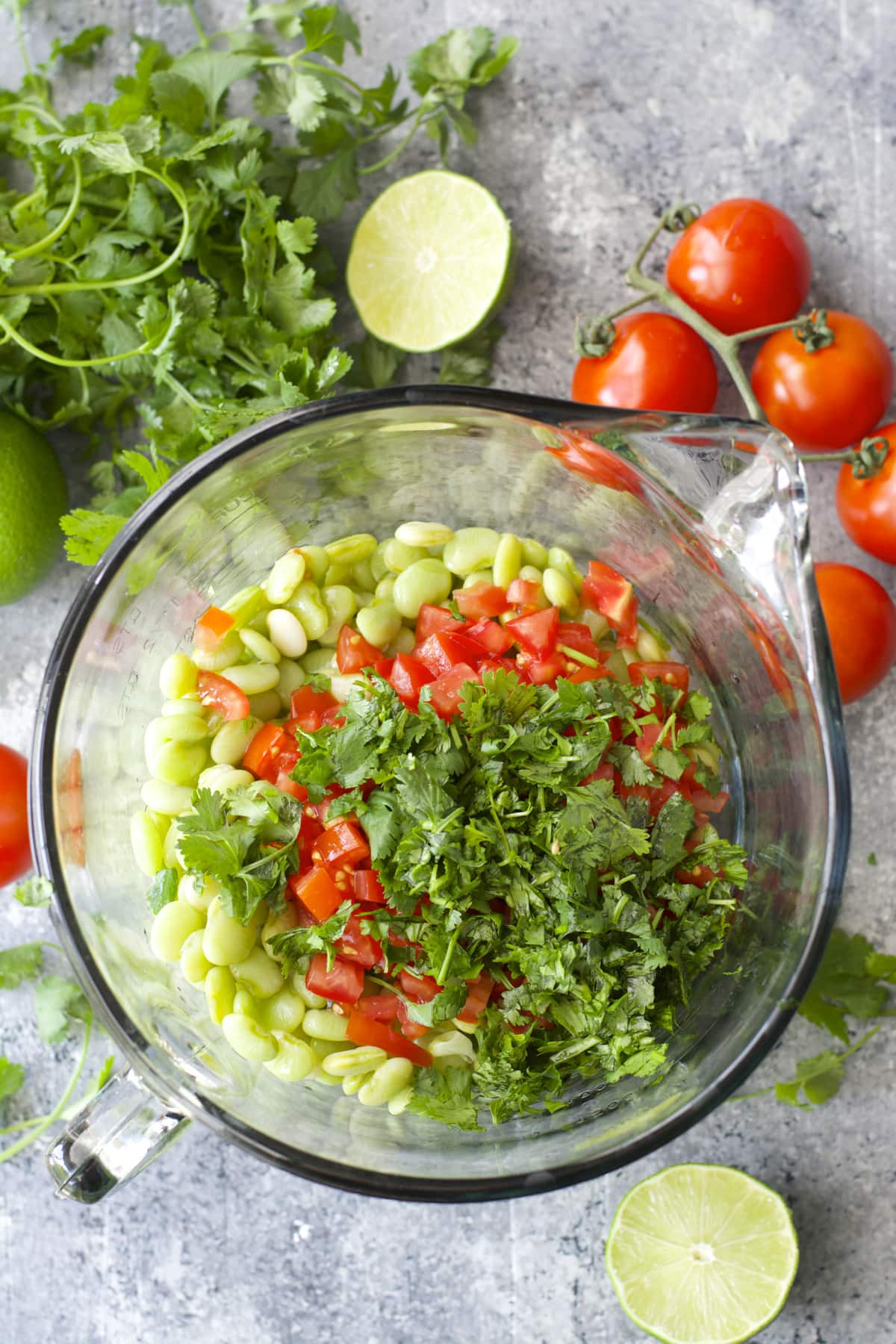 How should I store salsa?
This salsa stays freshest in an air-tight container in the fridge up to a week. If you're wanting to make this for an event, you can definitely make it a day or two ahead of time! I think this salsa is even better the day after making, once all the ingredients have had time to develop flavors together!
What should I serve with Lima Bean Salsa?
This salsa is the perfect appetizer or side for a delicious summer meal! You could serve it before or alongside these Jalapeno Lime Chicken Fajitas. Some Fried Green Tomatoes would also be a simple yet impressive side!
Don't forget dessert–This Keto Cheesecake with Strawberry Sauce is super easy and a great use of fresh strawberries! These Ginger Grilled Oranges with ice cream would also be an amazing way to end your summery meal!
While this dish is great for a low-key, casual meal, it's also an excellent offering at a nice, outdoor gathering! If you're considering throwing a garden party for your friends and family, check out the recommendations below!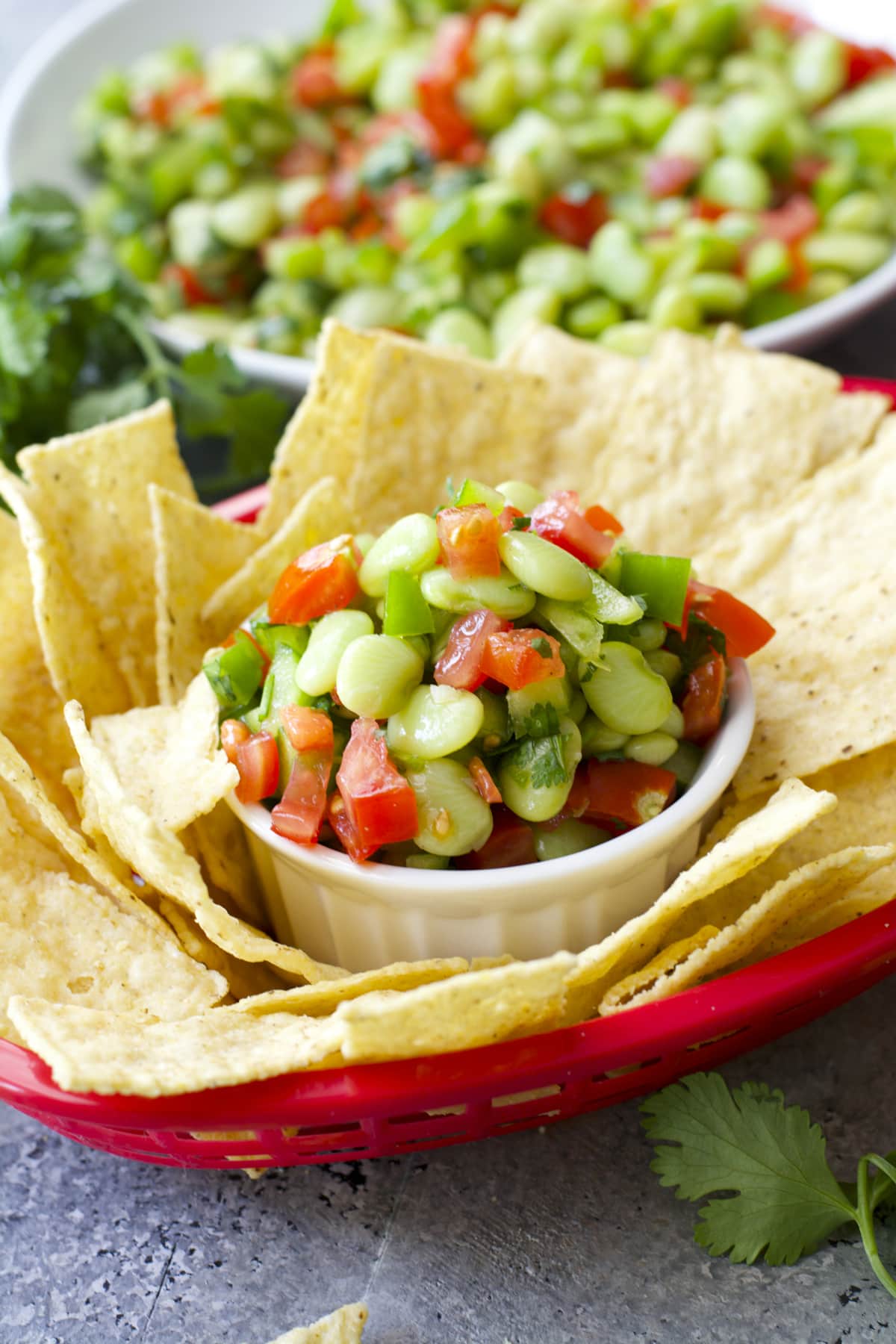 Example Garden Party Menu:
If you're looking to host an outdoor party, you can make quite the impressive spread by focusing on fresh produce!
Drinks always set the tone–I highly recommend something beautiful like Sparkling Watermelon Cucumber Coolers or Sparkling Strawberry Pineapple Punch! If you want to go the boozy route, I LOVE these Fruit Sorbet and Sparkling Wine Floats and Mango Moscato Smoothies!
With the Lima Bean Salsa, you could also offer this Sweet Corn Salad with Cherry Tomatoes and Lime–It boasts complementary flavors and adds another pop of color to the table! Avocado Bacon Dip would also pair nicely with these if you need to prepare for a big crowd!
For the main course, I would go with something grilled–How about these Spicy Smoked Chicken Drumsticks? If you prefer going the seafood route, this Salmon with Jalapeno Lime Butter is DELICIOUS on the grill, and these Grilled Shrimp and Vegetable Kabobs are super easy!
If you're keeping things vegetarian, these Grilled Zucchini Hummus Wraps would be excellent! These Italian Veggie Sliders with Whipped Pesto+Feta Spread are also AMAZING with fresh produce–The veggies really are the star here!
Salads are naturally great for a garden party–You could try this Cold Asparagus Salad or maybe this Cucumber Chickpea Salad! For a variety of textures and flavors, I also think offering something like Green Chile Corn Fritters would be a great idea! Don't forget these Cheddar and Summer Squash Cornmeal Muffins!
You can't leave out dessert! These individual Chocolate Cheesecakes Topped with Chocolate-Covered Strawberries would be SO cute for guests. These Keto Lemon Bars just scream, "Summer!" You can even satisfy the salty-sweet crowd with these Strawberry and Honey Goat Cheese Bites!
DIY Suggestion: This cute DIY Wooden Tray would be so adorable to carry things to your guests!
More Easy Appetizers: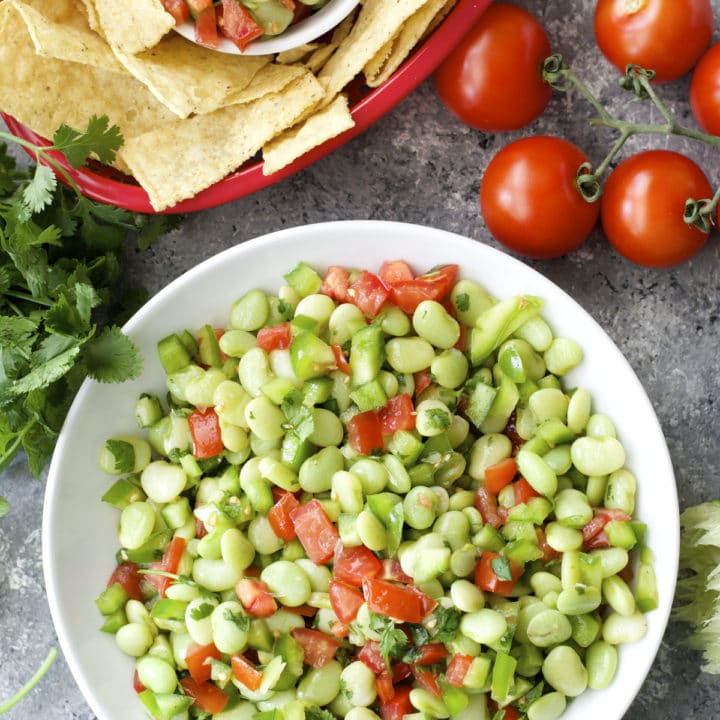 Lima Bean Salsa
Inactive Time:
15 minutes
Tender Lime Beans are combined with tomatoes and peppers and tossed in a zesty sauce! Grab some chips and get to snacking! You will love this easy Lima Bean Salsa!
Ingredients
1 (12 ounce) package frozen Lima Beans
1 cup chopped tomatoes
1/3 cup chopped cilantro, stems removed
1 green bell pepper, seeded and chopped
2 limes, juiced
Salt and pepper to taste
Instructions
Cook the Lima Beans in boiling water according to the package directions, approximately 15 minutes.
Remove from boiling water and immediately run cold water over them to stop from cooking.
Place Lima Beans in the refrigerator for at least 15 minutes to let cool.
Combine the Lima Beans with the tomatoes, cilantro, chopped bell pepper, lime juice and salt and pepper.
Stir well and serve chilled with tortilla chips.
Nutrition Information:
Yield:

8
Serving Size:

1/4 - 1/3 cup
Amount Per Serving:
Calories:

51
Total Fat:

0.1g
Saturated Fat:

0g
Trans Fat:

0g
Cholesterol:

0mg
Sodium:

4.3mg
Carbohydrates:

11.2g
Net Carbohydrates:

8.7g
Fiber:

2.5g
Sugar:

2.3g
Protein:

2.8g