These savory Bacon Egg and Zucchini Bites are loaded with fresh veggies, salty bacon and tons of cheese! Each mini muffin has just 0.2 net carbs each making them an amazing keto breakfast option!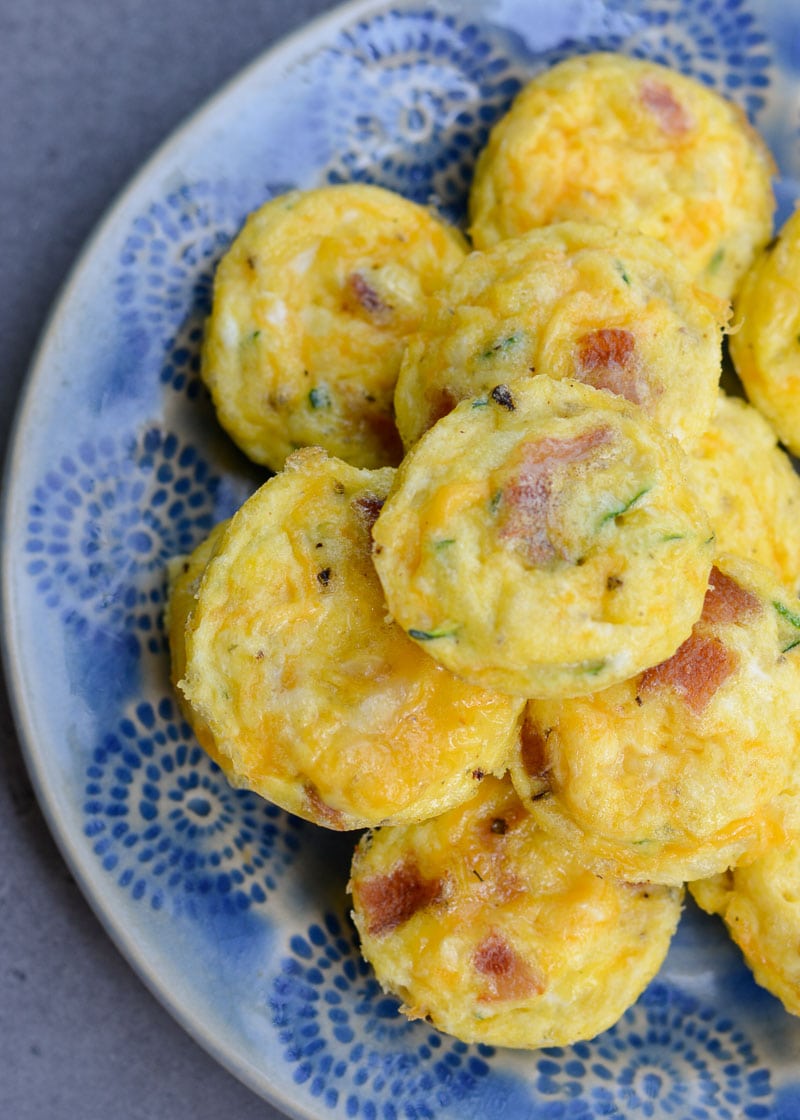 I think there are two types of busy mornings — Mornings that are so hectic you feel like you've lived a full day before 10 am and mornings that make you feel like you can accomplish everything that life throws your way. I think the difference maker here is a healthy, easy breakfast that doesn't slow you down!
This probably isn't a surprise to you if you've read much of my blog; I'm big on breakfast! These bites are different from the others because I decided to make them packed full of shredded zucchini.
Using this zucchini keeps them light and moist, making them perfect when you need to stay active and on the go. These are also great as a mid-day snack and pack great in a lunchbox!
Adding the zucchini does mean that these aren't the quickest to make during a busy morning, but they are perfect for meal prepping. You can make these ahead of time and reheat as needed in the microwave.
So do yourself a favor, be your own superhero, and make these tasty bites before your stomach starts growling!
Ingredients for Egg Bites
As always, this is a quick overview of the ingredients you will need for this recipe. For the complete recipe and instructions just keep scrolling.
Large Eggs
Cooked Bacon
Shredded Zucchini: squeezed completely dry, this step is crucial, skipping this step will result in very soggy egg bites!
Shredded Cheddar Cheese
Salt and Pepper
How do you dry shredded zucchini?
Zucchini has a very high moisture content. If you have ever tried cooking with zucchini and ended up with a soggy mess, you will understand! Zucchini is an excellent keto-friendly ingredient because it can be prepared so many ways, but it is important to understand how to properly prep your zucchini. Follow these steps to dry your shredded zucchini:
Shred your zucchini using a box grater or food processor. Once shredded transfer the zucchini to a clean, thick dish towel.
Gather the towel around the zucchini and squeeze as hard as you can. Do this several times using the towel to help you twist and apply pressure to the zucchini.
Lay the towel with the shredded zucchini flat inside flat on the counter. Use your fingers to separate the zucchini into a single layer. Allow the zucchini to rest 15 minutes.
Repeat the process and squeeze again, use a clean dry towel if needed.


How do you make Bacon Egg and Zucchini Bites?
These egg bites are the perfect one bowl breakfast recipe! You just need to follow these simple steps:
Preheat the oven to 350 degrees F.
Crack the eggs into a medium size bowl and whisk.
Stir in the dry shredded zucchini, shredded cheese, cooked chopped bacon, salt and pepper.
Spoon the mixture into a greased mini muffin tin. Bake for 7-9 minutes until the bites are cooked through.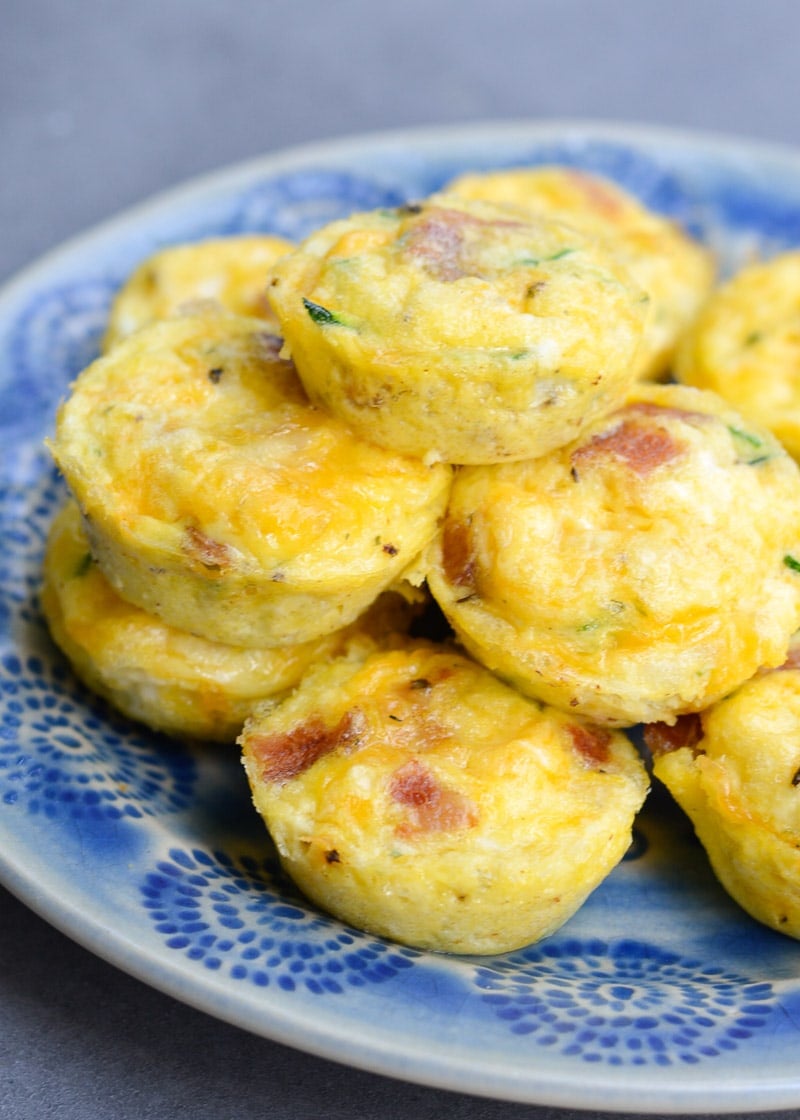 Are these Egg Bites Good for Meal Prep?
Certainly! These yummy egg bites reheat perfectly. You can easily reheat them on a microwave safe plate in 15 second increments until warmed through.
Other Low Carb Breakfast Recipes
Bacon Egg and Zucchini Bites (keto + low carb)
Ingredients
4 large eggs
2 slices of bacon, cooked and chopped
1/2 cup VERY DRY shredded zucchini, see notes in recipe post.
1/2 cup shredded cheddar cheese
salt and pepper to taste
Instructions
Preheat oven to 350 degrees F.
Whisk the eggs in a medium size mixing bowl.
Fold in the zucchini, bacon, cheese, salt and pepper.
Spoon the mixture into a greased mini muffin tin.
Bake 7-9 minutes until cooked through.
Notes
If you wish to cook in a regular size muffin tin the cooking time will be 10-13 minutes.
Recommended Products
As an Amazon Associate and member of other affiliate programs, I earn from qualifying purchases.
Nutrition Information:
Yield:

24 Mini Muffins
Serving Size:

Nutrition Calculated Per Mini Muffin
Amount Per Serving:
Calories:

31
Total Fat:

2.5g
Cholesterol:

24.9mg
Sodium:

54.8mg
Carbohydrates:

0.2g
Net Carbohydrates:

0.2g
Fiber:

0g
Sugar:

0.1g
Protein:

1.9g