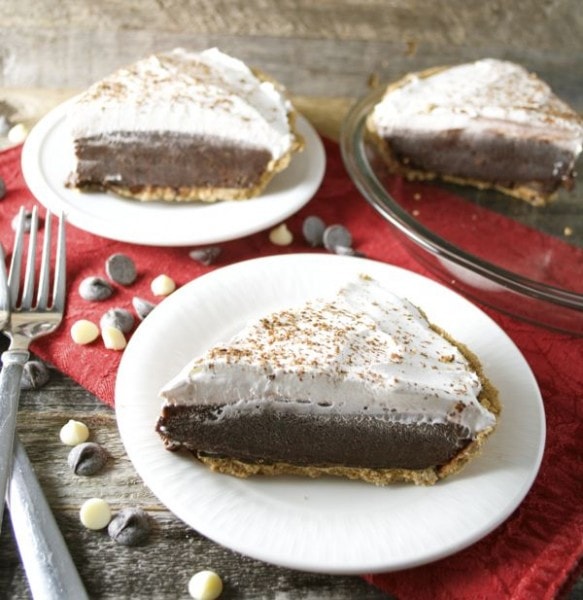 Do you buy the fancy flavored coffee creamer? I used to all.the.time. I would have five or six flavors at once, then I just kind of stopped one day. I am not sure if I just got tired of them or my taste buds suddenly grew up and I liked my coffee without tons of stuff inside. But I just never thought about them again, until last week at the grocery. I was waiting for this precious little old lady and her husband to decide on a flavor of creamer so I could get to the buttermilk on the other side of them. After much debate (he wanted the peppermint mocha and she wanted the eggnog) they settled on the Peppermint Mocha. Watching their cute little debate and listening to all of his selling points as to why Peppermint Mocha was so much better I found myself craving it! Before I knew it he had sold me on it too!
So, I grabbed a bottle and went on my way!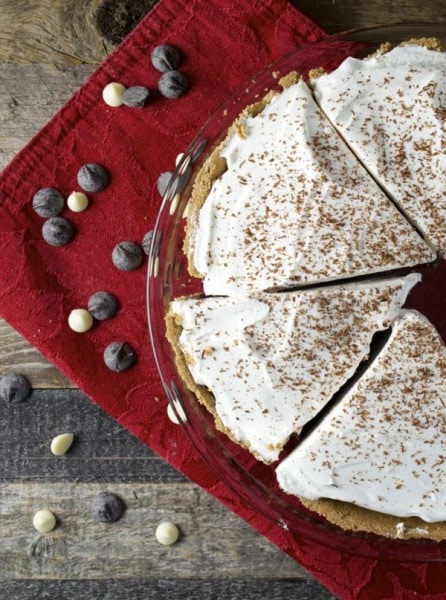 I got to thinking of other things I could do with the creamer and decided a fun holiday no bake pie would do the trick. This is seriously the easiest dessert ever. It is so super simple you will have it assembled within 10 minutes. You can then freeze the pie, or let it sit in the fridge a few hours until it sets. Either way, it is wonderful!
This is just an updated, more flavorful version of your basic pudding pie. I used a (gluten free) graham cracker crust with a layer of semi sweet chocolate in the bottom topped with Peppermint Mocha filling, then whipped cream and shaved chocolate on top!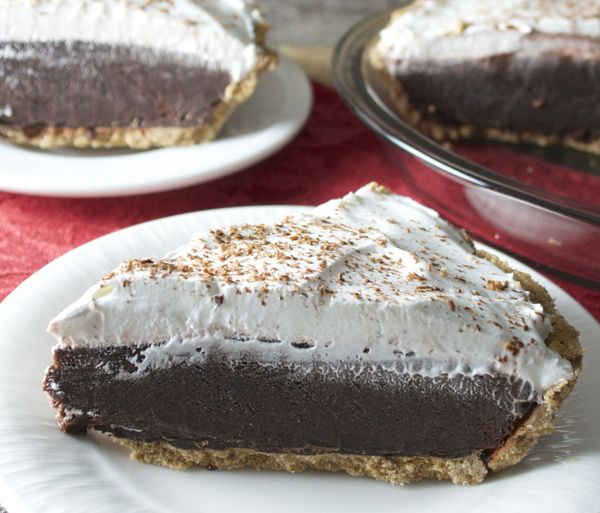 If your looking for an effortless holiday dessert this is just what you need!

Yields 8
No Bake Peppermint Mocha Pie
15 minPrep Time
15 minTotal Time
Ingredients
For the Crust:
1 1/2 cup crushed graham cracker crust (I used gluten free)
1/4 cup sugar
4 tablespoons butter, melted
For the Pie:
8 squares semi sweet bakers chocolate
1 (5.9 ounce) package instant chocolate pudding
2 1/4 cups milk
1/4 cup peppermint coffee creamer
1 tablespoon instant espresso powder
1 tablespoon hot water
1 1/2 cups cool whip
Instructions
Combine the graham cracker crumbs, sugar and butter and press into the bottom of a greased pie pan.
Slowly melt chocolate according to package directions and pour into the crust, spread evenly over the bottom of the pie dish.
Place dish in the freezer for 10 minutes until the chocolate is set.
In a medium size mixing bowl combine the pudding mix, milk and creamer.
In a small measuring cup or bowl combine the espresso powder and hot water. Make sure it dissolves completely. Add coffee mixture to pudding mixture, stir well.
Add pudding mixture in pie dish, top with whipped cream
7.8.1.2
147
https://www.maebells.com/bake-peppermint-mocha-pie/