Creamy Cheesecake is paired with Salted Caramel & Mocha Swirls for an indulgent dessert! This Salted Caramel Mocha Cheesecake is super easy & gluten free!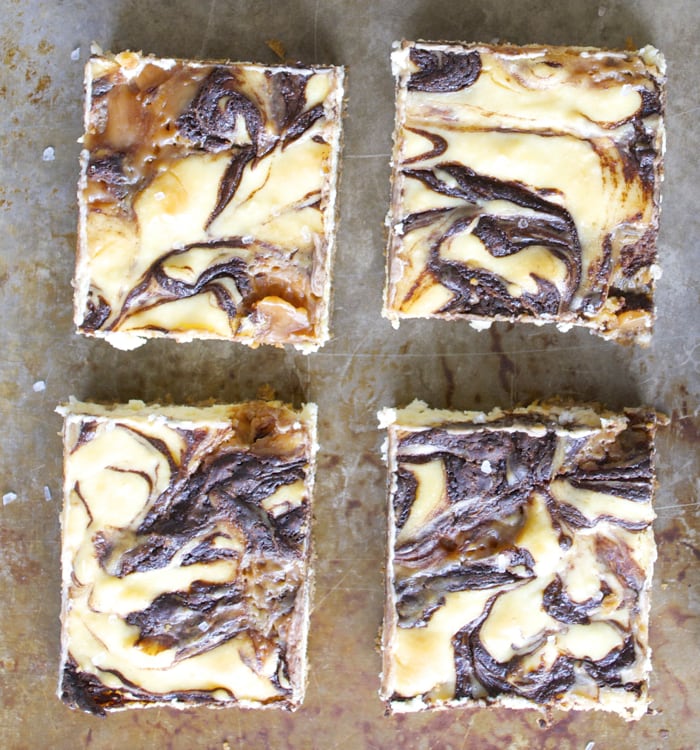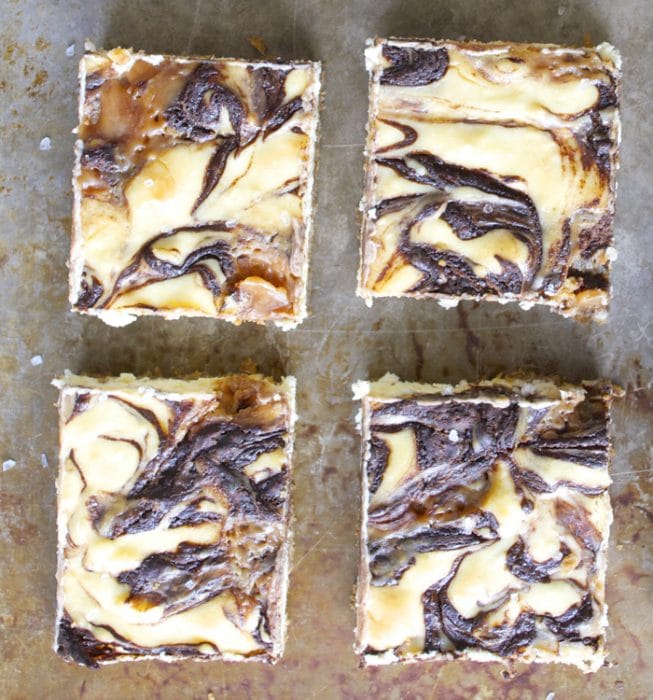 I am about to blow your mind. Are you ready?
There are only five more Fridays between now and Thanksgiving, only 8 between now and Hanukkah, and 9 between now and Christmas!
Holy cow! I know. I had to count twice. Where has the time gone?!
Wasn't it just yesterday we were talking about Blueberry Lemonade and suntans?!  Before you get all wild eyed on me and break out your Holiday to do list I have something that will soothe your soul. I have partnered with Kraft and #CollectiveBias to bring you a fantastic idea for gifting things that you can make in your very own kitchen! Things people will go nuts for! It is more affordable  and adds a nice thoughtful, personal touch. And let's face it, who doesn't love some homemade goodies?!
These Salted Caramel Mocha Cheesecake Squares are not your typical dessert. They are a creamy, sweet, and salty caffeine filled dream come true! And they are a breeze to prepare even if you aren't an experienced cook! Here is how we make them!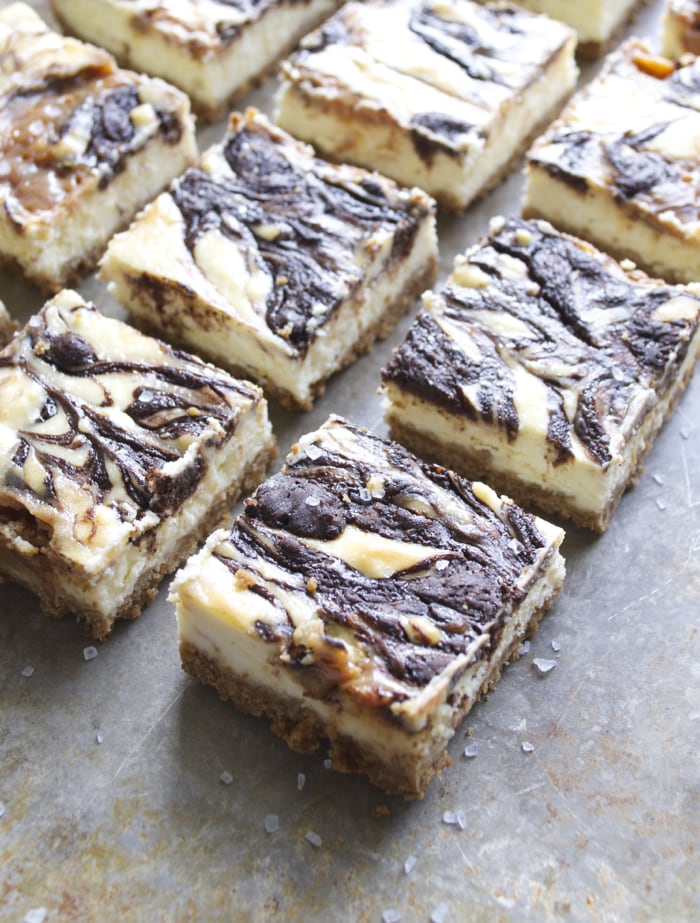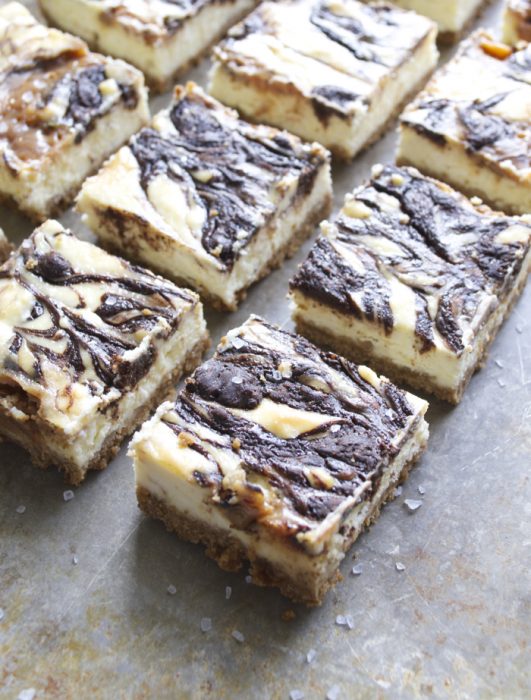 To make the Cheesecake Squares you start with the crust. I used gluten free graham cracker crumbs, but you can use regular if you prefer. Just mix them with a little sugar and melted butter, mix really well and press into a pan lined with parchment paper. You want to pack them in there pretty well so you have a nice solid crust.
Next, I added the softened cream cheese, sugar, and vanilla extract to the bowl of my stand mixer. I mixed the cream cheese on a low setting until just combined and then added three eggs, mix until everything looks creamy and blended. Then just pour your cream cheese filling into your crust!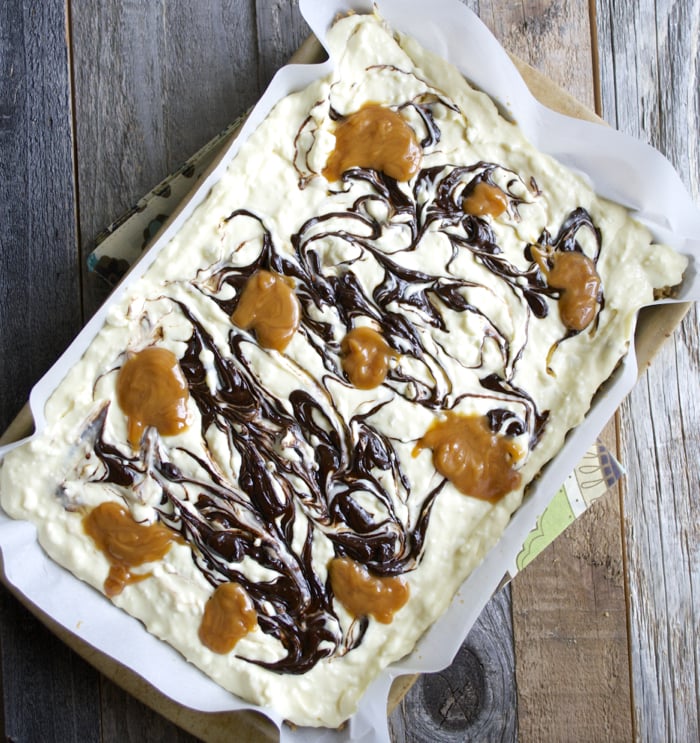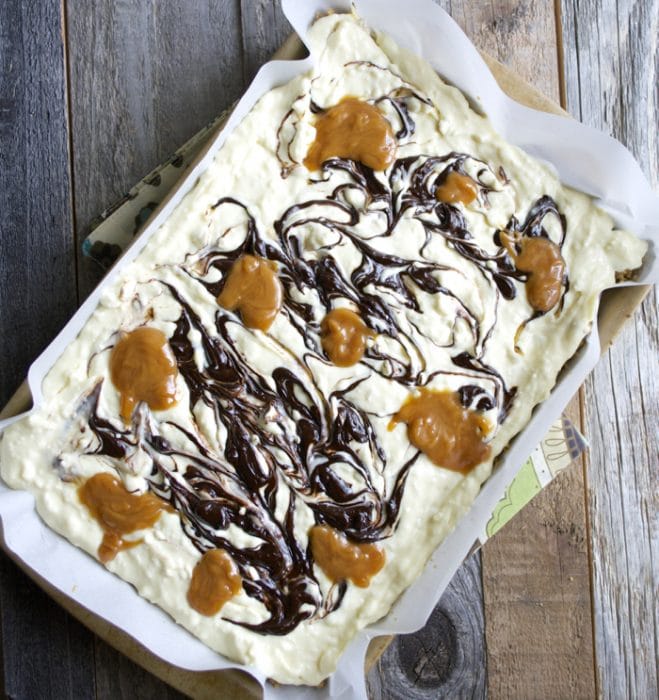 You're almost done! Now onto the good part! The chocolate and the caramel! We are creating two different kinds of swirls, mocha swirls and salted caramel swirls. For the mocha, I melted Semi Sweet Bakers Chocolate and combined it with the instant coffee that had been dissolved in a teeny bit of water. Basically, you are mixing melted chocolate with coffee concentrate. Mix it well, and try not to eat it before you put it on your cheesecake. 😉 Add the mocha chocolate in little spoonfuls over the cheesecake. Then take a skewer or butter knife and carefully run it though the chocolate to make swirls.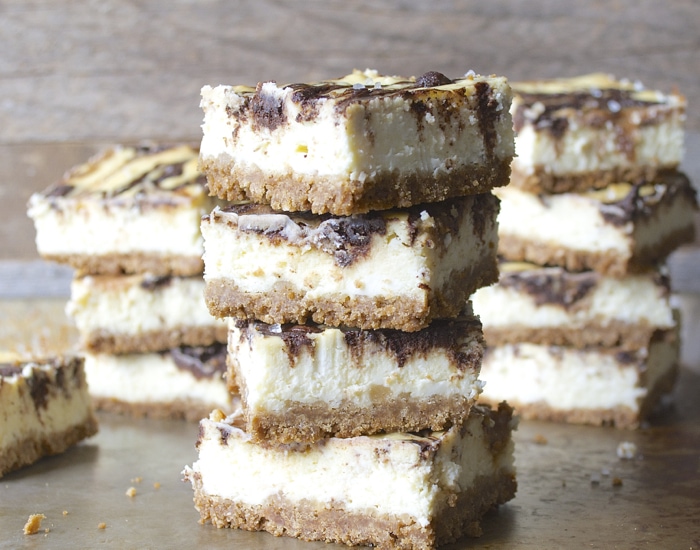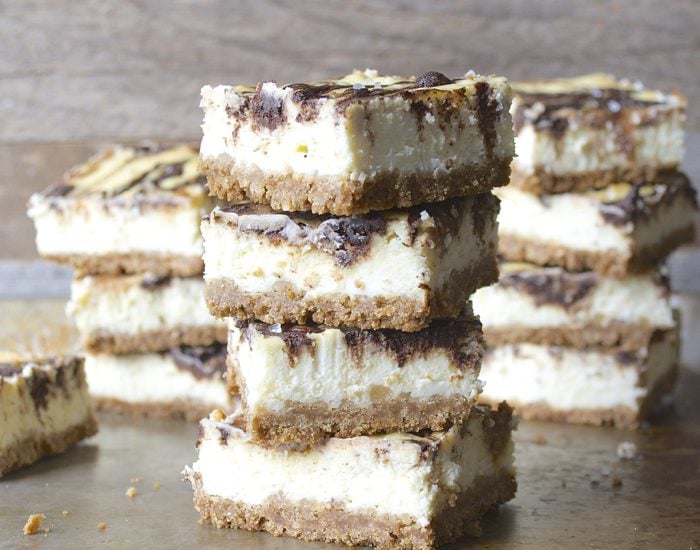 For the salted caramel simply melt the caramel bites and a pinch of sea salt and drop it over the filling in spoonfuls just like you did with the chocolate. Gently create your caramel swirls. Now you just slide this into the oven and wait! When you remove the bars from the oven let them cook completely and sprinkle with sea salt. This creates that perfect blend of salty and sweet!
All that is left is to cut these bad boys up, wrap them up in something really cute, and show everyone just how much you care! I promise, there are few things in the world that show someone how much you love them like the gift of cheesecake!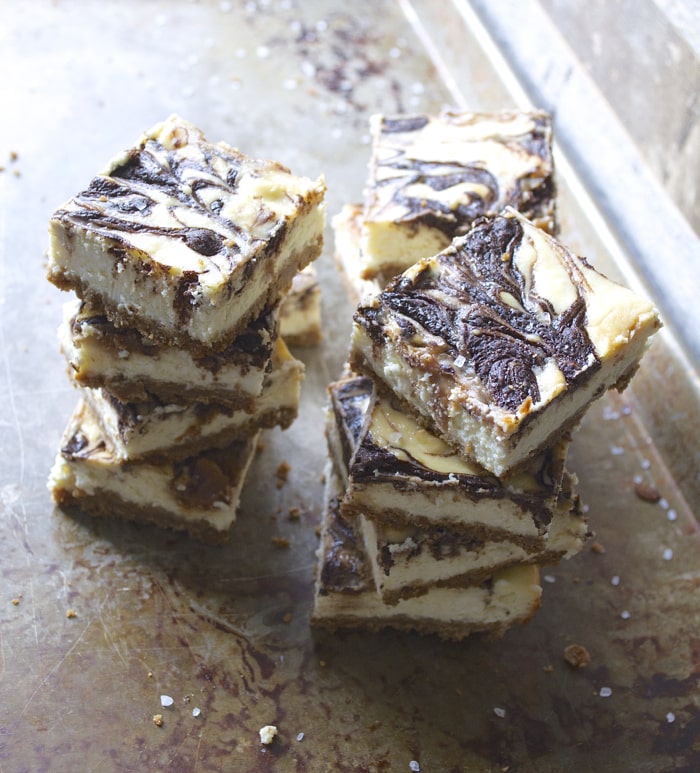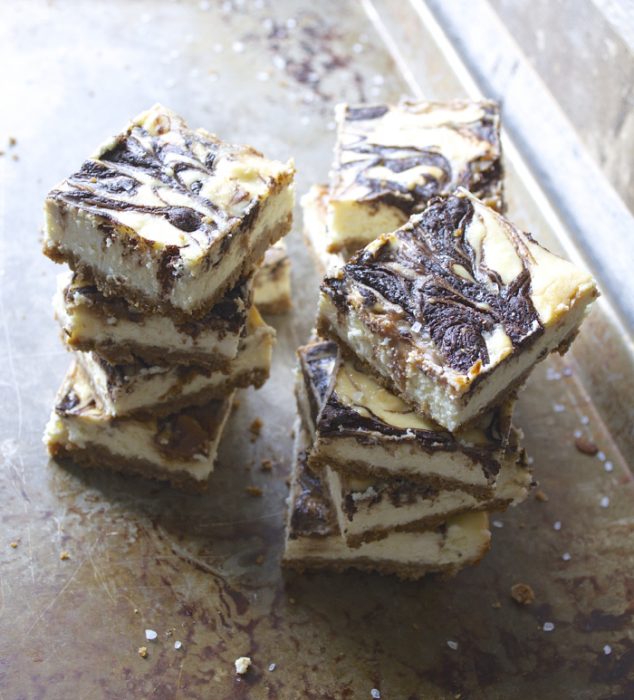 More Delicious Desserts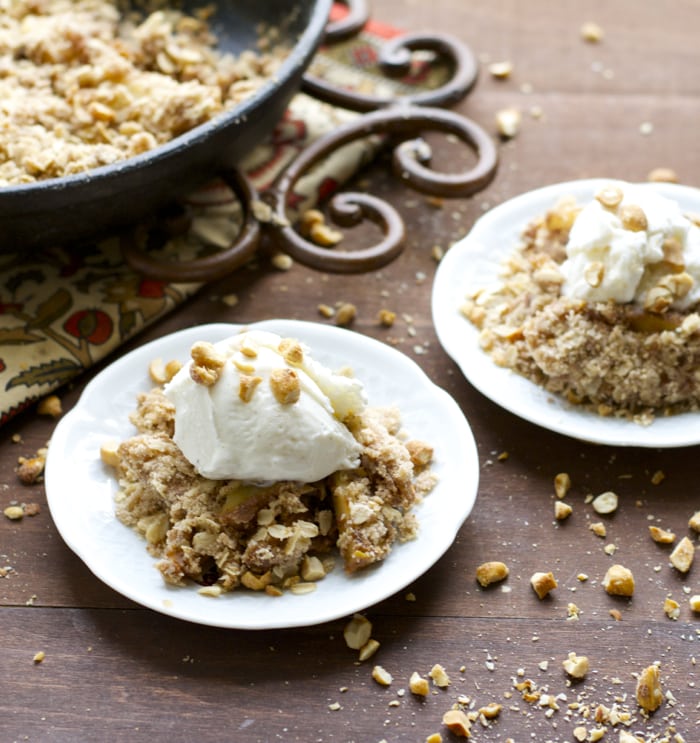 Peanut Butter Honey Apple Crisp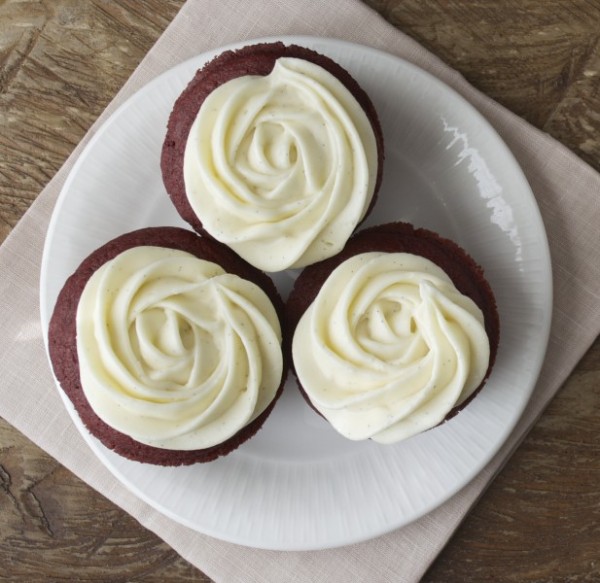 Red Velvet Cupcakes with Vanilla Bean Cream Cheese Icing