These Cranberry Bars are the perfect dessert to bring to a family gathering, potluck or holiday celebration. This keto dessert is sweet, tart, and under 5 net carbs!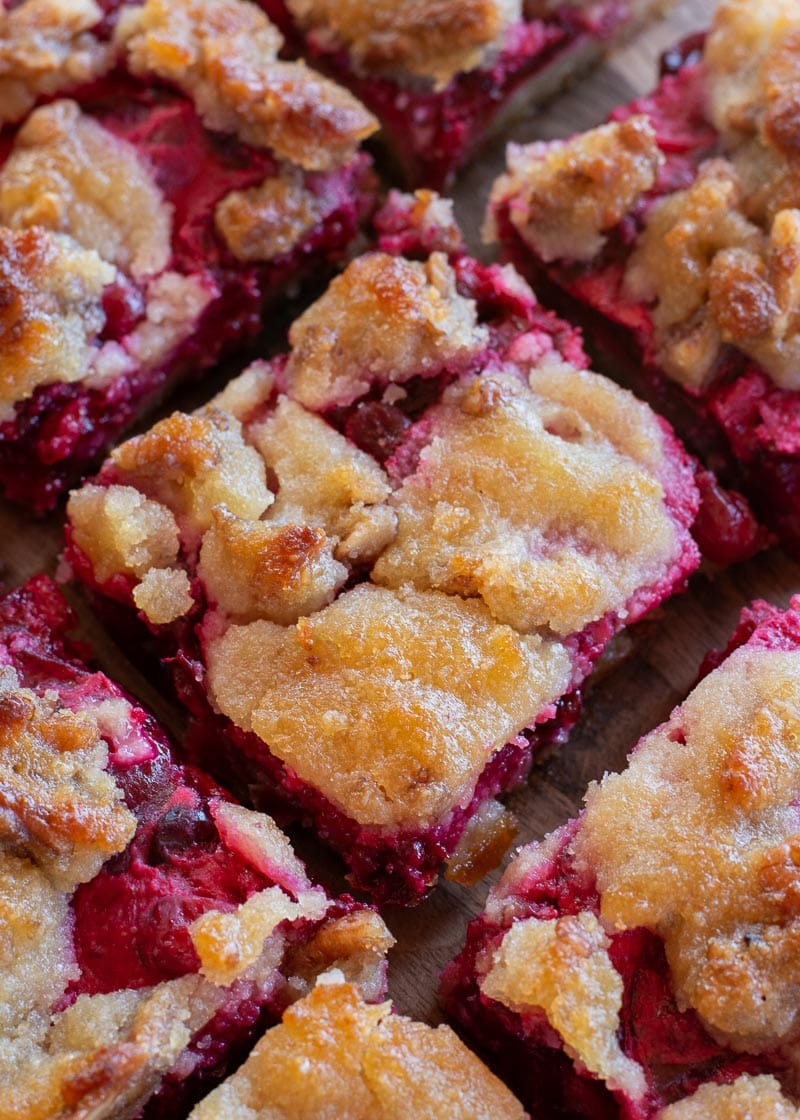 Cranberry Bars
These Cranberry Bars are going to steal the show this holiday season! These delicious bars feature an amazing keto buttery crust that is topped by a layer of cranberry sauce. Cranberry sauce is not traditionally low carb but I have an awesome Keto Cranberry Sauce that is great for the holidays!
Atop your sauce is a crumbly pecan topping. I even included instructions on how to make an easy cream cheese glaze to add to these bars to make them extra indulgent!
Bars are some of my favorite keto desserts- they're easy to prepare, transport, serve and of course, eat! Fall inspired desserts are especially tempting- like these Pumpkin Cheesecake Bars, Pecan Pie Bars or Caramel Mocha Cheesecake Bars. But these Cranberry Bars may take the cake! The crust is buttery and the topping has a bit of crunch while also being perfectly crumbly. The cranberry sauce layer is tart while having a hint of sweetness- the result is a dessert that is fresh, crisp and perfect for the season!
Ingredients in Pecan Shortbread Bars
As always, here is a quick overview of the ingredients used in our Cranberry Bars. For the complete recipe, just scroll to the bottom of the page. To make these low carb Cranberry Pie Bars you will need:
Almond flour: this will provide the best texture in this recipe- for more information on this type of flour, refer to Everything You Need to Know about Almond Flour
Granular Monkfruit Sweetener: if you are not keto, you can use traditional white sugar
Baking powder and salt: this will help the dessert to have the perfect amount of rise
Butter: you will need cold, salted butter. This is the key to the perfect crumbly crust!
Eggs: you will need a size large egg, and this helps to bind the crust and crumble topping together.
Milk: you can also use almond milk, or heavy cream.
Vanilla extract: this adds depth and helps to mimic a pie like flavor.
Pecans: walnuts or almonds also work nicely in this recipe.
Cranberry sauce: this is my keto version of cranberry sauce. You can easily prepare this sauce in advance.
How to make this Cranberry Dessert
Crust: First, line an 8×8 pan with parchment paper or aluminum foil. Combine the almond flour, monkfruit sweetener, baking powder and salt in a bowl. Cut in the cold butter with a pastry cutter– you will do this until your mixture is coarse and crumbly. Add in the egg, vanilla and enough milk (or cream) to give you a moldable dough. Portion out 1/4 of the dough to make your shortbread topping. Store this portion of the dough in the fridge while you prepare the crust. Spray your pan with cooking spray and press the leftover 3/4 of the dough into the pan. Bake at 350 degrees F for 7 minutes- this is called a pre-bake. Your crust should be a very light brown and hardly set. Remove from the oven and set to the side to cool.
Cranberry sauce: This Keto Cranberry Sauce recipe is what I used (and used to calculate the nutrition facts. You only need cranberries, water, and confectioner's monk fruit, swerve, or other sweetener. If you're not keto, original cranberry sauce will work.
Topping: You will make this using the remaining 1/4 portion of the dough that has been in the fridge. Remove from the fridge and combine with crushed pecans until a crumbly texture forms.
Assembly: Spread your fresh cranberry sauce over your pre-baked crust. Add the pecan shortbread crumble over the top.
Bake: Cook for 25-30 minutes or until the topping has begun to brown at 350 degrees F. Allow to cool before slicing.
Cranberry Bar Cream Cheese Drizzle:
These bars are already fantastic, but consider adding a cream cheese drizzle! It adds a luscious, creamy texture while the rest of the bar is crumbly or more jam-ish. You also get that good sweetness that makes it feel like a real indulgent holiday dessert. There's a recipe for an easy glaze in the printable recipe card — Just scroll down for that!
How to Serve this Keto Dessert
To cut these bars, you can either portion them into larger squares (makes 9) or smaller ones (makes 12). You can cut these cranberry squares into whatever works best for you. You might want smaller bars for a potluck but larger ones for a family dessert. Either way, nutrition values are provided for both sizes in the printable recipe card below.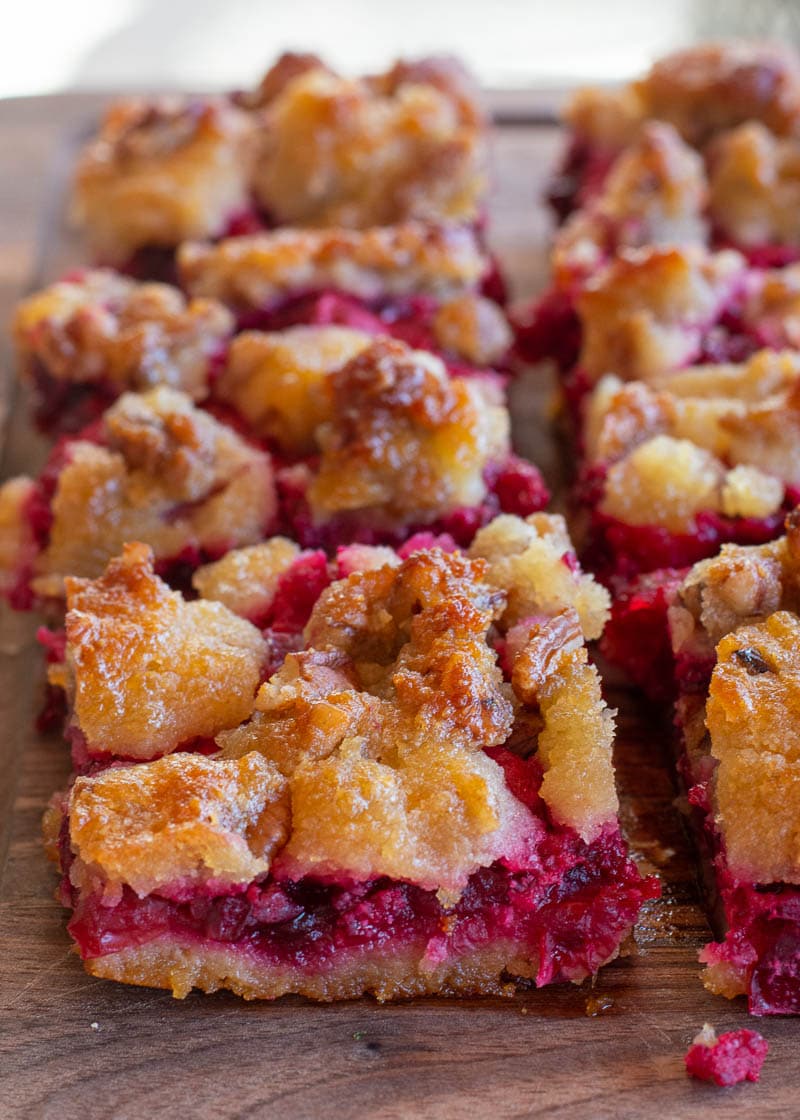 Tips for the BEST Cranberry Squares
Add a cream cheese glaze over the top- this adds a wonderful richness to these bars! For the instructions on how to prepare this glaze, refer to the recipe portion of this page. There are step by step instructions listed.
If you wanted to add a kick to these bars, you can add orange zest to your cranberry sauce!
For more spice, try adding cinnamon or nutmeg to your pie crust and crumble topping!
Is cranberry sauce keto?
No, traditional cranberry sauce is not keto or low carb. But luckily my Keto Cranberry Sauce will not mess up your diet during the holidays! This sauce is made with a Confectioner's Sugar Substitute so it is keto friendly. You can make this sauce in small or large batches and you can even freeze it! This is perfect for a low carb holiday celebration.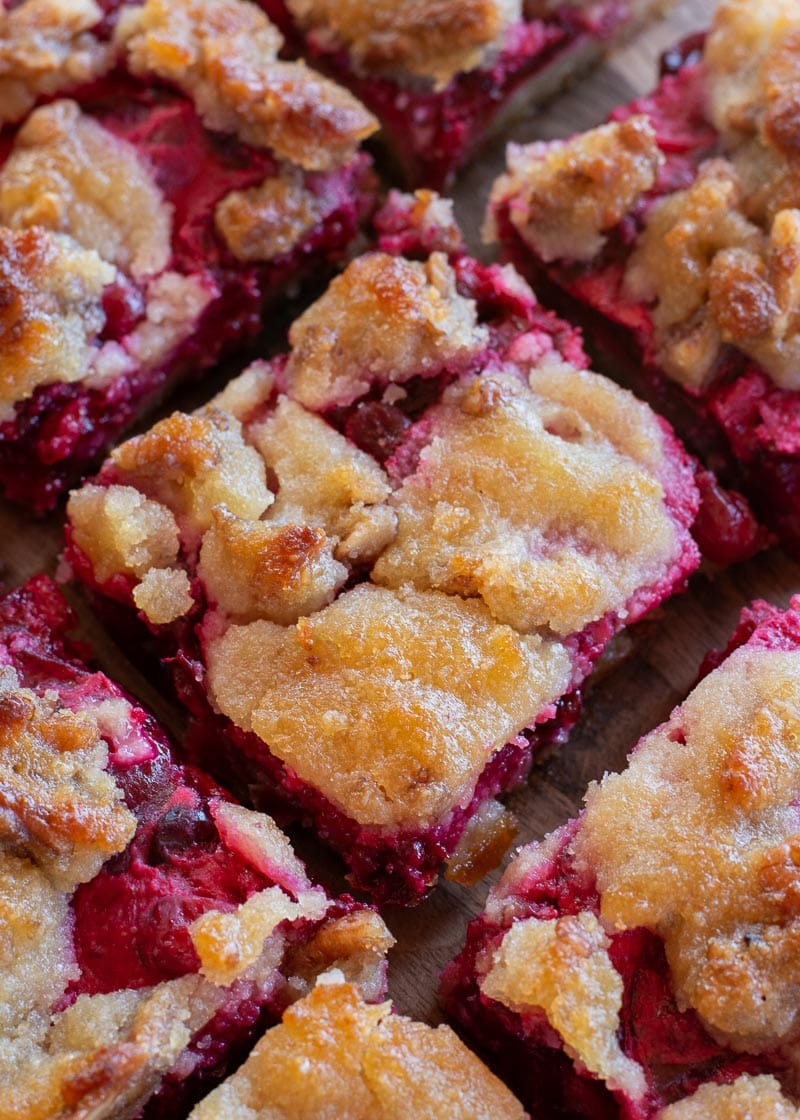 What should I serve with Cranberry Bars?
These bars are great for the chilly months- cranberries are in season October through December, so they're going to be at their tastiest during this time of year! Try any of our Keto Holiday Recipes for your upcoming celebrations. Crockpot Turkey Breast, Perfect Roast Chicken or a Smoked Turkey are all great dishes for family gatherings. For sides, try Green Beans Almondine, Broccoli Salad with Bacon or any of these Keto Bread Recipes.
For those that aren't low carb at your table, try Crockpot Cheesy Potatoes, Butternut Squash Mac and Cheese or Jalapeno Cornbread. These Cranberry Bars are going to be the perfect conclusion to this feast, but serve alongside any of these Keto Holiday Desserts to make sure everyone's bellies are full!
More keto dessert recipes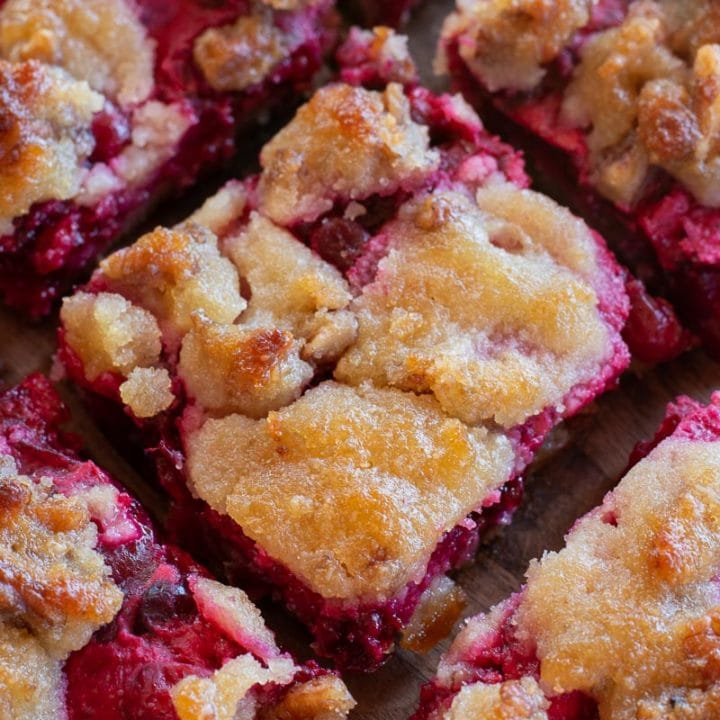 Cranberry Bars
These Cranberry Bars are the perfect dessert to bring to a family gathering, potluck or holiday celebration! This keto dessert is full of sweet cranberry flavor and is deliciously satisfying while being under 5 net carbs!
Ingredients
For the Dough
1 1/2 cups almond flour
1/2 cup granular monk fruit sweetener (regular sugar if not keto)
1/2 teaspoon baking powder
1/4 teaspoon salt
8 tablespoons cold butter
1 large egg
1-2 tablespoons milk or heavy cream (as needed)
2 teaspoon vanilla extract
1/2 cup crushed pecans
Cranberry Layer
1 1/2 cups cranberry sauce (link below and in post)
Instructions
Line an 8x8 pan with parchment paper or foil. Preheat the oven to 350 degrees F.
In a mixing bowl combine the almond flour, sweetener, baking powder, and salt in a bowl. Cut in the cold butter using a pastry cutter until a coarse mixture forms (see photo in post for reference).
When the butter is well incorporated add the egg, vanilla and just enough milk to help you form a moldable dough. Separate 1/4th of the dough and set aside in the fridge to create the topping soon.
Spray the prepared pan with cooking oil and press ONLY the remaining 3/4 of the dough into the pan for the crust. Pre-bake the crust 7 minutes. At the 7 minute mark the crust will be barely set and very lightly browned. Set aside and allow it to cool.
Take your final 1/4th of the dough, and add 1/2 cup of pecans to make your topping. Combine to form a crumbly mixture.
To assemble the bars spread the cranberry sauce over the pre-baked crust and sprinkle the pecan crumble over the cranberry mixture.
Bake the bars 25-30 minutes until the crumble has browned.
Remove from the oven and allow the bars to cool before slicing and serving.
Notes
Keto Cranberry Sauce: https://www.maebells.com/low-carb-cranberry-sauce-small-batch-large-batch-and-three-flavors/
Sizing: The nutritional information below is if you slice these bars into 12 equal portions. However, if you would like larger portions slice the bars into 9 sections and the nutrition is as follows:
Calories: 268
Total Fat: 18.5
Cholesterol: 47.8
Total Carbs: 9.1
Fiber: 2.6
Net Carbs: 6.5
Cream Cheese Glaze: If you would like to add a cream cheese glaze to these bars follow these instructions:
2 ounces cream cheese
1/2 cup confectioners keto sweetener (Swerve or Monkfruit)
1/2 teaspoon vanilla extract
3 tablespoons heavy cream
Combine all of the cream cheese glaze ingredients in a blender or food processor, blend until smooth. Add more heavy cream if you want to thin the mixture.
Recommended Products
As an Amazon Associate and member of other affiliate programs, I earn from qualifying purchases.
Nutrition Information:
Yield:

12
Serving Size:

1 bar
Amount Per Serving:
Calories:

201
Total Fat:

13.9g
Cholesterol:

35mg
Sodium:

60mg
Carbohydrates:

6.8g
Net Carbohydrates:

4.9g
Fiber:

1.9g
Sugar:

2g
Protein:

3.2g