This Cheesy Smoked Sausage Soup is loaded with spicy sausage, tender vegetables in a creamy, cheesy sauce! At less than 7 net carbs per serving this is a great low carb, keto-friendly soup!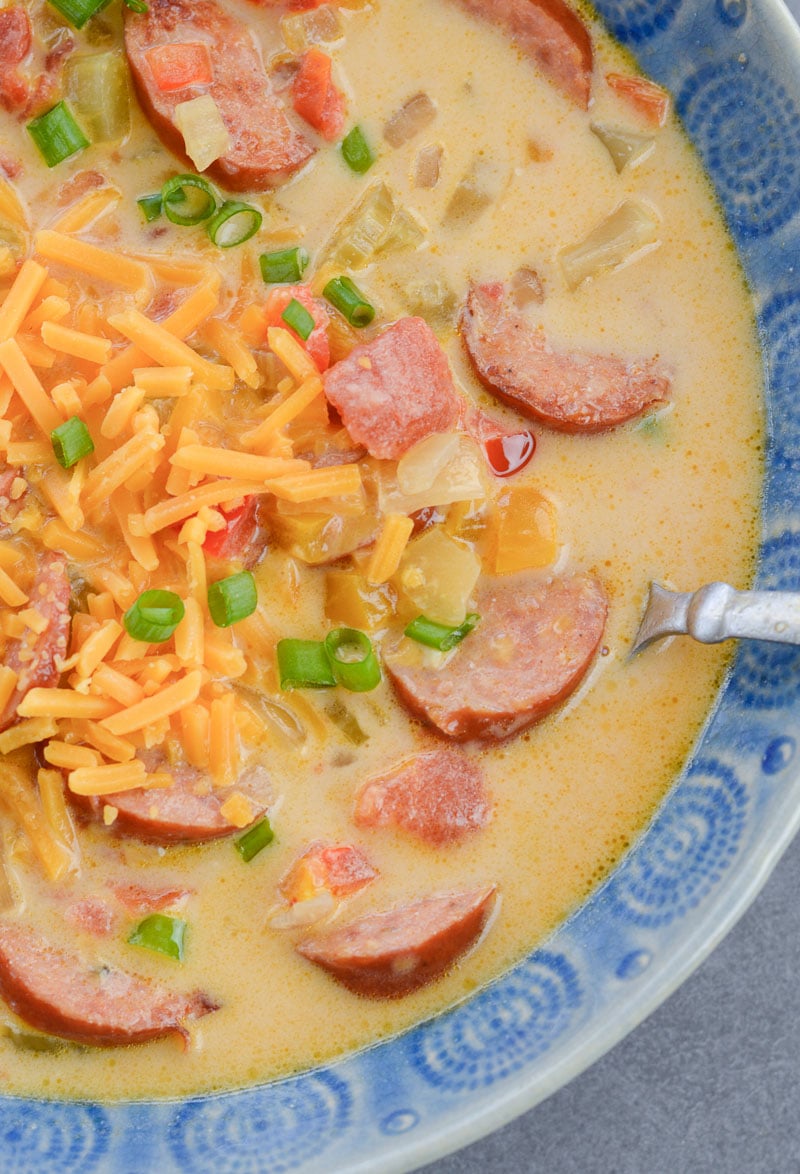 This divine low-carb soup loaded up with cajun flavors, smoked sausage and fresh vegetables is the perfect taste sensation. Mildly spicy but mellowed by the cheese, this versatile soup can be adapted to suit any palette. Surprisingly, despite its luxurious feel, this smoked sausage soup only contains 6.8 net carbs, making it the perfect treat for Keto-lovers.
Ingredients in Smoked Sausage Soup
Smoked sausage
Garlic
Onion
Bell peppers
Celery
Beef broth
Canned tomatoes
Cream cheese
Cheddar cheese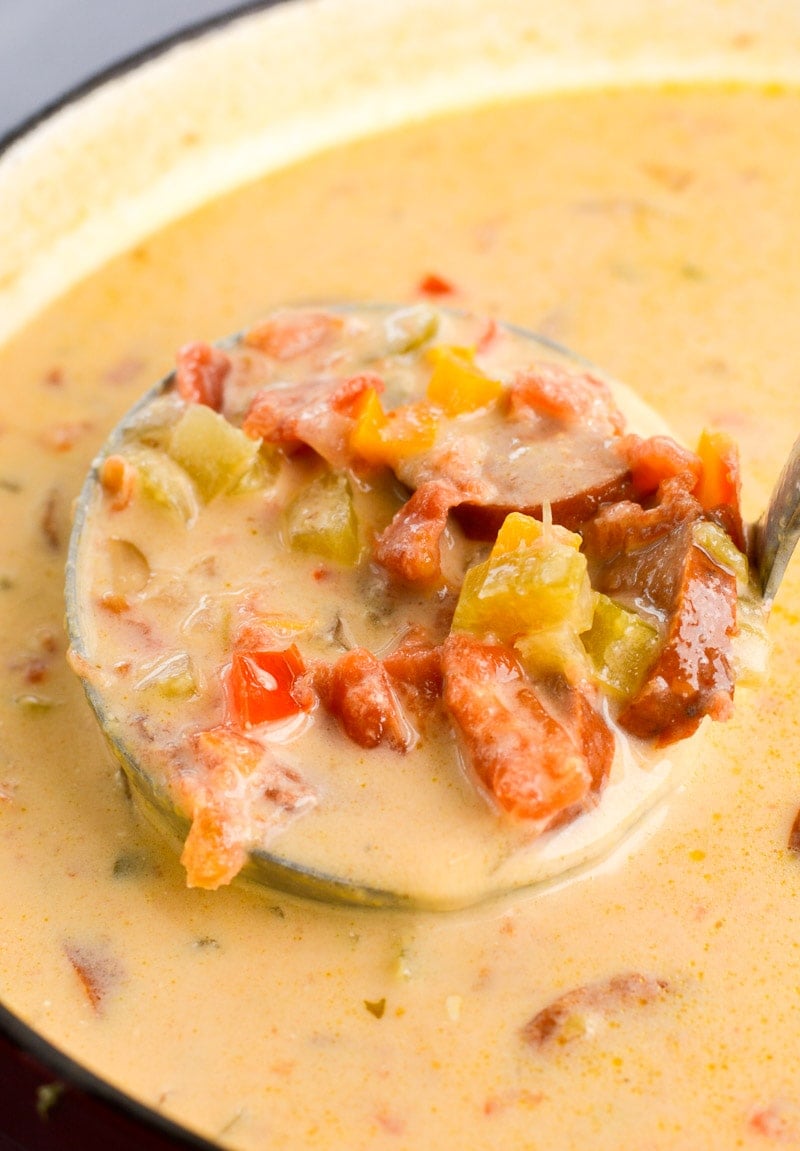 How to make Sausage Vegetable Soup
Start off by browning your sliced smoked sausage over a medium heat in a stock pot or Dutch oven, before draining off any excess grease. Next, add the garlic, onion, peppers and celery and continue frying until the vegetables are nicely softened.
Tip in the undrained can of tomatoes along with the beef broth, stir well and allow the mixture to simmer to deliciousness for 25 minutes. During this time, keep your soup covered and on a low heat. Finally, stir in the cubed cream cheese and cheddar until melted for a luxuriously creamy finishing touch.
Can I Freeze Smoked Sausage Soup?
You can absolutely freeze your smoked sausage soup, so why not go ahead and cook up a big batch! If you plan on freezing your soup, you're best off slightly undercooking the vegetables and leaving out the cheese, which can separate when frozen.
You can simply add this in to serve once your soup has been reheated. Also, if you know you will only be feeding yourself, be sure to freeze in individual portion sizes to avoid wastage and reduce heating time.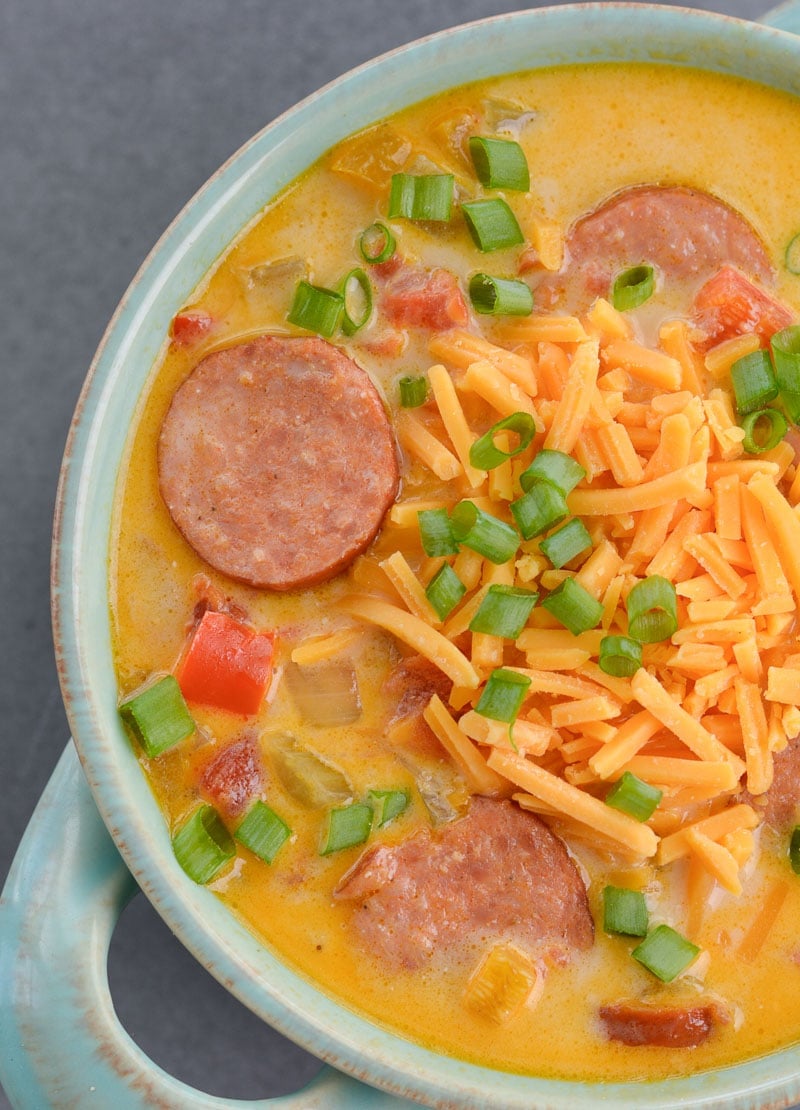 How to Reheat Sausage Soup
The best idea is to plan ahead and defrost your soup in the refrigerator overnight, before reheating gently in a pan when you're ready to eat. However, we all need to grab something quick to eat in a rush from time to time and, luckily, it's fairly easy to reheat smoked sausage soup in the microwave from frozen!
Simply partially cover your portion of soup in a microwave-safe container and whack it in the microwave on a low heat for 2 minutes, before stirring and returning for another 2 minutes. Once your soup is defrosted, start heating it on high power, again in 2-minute intervals until piping hot.
Tips for Making Keto Sausage Soup
For the heat-lovers out there, why not replace the classic smoked sausage with a spicy chorizo. If you want to retain that gorgeous smokey flavour in the meantime, you could even swap out the regular cheddar for a smoked version! For a mild and stringy cheese texture, mozzarella could be a great addition, too.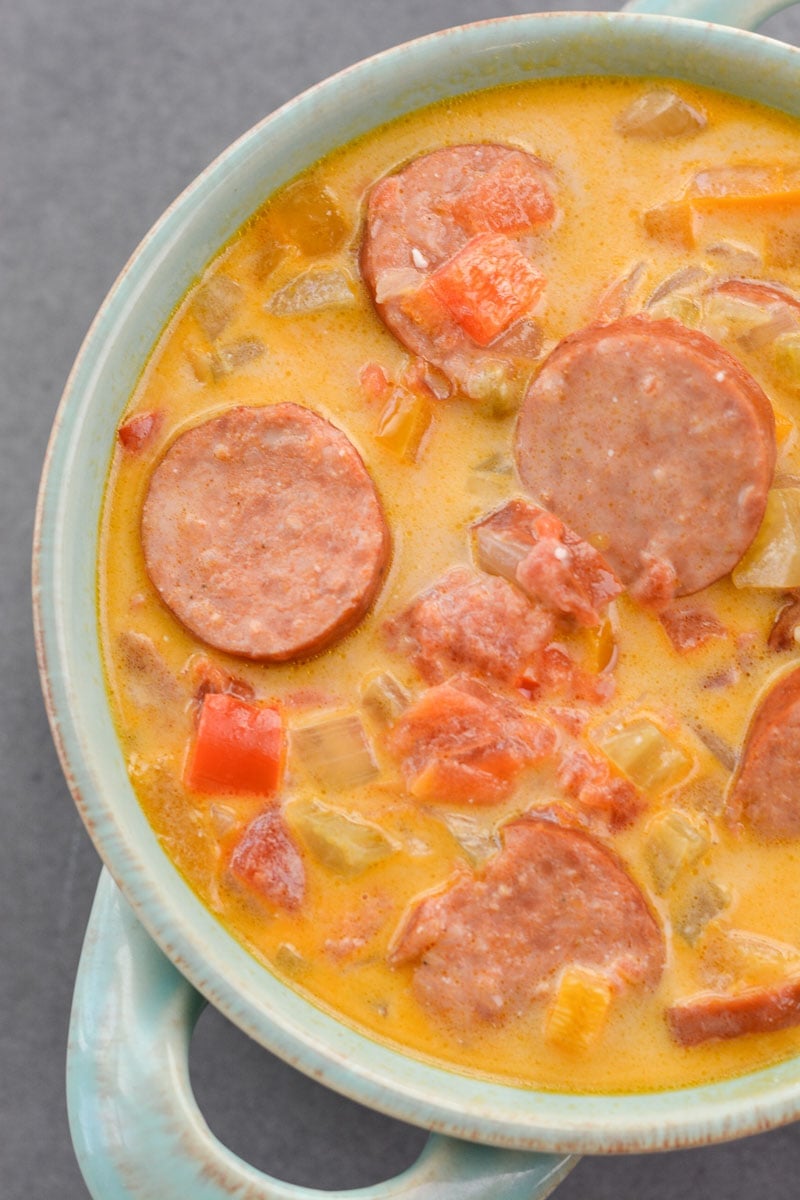 More Low Carb Soup Recipes