You can make these Chicken Parmesan Potato Skins with just five simple ingredients! This easy recipe will become a family favorite!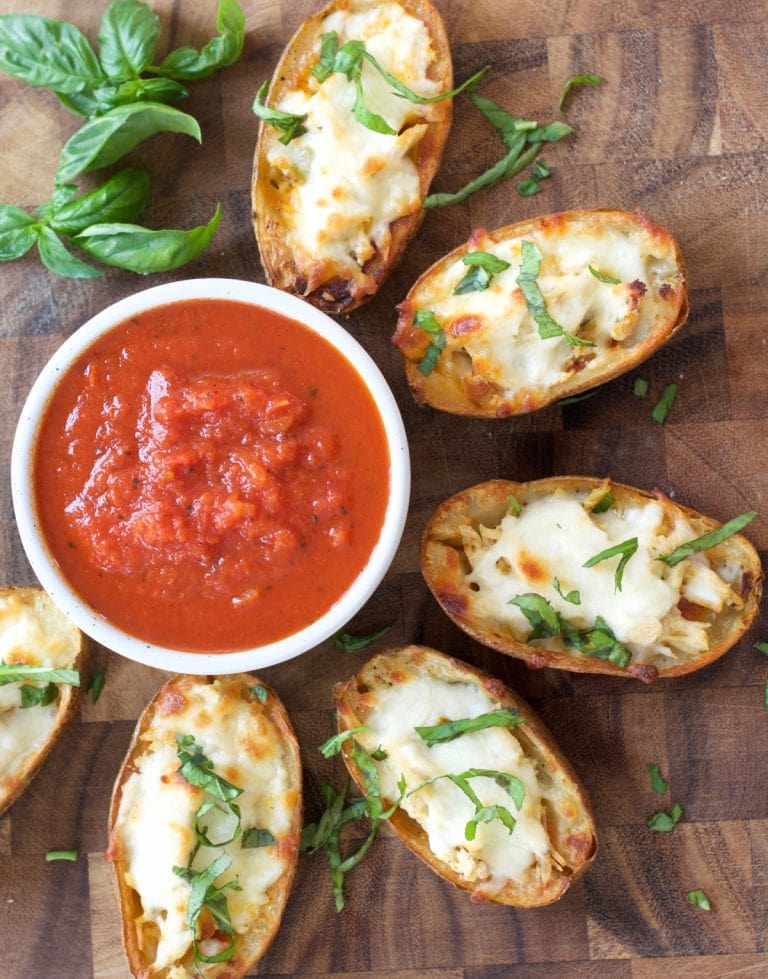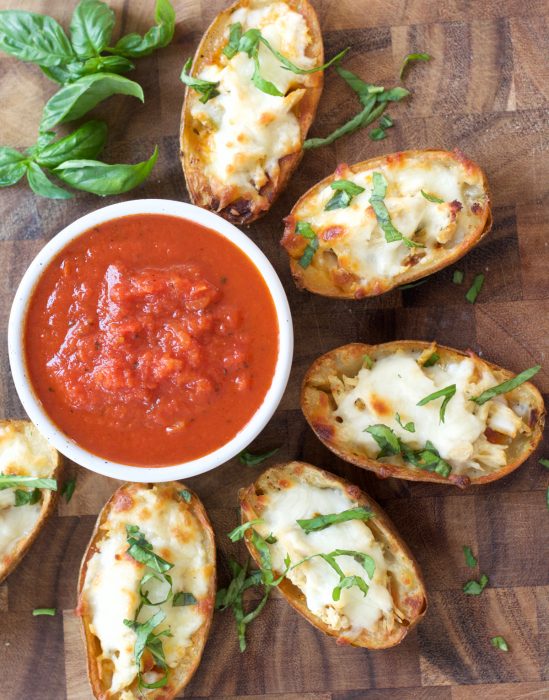 If you are anywhere near the Southern part of the United States, you may know there is something very strange happening. It is the last day of October and Summer seems to be in full swing. The seasons around here can be very temperamental.
This weekend we went to a really neat outdoor market in Nashville and it was nearly 90 degrees! Many of the vendors had marked out things like cocoa and lattes on their menu boards and written in smoothie specials and fruit tea.It has been the strangest sensation to see the colors and transition of fall outdoors, but the temperatures do not match!
I've been craving some serious potato fixings- I'm obsessed with these Scalloped Potatoes with Ham and Mr. Maebell regularly requests Air Fryer Baked Potatoes. But I wanted to come up with something new and different we hadn't had before. SO I brainstormed these little beauties into creation!
So, over the weekend we made a batch of these Chicken Parmesan Potato Skins as an easy and filling dinner! These potato skins are seriously the easiest recipe ever, they only require five simple ingredients! All you need some Idaho potatoes, chicken, marinara sauce, shredded mozzarella and fresh basil for garnish!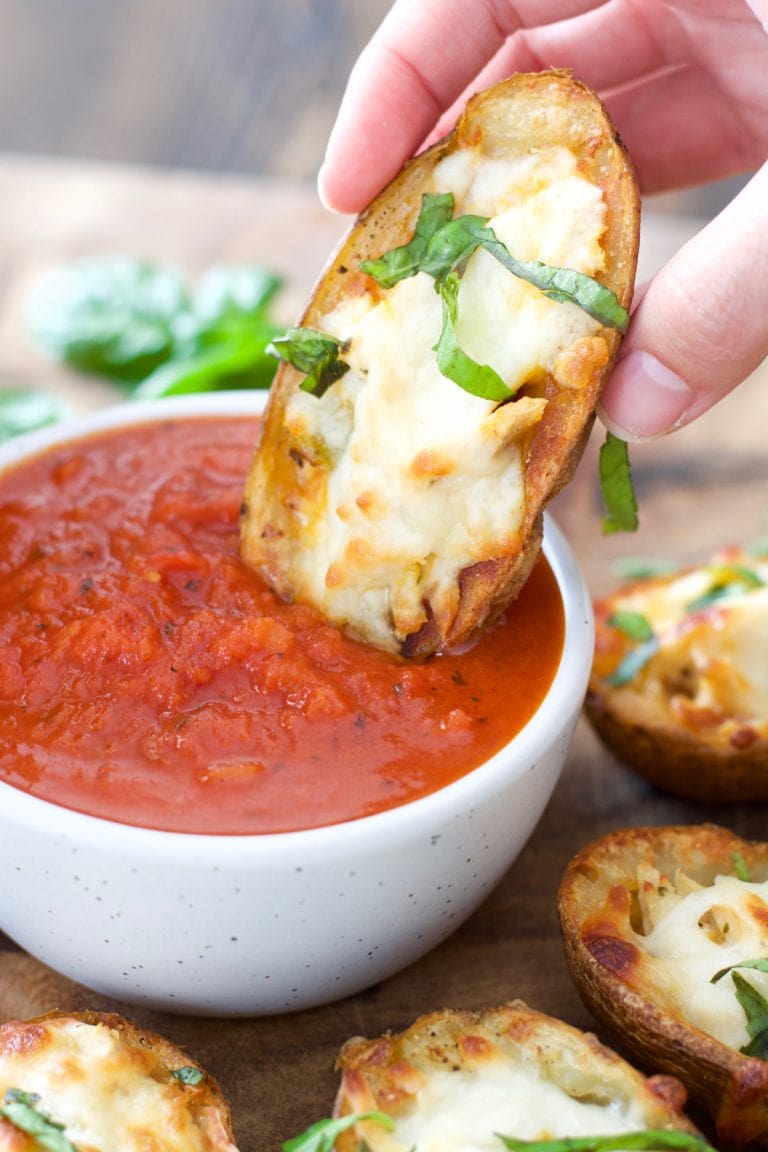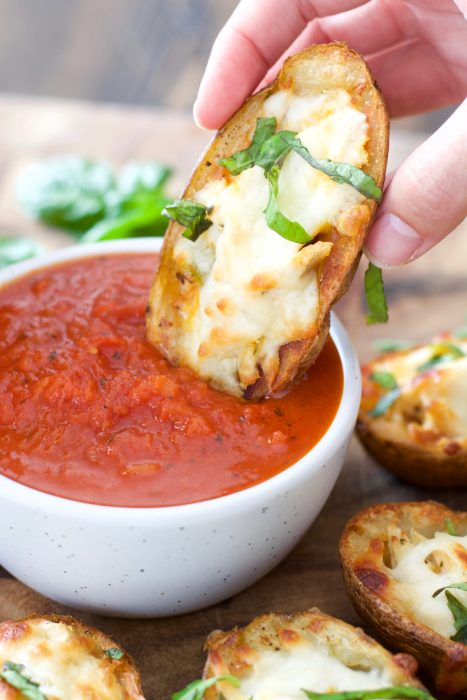 Ingredients for chicken potato skins
Idaho potatoes- I would stick with the classic here. Idaho potatoes are perfect for baking.
Olive oil- any kind you have should be fine.
Salt and pepper- just add these to your personal taste
Cooked chicken- the chicken can be shredded or diced- this recipe is a great way to use a leftover roast chicken!
Marinara- homemade or store bought is fine.
Shredded mozzarella- I would use shredded over fresh here. Fresh mozzarella may make the potatoes too wet.
Basil- I recommend using fresh basil for these potato skins, it adds a delicious touch!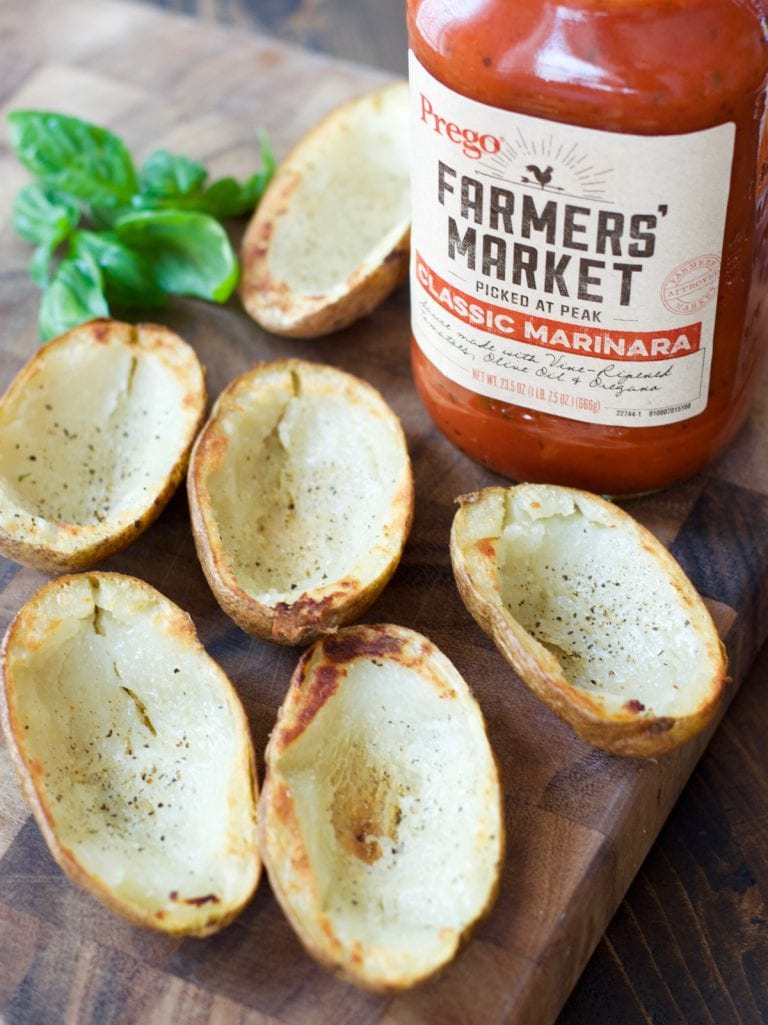 How to make parmesan potato skins
First, we start by hollowing out a few small baked potatoes. You can actually cook your baked potatoes ahead of time to help make this meal come together super quickly. This comes in handy if you are making these for a game day treat or when you have guests!
Next, lightly spray or brush your potato skins with olive oil and season with salt and pepper to taste. Bake the potato skins skin side up on a baking sheet until they are nice and crispy. You can also add some salt to the outside of the potato skin if you desire.
When your potato skins are perfectly crisp, we load them up with fillings! Spoon a small amount of Marinara into each potato skin then top with cooked chicken and shredded mozzarella. Finally, bake until the cheese is perfectly melted, top with the basil and serve with additional sauce for dipping and you have a very easy but completely delicious dinner on your hands!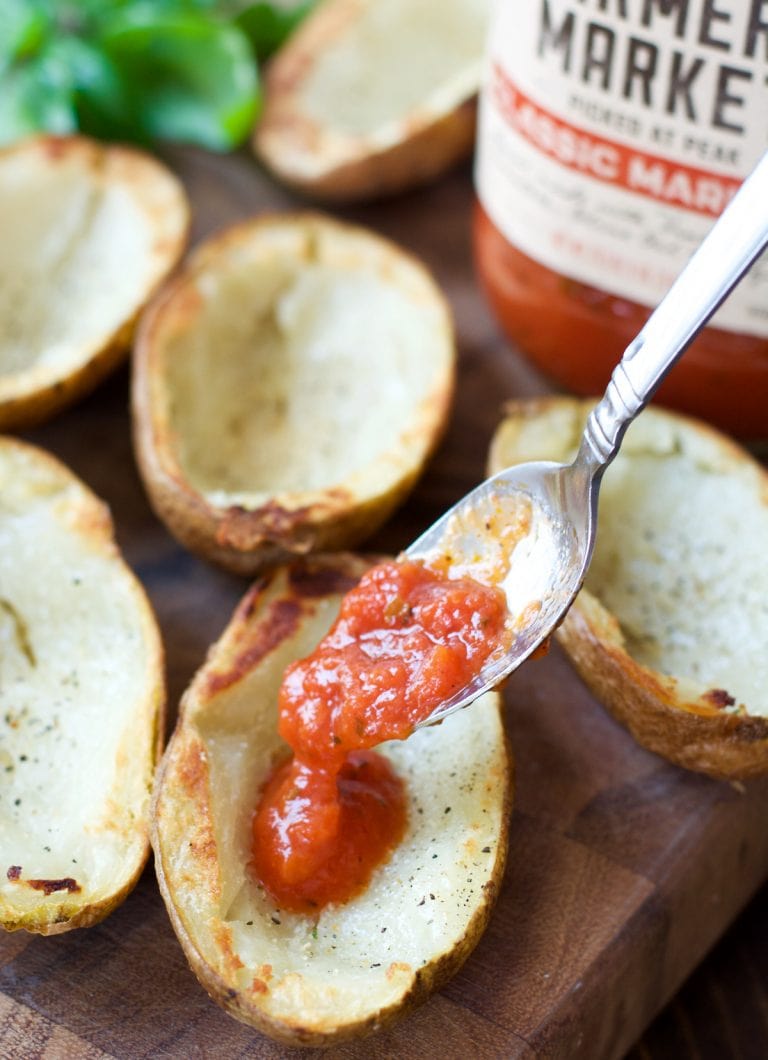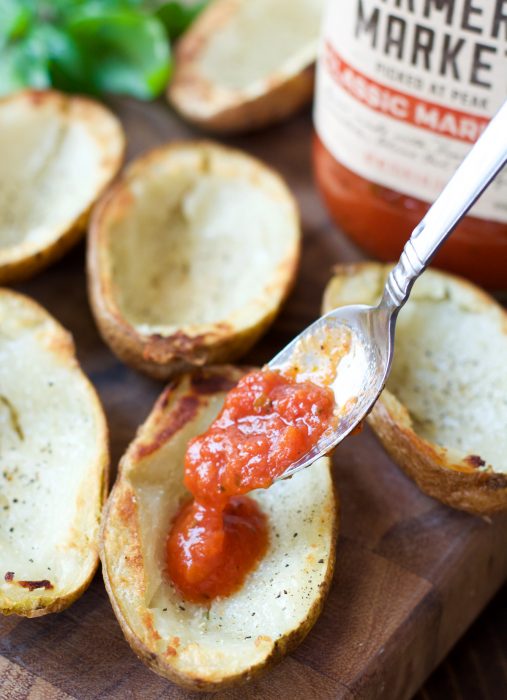 How to cook your Potatoes for chicken parmesan potato skins
For a potato skin, first you need a cooked potato! There are so many ways to prepare a classic Idaho potato, I thought I would break some of them down. Keep in mind to always wash and dry your potatoes before cooking to get rid of any dirt on the skin.
Here are my methods of baking a potato:
Baking in the oven is a tried and true method. Simply poke your potato several times, put some salt on the outside and put in the oven on a baking sheet. Bake at 425 until soft.
The microwave is a great way to cook a potato if you're short on time. Give your potato a good stab or two again and microwave at full power for 5 minutes. Flip your potato over and microwave again for 5 minutes.
I love using my Instant Pot to cut down on cooking times. Add a cup of water to your pot and poke your potatoes with a fork again. Add the wire rack to your pot and place the potatoes on top. Put your lid on and make sure that the pressure release valve is sealed. Cook for 15 minutes on High and let the pressure release naturally.
The Air Fryer is another great method. Prick your potato with a fork and place in the Air Fryer basket. Set the temperature to 400 degrees and cook for 30 minutes or until soft.
Finally, we come to the slow and steady Slow Cooker. For this method, poke your potato a few times and place in aluminum foil- don't wrap them up yet! Add some salt and olive oil to the potato and give everything a good circling before you wrap them up. Cook on High for 4 to 5 hours or Low for 8 to 10 hours.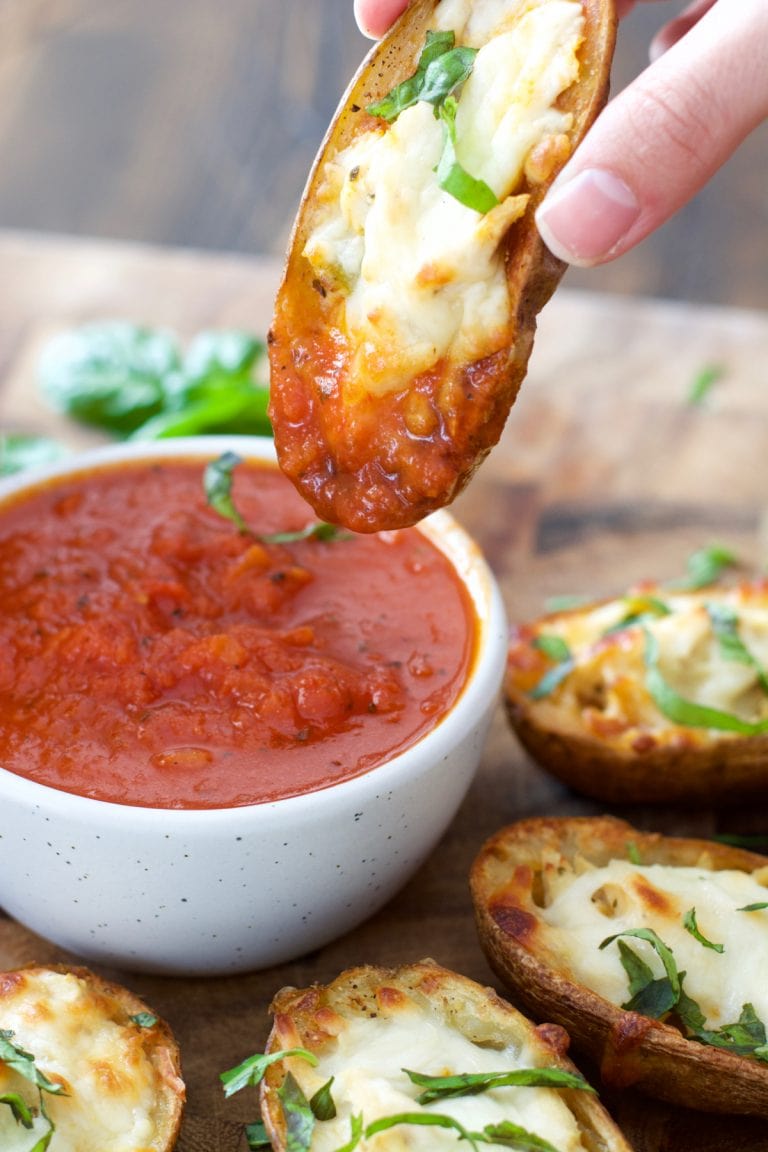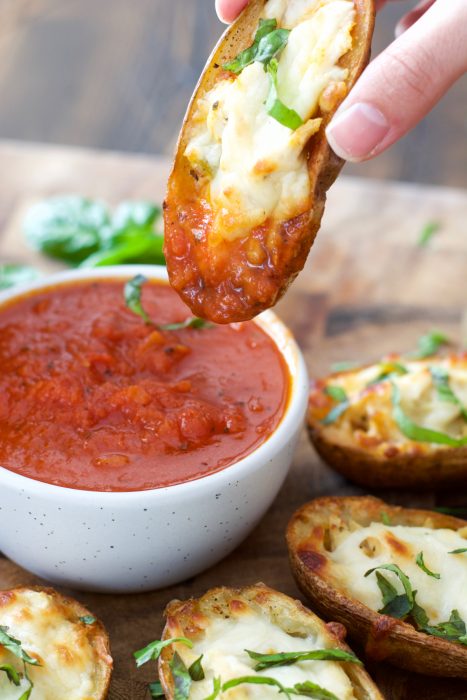 How do you Store and Reheat Chicken Parmesan Potato Skins?
These delicious Potatoes are easy peasy to store and reheat. For storage, simply put in a glass or plastic container with a tight fitting lid and keep in the fridge. They will stay good for 3-5 days.
To reheat, there's a few different options. You can microwave the Chicken Parmesan Potato Skins on a plate in 30 second intervals until you've gotten the desired temperature. I usually end up warming my potato skins for one and a half minutes.
Secondly, you could microwave for 30 seconds and then pop these in the Air Fryer. I love this method because it adds crispiness! I put mine in the Air Fryer at 330 degrees for 5 minutes.
You can also always put these on a baking sheet and warm them up in the oven. Set your oven to 350 degrees and warm your Chicken Parmesan Potato Skins up for 10 minutes, or until your desired level of crispiness. Give them about five minutes to cool before eating.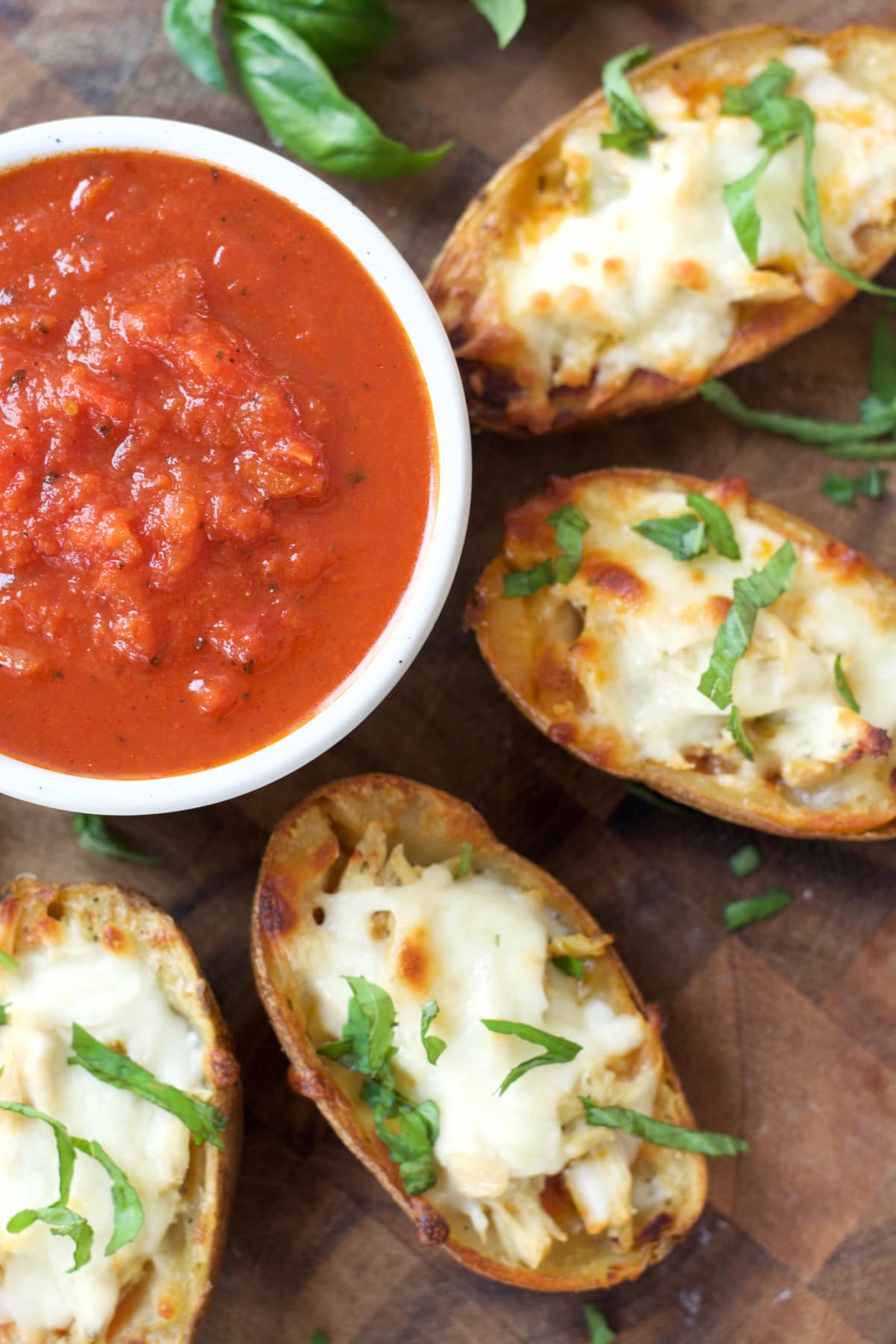 Other Easy Recipes You May Enjoy
Chicken Parmesan Potato Skins
You can make these Chicken Parmesan Potato Skins with just five simple ingredients! This easy recipe will become a family favorite!
Ingredients
6 small baked Idaho potatoes, halved
Olive oil for brushing
3 cups cooked chicken, shredded or diced. (Great way to use a leftover roast chicken!)
1 1/2 cup marinara
Salt and pepper to taste
1 cup shredded mozzarella
1/8 cup basil, sliced
Instructions
Preheat oven to 425 degrees
Carefully spoon out the inside of each potato skin leaving approximately 1/4 of the potato and potato skin intact.
Lightly spray or brush each side of the potato with olive oil and sprinkle with salt and pepper.
Place the potato skin skin side up on the baking sheet and bake for 5-7 minutes until the skins are crisp and lightly brown.
Remove the potato skin from the oven and flip.
Place a small spoonful of the Prego Farmers' Market® Classic Marinara in each potato skin.
Top with chicken and mozzarella.
Bake for 5-7 minutes until cheese is melted and beginning to brown.
Top with basil and serve with the remaining Prego Farmers' Market Classic Marinara for dipping.
Nutrition Information:
Yield:

6
Serving Size:

1
Amount Per Serving:
Calories:

251
Total Fat:

5g
Cholesterol:

46.1mg
Sodium:

478mg
Carbohydrates:

29.1g
Net Carbohydrates:

23.9g
Fiber:

5.1g
Sugar:

5.2g
Protein:

22.2g