These Slow Cooker Pork Carnitas are a cinch to make and totally addictive! Top them with fresh jalapeño slaw for the ultimate easy, healthy meal!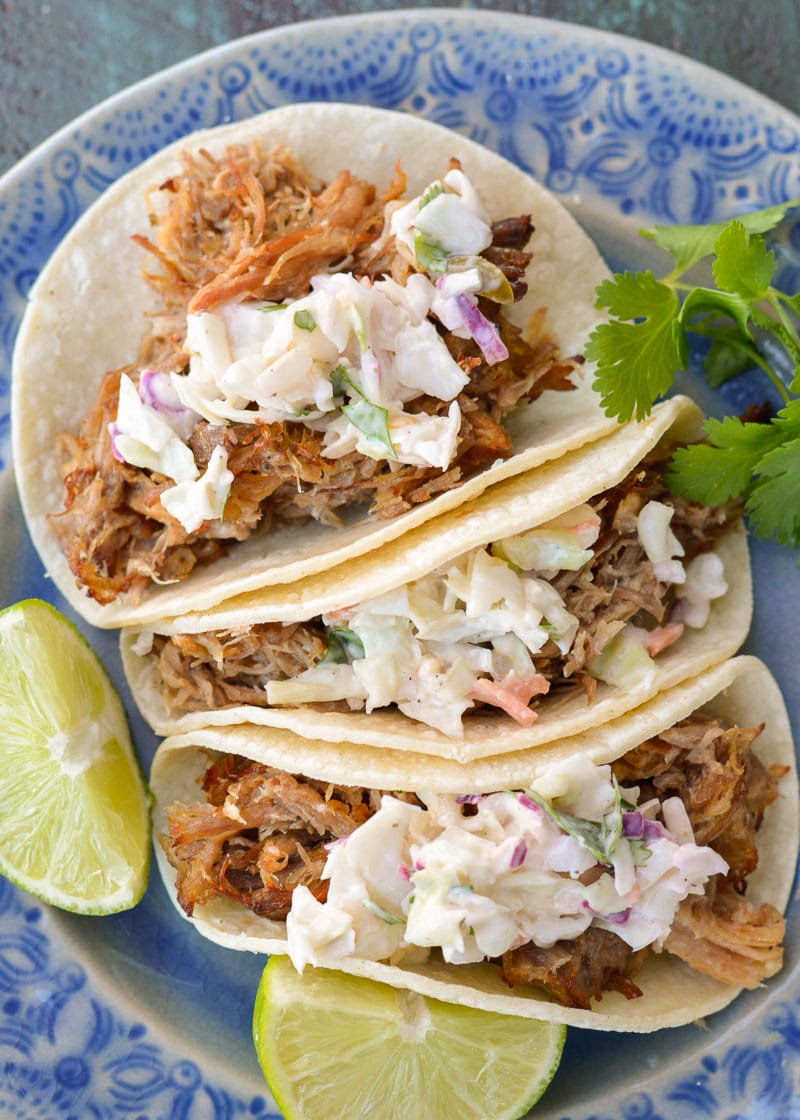 Over the years, my Mother has developed a bit of an obsession. She hoards something super unusual…CrockPots.
My Mom LOVES her CrockPots. She has every size and shape known to man. The bottom shelves of her pantry are filled with various slow cookers stacked inside one other and on top of each other.
Yet every year when Black Friday rolls around, my dear Mother will brave the cold and the crazy crowds and head to the the local Wal-Mart. She comes home with some odds and ends and always, always a $5 CrockPot.
And what did she ask for for Christmas last year? Another CrockPot.
Over the years, I have found my Mom's love of slow cookers to be oddly comforting. Whenever I drag out one of my slow cookers —which were gifts from my Mom — I think of her. If I am browsing through the kitchen section at a store and a CrockPot catches my eye I like to think that is a little of my Mom in me. I love it. Sometimes the most unusual and unexpected things make me feel a little closer to home.
So, whenever I create a good slow cooker recipe I always have to share it with my Mom and sisters because, well, our love of CrockPots is genetic. 🙂
These slow cooker pork carnitas are a game changer. They are so unbelievably easy and full of flavor. It makes a super impressive dinner with hardly any effort at all.
Ingredients for the Slow Cooker Pork Carnitas
As always, this is a quick overview of the ingredients you will need. To get the complete recipe just keep scrolling. For this easy carnitas recipe, you'll need:
Boneless Boston Butt or Pork Shoulder
Spices: Dry Ranch seasoning, oregano, cumin, salt and paprika
Vegetables: Garlic, Onion, Jalapeños, and Lime
Beef broth
Worcestershire Sauce
Sweetener: if keto use brown sugar monkfruit, if not you can use regular brown sugar or coconut sugar.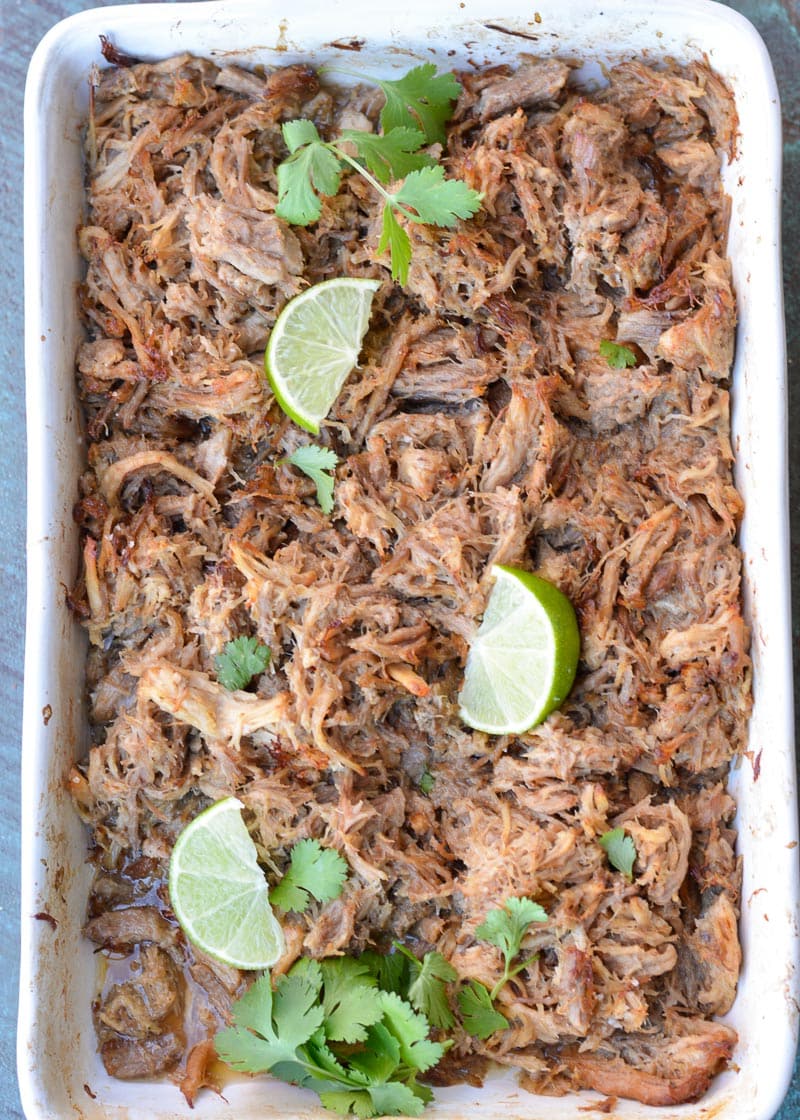 How to Make Slow Cooker Pork Carnitas
For the slow cooker carnitas, just throw the pork, seasonings, and vegetables into your slow cooker. Combine the beef broth, sauce, sweetener and lime juice and whisk together. Pour into the slow cooker and let it simmer on low all day. That is it! No precooking and no weird ingredients; this easy carnitas recipe will take you literally two minutes to throw together in the morning before you go to work.
After 8 hours, remove the meat from the slow cooker and shred. Reserve about 1 cup of the liquid and set aside. After shredding the meat place it on a lined baking sheet and broil it for a minute or two until it gets nice and crisp.
Drizzle a bit of the juice from the slow cooker over the crisp meat. This is the key to having super fantastic, majorly flavorful carnitas. Do not skip that step!
Then, just whip up the jalapeño slaw, warm some corn tortillas, and you have a guest-worthy meal on your hands with hardly any effort at all!
What cut of meat do I use for carnitas?
For the best carnitas you will want to use a boneless Boston Butt. This is a fatty cut of pork that has amazing flavor and shreds perfectly. A five pound Boston Butt will feed between 4-6 adults. Remember, because this cut of meat is fatty not all five pounds will be edible.
Can I make Carnitas in the Instant Pot?
Absolutely. You need to cook the pork 15 minutes per pound in the instant pot. A 5 pound Boston Butt will require 1 hour and 15 minutes of pressure cooking. Allow the Instant Pot to naturally release for 10 minutes before continuing.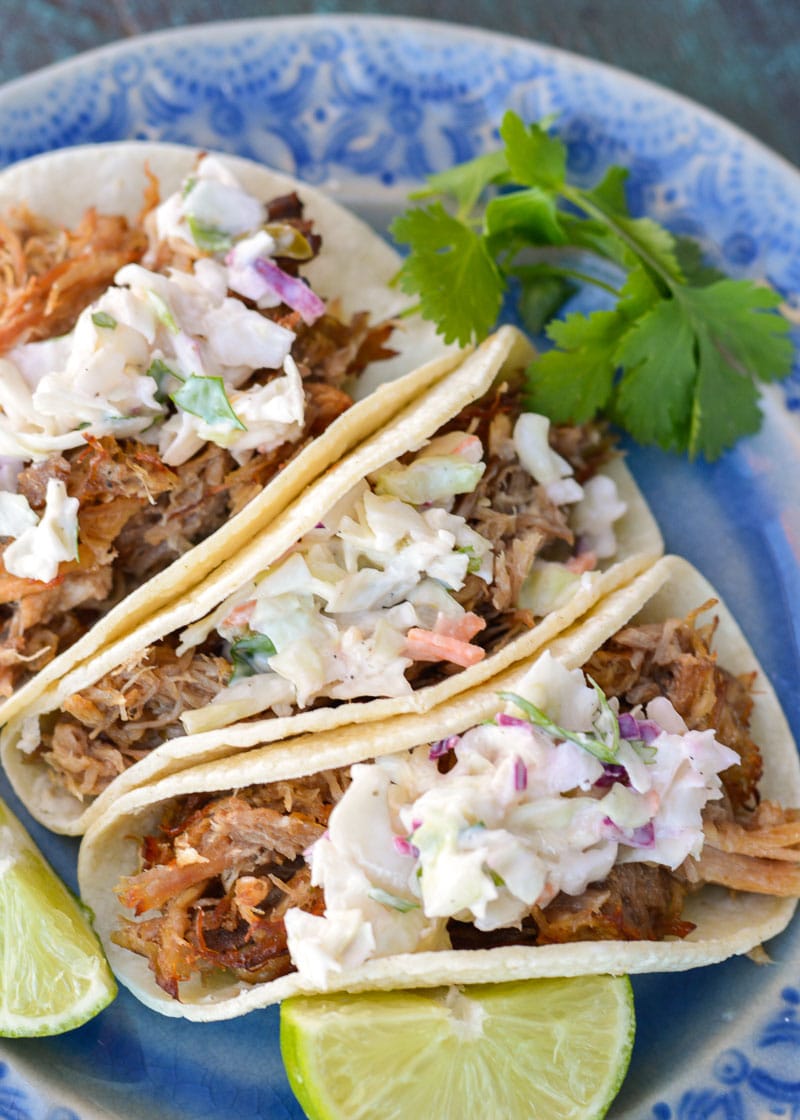 Can I Make This Recipe Low-Carb?
Yes! Use your favorite low-carb tortillas in place of the corn tortillas, or make your own Keto Tortillas instead. The nutrition provided in the recipe card uses the Mission Carb Balance Street Tacos, if using that variety you can enjoy two carnitas with slaw under 5 net carbs.
If you want to enjoy this meal even lower in carbs add the carnita meat, slaw and guacamole to your favorite salad.
What to Serve with Carnitas
My go-to carnitas tacos topping is the jalapeño slaw listed in the recipe card below. Otherwise, freshly squeezed lime juice, finely sliced onion, and fresh cilantro are also delicious.
If you're looking for side dishes to serve with pork carnitas tacos, here are some of my favorites:
Tips for the Best Pork Carnitas
The most important step to get perfect carnitas is to broil the shredded pork so it gets nice and crispy. By using a fatty cut of pork such as a Boston butt it perfectly crisps and creates an amazing texture you just can't get any other way.
Reserve some of the juice the carnitas cook in. You can drizzle this over the meat for a flavor explosion! You can also dip the corn tortilla in this juice before adding to a piping hot skillet to get really perfect, flavorful, authentic pork tacos.
Don't forget the limes! Serve with lime wedges for the best flavor.


More Easy Mexican Dinners: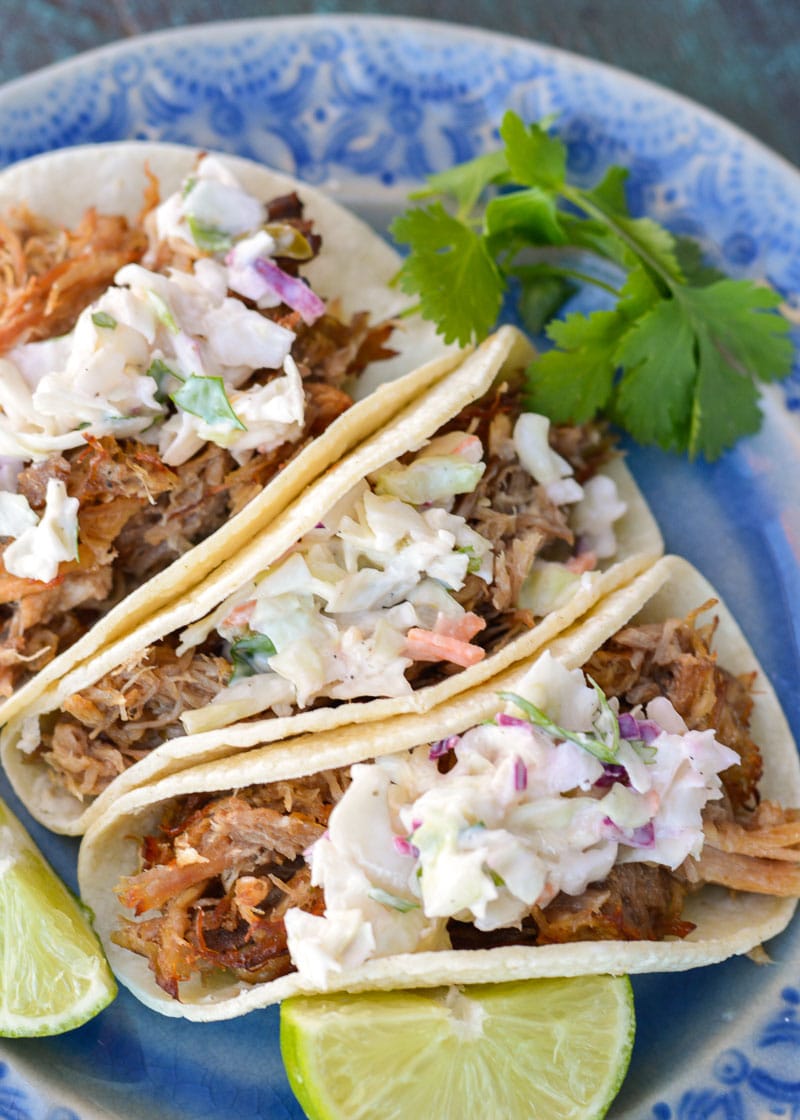 Slow Cooker Carnitas with Slaw
Total Time:
8 hours
20 minutes
These Slow Cooker Pork Carnitas are a cinch to make! Top them with fresh jalapeño slaw for the ultimate easy, healthy meal!  
Ingredients
For the Carnitas:
5 pound Boneless Boston Butt
1 (1 ounce) package ranch seasoning
2 teaspoons kosher salt
2 teaspoons cumin
2 teaspoons paprika
4 whole garlic cloves
4 sliced fresh jalapeños, seeded
1 white onion, peeled and quartered
2 cups beef or chicken broth
1/4 cup sweetener (golden monkfruit if keto, brown sugar if not)
1 tablespoon Worcestershire sauce
1 lime, juiced
For the Cilantro Lime Slaw:
3 cups cabbage slaw mix
2 tablespoons chopped cilantro
1 fresh jalapeño, seeded and diced
2 tablespoons mayonnaise
1 tablespoon ranch dressing
1 teaspoon lime juice
salt and pepper to taste
Instructions
For the Slow Cooker Carnitas:

Spray the inside of your slow cooker with cooking spray. Place the pork, seasonings, garlic, jalapeno and onion in the slow cooker.
In a small bowl combine the broth, sauce, sweetener and lime juice. Whisk well and pour over the pork.
Let cook on low 8 hours.
After it has cooked for 8 hours, discard the vegetables and shred the meat with a fork, it should just fall apart. Do NOT discard the juice from the slow cooker.
Place the shreds of meat in a single layer on a baking sheet or casserole dish.
Turn your broiler on high and set the meat under your broiler. Let it broil for 2-3 minutes or until crisp. (WATCH CLOSELY!!!) Keep an eye on the meat, as every oven heats differently, yours may get crisp quicker than mine did.
When meat is crisp, spoon some of the juice from the slow cooker over the top (this is key, do not skip this step)

To make the Cilantro Lime Slaw:

Combine all of the ingredients, add salt and pepper to taste. Keep cool until ready to serve.

To assemble carnitas:

Heat a stack of corn tortillas or low carb tortillas if keto.
Place meat and slaw in tortilla and garnish with additional juice from the slow cooker, or lime juice.
Notes
This recipe can be made in the Instant Pot. Pressure cook the meat 15 minutes per pound and allow it to naturally release pressure for 10 minutes before proceeding.
Nutrition Information:
Yield:

10
Serving Size:

2 tacos (calculated with Mission Street Taco Carb Balance Tortilla)
Amount Per Serving:
Calories:

383
Total Fat:

18.6g
Cholesterol:

135mg
Sodium:

1019mg
Carbohydrates:

22.6g
Net Carbohydrates:

4.7g
Fiber:

17.9g
Sugar:

1.1g
Protein:

48g
To avoid any confusion I remove erythritol from the final carb count and net carb count, as it is not known to affect blood glucose levels. To calculate Keto recipes listed on this site carbs - fiber = net carbs. I use Nutrifox as my nutrition calculator. This nutrition information is an estimate based on the information provided by Nutrifox and the specific ingredients I used.