This Slow Cooker Buffalo Chicken Chili is loaded with shredded chicken, white beans, vegetables, sharp cheddar cheese and tangy buffalo sauce!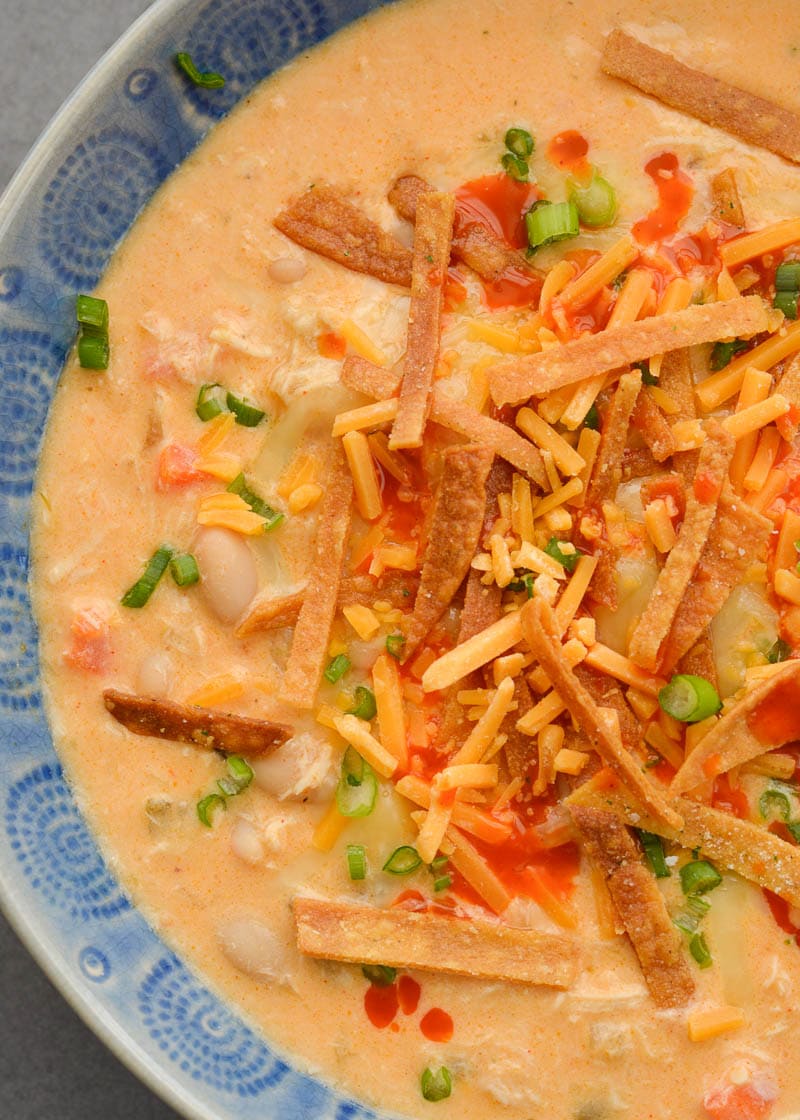 Do you have ten minutes and a crock pot? That is all you need to make this delicious Slow Cooker Buffalo Chicken Chili! I, like most of you, crave soups in the winter. I just think there is something so soothing about a big warm bowl of soup after a long day. What makes it even better is if I don't have to put much work or effort into creating a soup. I am a set it and forget it, kind of girl.
Ingredients Needed for Buffalo Chicken Chili
This is really similar to my White Bean Chicken Chili but instead of a robust green chili flavor, this soup has everything you love about hot wings, without the mess! For this recipe you will need:
Celery
Yellow Bell Pepper
Carrots
Green Chilis
Chicken
White Beans
Ranch Seasoning
Chicken Broth
Buffalo Sauce
Cream Cheese
Cheddar Cheese
How do you make Buffalo Chicken Chili in the Crock Pot?
This recipe is one of those gems that doesn't really take any prep work, aside form chopping the vegetables. To make this White Bean Buffalo Chicken Chili you just need to follow these two simple steps:
Add the vegetables, drained and rinsed white beans, green chilis, chicken, Ranch seasoning, chicken broth and buffalo sauce to your slow cooker. Secure the lid on top and set the temperature to low for 6-8 hours.
When the cooking time is up, remove the chicken and shred with two forks. Add the shredded chicken back to the crock pot and add the cream cheese and cheddar cheese. Whisk until the cheeses have completely dissolved.
How many days in advance can I make White Bean Chicken Chili?
Soup can generally be kept for a few days in the refrigerator. In fact, it could definitely be argued that this soup tastes even better after a day or two!
Letting your soup sit before tucking in allows all of those wonderful flavors to meld together, complimenting each other to perfection.
To store your soup, simply let it cool to room temperature for around 30 minutes. Then, transfer it into small containers and refrigerate or freeze, depending on how long you'd like to keep it for. If you're freezing your soup, don't fill the containers completely, as liquids do expand when frozen.
Is this soup low carb?
Yes, this soup is 12.5 net carbs for 1 1/2 cups of this Slow Cooker Buffalo Chicken Chili. While that may be a little high to be considered keto, this certainly fits within a low carb diet.
The main source of carbs in this soup comes from the white beans, however they have a good source of fiber, so it keeps the net carb count within a reasonable number.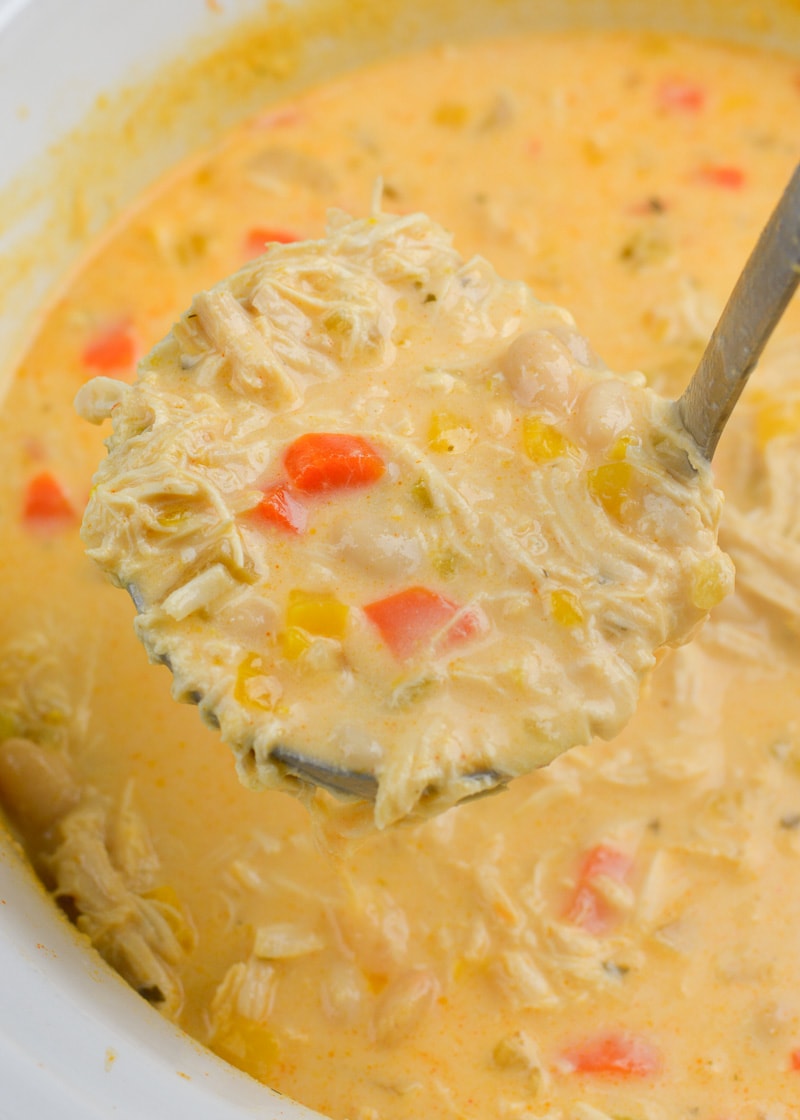 Other Easy Chicken Recipes
Chicken is hands down one of the most versatile ingredients out there. Packed with protein, it is the perfect lean meat, too. Here's just a small selection of my all-time favorite chicken recipes.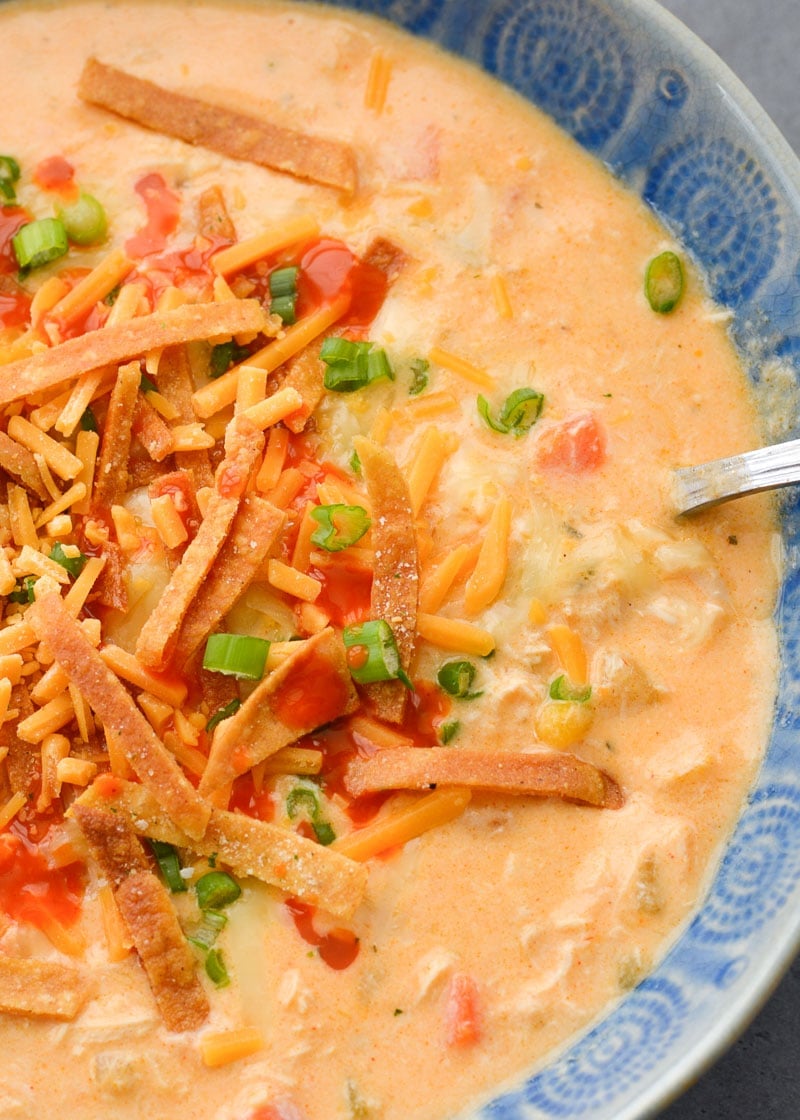 Other Slow Cooker Soups