This sweet and creamy Citrus Vanilla Smoothie is packed with orange juice, mango, vanilla and almond milk!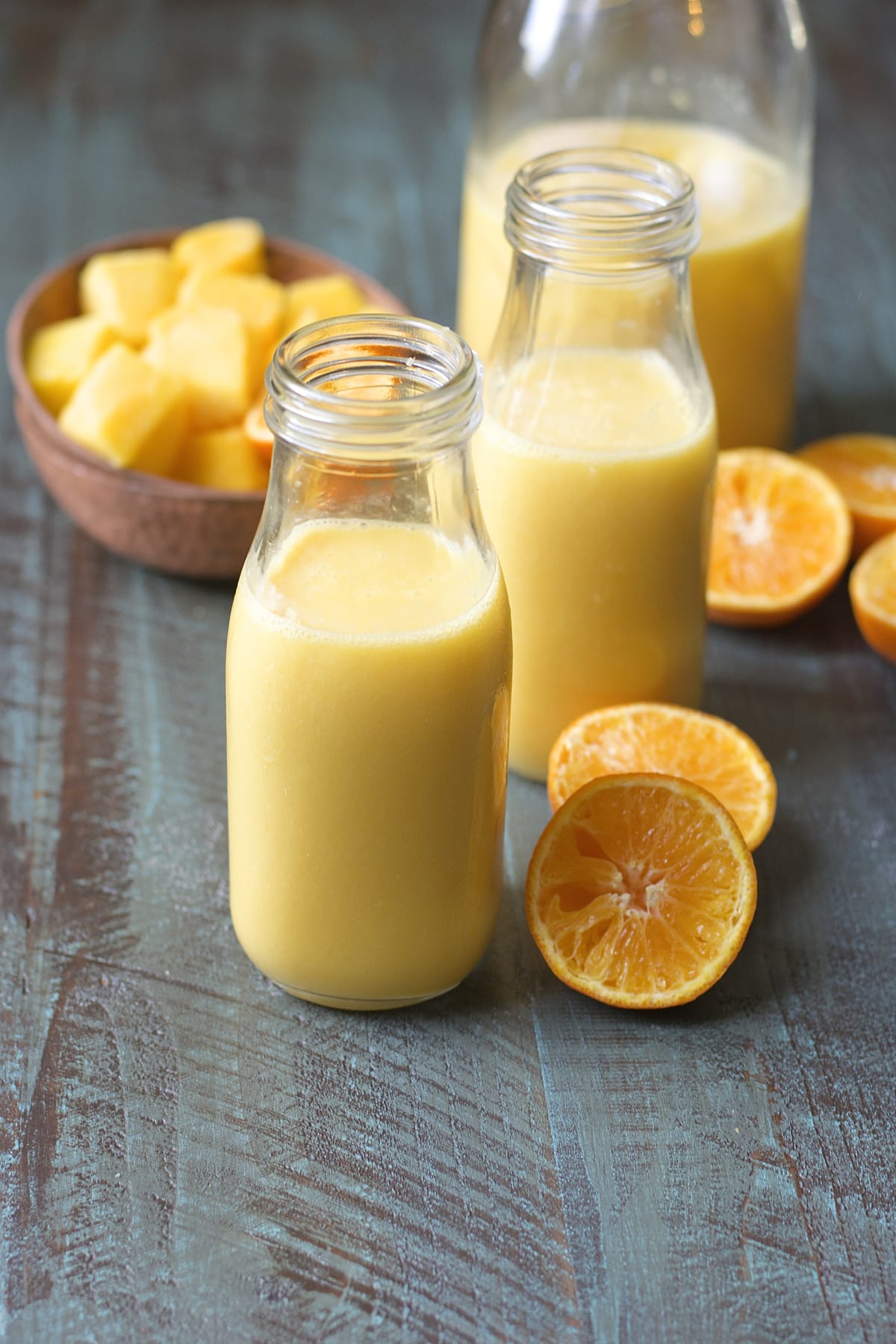 Among my friends I am known for something rather odd. I absolutely cannot spend gift cards. Yes, I am a gift card hoarder…and I do not use the term hoarder lightly.
This is a serious problem. I am far more likely to let a gift card expire than to actually spend it. I go to a store, pick an item, get ready to pay, and chicken out at the last minute and use my money instead. For some reason, I hang on to the gift cards with the thought I will buy something special.
Well, turns out I did find something special. Something quite special. A table! Actually a farmhouse table, bench and metal bucket chairs.
I have been lusting over this table set for years. Since college, actually. I would go to the store and drool over it, sit at it, and ever so slightly run my hands across the beautiful table top, then say a solemn goodbye. This was my ritual every six weeks or so for the last several years.
Then, two weeks ago my table was not in its usual spot. I searched the store almost frantically to find it sitting off the the side with none other than a sale sign. Actually, as I got closer I realized it was not a sale sign. It was a closeout sign.
My big beautiful table was now a closeout?! Why weren't they going to carry it anymore?! A sales person asked if I needed help and I asked how many more sets they had, he came back and said they had one table and two benches in the back. It was go time.
I very quietly told the nice salesman that I would like to purchase them. "What did you say?" he asked (because the store was loud and busy). "I would like the table please… and I have gift cards!" I said with a smile. He awkwardly smiled then walked away.
I know he was wondering why I was being so strange about buying a table and wondering even more why in the world it mattered that I had gift cards, but come on!! This was a BIG DEAL! I checked out and used no less than four and a half of my precious gift cards from my stash. My purse actually felt lighter afterwards, I swear.
I walked out of the store beaming with pride because I, Annie Holmes, just bought a significant amount of furniture on a whim and didn't spend a penny of my own money. Mr. Maebell had been waiting in the truck, but then slowly realized what the trail of men and furniture following me meant. He pulled the truck around and asked what I bought. I told him then whispered "I used my gift cards!" He jumped back and looked at me wide eyed and yelled "NO WAY!!!"
So clearly, this calls for a celebration… Something cool and sweet and happy… A Citrus Vanilla Smoothie!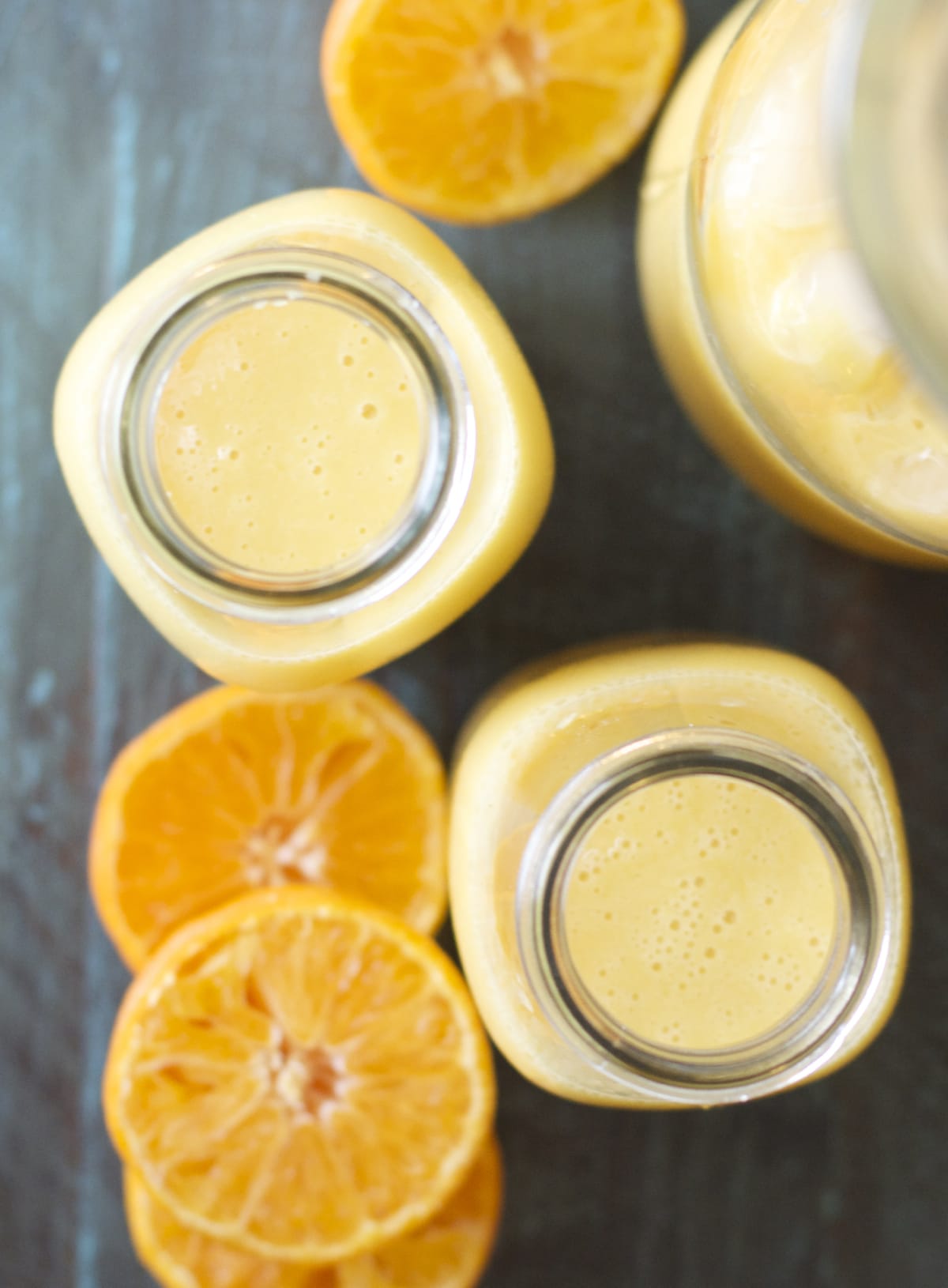 Ingredients for a Citrus Vanilla Smoothie:
Frozen orange juice concentrate–The kind that comes in a 12 oz can.
Almond milk–Dairy milk works, too.
Frozen mango–You can use fresh mango, but you'll want to use extra ice.
Sweetener–I used Stevia, but you could use sugar, honey, maple syrup, monk fruit, whatever you prefer!
Vanilla extract
Ice
How do I make a smoothie with no bananas?
It seems like most smoothies have bananas in them. I totally get why! They add a great natural sweetness, a smooth texture, and a great flavor. However, sometimes I run out of bananas, and I know some people just aren't big fans. So this delicious smoothie leaves out the banana.
I made this smoothie just like most smoothies–I put everything in the blender and sent it a-whirling! My own blender works best if I put in the frozen mango chunks, then liquid, then ice, but you may want to experiment to see what order your blender likes best.
This is an updated version of my favorite Sunshine Shake. This smoothie another that actually does not call for bananas! This easy smoothie takes just minutes to prepare and makes enough to serve at least four so it is perfect for brunch or a special Saturday morning treat!
Tips for Dairy Free Smoothies:
Smoothies don't require milk, but they do require a liquid of some kind. Some people use water in place of milk, but I prefer the creaminess that non-dairy milk provides!
Try different non-dairy milks–A homemade cashew milk, an unsweetened almond milk, even coconut milk each has their own benefits! You could even combine them if you'd like.
Add supplements–Smoothies are a super easy way to add extra nutrition to your diet. You could add a protein powder or collagen. These don't change the texture too much and still leaves with a super smooth drink. You could choose to add chia seeds or ground flax as well, but it will change the texture a bit.
More smoothie recipes with no banana: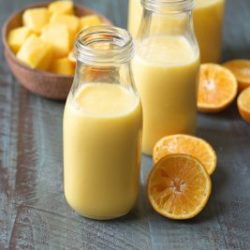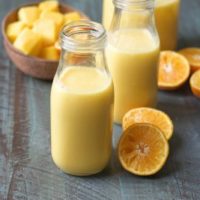 Citrus Vanilla Smoothie
This sweet and creamy Citrus Vanilla Smoothie is packed with orange juice, mango, vanilla and almond milk! 
Ingredients
1 (12 ounce can) of frozen orange juice concentrate
2 cups almond milk or milk
1 cup frozen mango
1 cup ice
2 teaspoons sweetener of your choice (optional)
1 teaspoon vanilla extract
Instructions
Place all ingredients and blend until smooth.
You can easily customize this drink based on your preference. You can add additional ice for your desired consistency or alter the sweetener for a sweeter drink.
Notes
Nutrition information below based on 4 small servings using unsweetened almond milk and stevia.
Nutrition Information:
Yield:

4
Serving Size:

1
Amount Per Serving:
Calories:

194
Total Fat:

1.8g
Cholesterol:

0mg
Sodium:

102.8mg
Carbohydrates:

42.4g
Fiber:

1.7g
Sugar:

35.2g
Protein:

3.5g