These baked Keto Buffalo Chicken Tenders make a quick, easy, satisfying low-carb dinner. They also make a great keto appetizer on game day and an easy meal prep lunch!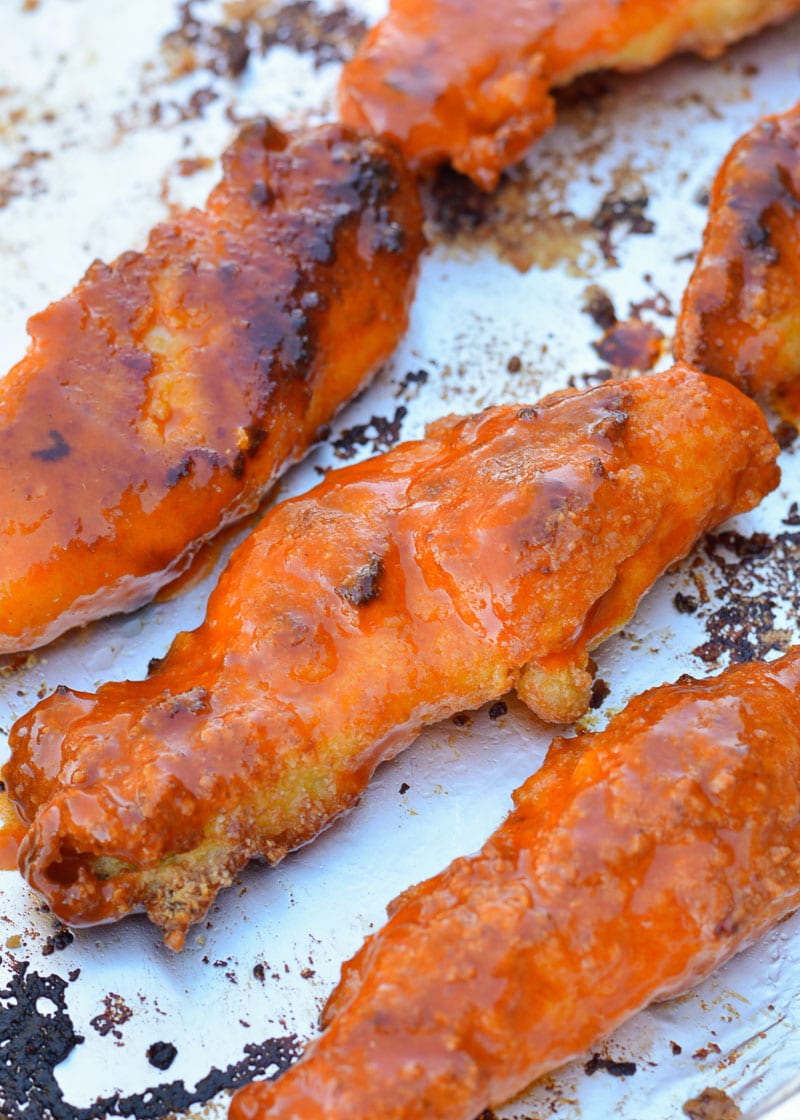 We are pretty good about having a variety of dinners… I would guess that we don't repeat the same recipe more than twice a month (and even that is pretty rare). However, while we may not repeat the exact same recipe, there is one flavor combo we have basically every single week, without fail.
Buffalo chicken. It is our absolute favorite.
It all started with a buffalo chicken dip I made a couple years ago, then the obsession spiraled out of control. We pretty much added buffalo sauce to anything — soup, zucchini boats, chili, taquitos, wings, mac and cheese, sweet peppers, homemade potato chips, and of course chicken…in absolutely any shape or form.
This used to be my go-to keto chicken tender recipe, but of course now it gets dunked in a healthy dose of buffalo sauce first. If you aren't a fan of the tangy delicious buffalo sauce, just leave off the last step.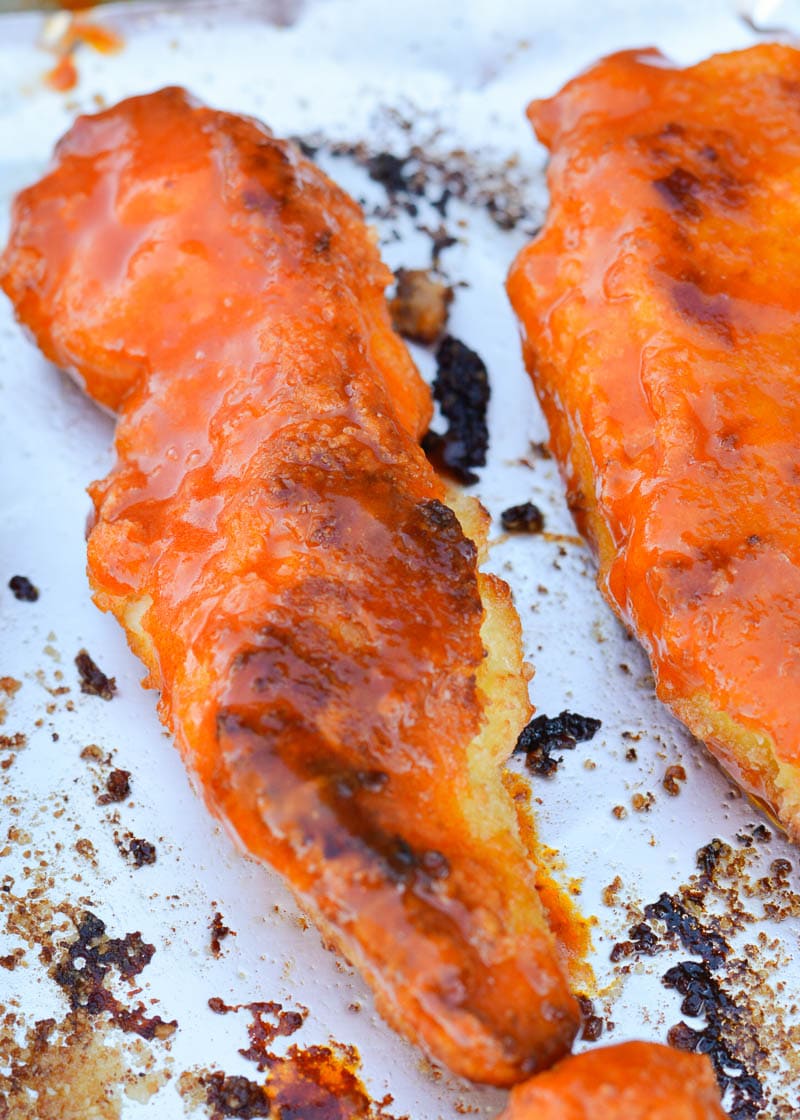 Ingredients in Buffalo Chicken Tenders
As always, this is just a quick overview of what you'll need. For specific measurements and instructions, keep scrolling down to the printable recipe card!
Chicken Breast, cut into thin strips
Egg
Mayonnaise
Almond Flour
Parmesan: the grated or powdered variety, not shredded
Spices: Garlic powder, onion powder, paprika, Italian seasoning, garlic salt
Melted butter
Buffalo sauce: I love Frank's Original Buffalo Sauce
How to Make Keto Buffalo Chicken Tenders
This recipe is extremely easy, it just takes a couple quick steps. You'll start by cutting your chicken breasts into strips–Make sure they're similar sizes so that they cook evenly and finish at the same time.
In a large ziplock bag, mix together the almond flour, parmesan, and spices. In a separate bowl, combine the egg and mayonnaise. Dip the chicken strips into the egg mixture, then drop into the bag and shake lightly until well-coated. Once each one is coated, place (not touching) on a baking sheet and brush with melted butter.
Bake chicken tenders for 15 minutes, then remove chicken from the oven, and dunk the tenders into buffalo sauce. Return to the oven for 5-10 minutes.


Can I make keto Buffalo Chicken ahead of time?
Definitely! This is a great recipe to meal prep. After breading the chicken strips, place them covered in the fridge up to a day. This is likely to make the breading stick even better to the chicken, too! When ready to cook, brush with melted butter and cook just as directed.
You can even freeze uncooked, breaded chicken strips by placing them on a baking sheet in the freezer (not touching one another) for 2 hours, then tossing into a freezer bag up to 3 months. They can last longer, but freezer burn might become an issue.
You can also cook the chicken strips ahead of time if you'd like. If you do not plan to serve yet, I would bake the tenders for 20 minutes, then refrigerate or freeze before dunking in the buffalo sauce. When ready to eat, dunk the tenders into the buffalo sauce and bake 3-5 minutes or until warmed throughout.
If cooking frozen uncooked chicken strips, this will likely take longer. I would use a meat thermometer to make sure they are cooked through. If reheating cooked chicken tenders, simply add 5-10 minutes to your baking time after adding the buffalo sauce.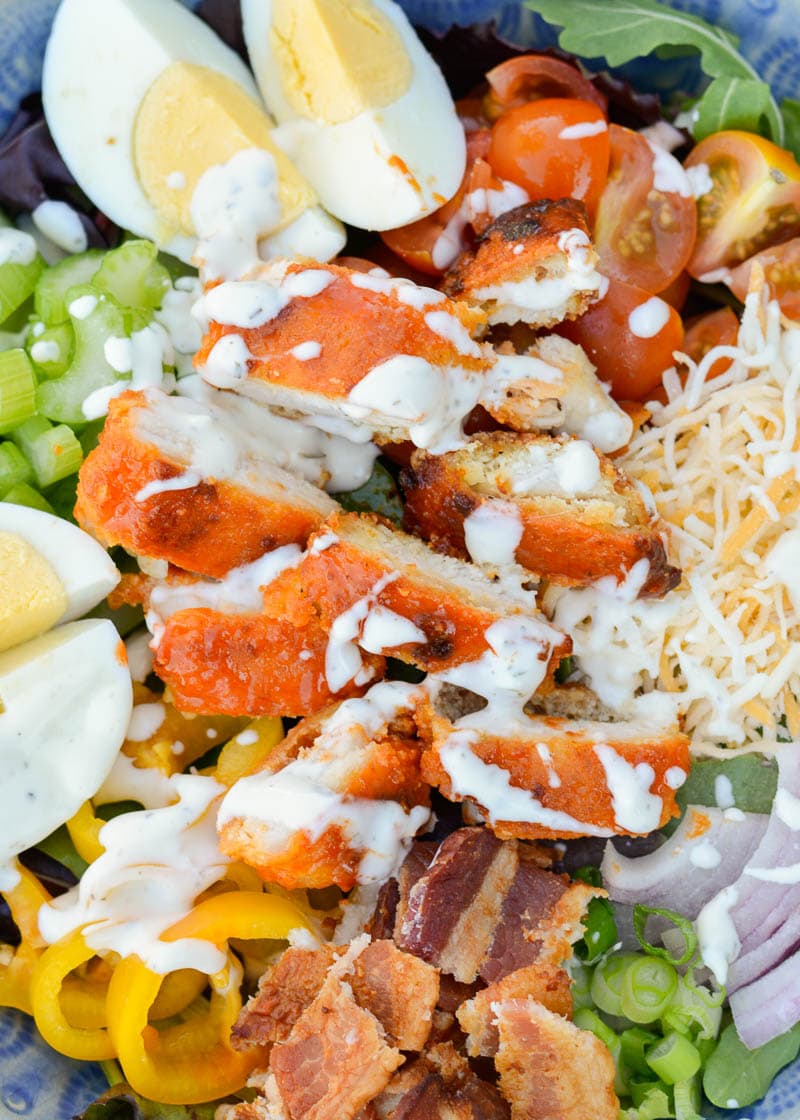 Tips for Making Buffalo Chicken Strips
Mr. Maebell loves these spicy chicken tenders as is, but I really like to use them in a salad. Throw some sliced chicken tenders in that tangy buffalo sauce on some crisp greens, sliced avocado, crispy bacon, and some bleu cheese dressing and you have a meal fit for a queen!
For extra crispy chicken tenders, coat each piece of chicken in the egg mixture and flour mixture twice. You don't have to, but it's totally will definitely make these even crispier if that's your kind of thing!
Use this in a lettuce wrap or cheese wrap for a super easy, low-carb lunch you can meal prep!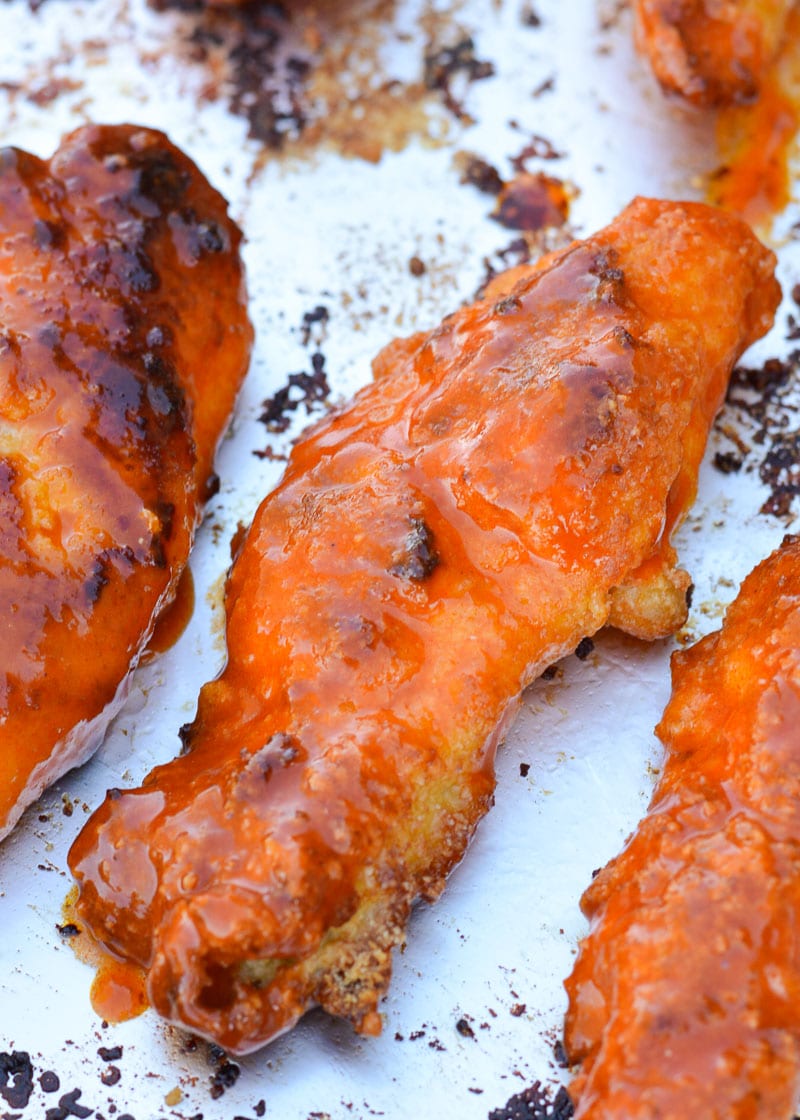 More Keto Buffalo Chicken Recipes:
Can you believe I actually have more buffalo chicken recipes than I linked to at the beginning of this post?! Told you, we are obsessed. Here are more of my favorite low-carb buffalo chicken meals: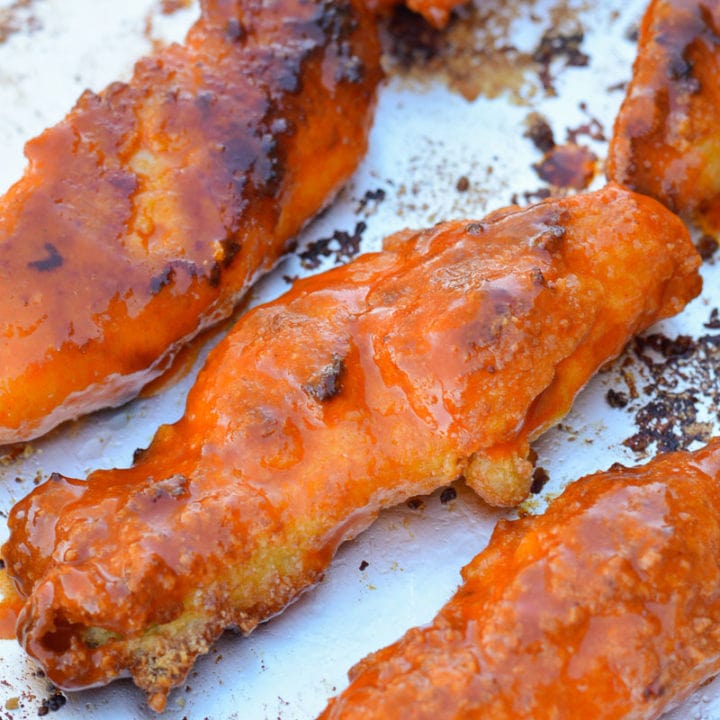 Keto Buffalo Chicken Tenders
These baked Buffalo Chicken Tenders make a quick, easy, satisfying low-carb dinner. They can also be served as a great keto appetizer on game day or an easy meal prep lunch! 
Ingredients
1 1/2 pounds chicken breast, cut into 12 strips
1 egg, beaten
1 tablespoon mayonnaise
2 tablespoons butter
1 cup Frank's Buffalo Sauce
For the Keto Breading
3/4 cup almond flour
3/4 cup grated parmesan cheese
1/2 teaspoon garlic salt
1/2 teaspoon garlic powder
1/2 teaspoon onion powder
1/2 teaspoon Italian seasoning
1/2 teaspoon black pepper
1/4 teaspoon paprika
Instructions
Preheat the oven to 425 degrees F
Spray a large cookie sheet with cooking spray, or line with aluminum foil.
In one shallow bowl combine the egg and mayonnaise, beat with a fork until it is completely combined. Set aside.
In another shallow bowl combine the Keto Breading ingredients. Dip each sliced chicken tender into the egg mixture, then dredge in the breading. Make sure the tenders are completely coated.
Once each tender is coated well, lay on the cooking sheet and brush with the melted butter.*
Bake 15 minutes, then remove chicken from oven. Dunk tenders into the buffalo sauce, place back onto the baking sheet (flipped so that both sides get crispy).
Bake an additional 5-10 minutes until the chicken is cooked through.
Notes
*You may choose to double-dip the tenders in the egg mixture then the keto breading mixture if you want your tenders to be extra crispy.
Nutrition Information:
Yield:

6
Serving Size:

2 tenders
Amount Per Serving:
Calories:

303
Total Fat:

14.6g
Cholesterol:

137.1mg
Sodium:

1445.4mg
Carbohydrates:

1.3g
Net Carbohydrates:

1.1g
Fiber:

0.2g
Sugar:

0.3g
Protein:

35g