Sweet peaches, almond milk and a touch of vanilla and honey are blended until smooth and topped with crunchy granola for a hearty healthy breakfast! This easy Peach Smoothie Bowl will be a new favorite!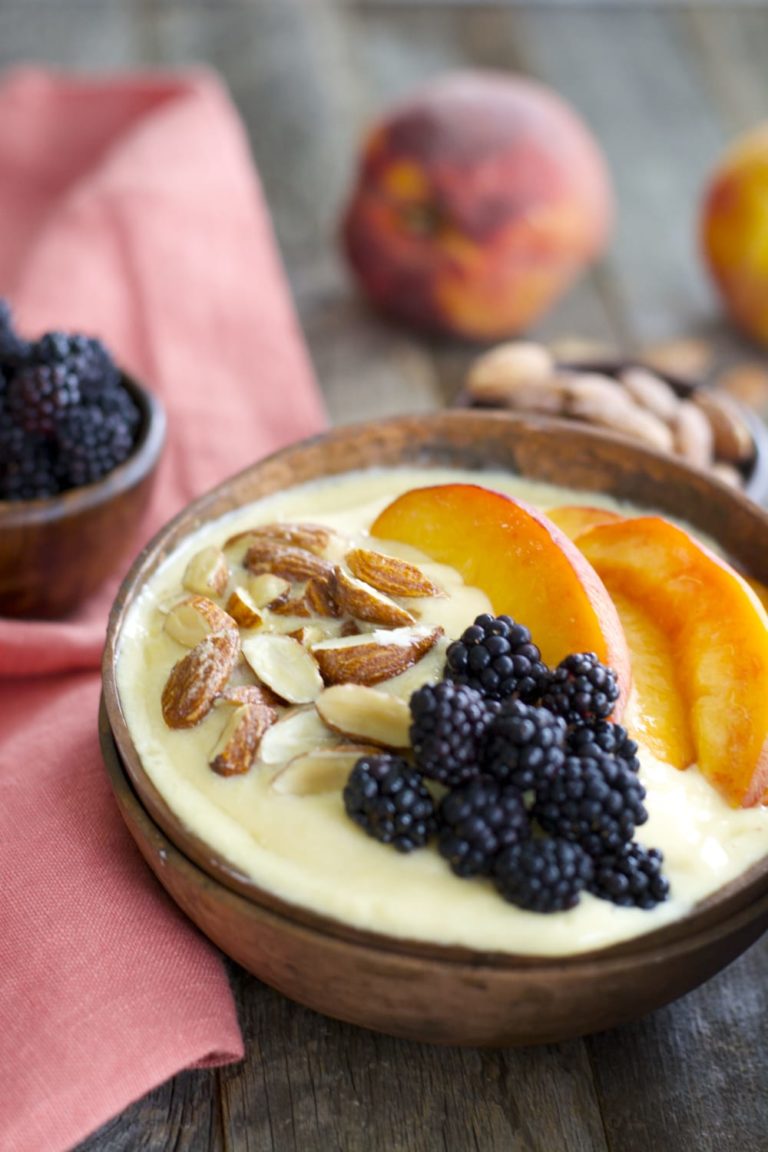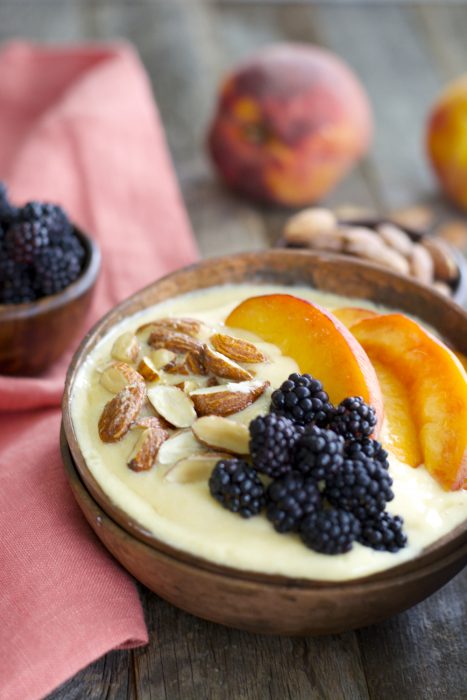 Are you as happy as I am about peach season?! I wait for it all year! I have had peaches on my mind more than normal lately because in a few days I will be heading down to Atlanta.
Mr. Maebell and I have visited Atlanta many times to go to Braves games and one of my favorite things is stopping on our way home and buying fresh Georgia peaches out of the back of an old pick up. They always smell so good that I never make it all the way home without eating one (or two….or three)
How to Make a Peach Smoothie Bowl
This summer-ready recipe couldn't be any simpler. Basically, if you've got a blender, you're good to go! Here is how we make it.
First, add your fruit milk of choice, honey and vanilla to your blender. Blend until smooth. Second, pour your Peach Smoothie Bowl into a bowl and add your toppings, and there you go!
Back to my peach ramblings…since we moved into our new farmhouse, I have been working on mastering the basic principles of gardening (which has been an uphill battle) so each day has started bright and early and is usually spent in the garden. It has been so hot here, even early, that smoothies have been my go to breakfast.
That is, until I started experimenting with smoothie bowls! I will be the first to admit, when this trend started I didn't get it. Why not just drink your smoothie from a straw like a normal person? It seemed weird.
But there is something really wonderful about silky smooth fruit topped with granola and fresh fruit. The mixture in texture makes it seem a lot more filling than just a regular old smoothie. And it is just more satisfying to eat your breakfast than drink it.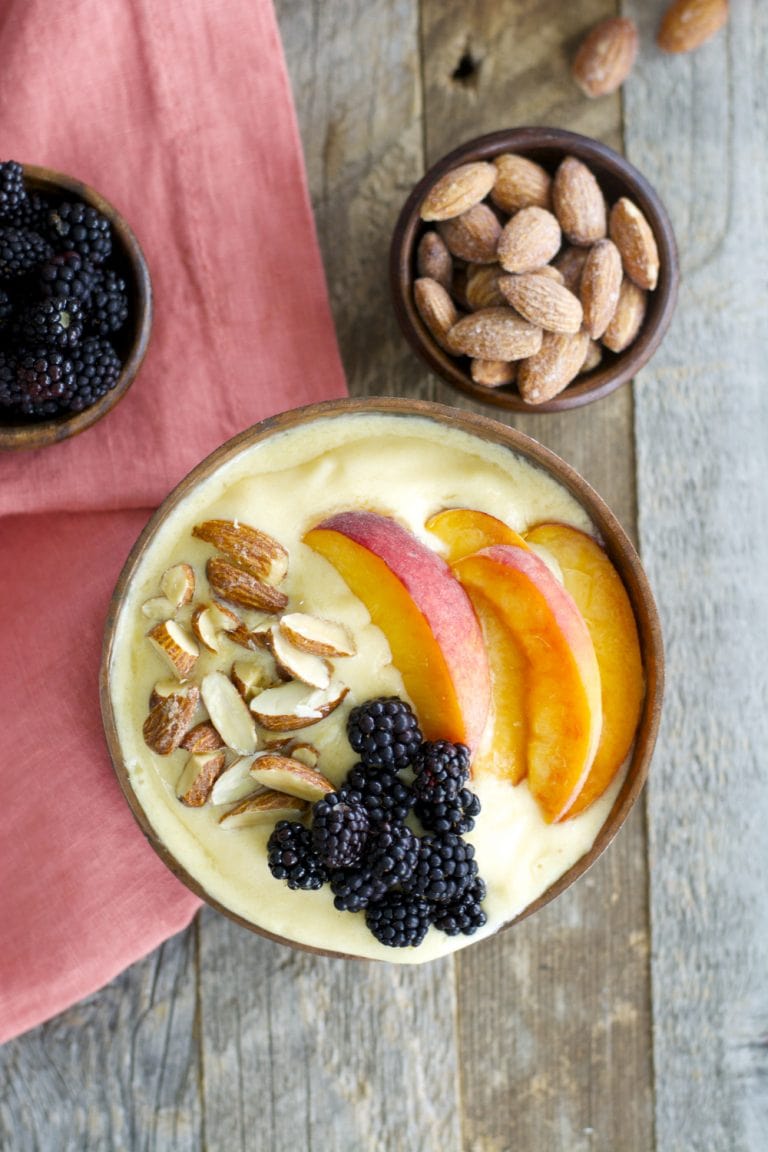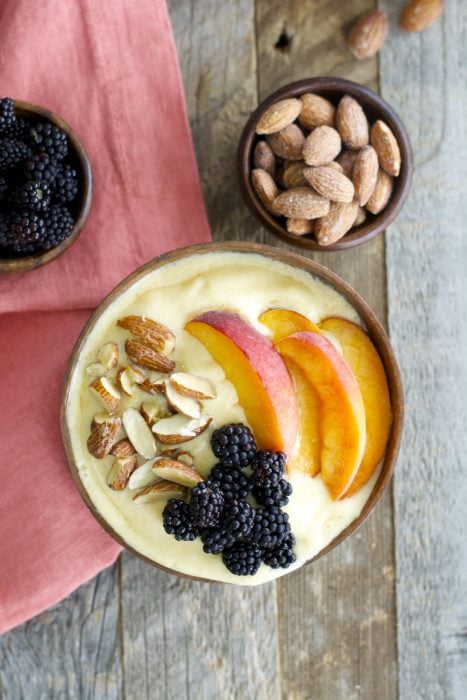 Ingredients for Peach Smoothie Bowls
Frozen peaches- blending the frozen peaches gives this bowl a great texture.
Milk or Almond milk- you could also use another type of milk, whichever is to your preference.
Honey- the addition of honey compliments the sweetness of the peaches perfectly.
Vanilla extract- any kind you have should work fine.
Optional Toppings:
Fresh fruit- blackberries were my go-to here!
Chopped Almonds- this is a great way to add more protein to this breakfast bowl.
Chia seeds- chia seeds add a great flavor, as well as fiber.
For this recipe I used frozen peaches, some almond milk, honey and just a touch of vanilla. You can top your smoothie bowl with anything you like. I also think something like toasted coconut, sliced bananas or a little sprinkle of cinnamon would be amazing!
How to Make a Vegan Smoothie Bowl
For all my vegans out there, I salute you! Here's ways you can keep this smoothie bowl vegan friendly:
Milk- to make this Peach Smoothie Bowl vegan-friendly, an easy switch is your milk! Try almond milk, oat milk, soy milk, cashew milk, or coconut milk. There's so many options now!
Sweeteners- If you would rather not use honey, a vegan sweetener is a great option. Give stevia, monkfruit sweetener, date syrup, maple syrup, coconut sugar or brown rice syrup a try in this Smoothie Bowl.


Peach Smoothie Bowl Toppings
Y'all know I love toppings. You can't beat some texture! Here are some ideas I love:
Crushed or sliced almonds, walnuts, cashews, pecans or macadamia nuts
Additional fruit: of course, more peaches is never the wrong answer. But give strawberries, raspberries, blackberries, mango, banana slices, shredded coconut or blueberries a go!
Seeds: If you're looking to add some extra fiber into your diet, here's a great opportunity. Add some chia seeds, flax seeds, pumpkin seeds, sunflower seeds or hemp seeds for a healthy crunch!
Seasonings: I think cinnamon on top of this smoothie bowl would be amazing. But if you're not a cinnamon fan, try ground cloves, ginger, nutmeg, allspice or cardamom for a lovely addition to your Bowl
More Smoothie Ideas You May Like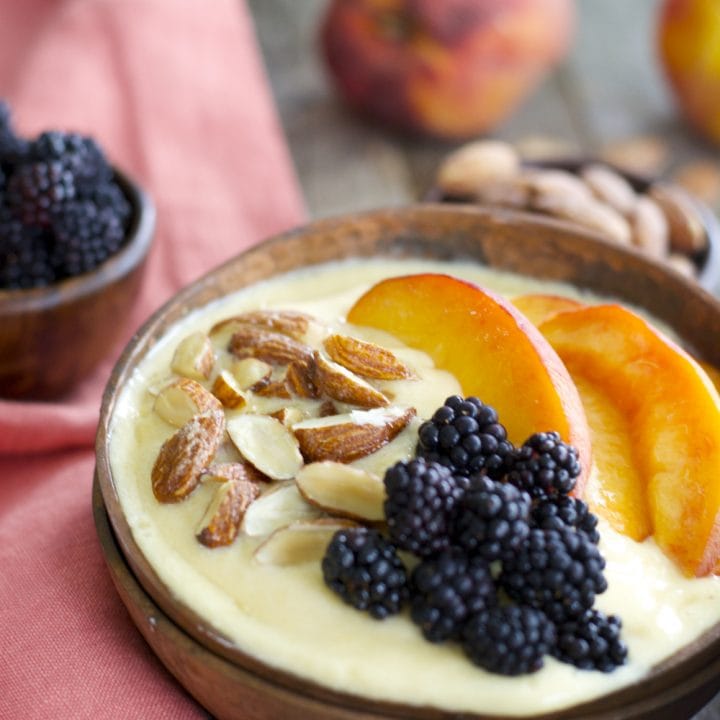 Peach Smoothie Bowls
Sweet peaches, almond milk, a touch of vanilla and honey are blended until smooth and topped with crunchy granola for a hearty healthy breakfast! This easy Peach Smoothie Bowl will be a new favorite!
Ingredients
1/2 cup milk or almond milk
1 cup of frozen peaches
1-2 teaspoons honey (depending on how sweet you like it)
1/2 teaspoon vanilla extract
Optional Toppings:
Fresh fruit
Chopped Almonds
Chia seeds
Instructions
Place fruit, milk or almond milk, honey and vanilla in a blender and blend until totally smooth.
Pour into bowl and top with fresh fruit and nuts as desired.
Nutrition Information:
Yield:

1
Serving Size:

1
Amount Per Serving:
Calories:

129
Total Fat:

0.5g
Cholesterol:

2.5mg
Sodium:

51.9mg
Carbohydrates:

26.9g
Net Carbohydrates:

1.9g
Fiber:

2.3g
Sugar:

25g
Protein:

5.6g