This decadent Chocolate Mint Ice Cream requires only 6 ingredients and no ice cream maker! This homemade ice cream recipe is an easy Summer treat!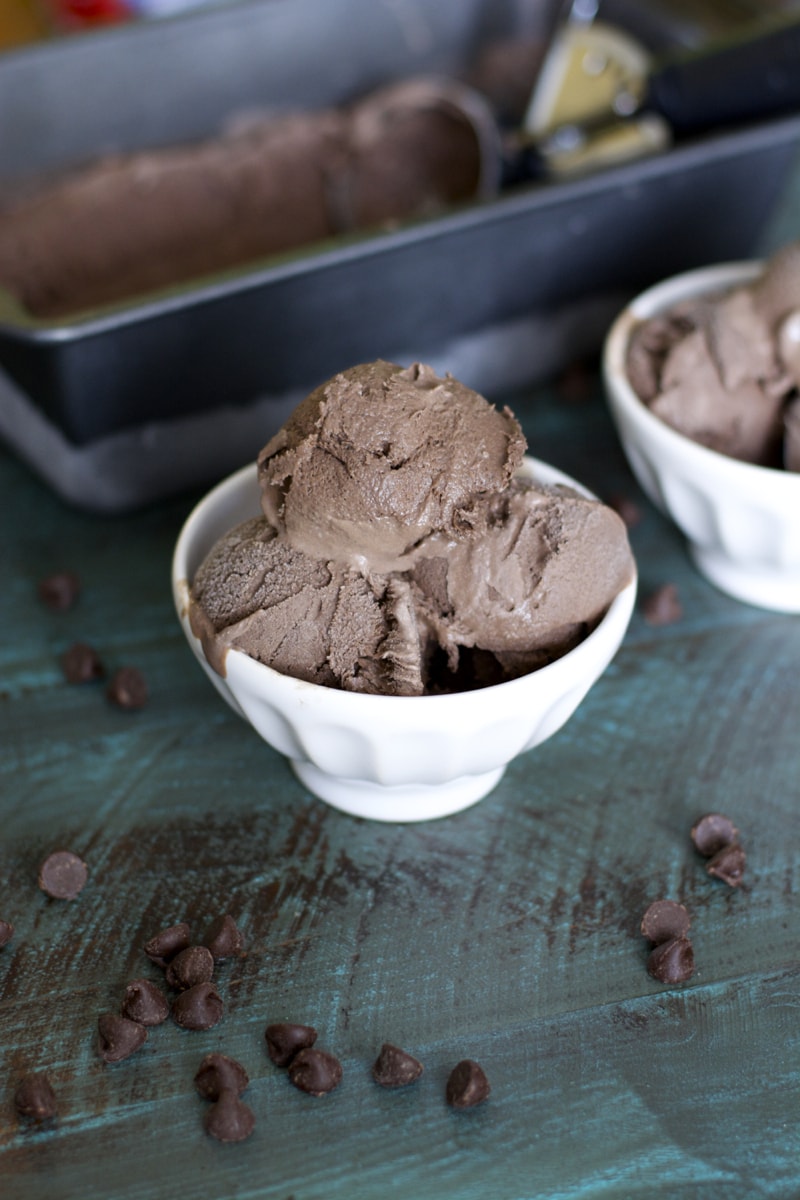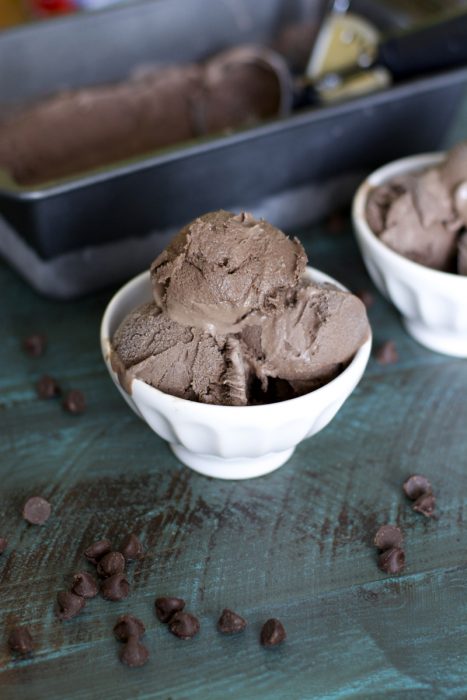 Sometimes, you just need chocolate. Lots of chocolate, to be exact. That is exactly the situation I found myself in a few weekends ago.
I wanted something sweet. Anything. And none of that this-is-actually-good-for-you-healthy-snacking-kind-of-sweet, I wanted the I-am-going-to-have-to-go-run-that-off-kind-of-sweet.
The problem is, I don't keep the good kind of sweets in our house. We never have cookies, cakes, pies, or ice cream just lying around. Those things are usually only for really special occasions, but my craving could not be denied.
I scoured the cabinets and decided to make ice cream, but an easy ice cream. I had no intentions of dragging the ice cream maker out of the attic, so I grabbed a couple ingredients and got to work. Well, kind of.
This ice cream is so simple and easy, it basically made itself. I could have just gone with a rich dark chocolate ice cream, but I decided to go all out and add peppermint too. And let me tell you, I was not disappointed with the results.
Is there anything better in the Summer than ice cream? I honestly don't think so. This Dark Chocolate Peppermint Ice Cream is perfect for the hotter months, not only because ice cream is already perfect (duh) but because of the cooling Peppermint!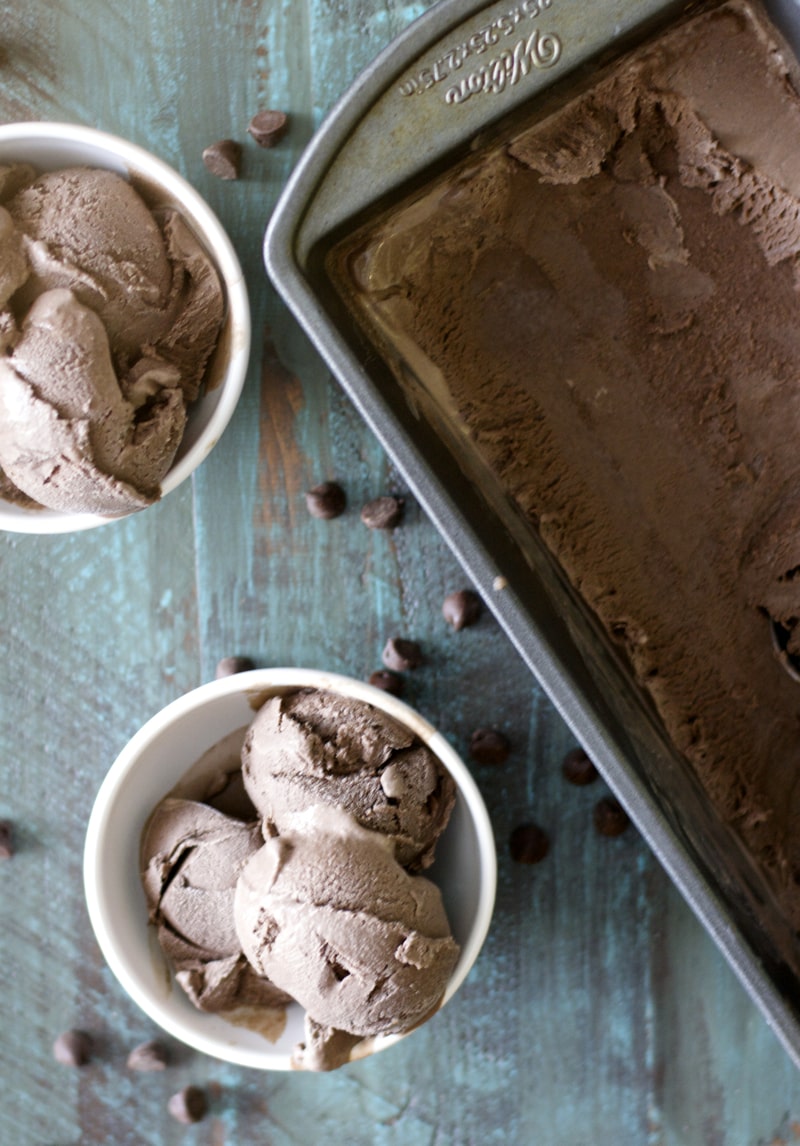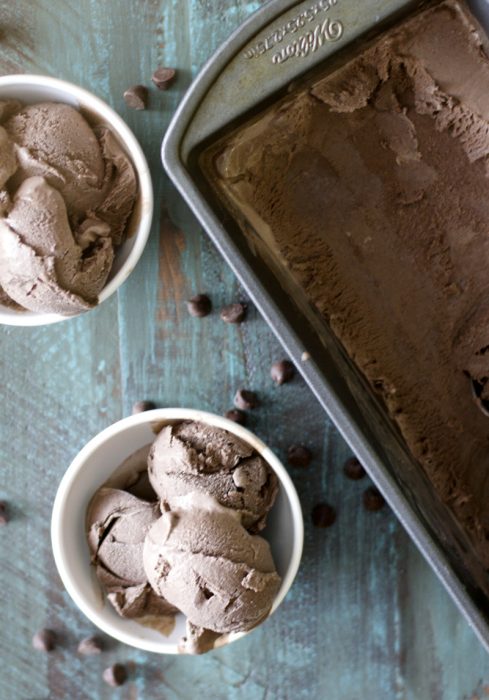 What ingredients do I need to make Chocolate Mint Ice Cream?
This is (one of) the beautiful things about this recipe. With only six ingredients, this pan of perfection comes together.
Sweetened Condensed Milk- I not do recommend using the fat free version for this ice cream
Heavy Cream- you could use half and half
Milk- I used 2%
Cocoa Powder
Dutch Processed Cocoa Powder- this powder has a less bitter flavor than traditional cocoa powder, so I like to use both
Peppermint Extract

Can I make ice cream without an Ice Cream Maker?
Absolutely! This is my second favorite thing about this recipe (my favorite is of course, the chocolate!). By placing your pan of Dark Chocolate Peppermint Ice Cream in the freezer overnight, the work is done for you! The fat solids come together and blend perfectly with the chocolate and peppermint extract, making every scoop as indulgent as the last.
How do I make no churn ice cream?
Firstly, I grabbed a can of sweetened and condensed milk. Next, heavy cream, milk, traditional cocoa powder, dutch processed cocoa powder and a few drops of peppermint extract. I use the dutch-processed cocoa powder along with the classic cocoa powder because the bitter taste is reduced in the dutch processed powder.
Place everything right into the blended and voila! I blend the ingredients together until everything is combined nicely. Next, pour everything into a loaf pan and put straight into the freezer. The hardest part comes next- waiting until the next day to enjoy!
Do you want to know what the best part is? No ice cream maker! Just a blender and freezer is all you need for this super easy ice cream!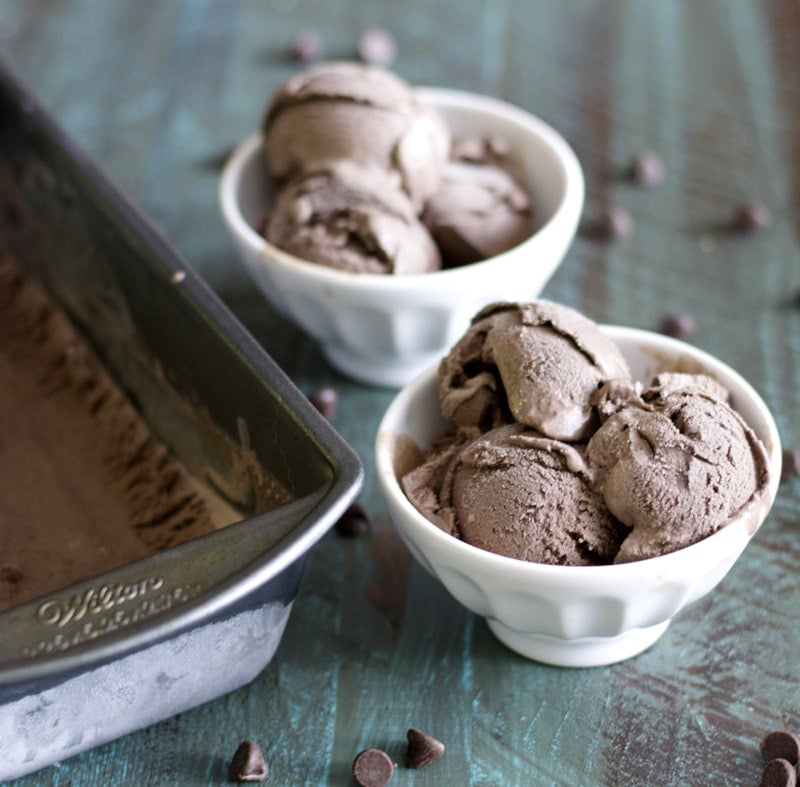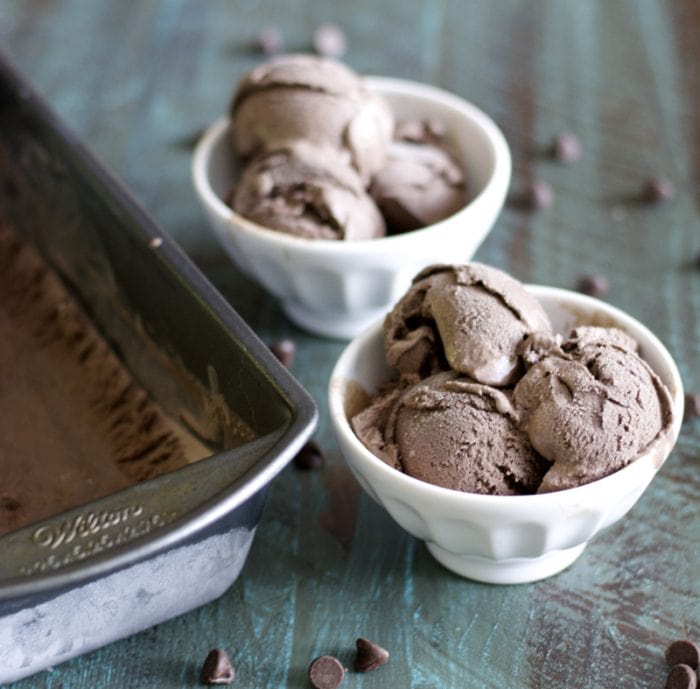 Other Easy Dessert Recipes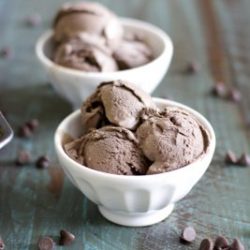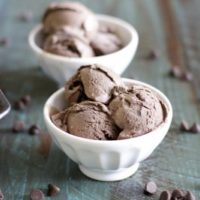 Chocolate Mint Ice Cream (no churn recipe)
Total Time:
8 hours
1 minute
This decadent Dark Chocolate Peppermint Ice Cream is made without any ice cream maker needed! Super easy & the perfect treat for Summer!
Ingredients
1 (14 ounce can) sweetened and condensed milk
1 1/2 cups heavy cream
2 teaspoons peppermint extract
1/2 cup 2% milk
2 tablespoons cocoa powder
2 tablespoons dutch processed cocoa powder
Instructions
Place all ingredients in a blender and blend until completely smooth, approximately 30 seconds.
Pour ice cream mixture in a loaf pan and freeze overnight.
Nutrition Information:
Yield:

4
Serving Size:

1
Amount Per Serving:
Calories:

558
Total Fat:

28.1g
Cholesterol:

103mg
Sodium:

195mg
Carbohydrates:

67.9g
Net Carbohydrates:

66.6g
Fiber:

1.3g
Sugar:

64.1g
Protein:

11.5g