Deviled Eggs are the perfect party food! This classic dish can be made ahead of time, and requires just a handful of ingredients!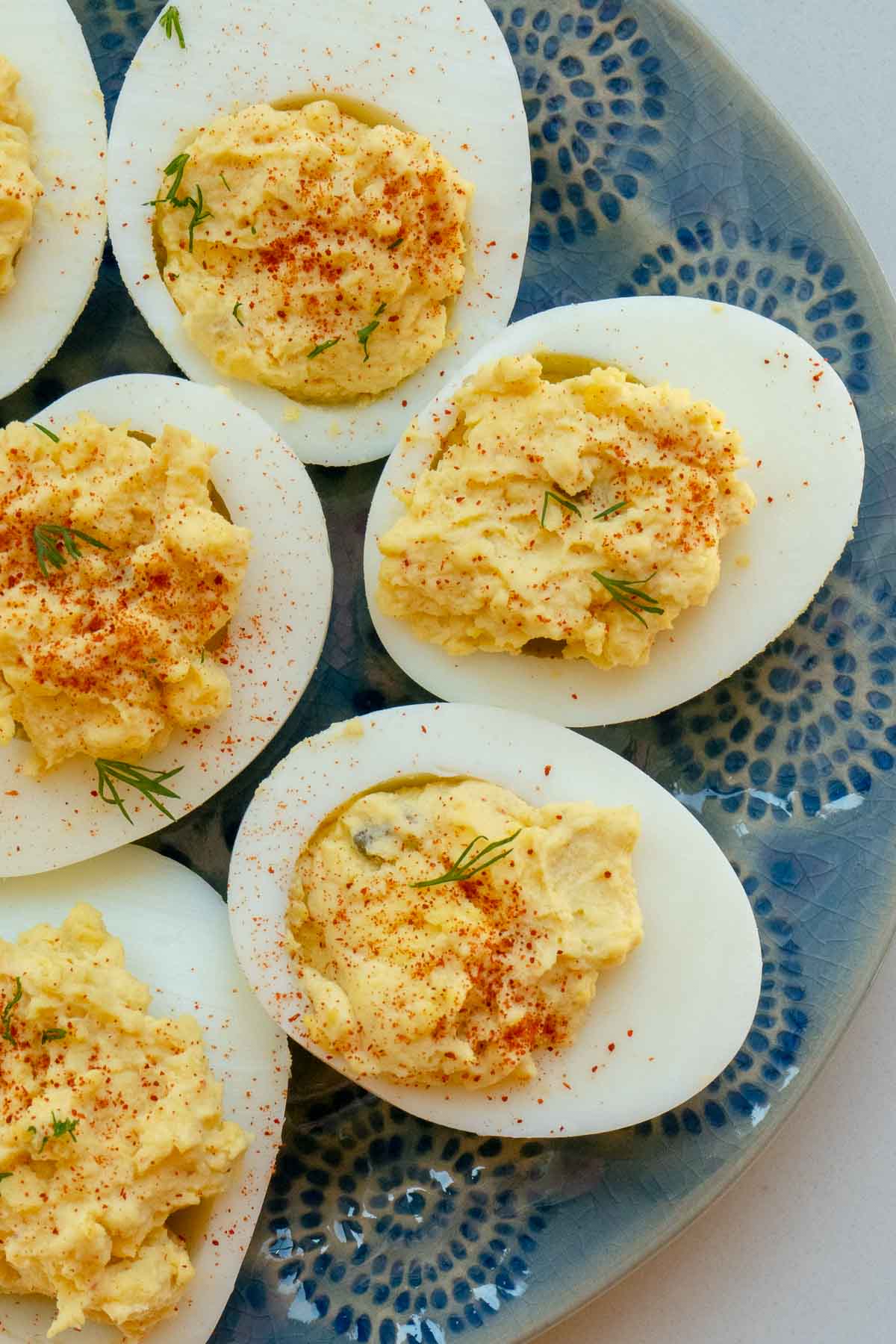 What are Deviled Eggs?
Deviled Eggs are a classic appetizer recipe featuring hard-boiled eggs filled with a creamy, flavorful mixture. While every deviled egg recipe seems slightly different, the filling usually consists of egg yolks, mayonnaise, and mustard. This egg dish is served cold so it is the perfect potluck recipe!
Ingredients for the Best Deviled Eggs
As always, this is an overview of the ingredients you will need for this easy egg recipe. For the complete, printable recipe just scroll down.
Eggs: use at least a size large
Mayonnaise: homemade or store-bought works in this recipe.
Mustard: plain yellow mustard is my preference, but Dijon or spicy brown will also work.
Chopped Pickles: finely chopped Dill pickles add the most delicious twist on classic deviled eggs. This ingredient is recommended, but optional.
Spices: salt, pepper, and paprika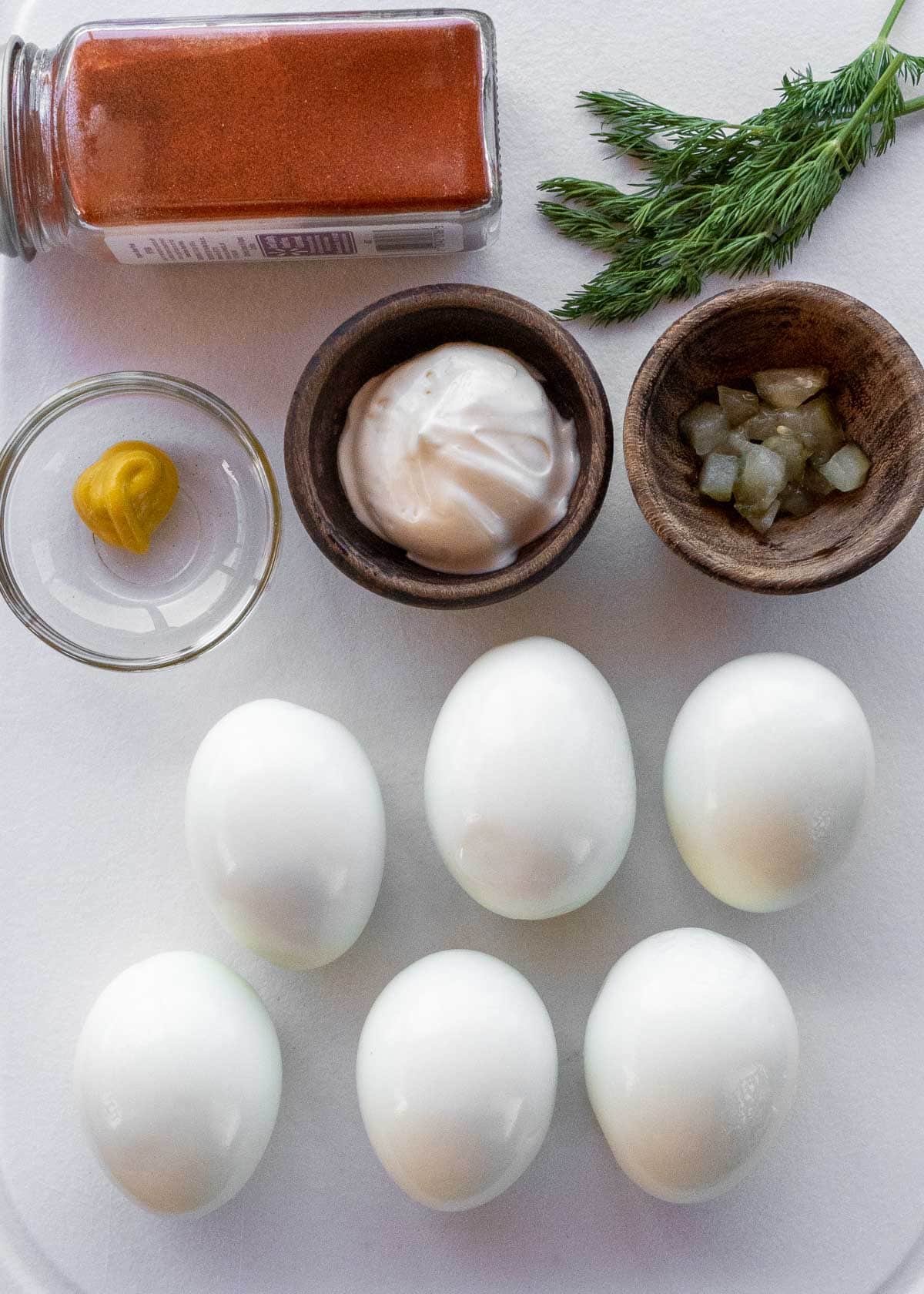 How to Make Deviled Eggs
In addition to the ingredients listed above you will just need a bowl to combine the filling. A piping bag is an optional tool that helps you perfectly pipe the filling in the egg whites. Though that is not required. Additionally, using a deviled egg tray makes transporting these eggs a bit easier. To make this dish you just need to follow the step-by-step guide below.
Boil and Peel Eggs
The first step is to bring a saucepan of water to a boil. Carefully add the eggs and boil for 12 minutes. Once cooked, add the eggs to an ice bath and then peel. If you aren't sure how to do this just scroll down, I have an in-depth guide that walks you through the whole thing.
Slice Eggs and Remove Yolk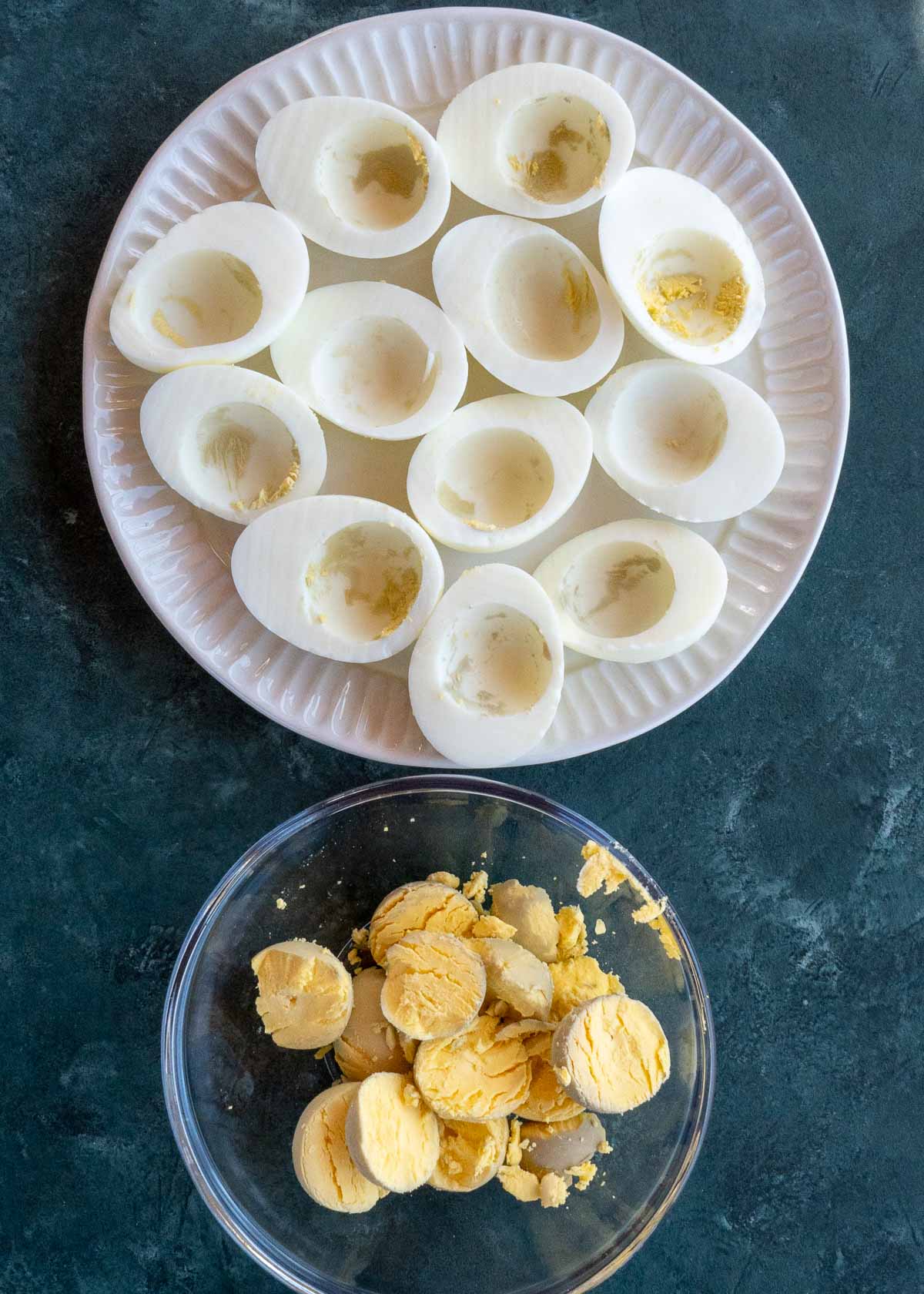 Slice the eggs lengthwise and use a spoon to carefully remove the egg yolks. Place the egg white on a plate or tray, and place the egg yolks in a mixing bowl.
Make the Filling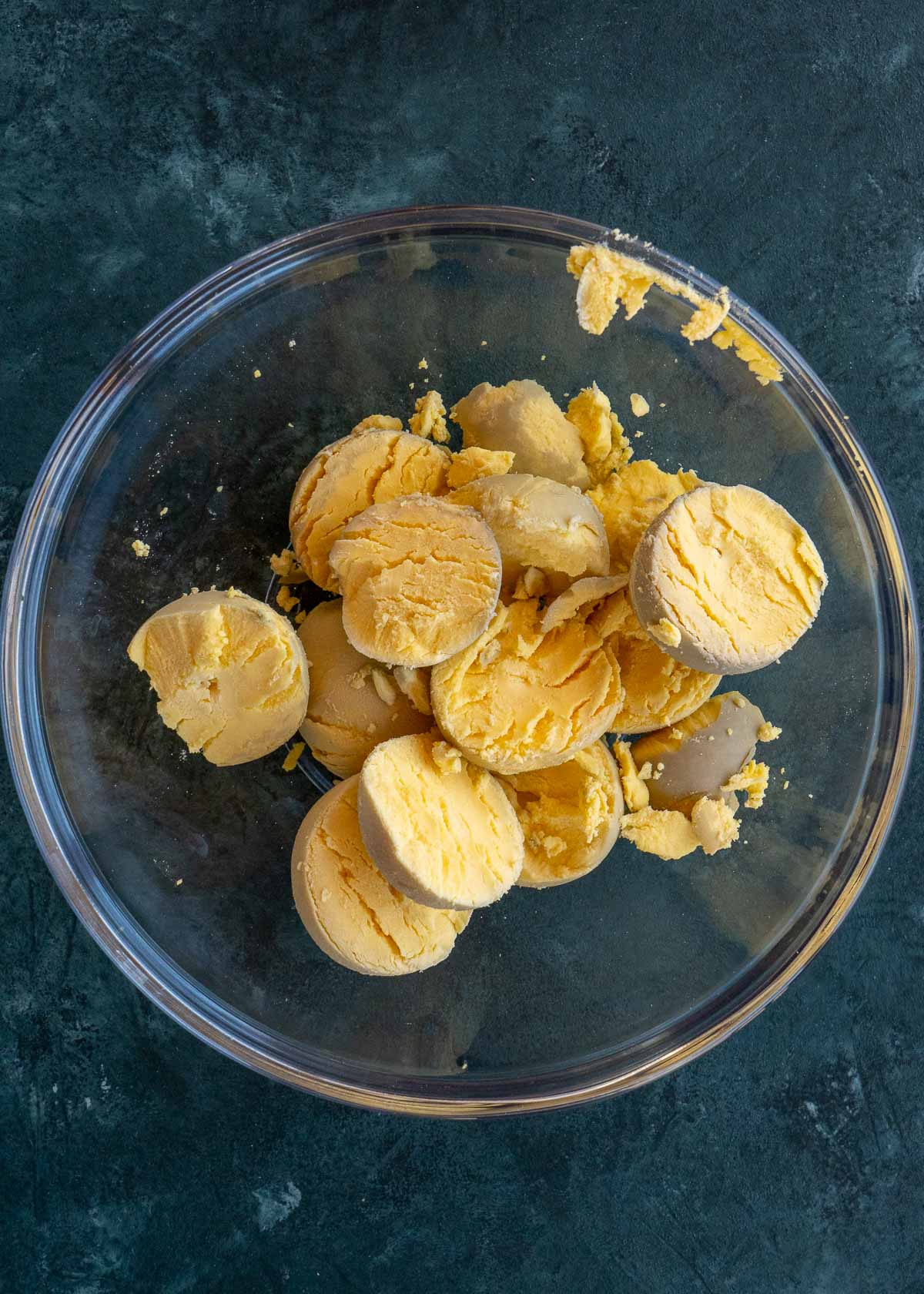 Add the mayonnaise, mustard, chopped pickles, and one teaspoon of pickle juice to the mixing bowl. Use a fork to mash the mixture, or if you want a super smooth texture you can use an electric mixer. Taste test the mixture and add additional pickle juice if needed and add salt and pepper to taste.
Fill the Eggs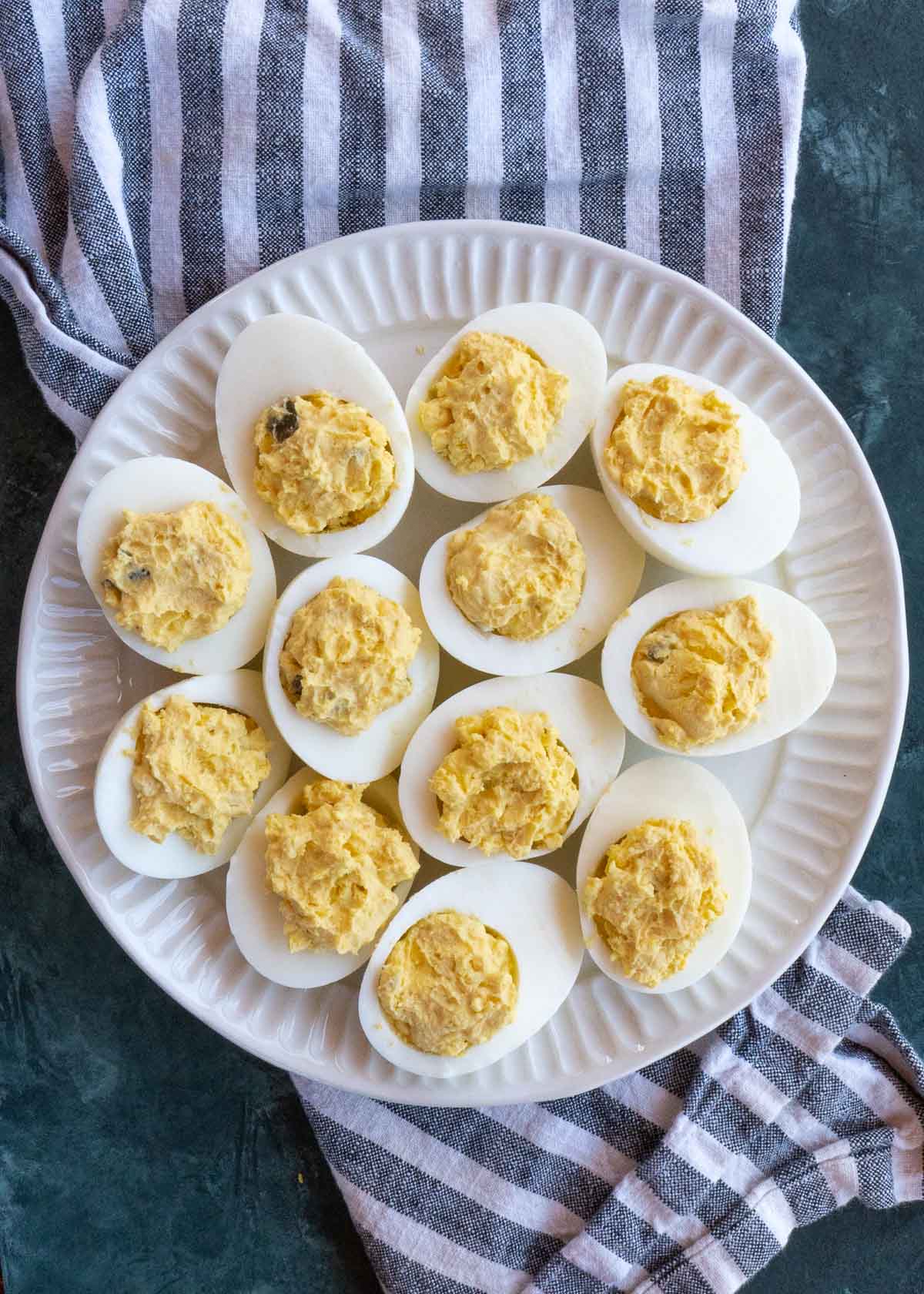 Once the filling is smooth you can pipe the filling into the eggs for a very polished look. Or you can simply spoon the mixture into the egg whites. Both options will work equally well, it just depends on how you want to present this dish.
Garnish
Garnish the eggs with paprika for that signature Deviled Egg look! I do recommend regular paprika, instead of smoked paprika. Personally, I feel like the smokey flavor does not pair well with the mustard.
How long do you boil eggs?
You will need hard-boiled eggs for this recipe. Just in case you haven't done this here is a step-by-step guide.
Add water to a saucepan and bring it to a boil. There should be enough water in the pan so that the eggs are completely covered. Using a slotted spoon very carefully add the eggs to the boiling water.

Reduce the heat to medium or medium-low, until the water is still simmering, but not rapidly boiling. Set the timer for 12 minutes.

While the eggs are boiling add ice and water to a large bowl. You will use this to cool the eggs, this also helps to stop the cooking process and helps to make them easier to peel.

When the timer goes off carefully remove the saucepan from the heat and using the slotted spoon remove the eggs from the hot water and add to the ice bath. Allow the eggs to cool for 5-7 minutes.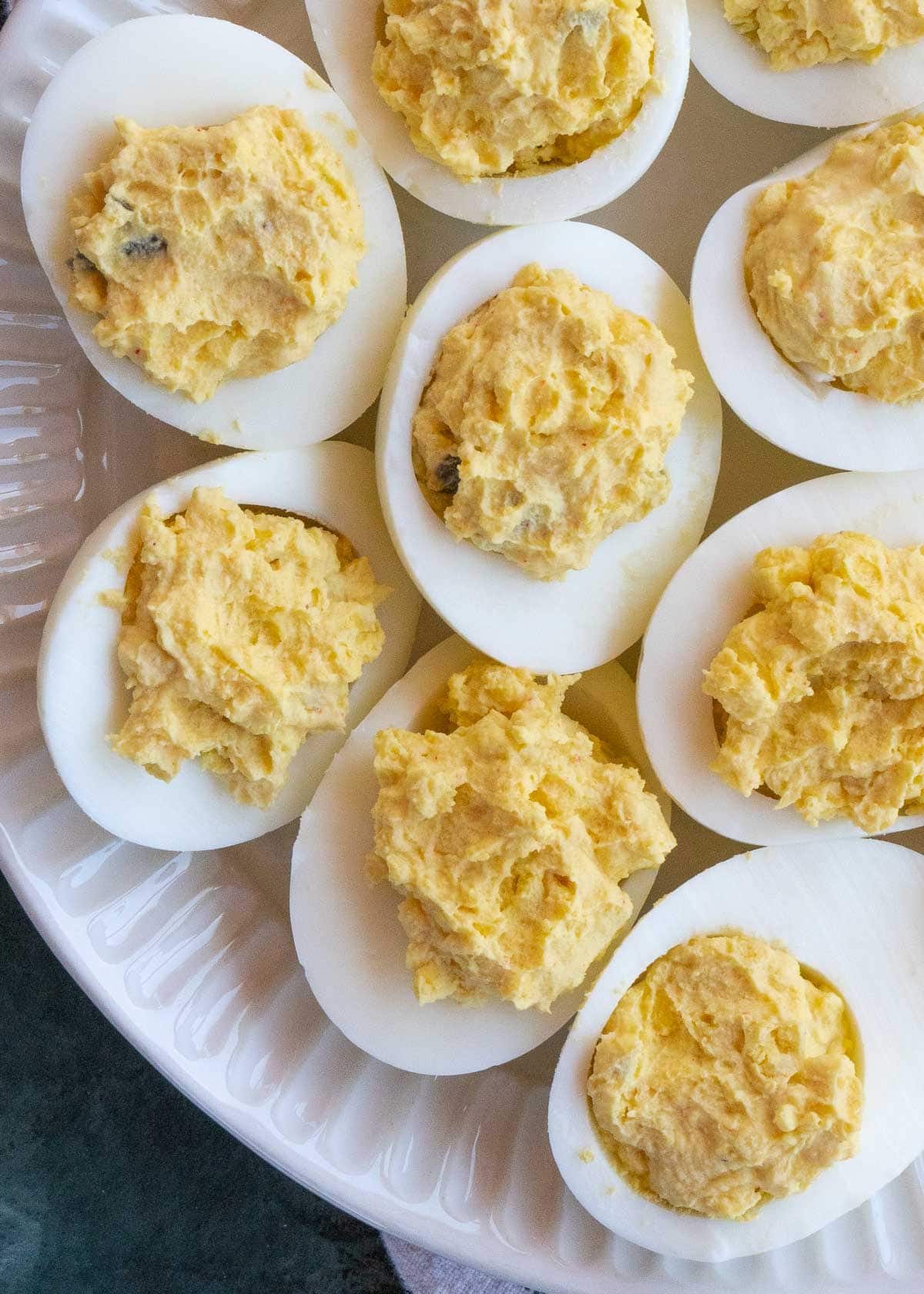 How do you peel eggs?
Everyone has a method they swear by to make peeling eggs easier. Some people advise adding baking soda or vinegar to the boiling water, while others swear by an ice bath. These are some tips to help you peel stubborn eggs.
Crack and Roll: Tap the egg on the counter and roll it under your palm to loosen the shell. Tiny cracks will form and you can use this to start with one larger piece and peel the shell away from the egg.
Water: Peel the egg while running it under a small and steady stream of cool water. Sometimes the water seems to make it easier to grab that tiny membrane part between the shell and the egg.
Spoon: Crack the egg on the counter and use a spoon to slide it under the shell. This helps pull the shell away in larger sections.
How long do Deviled Eggs last?
You can store these eggs in an airtight container in the fridge for up to 3 days. I find after three days the consistency and texture are compromised.
Recipe FAQ
Can you make these ahead of time?
Yes, you can make this recipe up to 3 days in advance.
How do you transport Deviled Eggs?
Since the base of the eggs are round this dish can be a little tricky to transport. You can use a deviled egg tray, which helps prevent the eggs from moving. Another option is to make the filling put put it in a piping bag, and place the egg whites in a separate dish. Transport the dish and piping bag, then just pipe the filling in the egg whites when you are ready to serve.
Do I have to add pickles?
No, this recipe is excellent without the pickles as well. Personally, I love the addition of pickles and fresh dill, but if that isn't your vibe just skip it.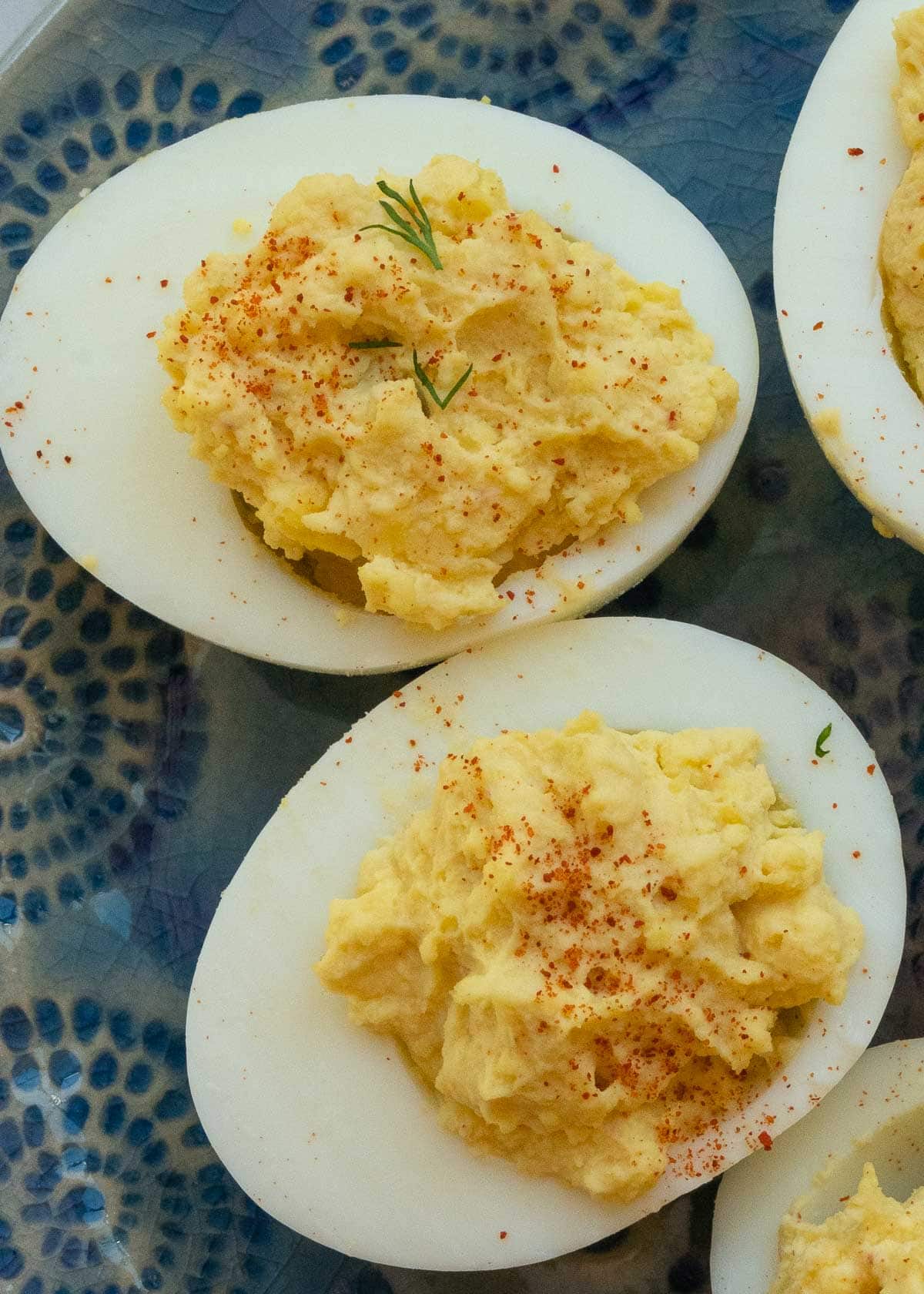 If you love Deviled Eggs you will Also Love:
Egg Salad: this is a fan favorite! Egg salad is great on bread, crackers, toast or lettuce wraps!
Chicken Salad: this is a great lunch! It has excellent crunch from the celery and nuts! It is delicious on crackers, bread, wraps, or a salad!
Tuna Salad: a quick no cook lunch that is packed with protein!
Other Appetizer Recipes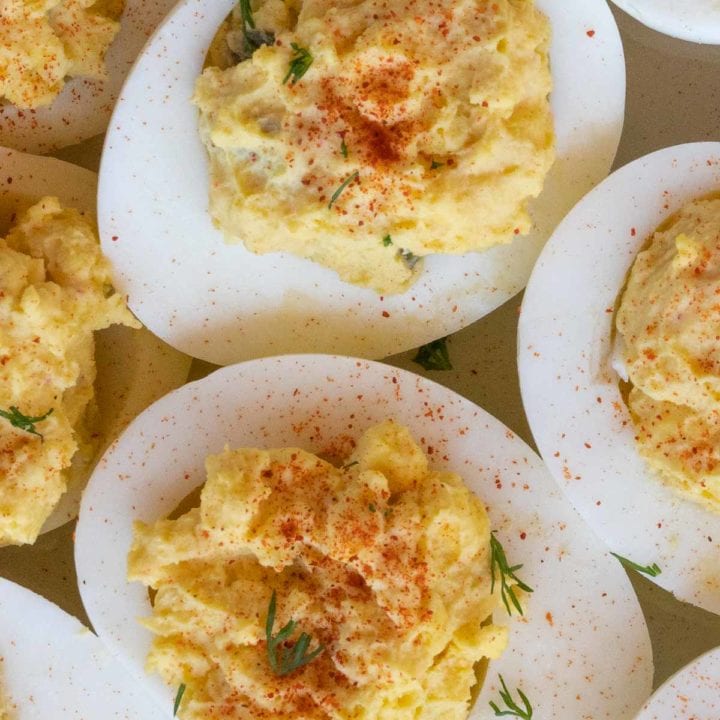 Deviled Eggs (easy appetizer recipe!)
Deviled Eggs are the perfect party food! This classic dish can be made ahead of time, and requires just a handful of ingredients!
Ingredients
6 large hardboiled eggs
1/4 cup mayonnaise
2 teaspoons finely chopped dill pickles
1 teaspoon yellow mustard
1-2 teaspoons pickle juice (to taste)
Salt and pepper to taste
Paprika for garnish (add to taste)
Instructions
You will need hardboiled eggs for this recipe. For instructions on how to boil eggs please see the post.
Crack and peel the hardboiled eggs. Slice the eggs lengthwise and remove the yolks.
Add the yolks, mayonnaise, mustard, finely chopped pickles, and 1 teaspoon of pickle juice. Using a fork mash the mixture until smooth. Taste the filling and add an additional teaspoon of pickle juice if desired, then add salt and pepper to taste.
Spoon or pipe the filling into the egg whites and garnish with paprika and fresh dill if desired.
Recommended Products
As an Amazon Associate and member of other affiliate programs, I earn from qualifying purchases.
Nutrition Information:
Yield:

6
Serving Size:

2 Deviled Eggs
Amount Per Serving:
Calories:

107
Total Fat:

8.7g
Cholesterol:

189mg
Sodium:

162mg
Carbohydrates:

0.4g
Fiber:

0g
Sugar:

0.2g
Protein:

6.3g