This easy step-by-step guide will teach you how to make egg salad that is loaded with flavor! This is a quick and easy recipe that is perfect for lunch!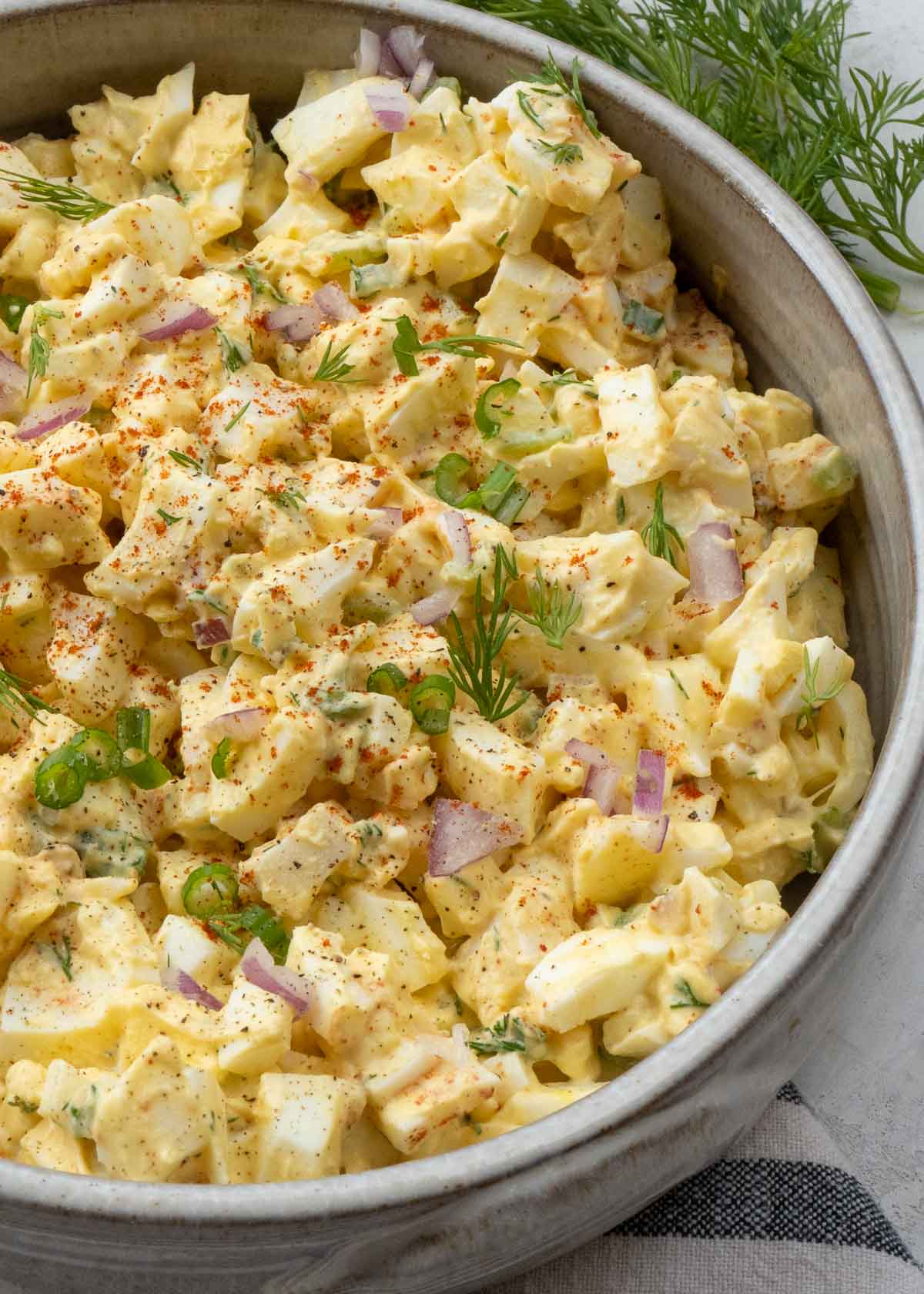 Ingredients for Egg Salad
As always, this is a quick overview of the ingredients you will need to make the best Egg Salad recipe! There are also a few substitution suggestions if you need to adjust. For the complete, printable recipe just keep scrolling to the recipe card.
Eggs: the star of the show! You will need hard-boiled eggs for this recipe, and I have more information about how to do that below.
Mayonnaise: homemade or store-bought works in this recipe. If you truly do not want to use mayonnaise plain Greek yogurt will work. But the mayo is worth it!
Mustard: yellow or dijon work in this recipe, use your favorite variety and you can't go wrong!
Onion: I use a little bit of chopped red and green onion. You can use one or the other if you do not have both. Personally, I love the flavor the green onion adds, but enjoy the zing and crunch the red onion gives this dish!
Celery: I think the thing lots of egg salad lack is a bit of crunch, the celery pairs so well with these flavors and improves the texture of this salad.
Fresh Dill: if the eggs are the star of this show, the dill is its handy sidekick! By adding this herb it really makes the flavor pop and makes it feel so fresh!
Pickle Juice: seriously, this is the secret ingredient, you just need a smidge, but paired with the fresh dill it adds amazing depth!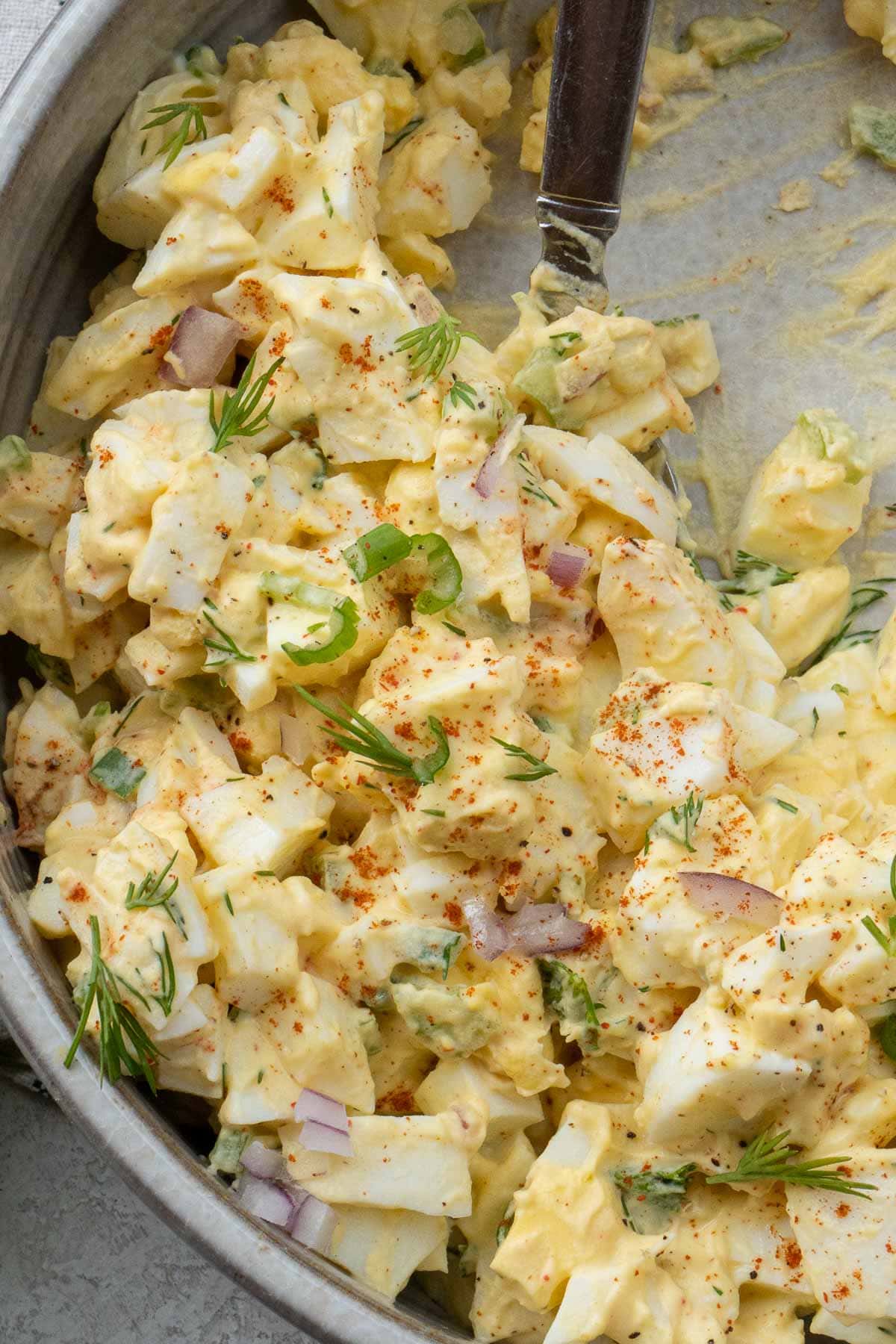 How to Make the Best Egg Salad
In addition to the ingredients listed above you will need a large bowl, knife, and cutting board. Also, if you love kitchen gadgets this comes in handy to cut the eggs nice and uniform. To make the best egg salad just follow this guide.
Boil and Peel the Eggs
Of course, the first step is to properly prepare the eggs. If you aren't sure how to do this scroll down, I have an exact guide that walks you through the whole thing.
Chop the Eggs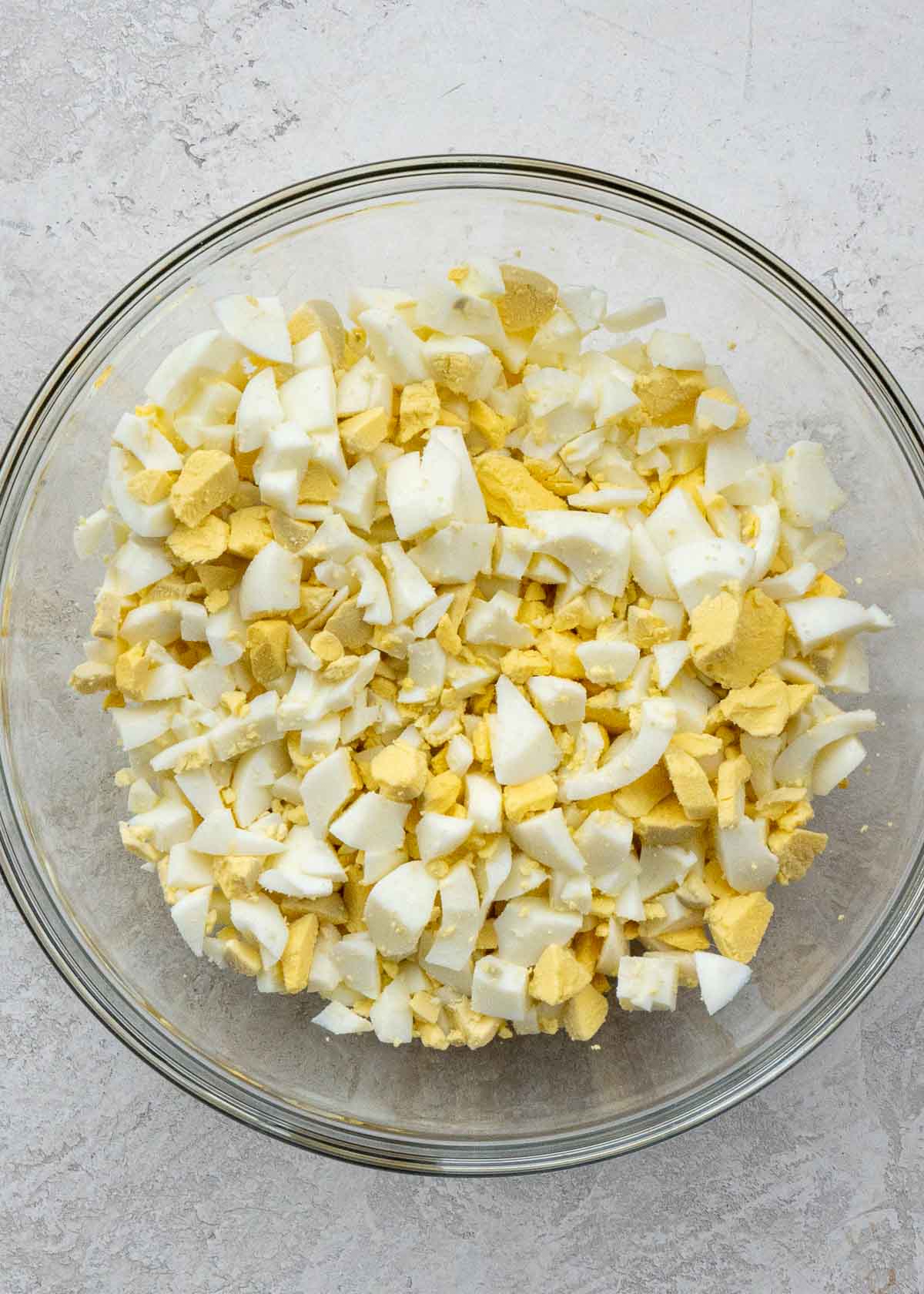 Once the eggs have cooled and have been peeled you will need to chop them as uniformly as possible. You can do this with a regular knife, or use a chopper like this. Add the chopped eggs to a medium size mixing bowl.
Add Ingredients and Stir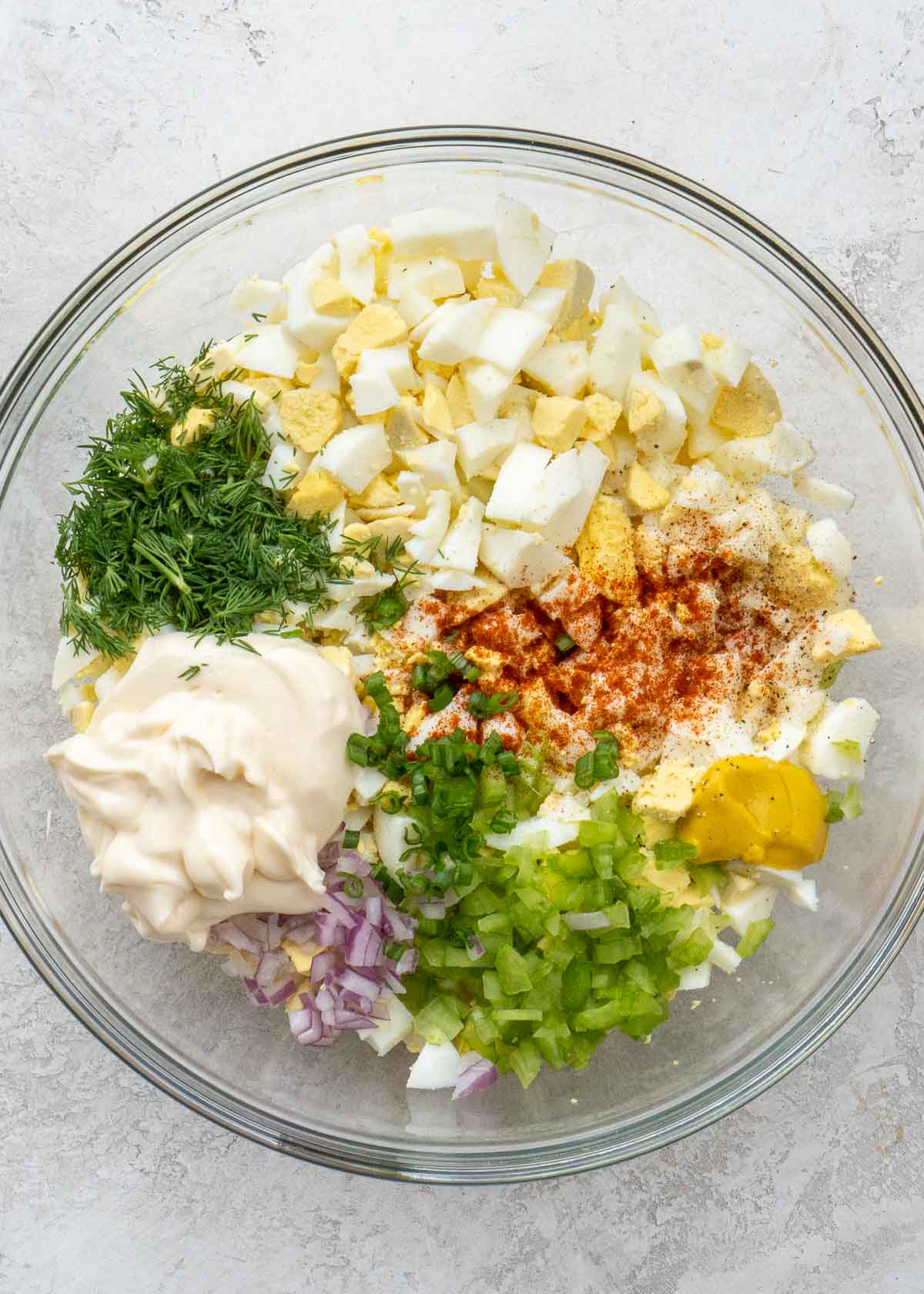 Next, add the remaining ingredients and stir. Keep in mind the eggs can break apart as you stir so do so gently. Once everything is combined chill the egg salad at least 30 minutes before serving.
How long should you boil eggs?
You will need hard-boiled eggs for this recipe. Add water to a saucepan and bring it to a boil. There should be enough water in the pan so that the eggs are completely covered. Using a slotted spoon very carefully add the eggs to the boiling water. Reduce the heat to medium or medium-low, until the water is still simmering, but not rapidly boiling. Set the timer for 12 minutes.
While the eggs are boiling add ice and water to a large bowl. You will use this to cool the eggs, this also helps to stop the cooking process and helps to make them easier to peel. When the timer goes off carefully remove the saucepan from the heat and using the slotted spoon remove the eggs from the hot water and add to the ice bath. Allow the eggs to cool for 5-7 minutes.
How do you peel hard-boiled eggs?
The biggest factor, in my opinion, is using older eggs. The fresher the egg the harder it is to peel. Everyone seems to have a different method for this simple task, but here are a few tips to make peeling eggs easier:
Crack and Roll: Crack the egg on the counter and roll it under your palm to loosen the shell. Tiny cracks will form and you can use this to start with one larger piece and peel the shell away from the egg.
Water: Peel the egg while running it under a small and steady stream of cool water. Sometimes the water seems to make it easier to grab that tiny membrane part between the shell and the egg.
Spoon: Crack the egg on the counter and use a spoon to slide it under the shell. This helps pull the shell away in larger sections.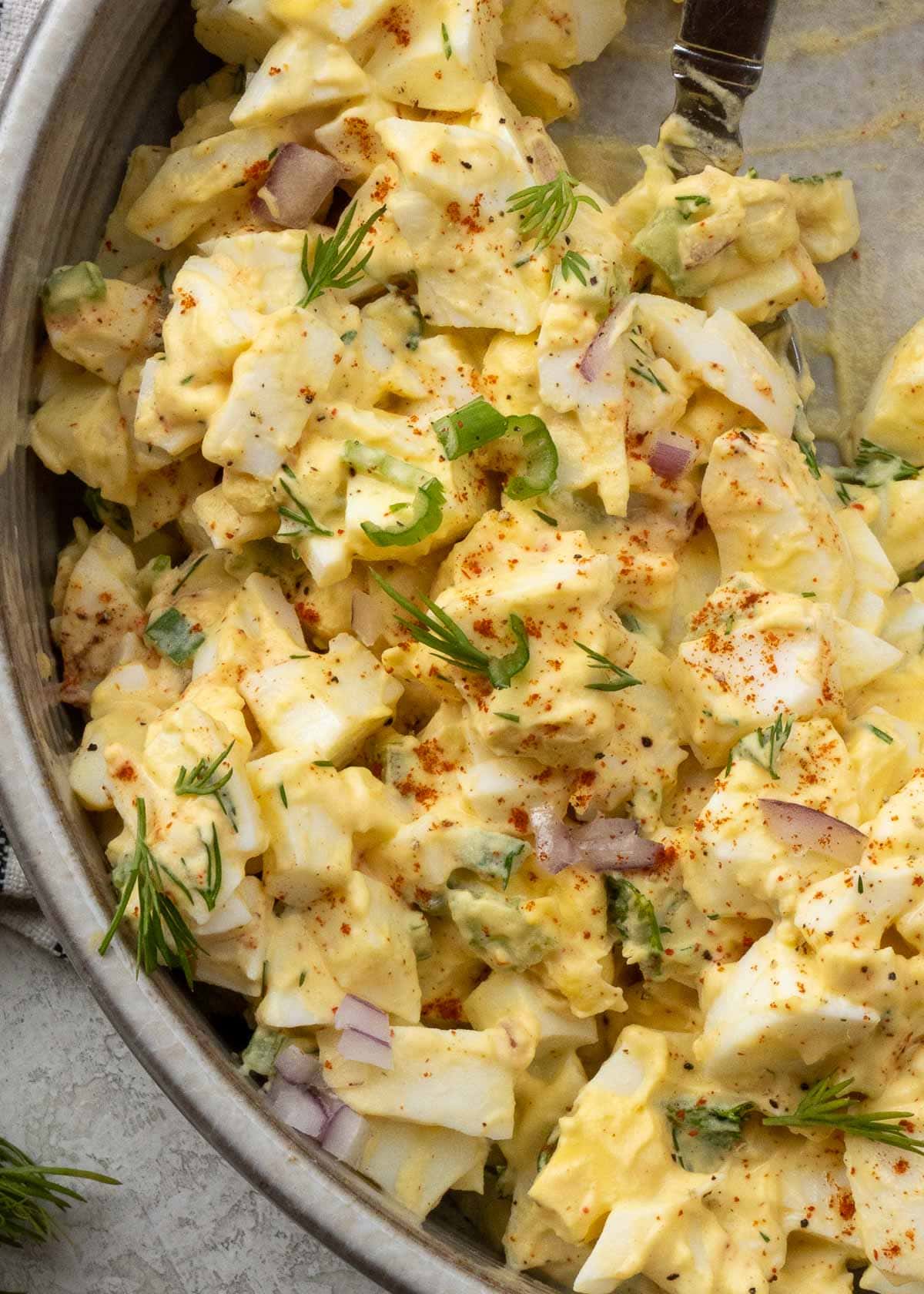 How long does Egg Salad Last?
Store the egg salad in an airtight container in the fridge for up to 3 days. I find after three days the consistency and texture are compromised.
Ways to Serve Egg Salad
This dish is so versatile. The salad itself is gluten and grain free. It is also low-carb and keto-friendly. It is perfect enjoyed with celery sticks, crackers, bread, in wraps, or over a garden salad! This recipe does have fresh dill and a splash of pickle juice so I love it in crunchy lettuce wraps, served alongside dill pickles!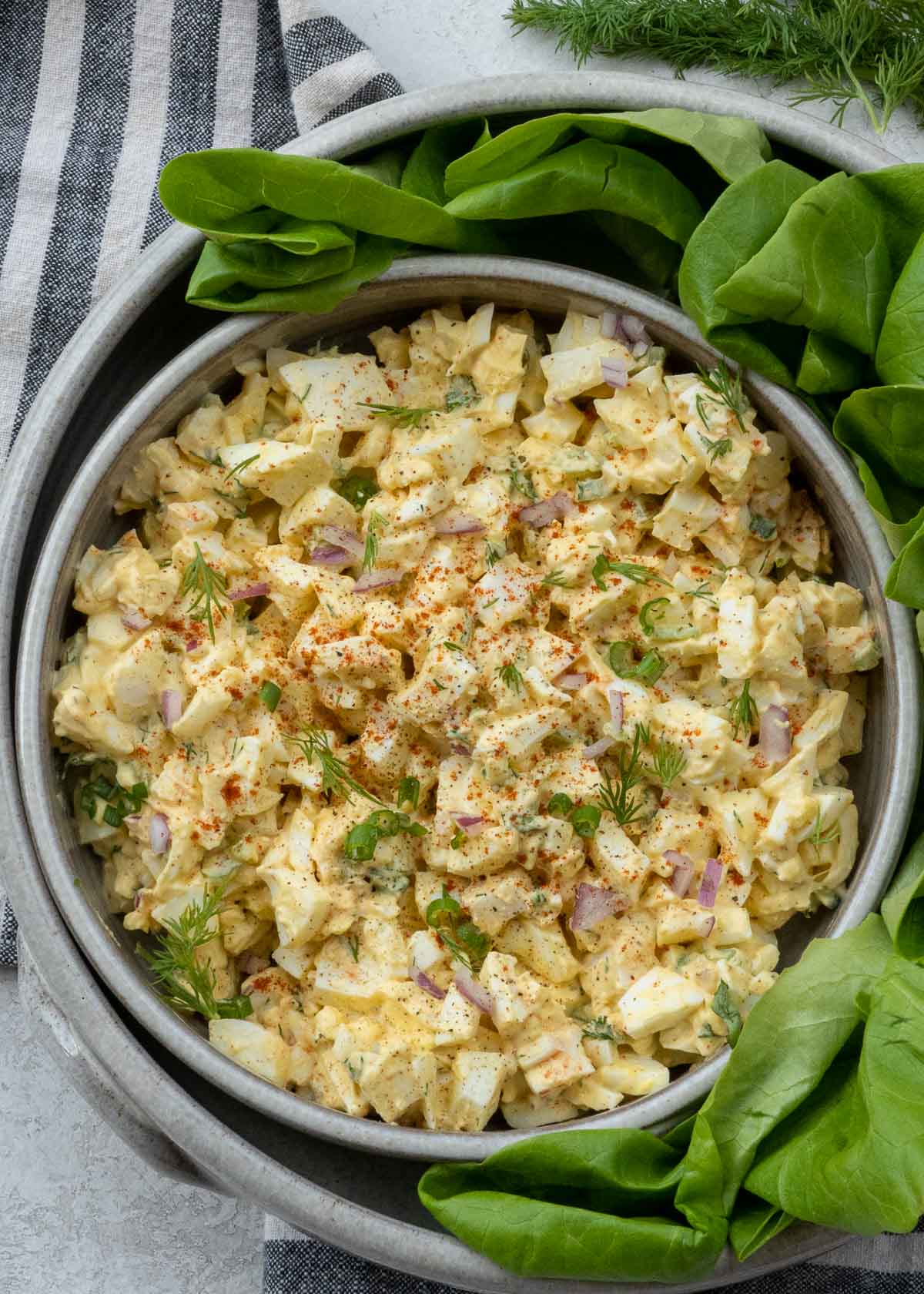 Recipe FAQ
Can I use something besides mayonnaise?
Plain Greek yogurt can work in place of the mayo in this recipe.
How long do you boil a hard-boiled egg?
A hard-boiled egg is an egg that is completely cooked through. The whites and yellow are both firm. This will take 12-14 minutes in boiling water.
How long does this salad last?
Store the egg salad in an airtight container in the fridge for up to 3 days.
Do I have to add the pickle juice?
You can skip this ingredient if you wish, but it does add great flavor so I highly recommend it!
If you love Egg Salad you will Also Love: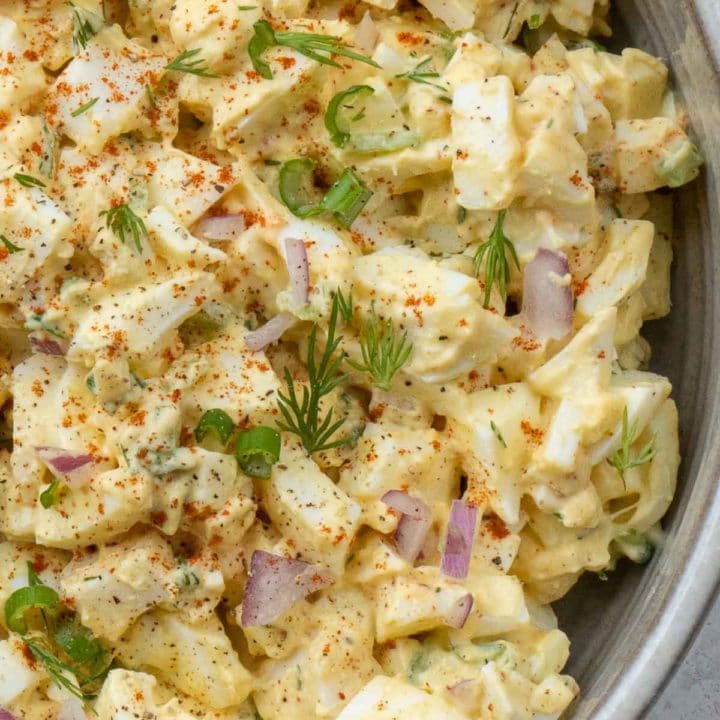 How to Make Egg Salad
This easy step-by-step guide will teach you how to make egg salad that is loaded with flavor! This is a quick and easy recipe that is perfect for lunch!
Ingredients
8 large hard-boiled eggs, peeled and cracked
1/4 cup mayonnaise
2 tablespoons finely mined celery
2 tablespoons finely minced dill
1 tablespoon mustard (yellow or dijon)
1 tablespoon finely minced red onion
1 tablespoon finely minced green onion
2 teaspoons pickle juice
1/4 teaspoon EACH salt, pepper and paprika
Instructions
Peel and chop the eggs. Add to a medium size mixing bowl.
Add the remaining ingredients and gently stir.
Chill the mixture for 30 minutes before serving.
Add additional salt and pepper to taste, and garnish with fresh dill and red onions if desired.
Recommended Products
As an Amazon Associate and member of other affiliate programs, I earn from qualifying purchases.
Nutrition Information:
Yield:

4
Serving Size:

1/4 of the recipe (about 3/4 cup)
Amount Per Serving:
Calories:

205
Total Fat:

15g
Cholesterol:

376mg
Sodium:

506mg
Carbohydrates:

2g
Fiber:

0.3g
Sugar:

0.6g
Protein:

13g