This creamy Lobster Bisque is a shortcut recipe that is low on carbs, but big on flavor! This 30 minute soup recipe features a savory broth and garlic butter lobster for a truly decadent meal!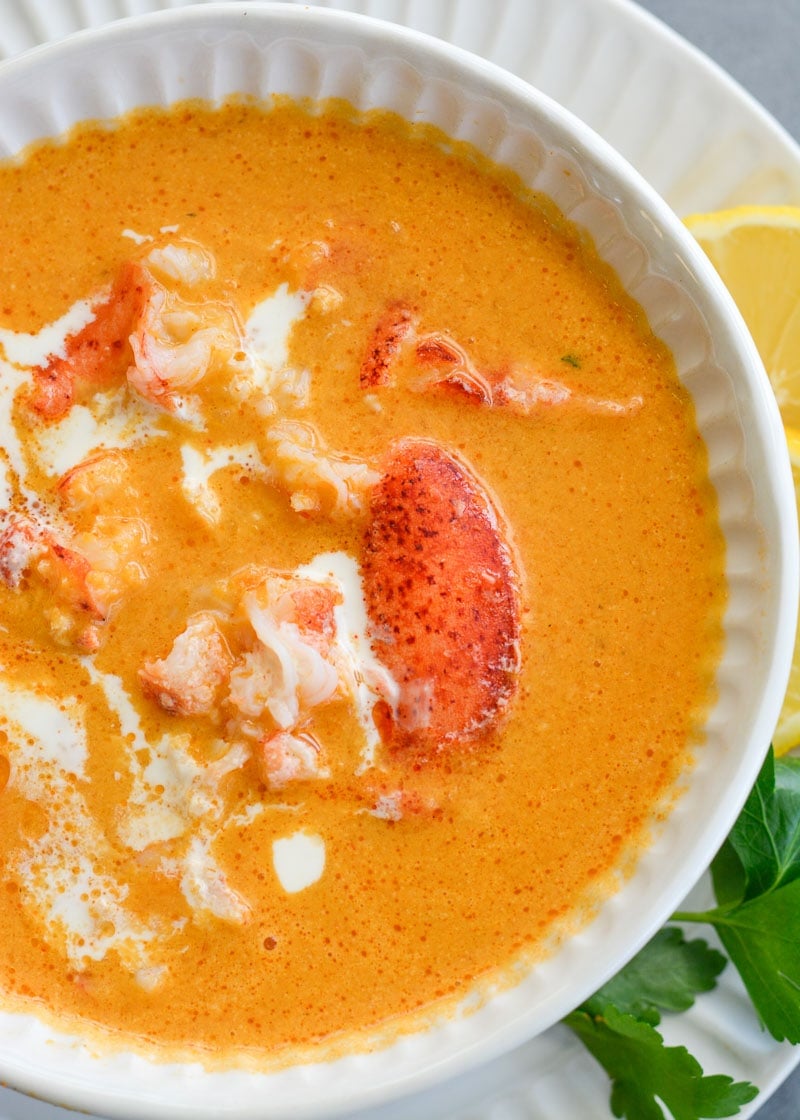 I almost always order lobster bisque when I see it on a menu because it seems so luxurious. I admit, though, they are often heavy on the soup and light on the lobster. Finally, I decided I'd make a quick, low-carb, weeknight-friendly version featuring big chunks of tender, garlicky, buttery lobster!
When I say weeknight-friendly, I really mean it! This soup is ready in 30 minutes, and there's barely any clean up because you cook it all in one pot. Using packaged cold cracked lobster meat meant I didn't have to waste time dealing with the shell, too!
(P.S. I got mine from Butcherbox. The lobster comes in 8 oz. packages, so you can easily halve or double this recipe depending on the number of packages you add to your shipment! Try this link if you'd like $30 off your first box)
If you plan ahead, you can make these Keto Cheddar Garlic Biscuits on your meal prep day to reheat, grab a bagged salad, and you'll have a full, heavenly meal that tastes like it took hours!
Ingredients for Lobster Bisque
As always, you will find the complete recipe and instructions below, just keep scrolling. This is a quick overview of the things you will need for this low carb Lobster Bisque:
Butter
Garlic
Vegetables: Onion, carrots, celery
Tomato Paste
Stock: seafood or vegetable stock.
Old Bay
Dry White Wine
Heavy Cream
Lobster: I used claw meat, but tail meat is a great option too.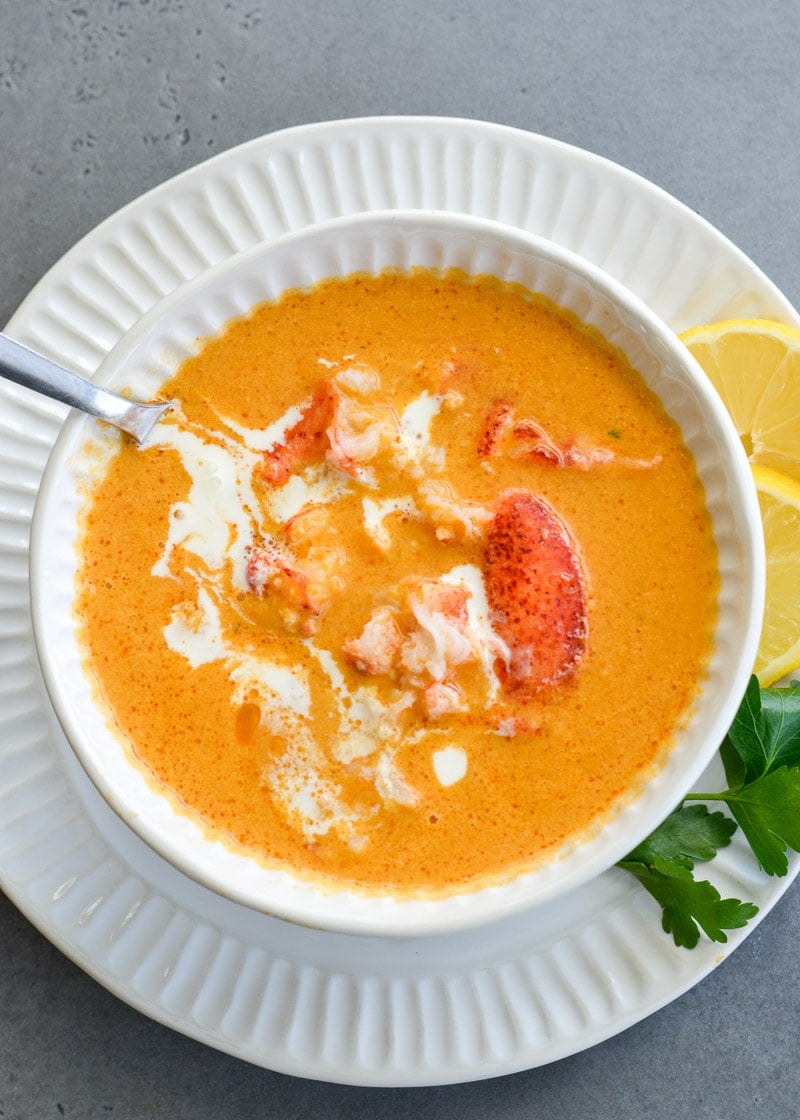 How do you make low carb Lobster Bisque?
This savory soup recipe can be completed in three very easy steps.
Sauté garlic, onion, carrots and celery in the oil until the vegetables are soft. Add the tomato paste, stock, Old Bay, white wine and bring the mixture to a simmer for at least 15 minutes.
Blend the soup using an immersion blender until smooth, stir in the heavy cream.
In another skillet sauté the lobster meat in the remaining butter, garlic and lemon for 3-4 minutes. Add the lobster and garlic butter to the soup. Blend again if desired.
How many carbs per serving?
This recipe makes 6 servings. Each serving has 228 calories, 8.9 grams of carbs, 1.4 grams of fiber. Making each serving an impressive 7.5 net carbs. If you are following a keto diet and looking for an impressive dinner, this is a great option!
What should I serve with Lobster Bisque?
This is such a decadent dish, it really is the star of the show! You can serve this with a nice side salad if you wish, a Caesar Salad would pair nicely. If you are looking for a low carb bread option these Keto Red Lobster Biscuits are the absolute best!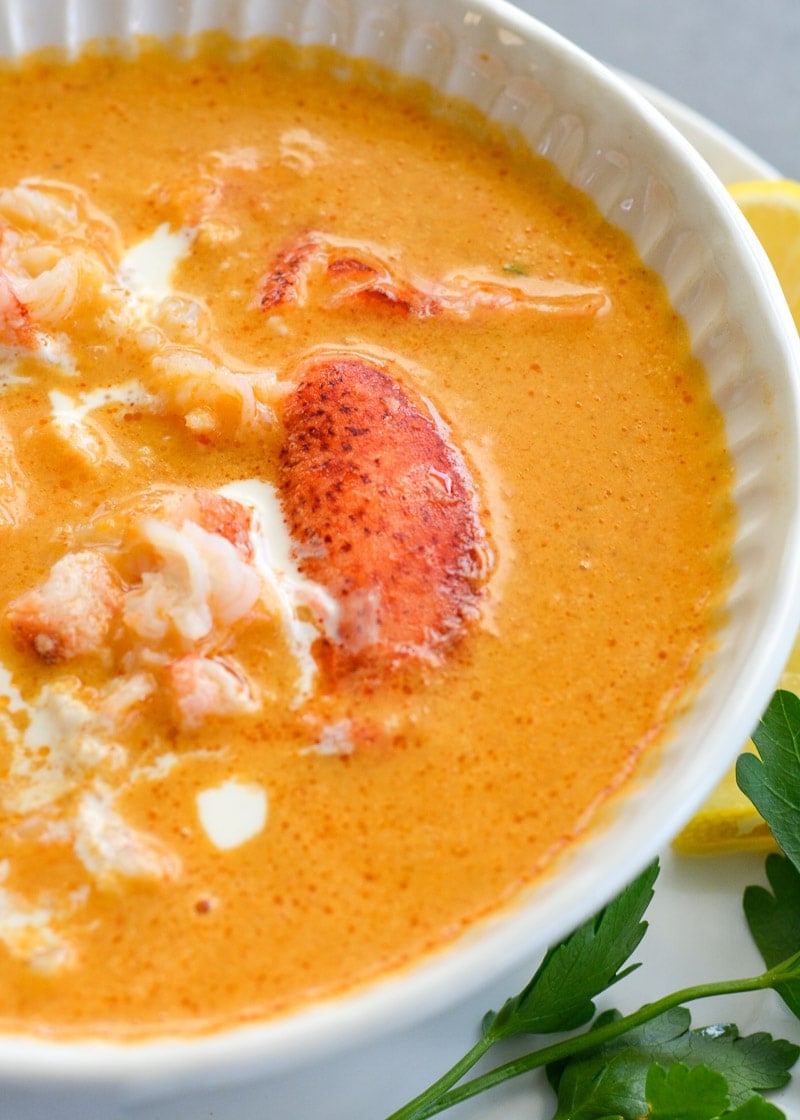 Other Low Carb Seafood Recipes
Don't worry, you don't have to give up delicious seafood recipes on a low carb diet. These are some of my favorite keto-friendly shrimp and fish recipes: