These Easy Breakfast Tacos are the best way to start the day! This simple breakfast recipe is packed full of protein and can be made ahead of time for a quick morning.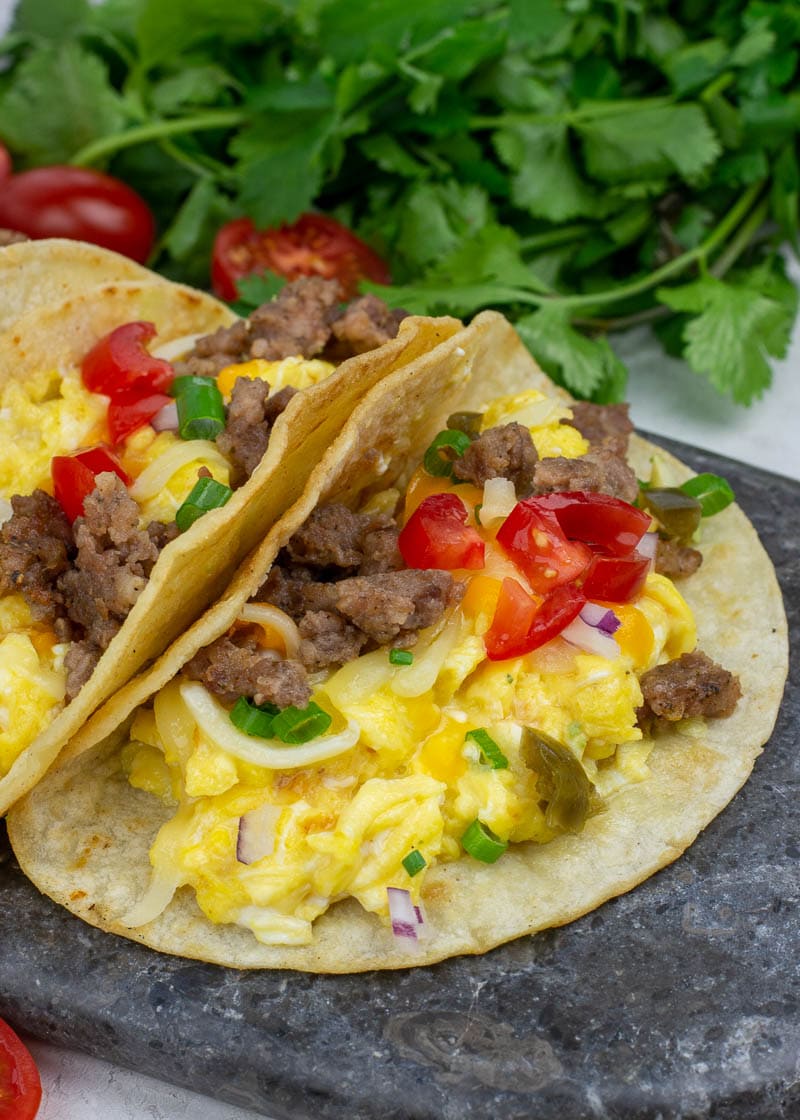 When things are hectic, you need a solid breakfast option like these Easy Breakfast Tacos. Starting your day with a delicious, convenient recipe can make all the difference! Juicy sausage, fluffy eggs, and sharp cheddar cheese come together for that classic breakfast flavor, then we kick it up a notch with Pico de Gallo.
If you don't have time to make these in the morning, don't panic! These sausage breakfast tacos can be frozen for a few months, and you can thaw them in the microwave in under 5 minutes if you're rushed. These are easy to customize so the whole family can make their own version — It's the simple breakfast recipe that everyone will love!
Ingredients for Breakfast Tacos
Here's a quick overview of what you'll need. For exact measurements, keep scrolling down to the printable recipe card.
Tortillas -You can use corn, flour, gluten free or low carb tortillas in this recipe. The nutritional information below the recipe reflects a low carb tortilla for keto-friendly options.
Large Eggs – If you are egg-free, you can use any egg substitute that will scramble well.
Crumbled Breakfast Sausage – Some breakfast sausages have added sugars, so try this sugar-free seasoning blend for a 0 carb breakfast sausage!
Shredded cheddar cheese – Cheese grated freshly from the block melts easier and has slightly lower carbs. You could also try pepper jack, swiss, or your favorite type of cheese!
Pico de Gallo – You could also just chop up a little onion and tomato instead of Pico de Gallo.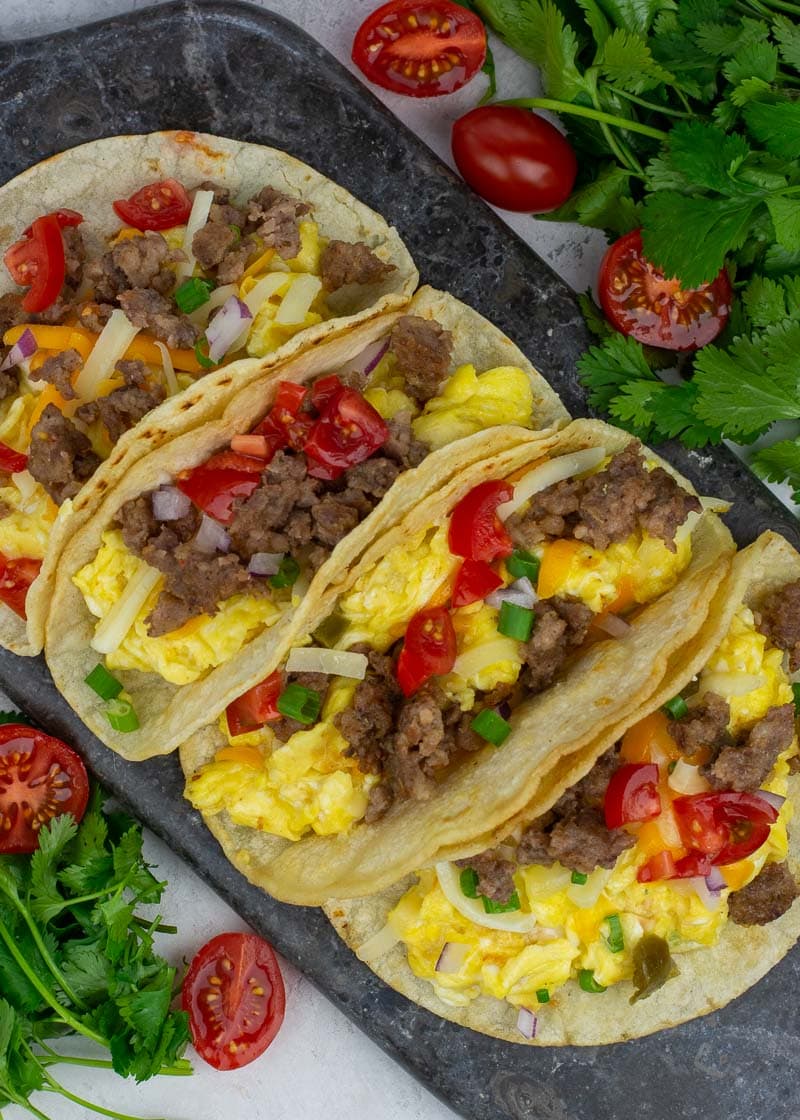 How to make Breakfast Tacos
There are a few steps to these tacos, but you can easily set this meal up so everyone can assemble their own tacos! To make this easy breakfast recipe you simply need to follow this guide:
Sausage: Cook and crumble the breakfast sausage. This is an easy step to do the night before if you want to make breakfast come together quickly.
Scramble: Scramble the eggs to your liking. I like fresh eggs, but it is safe to reheat eggs, so this step can actually be done the night before as well if you prefer.
Assemble: Warm the tortillas if you wish, fill with warm sausage, eggs, cheese and veggies!
Serve
This sausage breakfast taco is great on its own, but add a Sunshine Shake or Coffee Frappuccino to wash it down! If you want to add some variety, add some Breakfast Chaffle Toasts or Lemon Cheesecake Parfaits.
Store
Easy breakfast tacos can be stored in the fridge in an airtight container. For the freshest tortillas, do not assemble them ahead of time — Instead, store your tortillas separately. If you do prefer to assemble and then store your tacos, consider adding the Pico de Gallo right before eating. This will help reduce the amount of moisture that could cause the tortillas to tear.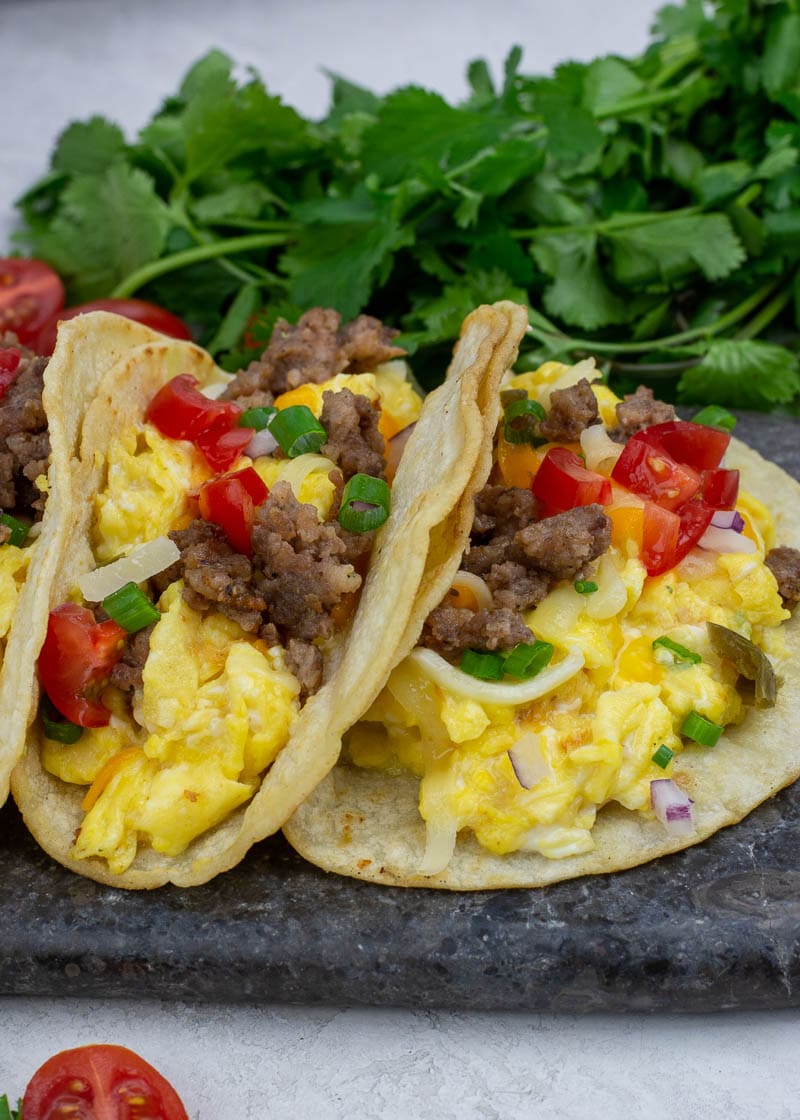 Freeze
Breakfast tacos are easy to freeze! I do recommend leaving off the Pico de Gallo when freezing because raw vegetables can sometimes get a funky texture when frozen. To freeze, place assembled tacos flat on a baking sheet.
Freeze for 1-2 hours, then remove from the pan and transfer to a freezer bag. If you're worried about freezer burn, you could further protect your tacos by wrapping each one twice in plastic wrap before bagging them.
Tacos will last 2-3 months, but the texture is best the earlier you thaw them. Thaw in the fridge overnight for the best texture, but you could also microwave from frozen if you're in a hurry.
Reheat
These tacos can be easily reheated in the microwave — I prefer to heat in 45-second bursts on 50% power to make sure things get hot without overcooking. To make sure your tortilla doesn't get soggy while reheating, place the tacos in between two paper towels before heating.
You can also reheat in the air fryer or oven. Wrap your tacos in aluminum foil, then cook (350 for oven, 325 for air fryer). Heat 5-10 minutes, then open and heat another 1-2 minutes to crisp up any soggy parts of the tortilla.
If you love Breakfast Tacos, you'll love these recipes: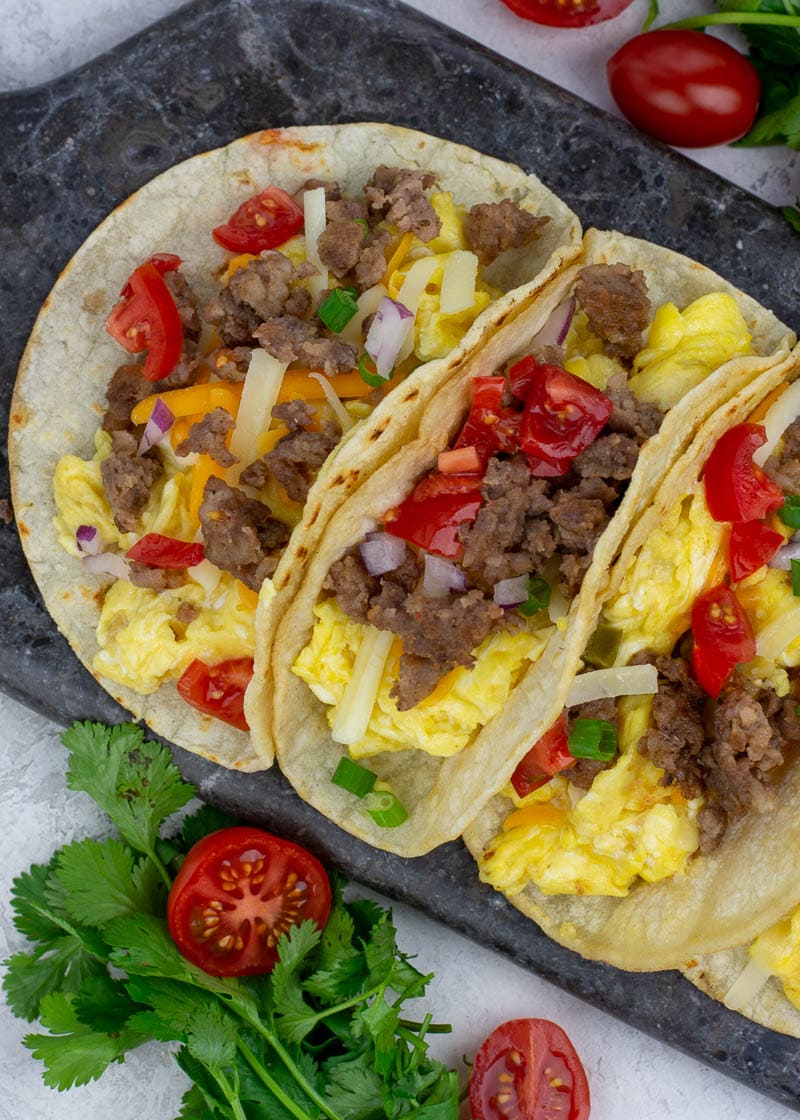 FAQ's about Breakfast Tacos
What kind of tortilla do you use for breakfast tacos?
This recipe will work with corn, flour, gluten free or low carb tortillas. The nutritional information below the recipe reflects Carb Balance Street Tacos.
Is this good for meal prep?
Yes, you can make the sausage and eggs ahead of time and simply reheat and assemble if you wish.
What else can you put in a breakfast taco?
Sauteed veggies are great in breakfast tacos — Mushrooms, peppers, zucchini, and more all make delicious choices. Fresh herbs like basil or chives add a ton of flavor, too. Sauces/dips like salsa, guacamole, jalapeno ranch, etc. all would improve breakfast tacos!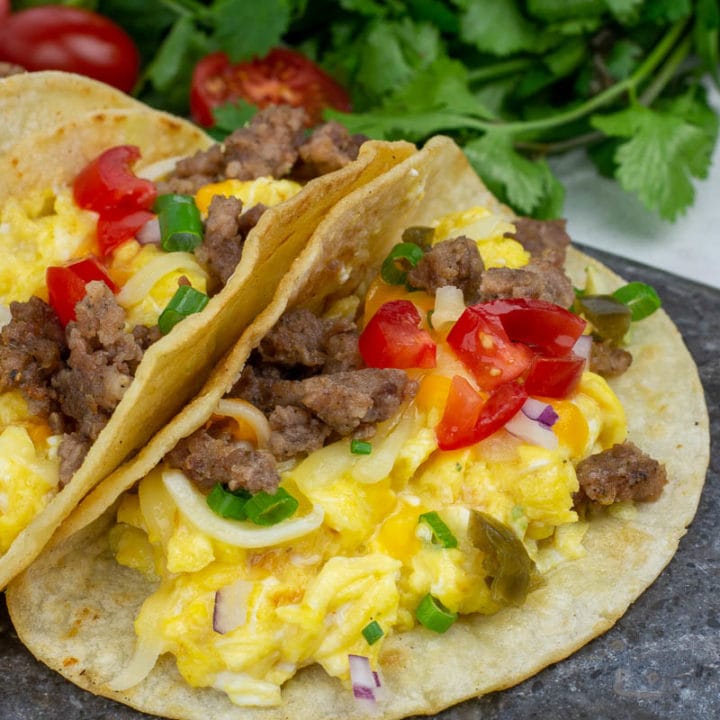 Easy Breakfast Tacos
Yield:
8 tacos (4 servings)
These Easy Breakfast Tacos are the best way to start the day! This simple breakfast recipe is packed full of protein and can be made ahead of time for a quick morning.
Ingredients
8 street size tortillas (corn, flour, gluten free, or low carb)
4 large eggs
1 cup crumbled breakfast sausage (check notes for keto-friendly breakfast sausage seasoning)
1/2 cup shredded cheddar cheese
1/2 cup Pico de Gallo (or chopped tomatoes and onions)
Instructions
Brown and crumble the sausage, set aside.
Scramble the eggs.
Warm the tortillas if you wish and fill with the sausage, eggs, cheese and pico.
Recommended Products
As an Amazon Associate and member of other affiliate programs, I earn from qualifying purchases.
Nutrition Information:
Yield:

4
Serving Size:

2 tacos (nutrition reflects carb balance street taco tortillas)
Amount Per Serving:
Calories:

276
Total Fat:

18.7g
Cholesterol:

227mg
Sodium:

665mg
Carbohydrates:

21.2g
Net Carbohydrates:

4.2g
Fiber:

17g
Sugar:

0.5g
Protein:

21g