This Keto Breakfast Quesadilla is packed full with chunks of savory ham, fluffy scrambled eggs, and two types of cheese. Under 5 net carbs when made with low carb tortilla, too!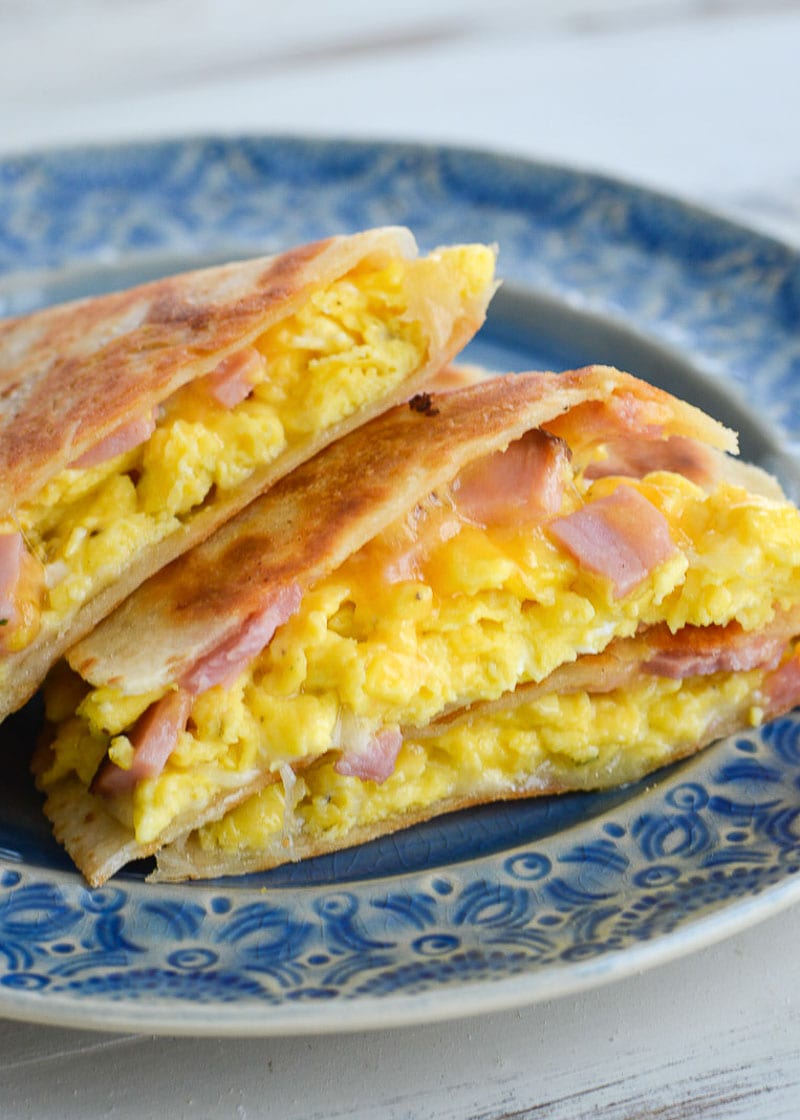 Easy Breakfast Quesadilla
Everyone needs a few basic recipes that can be prepared in a pinch, but leave you completely satisfied. This Easy Breakfast Quesadilla is a simple family friendly recipe we enjoy often. Just grab your favorite tortilla, it can be a regular flour tortilla, gluten free or low carb, top it with eggs, ham and two kinds of cheese!
This is a great grab and go breakfast that can be made on the stove top or in the air fryer. It is also really easy to customize based on your preferences, simply add some peppers and onions or switch up the protein if you'd like!
Egg Quesadilla Ingredients
Here's a quick overview of the ingredients for this easy breakfast recipe, but keep scrolling for exact measurements!
Tortilla – I used a Mission Carb Balance Tortilla, but you can use a gluten free version or even a Zucchini Tortilla if you'd like.
Ham – I cut mine into chunks. You can use sliced deli ham, chopped country ham, or leftover holiday ham if you prefer.
Eggs – Softly scrambled
Cheese – I used a mixture of Swiss and Cheddar cheeses, but any easily-melting cheese will work.
Butter – Salted or unsalted are fine. Mayonnaise also provides a good coloring, or you could use a little spray of oil if you're trying to cut down on calories.


How to Make a Breakfast Quesadilla
This quesadilla is easy and quick! You'll find specific instructions down below in the printable recipe card, but here's the gist.
After melting the butter in the skillet, add your tortilla and allow it to cook 3-4 minutes while you top one half with the eggs, ham, and cheese. Fold the empty side of the tortilla over to cover the fillings and continue cooking for a couple more minutes, until the cheese has melted and the tortilla is nicely browned.
Can You Air Fry a Quesadilla?
Yes, you can make a quesadilla in an air fryer! You can find all instructions here — It takes about 10 minutes and is more hands-off if you don't want to mess with the skillet on the stove.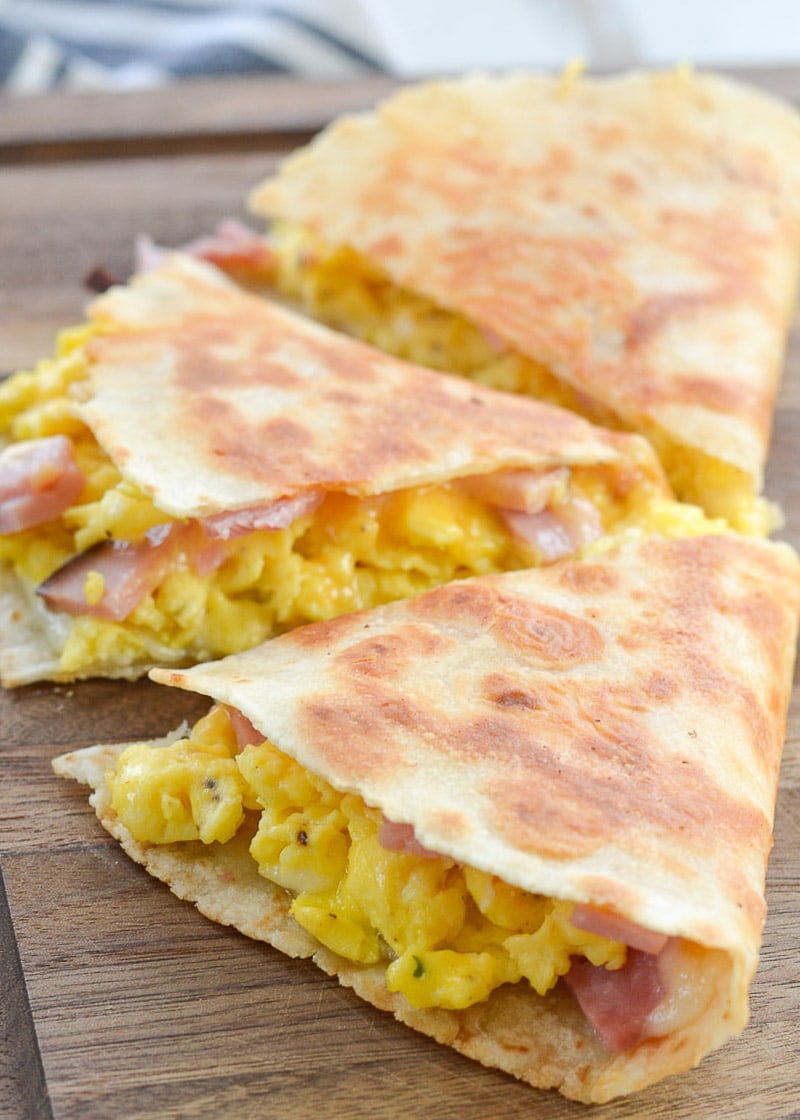 What to Serve with Breakfast Quesadillas
This is really a complete meal on its own. However, if you would like to serve this with something else we really love a side of fruit, or these little Broccoli Cheese Bites.
How to Store and Reheat Quesadillas
Yes, quesadillas are very easy to meal prep and reheat well, too! If you want to prep this but cook it fresh, you can assemble your quesadilla and store it in an airtight container (or wrap in plastic wrap) up to 3 days in the fridge.
You can also cook your quesadilla ahead of time (up to 3 days) if that's easier. Allow it to cool completely before storing in an airtight container in the fridge. To reheat, there are several ways to warm your quesadilla.
Microwave – Quickest, but you'll lose any crispy edges.
Skillet – Decently quick, keeps your crispy edges, but don't turn the heat to high because it can burn the tortilla before the filling is warmed up.
Air Fryer – (about 350-370 degrees depending on how browned the tortilla already is) Takes a bit more time but gets it very crispy
How to Freeze Quesadillas
I only recently learned that you can freeze quesadillas, whether they're cooked or not! Simply wrap your assembled quesadilla (completely cooled if it's already been cooked) 2-3 times in plastic wrap, then store in a freezer bag.
It should keep for 2-3 months but the quicker you eat it, the best texture it'll have. Thaw before reheating using any of the methods above. If your cooked quesadilla isn't completely thawed before you wrap it up, you're likely to get freezer burn and/or end up with a soggy quesadilla after reheating.


More Keto Breakfast Recipes
Breakfast Quesadilla (keto + low carb)
This Keto Breakfast Quesadilla is packed full with chunks of savory ham, fluffy scrambled eggs, and two types of cheese. Under 5 net carbs when made with low carb tortilla, too!
Ingredients
1 tortilla
2 eggs, scrambled
1/3 cup chopped ham
1/4 cup shredded cheddar
1 slice Swiss cheese
A pat of butter or spray of oil for skillet
Instructions
Preheat a skillet to medium heat, then add enough butter (or add a spritz of oil) to cover the skillet.
Place the tortilla in the skillet, then top it with the remaining ingredients, adding salt and pepper if you prefer.
Cook the open tortilla 3-4 minutes. When it has started to brown a bit, fold the other side over the fillings and continue cooking 1-2 more minutes (flipping the tortilla if one side needs to be more browned).
Nutrition Information:
Yield:

1
Serving Size:

1 quesadilla (using Mission Carb Balance Tortilla for these numbers)
Amount Per Serving:
Calories:

308
Total Fat:

16.8g
Cholesterol:

414mg
Sodium:

490mg
Carbohydrates:

19.7g
Net Carbohydrates:

4.7g
Fiber:

15g
Sugar:

0.4g
Protein:

30g