My Easy Keto Meal Plan includes five easy low-carb dinner recipes plus a bonus keto dessert! With net carb counts, serving amounts, meal prep tips, and a printable shopping list, keto can't get much easier!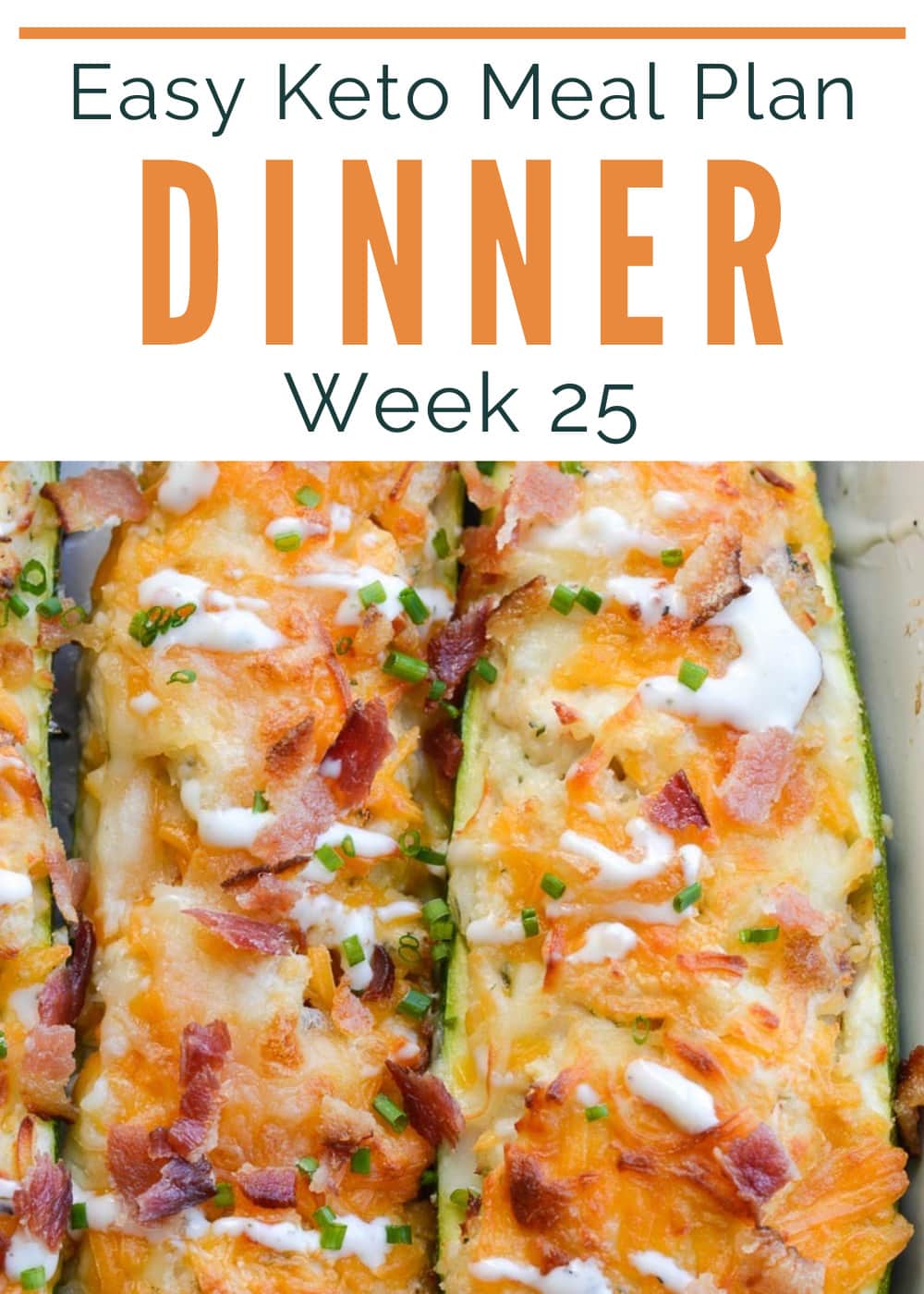 Each week I'm trying to help take the stress out of a keto diet by giving you FIVE low-carb dinner recipes plus a bonus meal prep recipe that helps keep you on track! This week the bonus recipe is this delicious Low Carb Peanut Butter Chocolate Fudge! The poll this week was between this fudge and these tasty Cookie Dough Bites, and it was such a close one!
When you click through to each individual recipe, it'll take you to the full, detailed, step-by-step instructions. This includes a printable recipe card that includes nutrition information, too (right at the bottom of the card). To figure out the net carb count, I subtract the amount of fiber from the amount of carbs.
At the bottom of this post, you'll find a printable meal plan (with space to fill in your own needs & weekend plans) as well as an organized grocery list to help make things even easier. I included meal prep tips for each meal so you can easily organize a "prep day" to make your week easier or find time during the week to make sure your evenings run smoothly!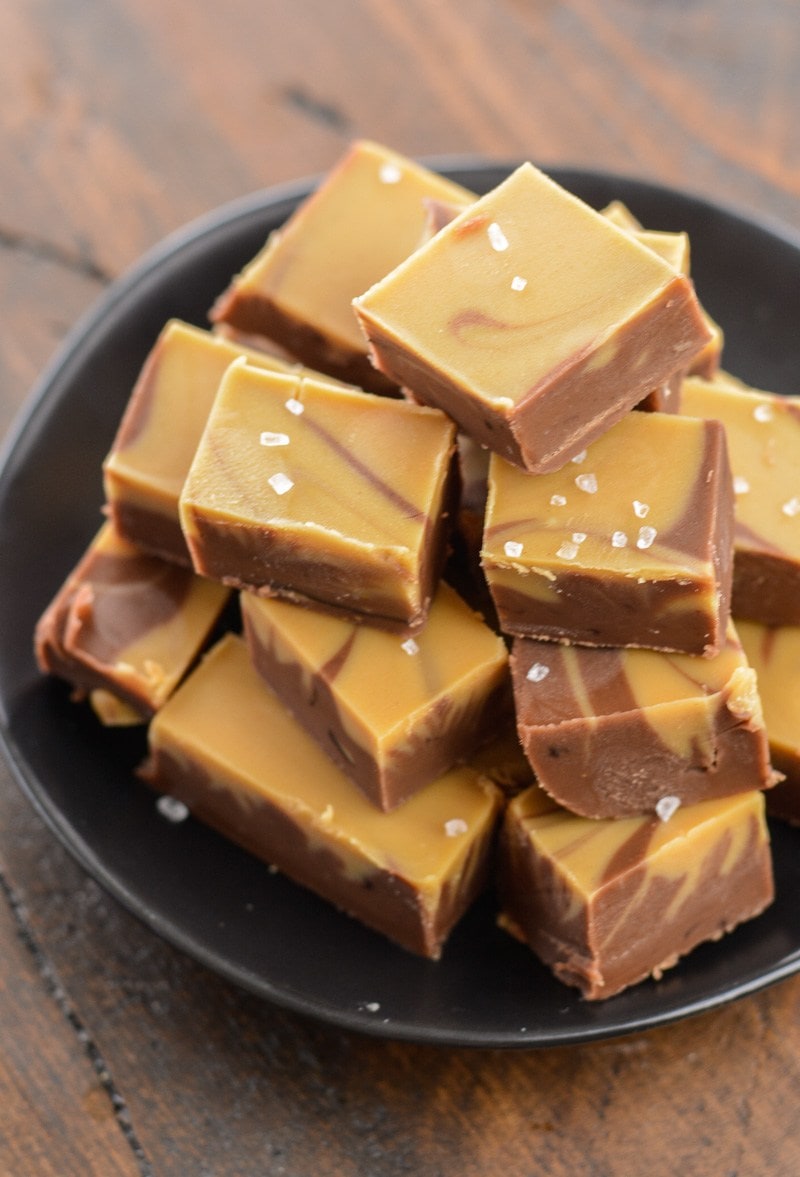 This tasty Peanut Butter Chocolate Fudge is low-carb and the perfect way to satisfy that sweet tooth! It makes 21 pieces at only 2.2 net carbs a piece! It makes a great freezer snack or lunchbox dessert! Store in the fridge up to 2 weeks or freezer up to several months to keep the best texture.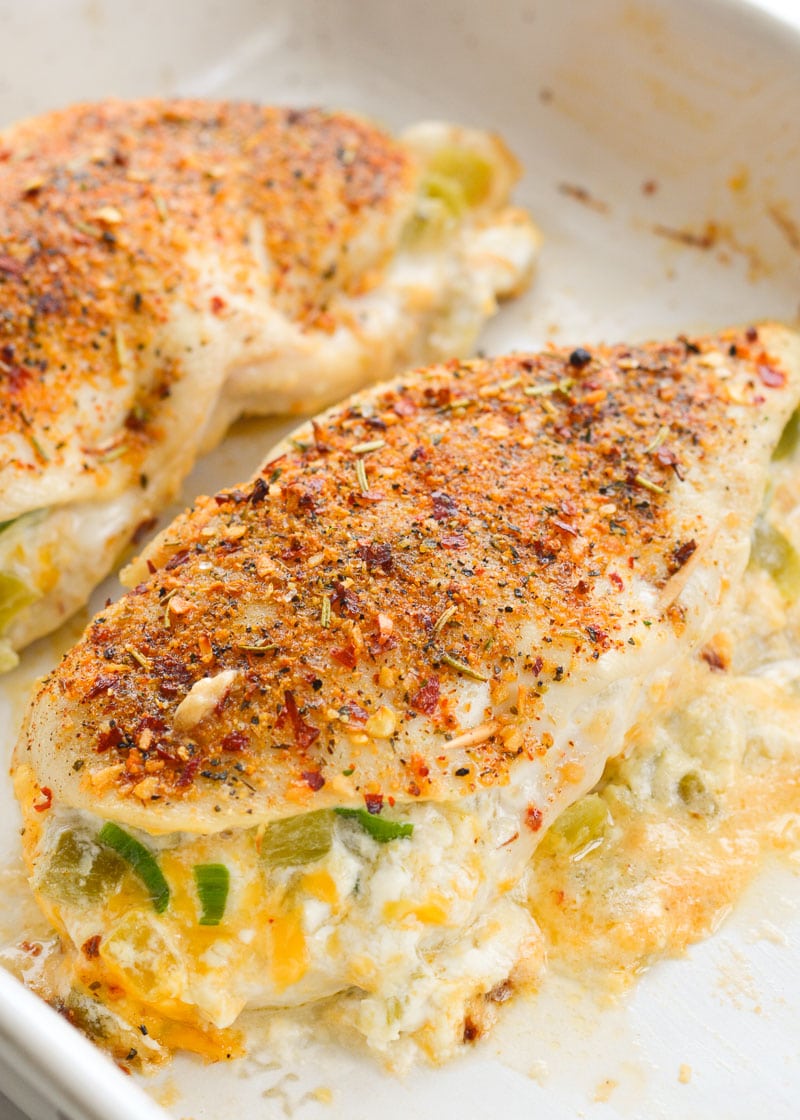 While this Green Chili Stuffed Chicken looks and tastes super impressive, it's super easy for a weeknight dinner! The mild spice from the green chilis is perfect with the creamy goodness of cream cheese and cheddar. Only 2.4 net carbs per stuffed chicken breast!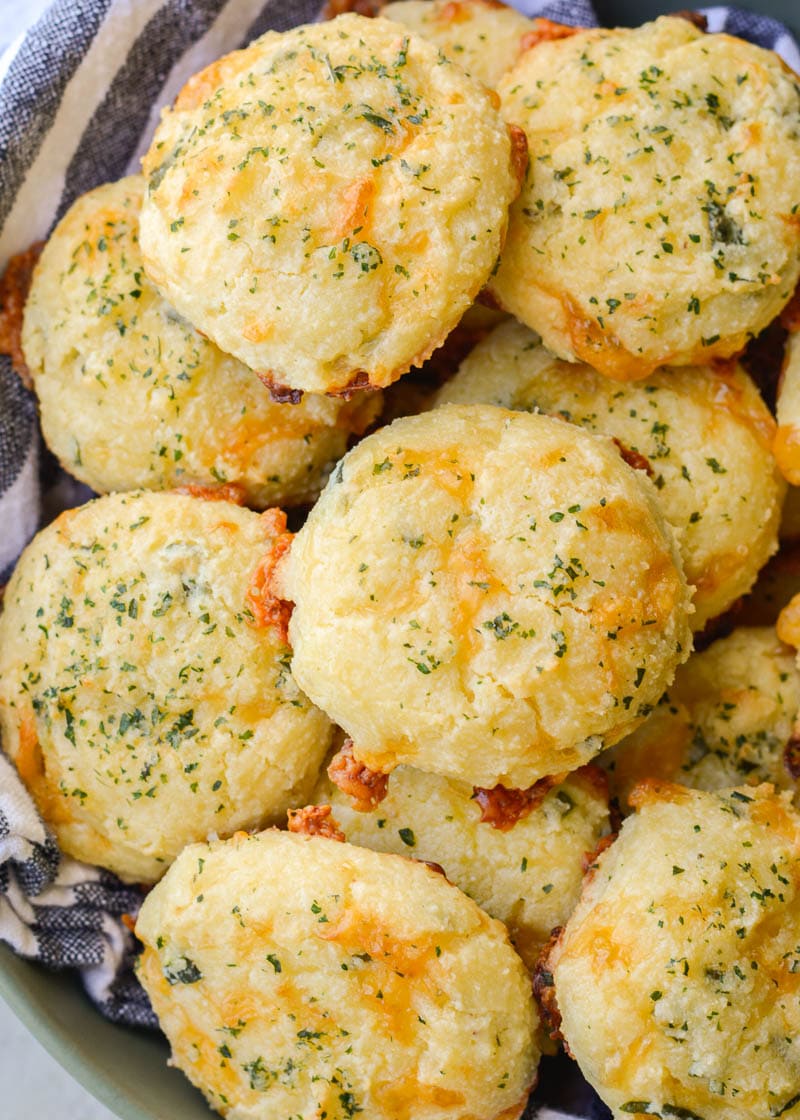 We LOVE this Three-Cheese Biscuits! Each biscuit is only 2 net carbs a piece, and this recipe makes 22 of them. They're wonderfully cheesy and pair well with pretty much everything… For breakfast, with chicken, with soup, anything! Make a double batch if you want and freeze the leftovers.
1 stuffed chicken breast + 2 biscuits = 6.4 net carbs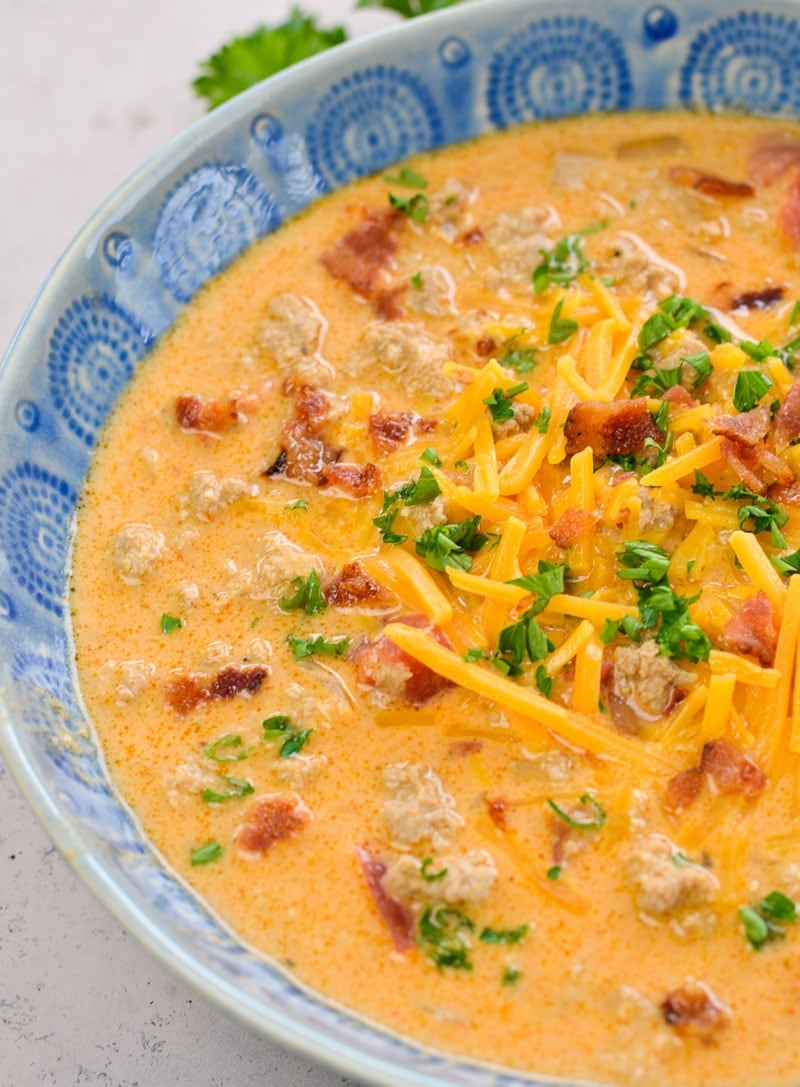 This Bacon Cheeseburger Soup is easy to make on the stovetop and super flavorful! It makes 8 generous servings (1-1/2 cups), and each one is only 5.9 net carbs. It makes excellent lunch leftovers!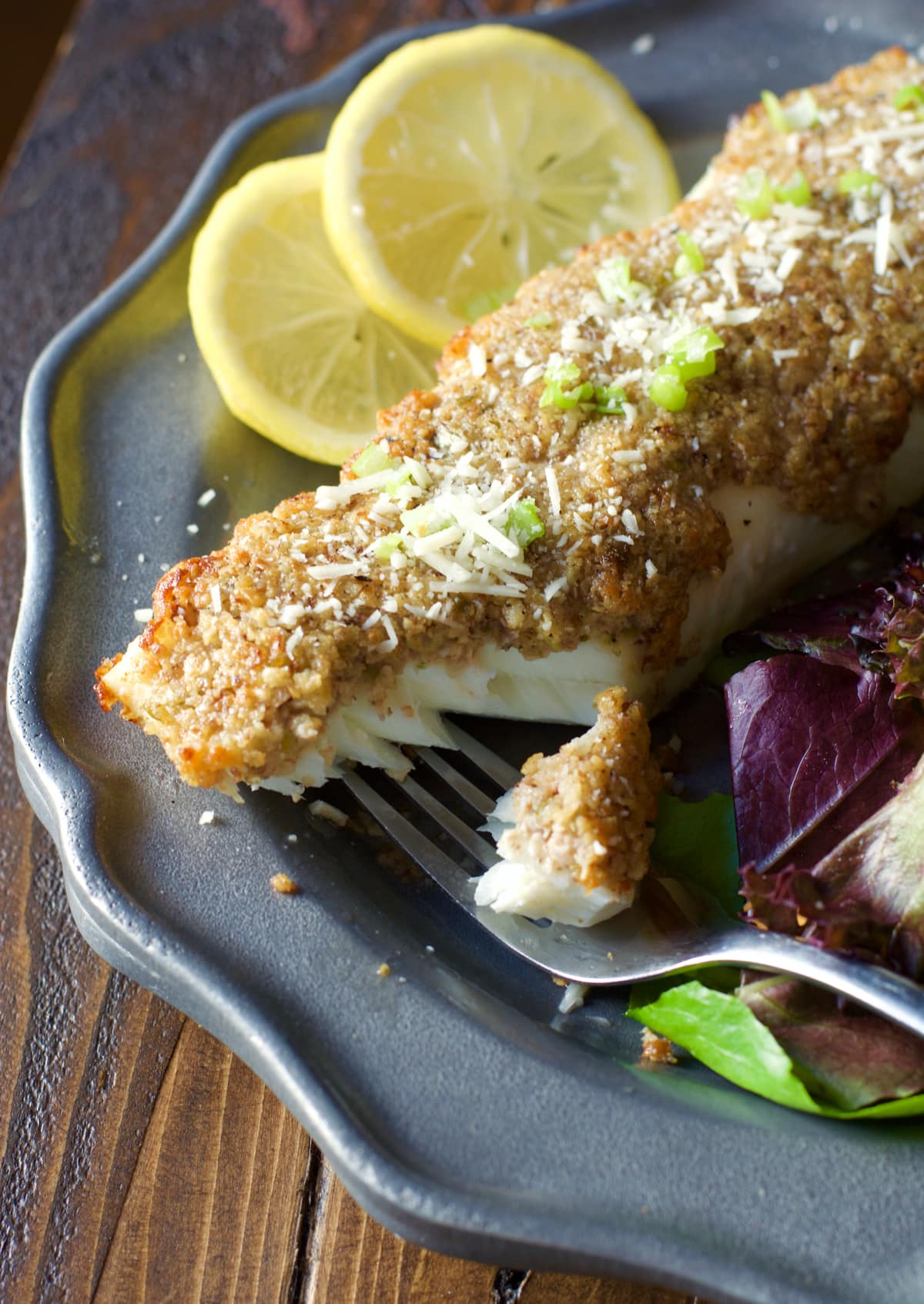 This Parmesan Crusted Halibut comes together super quickly and is ready in 20 minutes! The flaky fish topped with the buttery, crunchy pecan topping is super satisfying and has only 3 net carbs per serving. If doubling or tripling the recipe, just grab more halibut filets.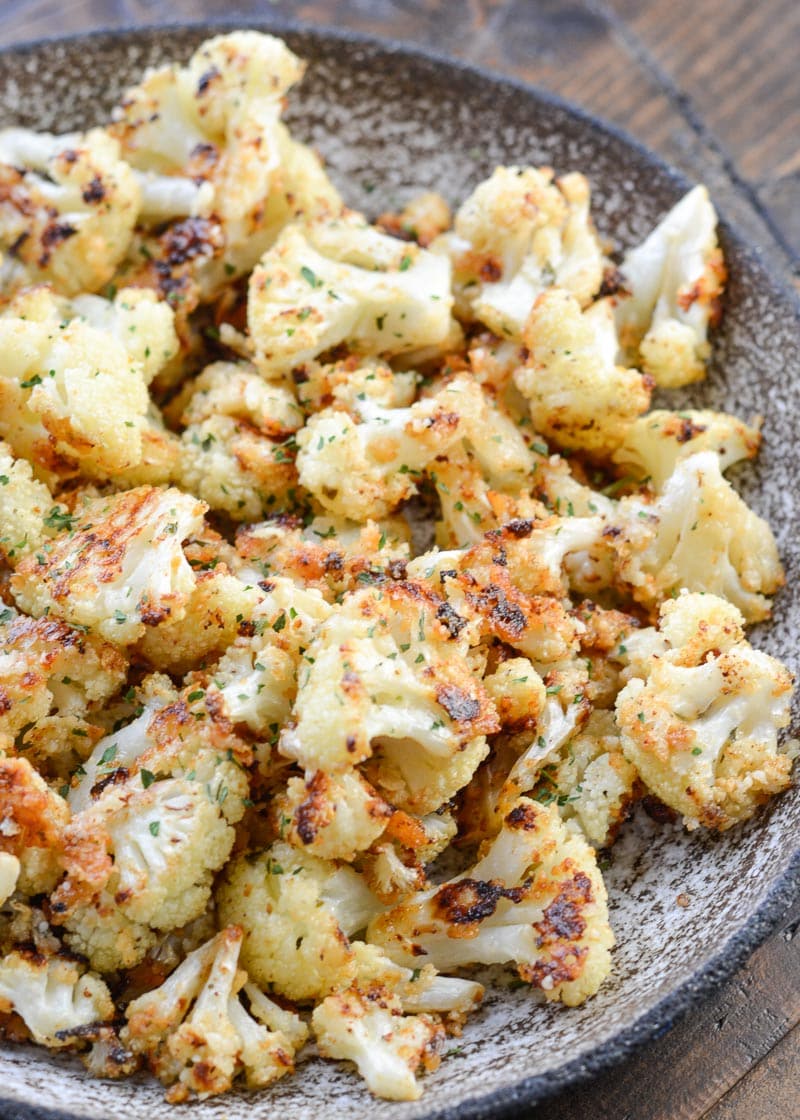 Parmesan Roasted Cauliflower is such an easy side dish that pairs perfectly with just about anything! The cheesy, crispy edges are great with the fish (and the biscuits if you have any left over)! Each serving is 3.5 net carbs.
A piece of halibut + a serving of cauliflower = 6.5 net carbs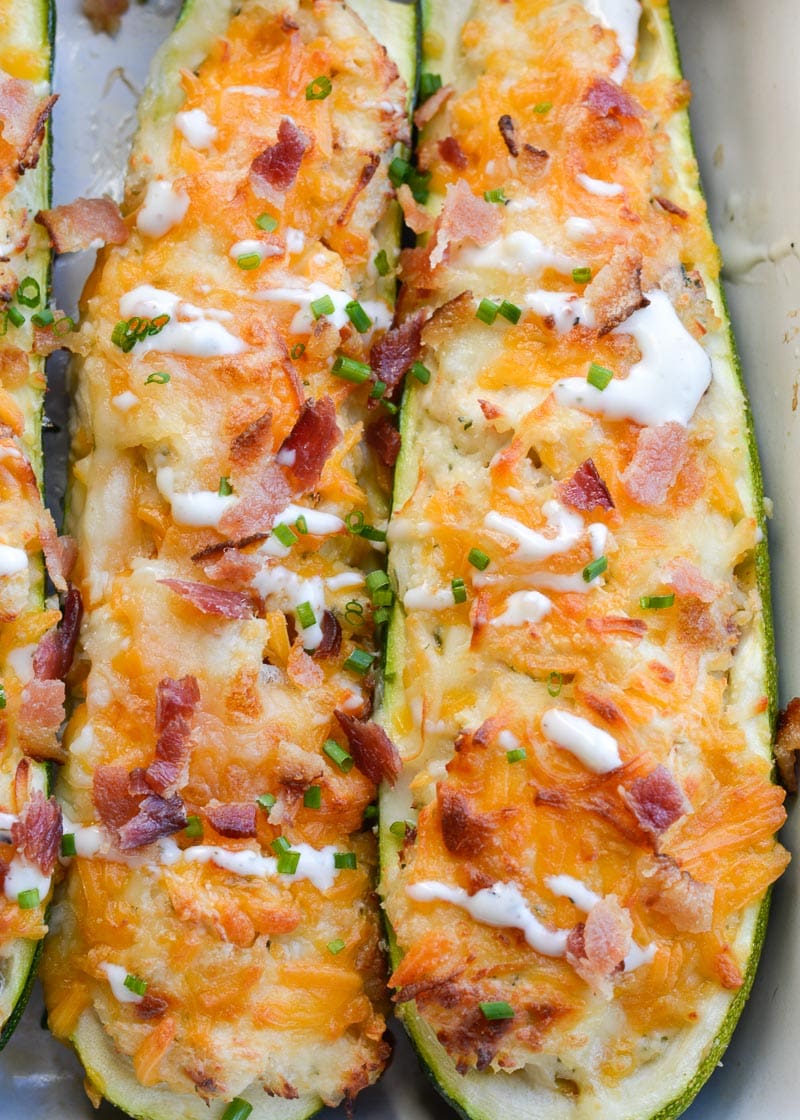 We always love the ease and deliciousness of these Chicken Bacon Ranch Zucchini Boats. It's a complete meal and leads each person to eat half a zucchini–Not an easy feat for picky people, usually! Each zucchini boat comes in at 2.5 net carbs, and it makes 4 total.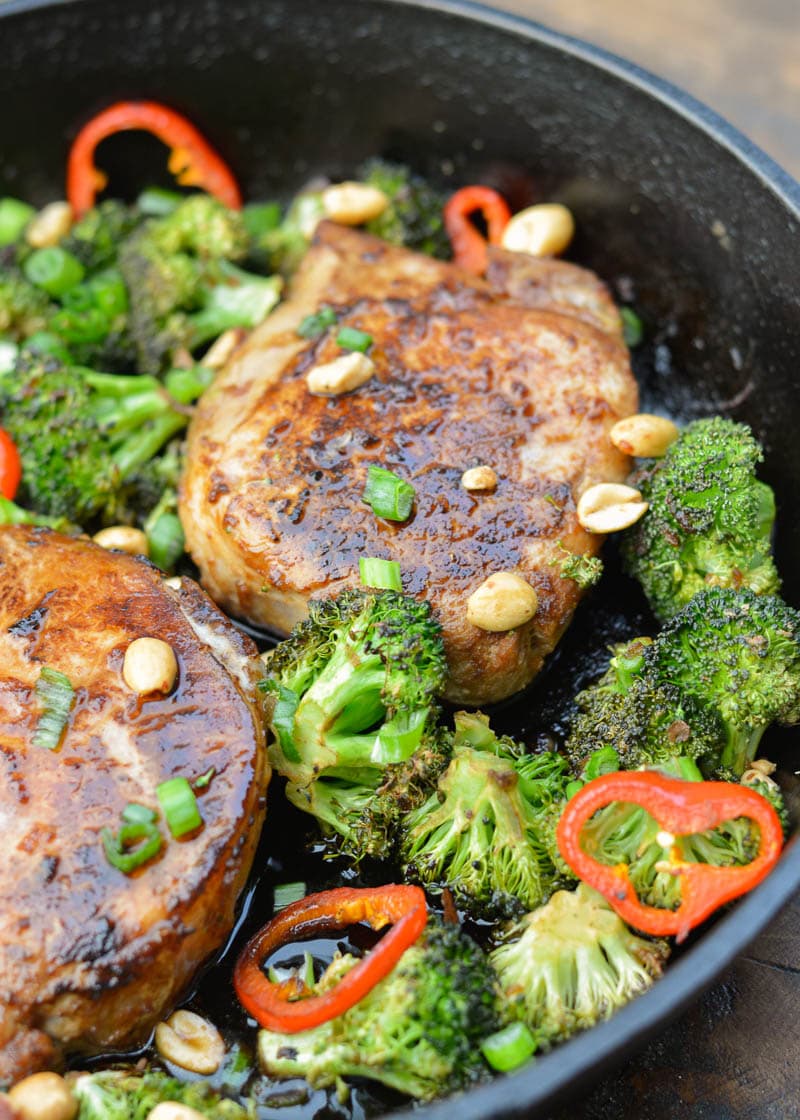 This is a new dish, but I just had to add it because it was a big hit! These Asian Pork Chops with Sesame Roasted Broccoli is packed full of flavor with only 7.3 net carbs. This dish makes four very filling servings, and you'll love the crunchy garnish!
Keto Meal Prep Tips:
Stuffed Chicken & Biscuits –
You can easily meal prep this recipe. The biscuits can be cooked entirely, then stored in a closed container on the counter. They'll keep for several days and are wonderful with all of this week's meals!
The stuffed chicken can be stuffed and baked, then stored in the fridge up to three days. To reheat, you can microwave or warm in the oven. If you're worried it'll get too browned, just cover with a piece of foil. Alternatively, you could butterfly the chicken, stuff it with the green chili cheese mixture, and store in the fridge a couple days until ready to cook and serve.
Cheeseburger Soup –
You can make this soup ahead of time and store it in the fridge if you plan to eat it in the next 2-3 days. To reheat, just warm it slowly over the stove or microwave in 30-second increments. I wouldn't put the bacon in until ready to serve so that it stays nice and crispy. If you want to freeze this soup, simply make the entire thing, but leave out the cream cheese and shredded cheddar. When you thaw and reheat the soup, simply add it in and stir.
If you just want to speed up the process, you could go ahead and prep this meal by cooking your ground beef and bacon. This way all you have to do is toss your ingredients in and let it simmer 10-15 minutes! This makes it a quick and easy meal everyone will love.
Halibut & Cauliflower –
As with most seafood and roasted vegetables, this dish wouldn't be great as a meal prep option. Instead, you could make the parmesan pecan mixture for the fish up to two days ahead and cut the cauliflower into florets 1-2 days ahead. Then you'll just have to spread the mixture onto the fish, toss the cauliflower in the ranch, and cook.
I use my toaster oven for the fish and my oven for the cauliflower. You could air fry the cauliflower at 390 degrees F for 15 minutes (shake every 3-5 minutes for an even cook). You could also cook it in the oven at the same time as the halibut on 450, just watch it carefully so the tops don't burn. Cover with aluminum foil if it begins to brown too quickly.
Zucchini Boats –
You can prep this meal entirely or in batches, depending on your preference and the time you have available. You can fill and cook the zucchini boats (undercook by a couple minutes), then reheat in the stove when ready to serve. If you prefer them super fresh, you could just make the chicken filling ahead of time (leaving out the bacon until cooking so it stays crisp), then cook in 1-3 days.
Pork Chops & Broccoli –
For this dish, you can meal prep it by simply making it up to 3 days ahead of time (undercooking by just a few minutes), allowing it to cool, then storing in the fridge. When you're ready to serve, just place back into a skillet and allow it to reheat and finish baking. Use a meat thermometer to make sure the pork is finished.
Week 25 Easy Keto Meal Plan & Shopping List (Click here to download)