This Easy Keto Meal Plan includes 5 delicious keto dinners and a low-carb meal prep breakfast recipe! Use the printable shopping list and meal prep tips for a simple week on keto!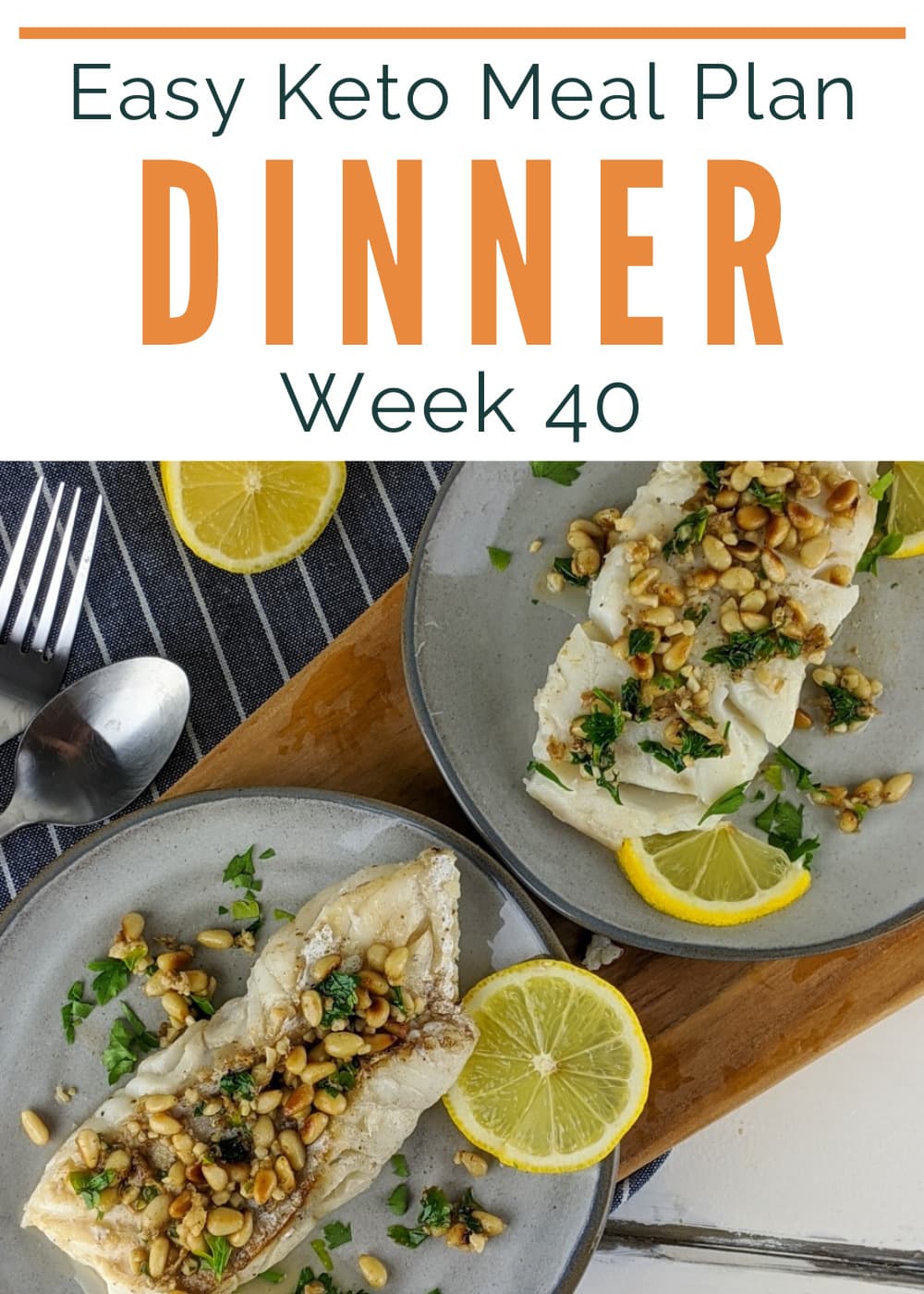 As always, this weekly keto meal plan includes 5 easy keto dinners, and I've included side suggestions. I included a meal prep breakfast to help you stay on track from sun up to sun down!
I'm making keto as easy as possible… Just download the grocery list for all the ingredients you need for these dinners and bonus recipes! Click through to each individual recipe for a printable recipe card with net carbs and macros, then scroll to the bottom of this post for keto meal prep tips and a printable meal plan + grocery list!
If you're having trouble downloading the recipes or meal plan, check to make sure your ad blocker is turned off.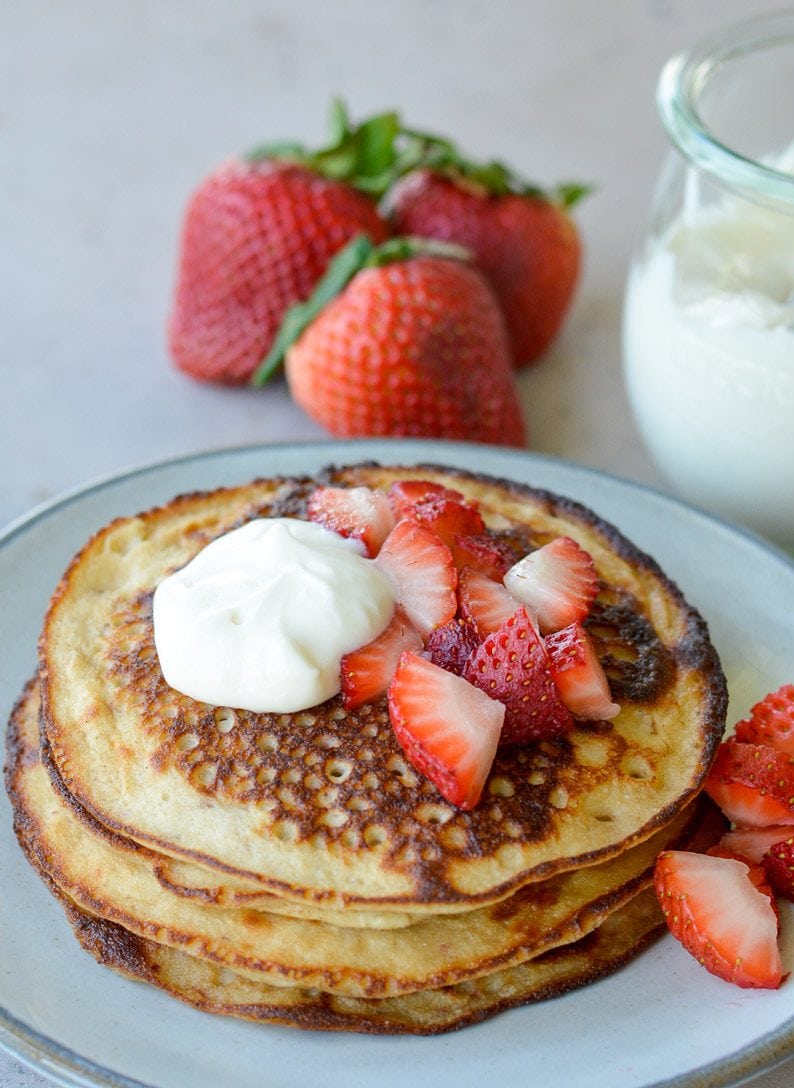 These delicious Keto Strawberry Pancakes are the perfect way to celebrate National Flapjack Day (Monday, March 7th)! Each pancake + a teaspoon of glaze comes to just 2.3 net carbs, so you can enjoy a stack of 3 for 6.9 net carbs! The pancakes reheat easily, so feel free to make a double batch and eat them throughout the week!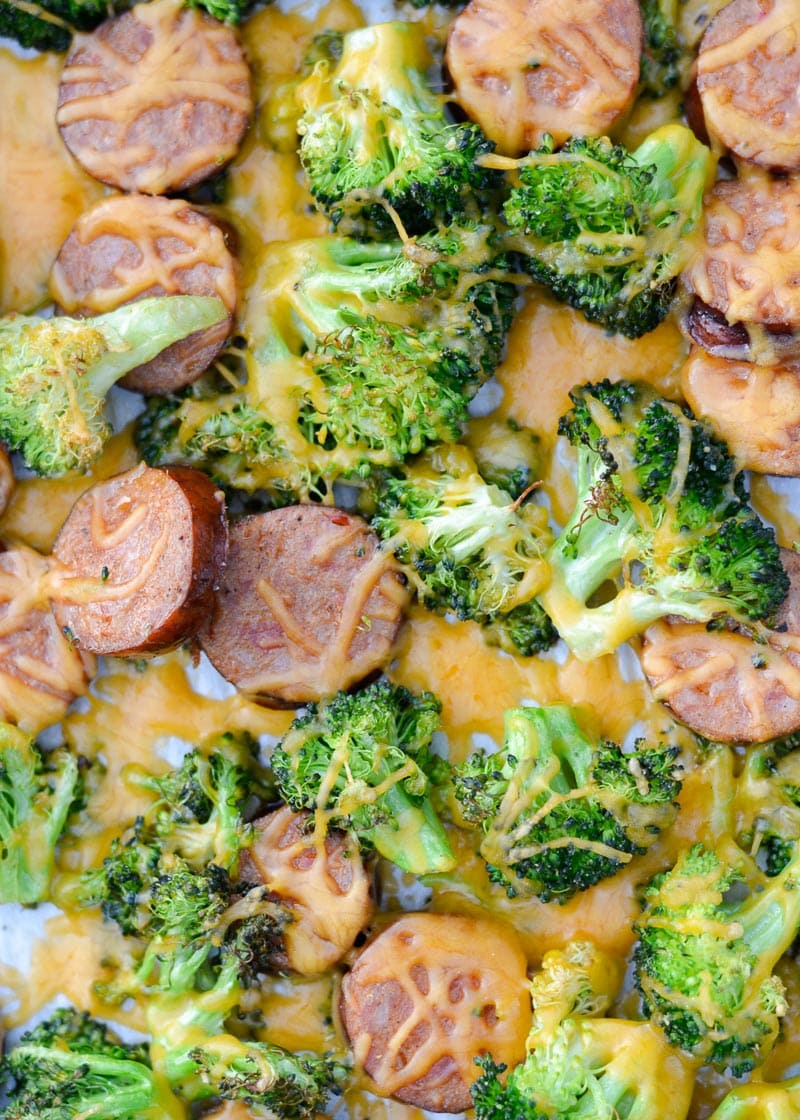 This Sausage Broccoli Cheddar Sheet Pan is ready in 30 minutes and only dirties one pan! This recipe makes 4 servings at 6.6 net carbs each. Side suggestion: Garlic Butter Mashed Cauliflower – 6 servings, 4.4 net carbs; The crispy broccoli edges are perfectly complemented by this smooth, delicious cauliflower mash.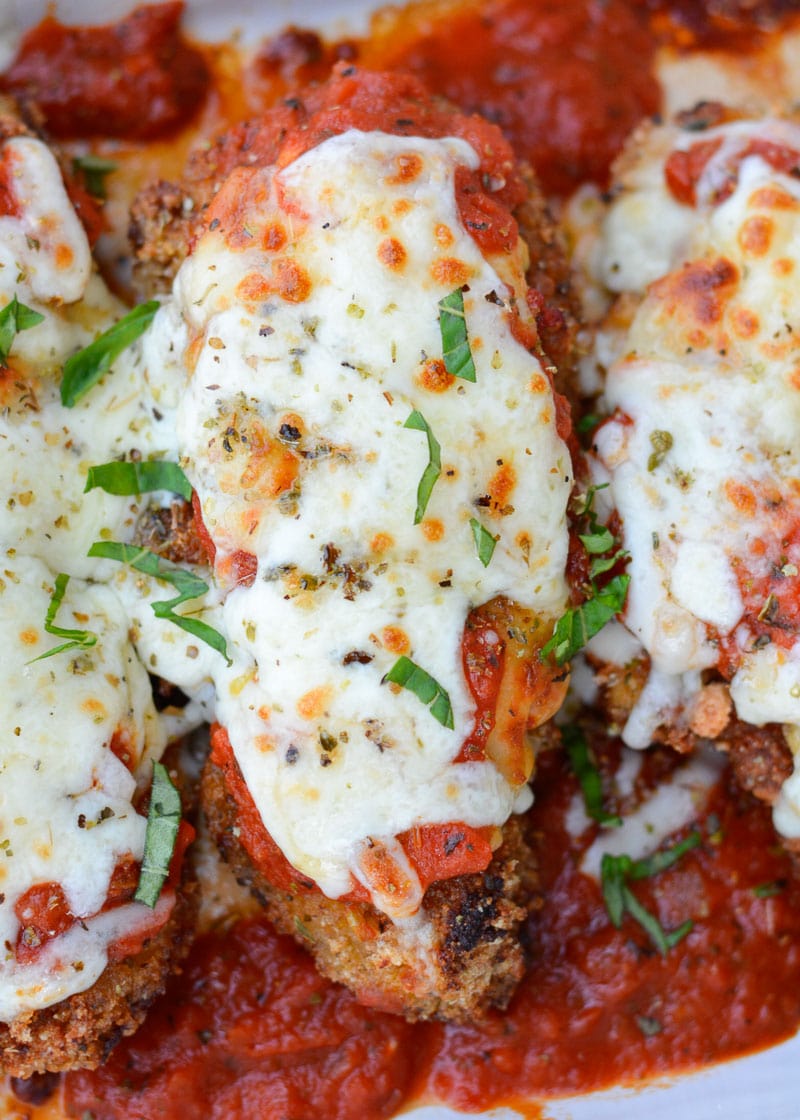 This Chicken Parmesan is impressive enough for company but easy enough for a Tuesday night. This recipe makes 4 servings at 5.1 net carbs. Side suggestion: Cacio e Pepe Zoodles – 2 servings, 2 net carbs each; These are easy to meal prep and serve as a great light lunch, too!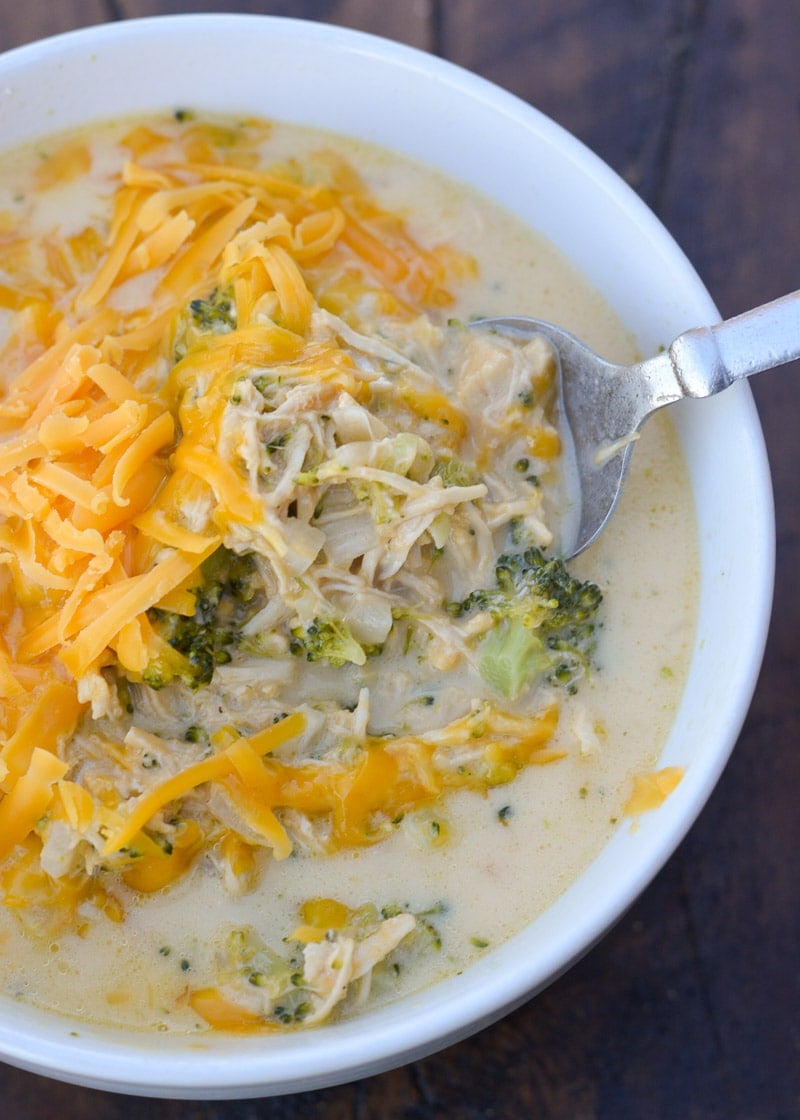 This Keto Broccoli Cheddar Soup with Chicken is comforting, nutritious, and easy! This recipe makes 8 servings at 4.3 net carbs each. Side suggestion: Keto Bacon Cheddar Chive Biscuits – 12 large biscuits, 4 net carbs each; These are the perfect meal prep keto recipe!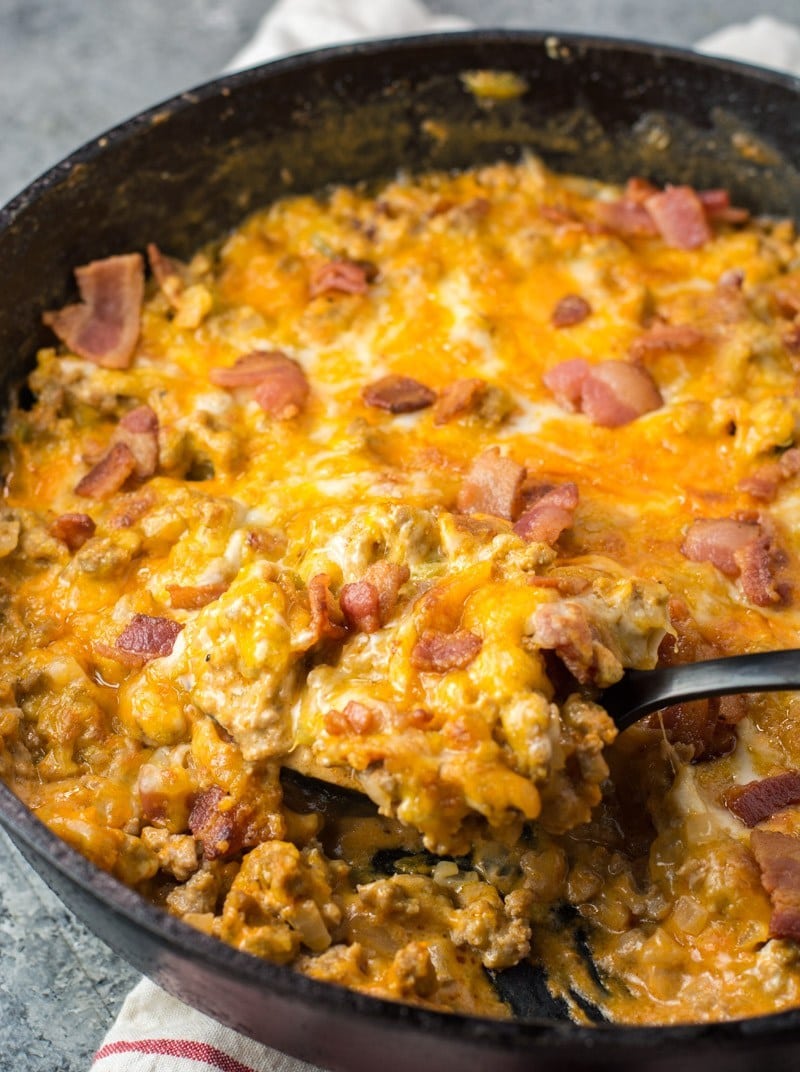 This Bacon Cheeseburger Casserole Skillet is perfect for meal prepping and is ready in 20 minutes! This recipe makes 4 servings at 4.8 net carbs each. Side suggestion: Bacon Cheddar Cauliflower Tots – 4 servings (9 tots each), 6.1 net carbs; These are the perfect kid-friendly side dish to serve with the burger flavors!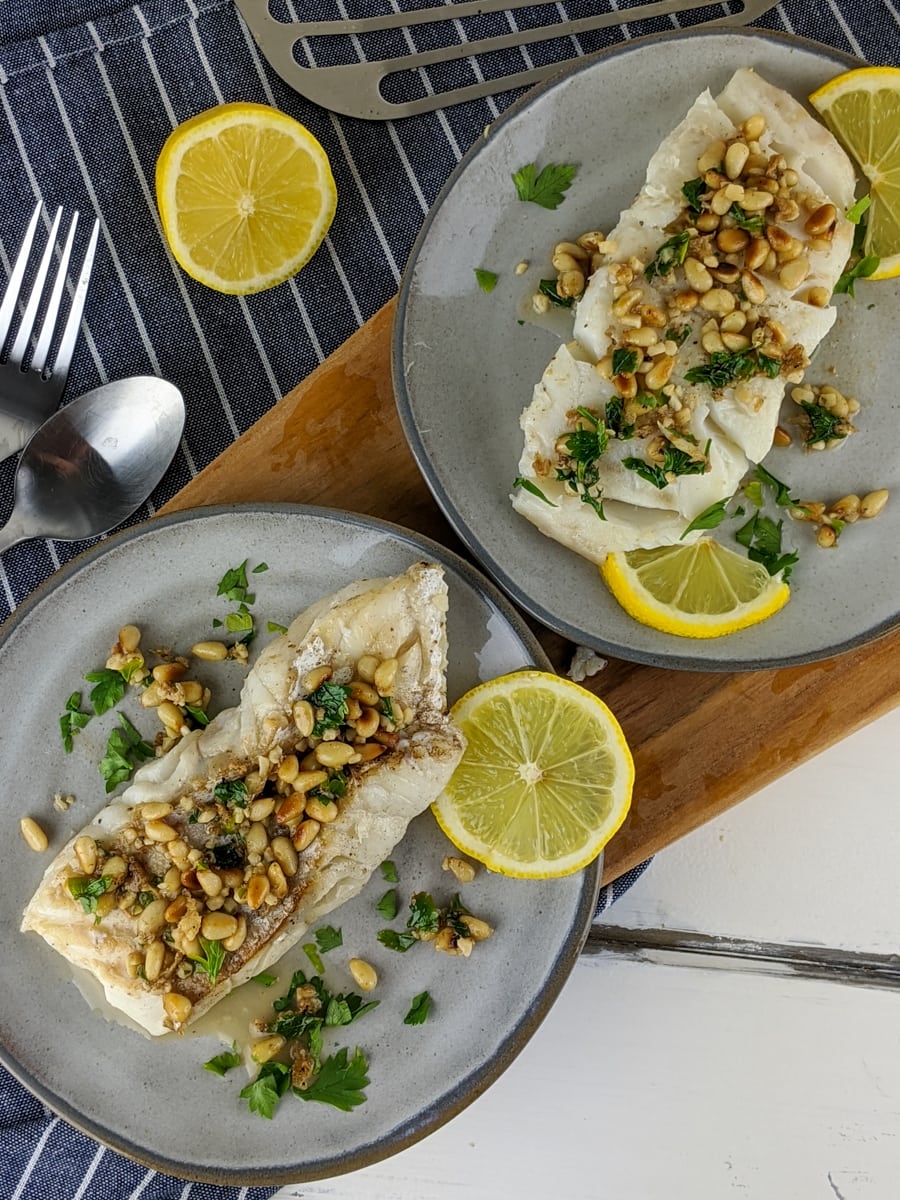 This Lemon Garlic Fish is ready super quickly and is the perfect dinner to end the week! This recipe makes 4 servings, just 2 net carbs each! Side suggestion: Air Fryer Broccoli – 3.1 net carbs, 4 servings; this broccoli is amazing and takes just 8 minutes to cook. This makes this a super healthy, quick meal!
Keto Meal Prep Tips
Sheet Pan –
This is easily meal prepped. Just bake, store in the fridge up to 3-4 days, then reheat in the oven when ready to serve. If you're worried it'll brown too much, cover with foil… But I really love the crispy bits, so I try to keep it uncovered if possible.
Chicken Parmesan –
You can make this ahead of time, but it definitely reduces the crispiness of the breading on the chicken. To speed up the process without losing any of that great texture, you might want to just slice the chicken (store in the fridge up to 3 days) and mix up the breading (store in an airtight container in the fridge. When ready to serve, you'll at least have less prep work to do!
Broccoli Cheddar Soup –
Easy meal prep dinner! You can make this up to 4 days ahead of time and store in the fridge. Reheat in a pot on the stove, in a slow cooker, or by the bowl in the microwave.
Cheeseburger Skillet –
This skillet works well as a meal prep recipe. You can make it entirely, store in the fridge 3-4 days, then reheat covered on the stove or covered in the oven (if you used an oven-safe skillet). I think the shredded cheese has the best texture if you don't add it until ready to reheat and serve.
Fish –
I've never made this dish ahead of time as I prefer my fish fresh. I suppose you likely could make this ahead of time if you wanted, but I'd be very careful to not overcook the fish.