These Keto Bacon Cheddar Chive Biscuits are exploding with flavor! Packed with sharp cheddar cheese, crispy bacon and fresh chives, these biscuits are the perfect low-carb side with just 4 net carbs each!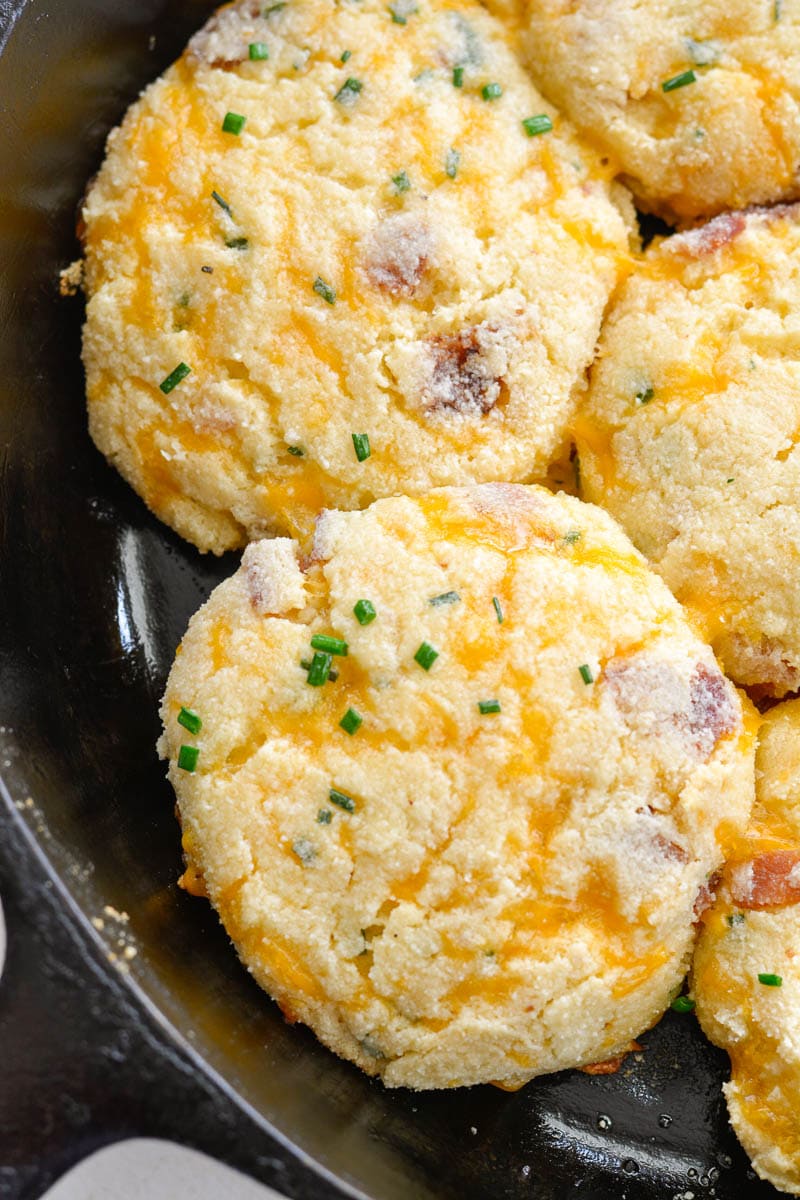 When I started following a low-carb diet I really missed a good old biscuit! These Keto Cheddar Garlic Biscuits filled that void pretty perfectly! They are soft and fluffy, as a fresh biscuit should be!
It is also the recipe I based my Keto Sausage and Biscuits on, making them the perfect keto-friendly breakfast sandwich.
These Keto Bacon Cheddar Chive Biscuits are amazing all on their own. However, they are delicious when paired with any of your favorite keto entrees, like my classic Buffalo Roast Chicken, or served with my One Pan Bacon Cheeseburger Skillet.
No matter what you serve with these low-carb cheddar biscuits, they are the perfect biscuit. Just in time for the holidays!
Ingredients in Keto Cheddar Chive Biscuits
As always, you will find the complete recipe and instructions below, just keep scrolling. This is a quick overview of the ingredients you will need to make these keto almond flour biscuits:
Cream Cheese
Cheddar Cheese
Baking Powder
Salt
Heavy Cream
Butter
Cooked Bacon
Chives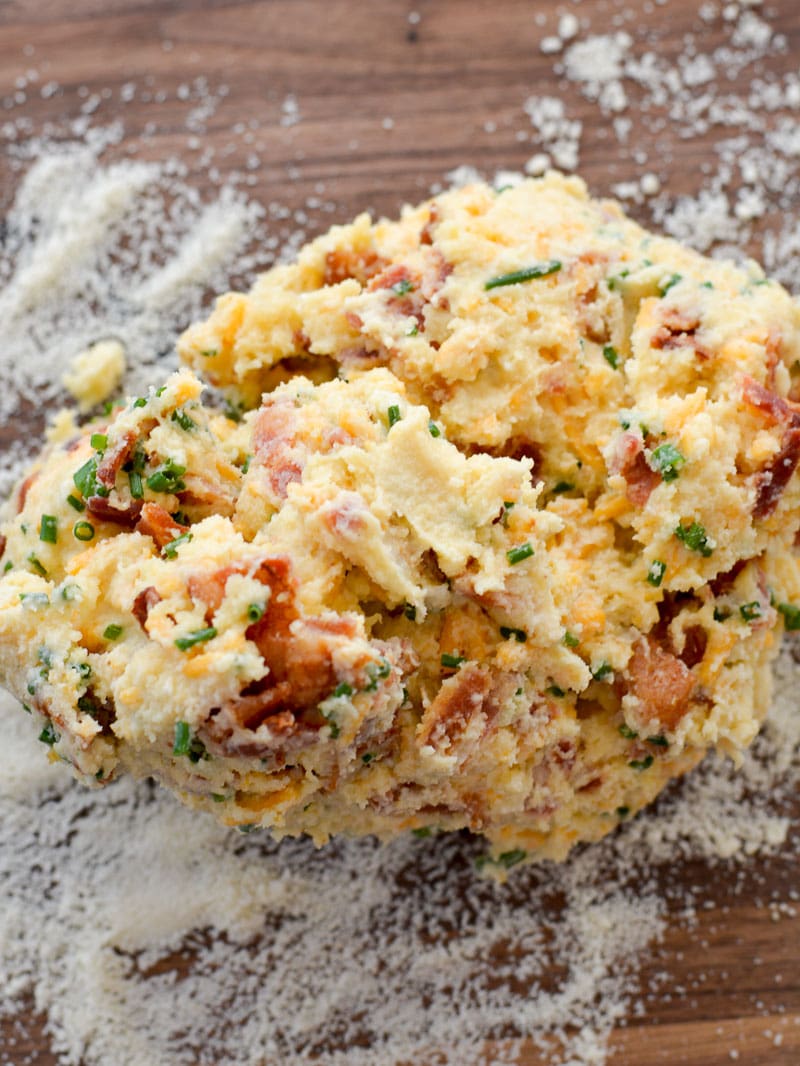 How to Make Cheddar and Chive Biscuits
This keto cheddar biscuits recipe starts with a cream cheese, cheddar, and egg base. This provides tons of fat and moisture to create the perfect biscuits.
Next we add almond flour, baking powder, salt, butter and cream. This is a keto almond flour biscuits recipe, so if you aren't a coconut flour fan, you are in luck.
Here's how the bacon cheddar chive biscuits are made:
In a mixing bowl, combine the softened cream cheese, cheddar cheese and eggs.
Add almond flour, baking powder, salt, heavy cream and melted butter.
Fold in the cooked, chopped bacon and finely chopped chives.
Chill the dough 10 to 15 minutes.
Fold the dough out onto a lightly (almond) floured surface, and pat to a disk about 1/2 inch thick.
Use a biscuit cutter, or the top of a mason jar, to cut 12 biscuits.
Place the biscuits on a silicone-lined baking sheet.
Bake the biscuits until golden brown.
How Many Net Carbs Are in This Recipe?
When made as directed into 12 large gluten-free cheddar biscuits, they come to 4.1 net carbs each. This is quite a large biscuit and is definitely a bit more on the indulgent side.
If you prefer to make smaller biscuits use a 1-inch cookie scoop and bake on a silicone lined baking pan for 13-15 minutes. If made using a 1 inch cookie scoop these biscuits come to 2 net carbs each.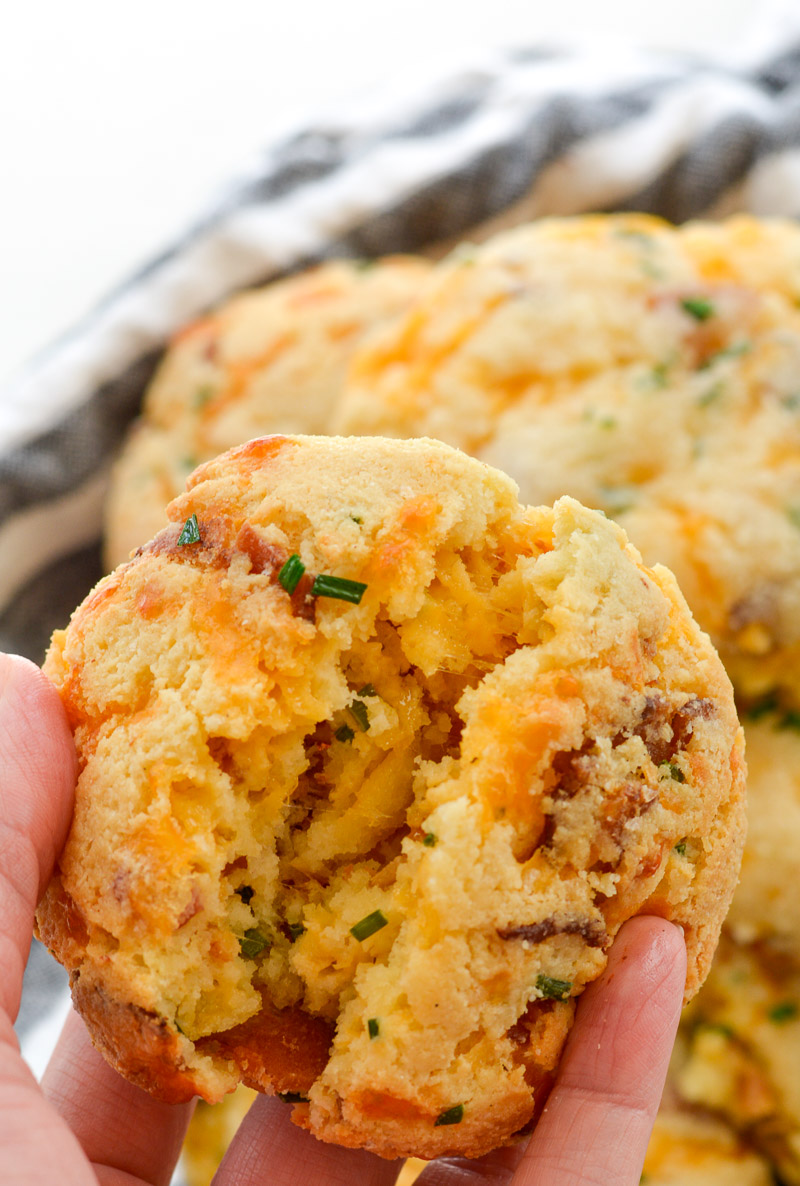 How Long Do These Keto Biscuits Last?
If stored in an airtight container on the countertop, these low-carb biscuits will last up to five days.
Can These Biscuits Be Frozen?
Yes, you're welcome to freeze the keto cheddar and chive biscuits once they've cooled to room temperature.
Can I Omit the Bacon?
If you'd like to make classic cheddar chive biscuits, you're welcome to omit the bacon.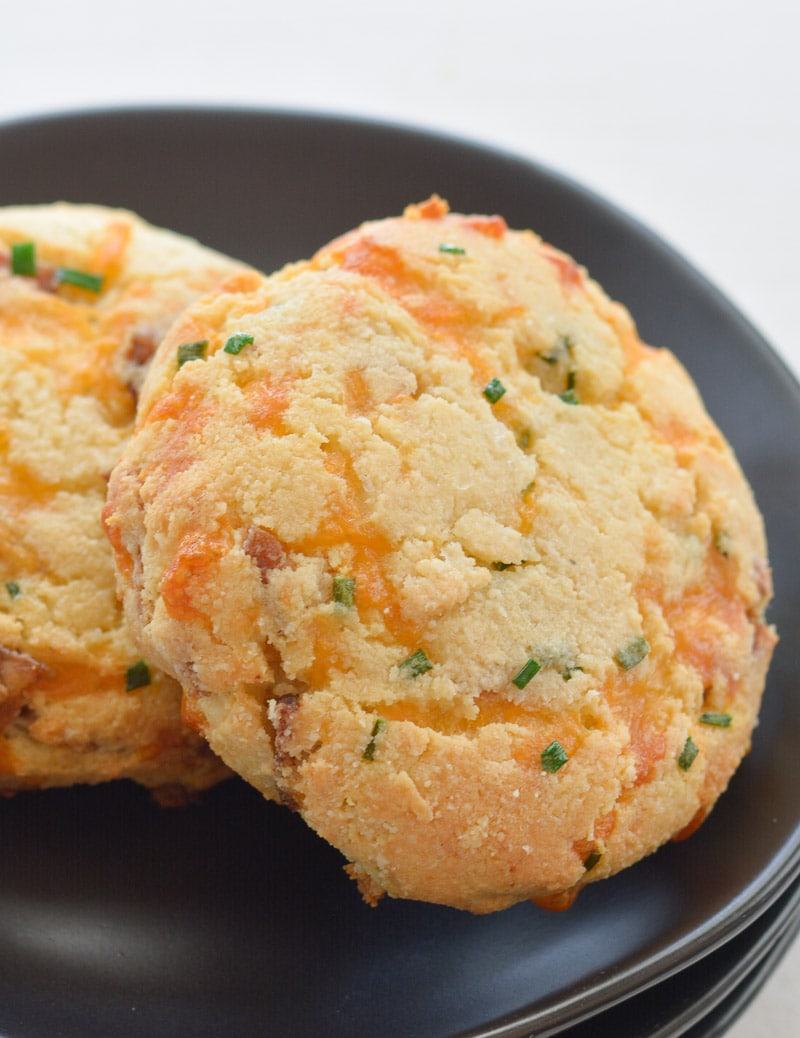 Tips for Making Keto Cheddar Biscuits
Make sure the cream cheese, cheddar and eggs are blended well before you add the other ingredients.
You can use unsweetened almond milk instead of cream if you want, but the fat content decreases.
You can find a helpful step-by-step video in the recipe card that guides you through the process as well. Please note: if you do not see it, you have an ad blocker enabled that is preventing the video from loading.
More Keto Bread Recipes: