This Flourless Chocolate Cake Recipe is perfect for special occasions! This rich, decadent, fudgy cake is low carb, keto-friendly and completely gluten free!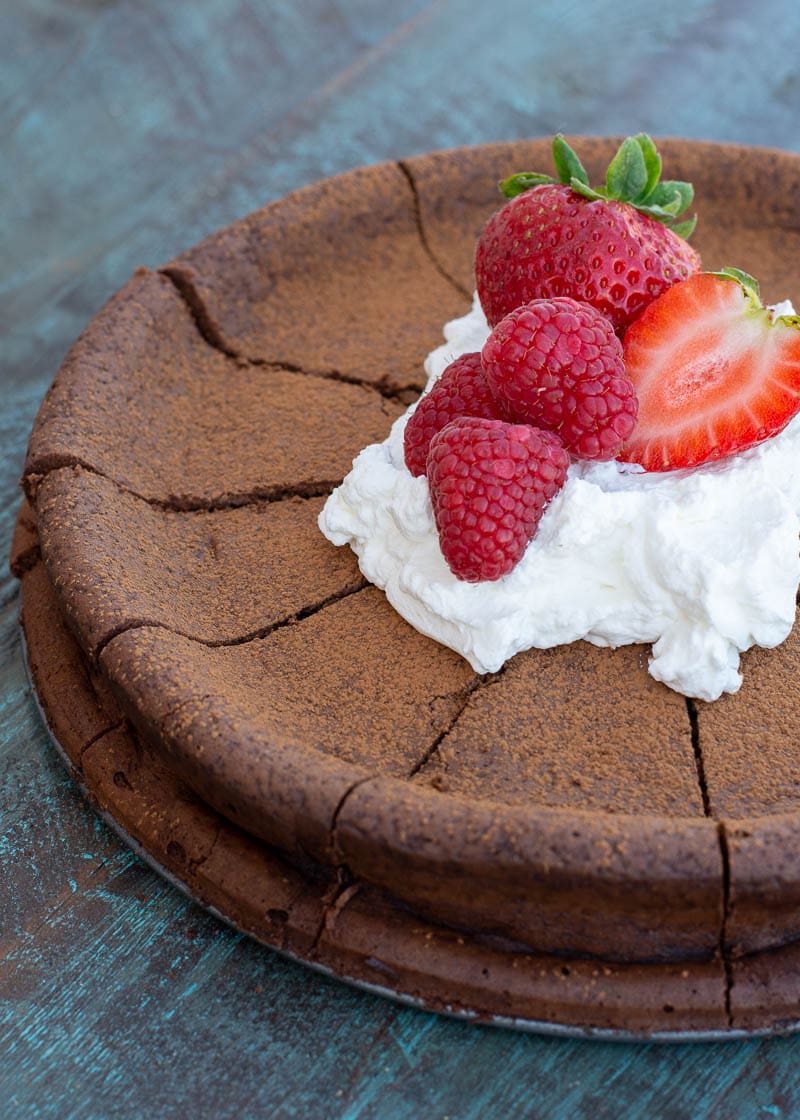 Flourless Chocolate Cake Recipe
Flourless Chocolate Cake is an ultra decadent dessert that is perfect for a true chocolate lover. This recipe features both cocoa powder and dark chocolate chips. The flavor is rich and only made better by the addition of espresso powder! This cake might seem a little intimidating, but it is very simple to make, it just requires a few steps.
Flourless cakes are magical. Not only do they not contain any flour, which means they are gluten free and safe for those with Celiac. They also do not contain any leavening agents. This means there is no baking powder or baking soda in this recipe. Instead the lift and rise for this cake is made by whipping egg whites until stiff. This allows the cake to puff up while cooking, but it deflates as it cools. This is what creates that signature fudgy texture. For more fun fall recipes, check out this list of 20+ Easy Fall Desserts!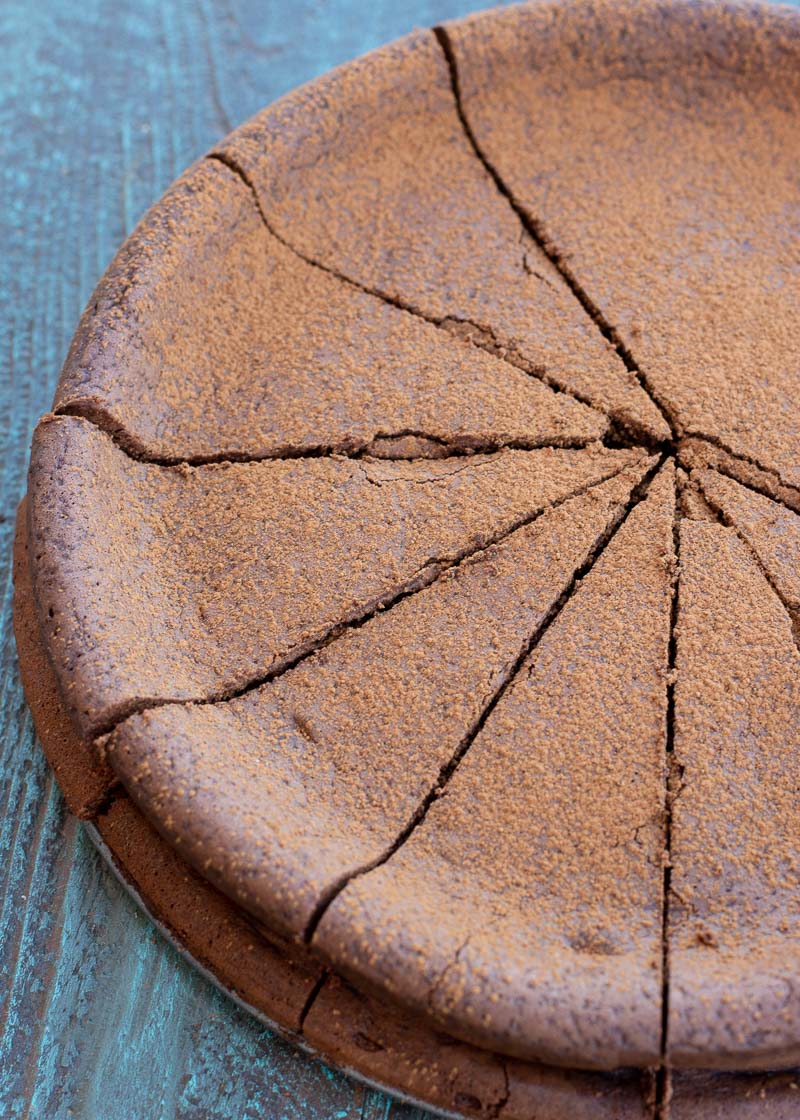 Flourless Chocolate Cake Ingredients
As always, this is a quick overview of the ingredients you will need for this recipe. To get the complete, printable recipe just keep scrolling. To make this keto chocolate cake you will need:
Dark Chocolate: You will want to use a good, high quality dark chocolate for this recipe. You can use Lily's unsweetened dark chocolate chips to keep this keto-friendly.
Butter: I use salted butter in this recipe. If you only have unsalted butter on hand you will want to add an extra pinch of salt to the recipe, or sprinkle with flake sea salt when serving.
Eggs: For this recipe use size large eggs. You will also be separating the eggs, so the yolks will go in one bowl, and the egg whites will go in another.
Monkfruit Sweetener: by using Monkfruit we keep this recipe low carb and keto-friendly. If you aren't concerned with carbs regular granular sugar will work just fine.
Vanilla Extract: Use your favorite high quality vanilla extract for the best flavor.
Espresso Powder: If you are in a pinch and do not have espresso powder you can make this cake without it. However, it does add excellent depth and doesn't have an overpowering flavor.
Cocoa Powder: As always, use a high quality cocoa powder. I personally use a Dutch processed cocoa powder for this recipe.
Salt: Salt helps to bring out the chocolate flavor and provides balance.
How do you make Keto Cake?
Prep your ingredients first. Measure everything out before you begin and this process will go so much smoother. If you're converting your ingredients measurements, check out this guide for How Many Ounces in a Cup to make the process easier!
Preheat the oven to 350 degrees F and butter or line a 9 inch springform pan and set aside.
In a microwave safe bowl, or in a small sauce pan over low heat slowly melt the butter. Add in the finely chopped chocolate and stir until smooth. Remove from the heat as soon as the chocolate has completely melted. Allow the chocolate to cool slightly while you do the next steps.


Beat the egg whites (not yolks) in a mixing bowl fitted with a whisk attachment. When the egg whites have doubled in size begin to slowly pour in the monkfruit sweetener. Continue to beat the egg whites and sweetener until stiff peaks form. Set aside.


Go back to the bowl of now slightly cooled melted chocolate, and gradually stir in the egg yolks. Be sure to incorporate the eggs quickly so they do not have time to cook as you stir. Fold in the espresso powder, cocoa powder, vanilla extract and salt.


Now turn the electric mixer back on low and as the stiffened egg whites are being stirred pour in the chocolate mixture. As soon as the whites and chocolate are incorporated stop the mixer. Do not over-mix or the egg whites will deflate.
Pour the chocolate cake mixture into the prepared pan and bake 25-30 minutes.


How do I know when this cake is done?
The cake will have puffed up quite nicely. The top will be set and have an almost shiny look with cracks. Think about how brownies look, this is similar. The edges will have also set and begun to pull away from the side of the pan. The center of the cake will still have a little wiggle, which is fine, this is how we get that great fudgy texture.
My cake collapsed, is that normal?
Yes! That is the signature of a flourless cake, it falls as it cools and that creates the indulgent fudgy texture.
How to serve flourless cake?
You can sprinkle this cake with cocoa powder or powdered sweetener. This is also amazing served with homemade ganache if you are looking for a way to make this cake even more decadent. Another option is to serve with whipped cream and fruit.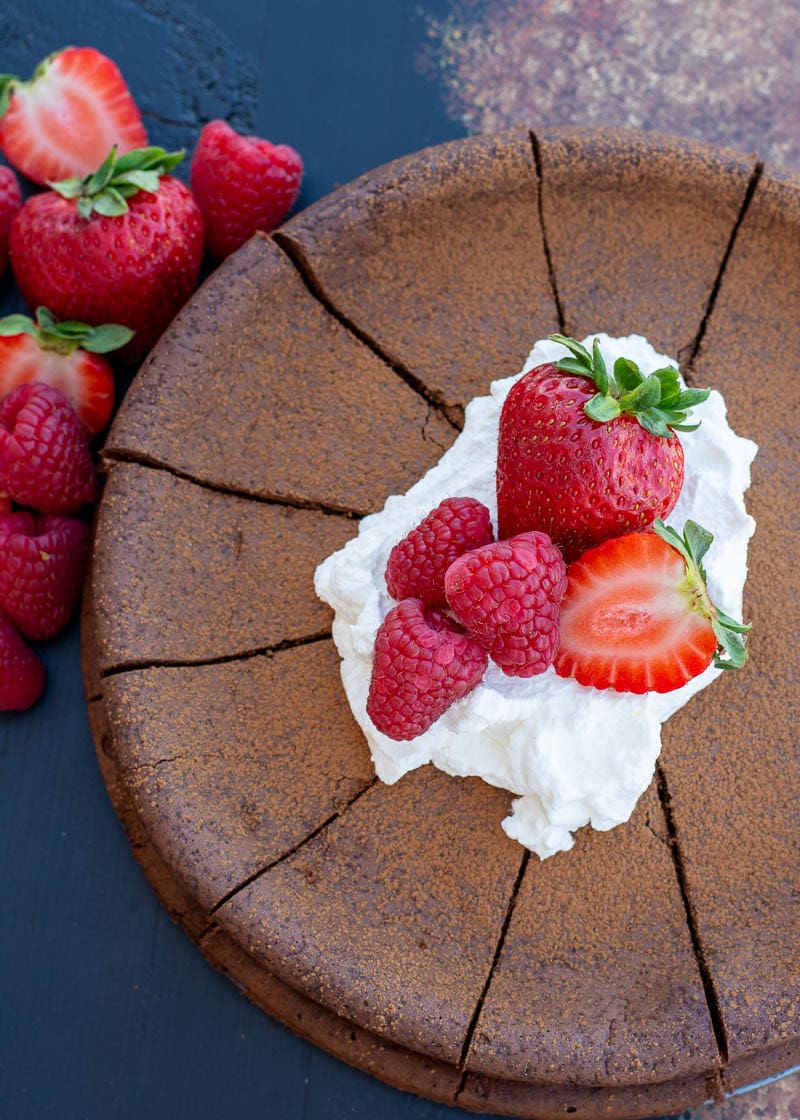 Recipe Tips
Quality Ingredients: read through the tips I gave above in the ingredient section. Use good quality ingredients. Remember, this cake will only be as good as the chocolate you use!
Prepare your Pan: line your pan with parchment paper, or butter the pan very well so it does not stick.
Do not Overcook: Remember, there will be some wiggle in the middle of the cake. You do not want to overcook or it will have a dry, crumbly texture.
Serve at Room Temp: I think this cake has the best texture when served at room temperature.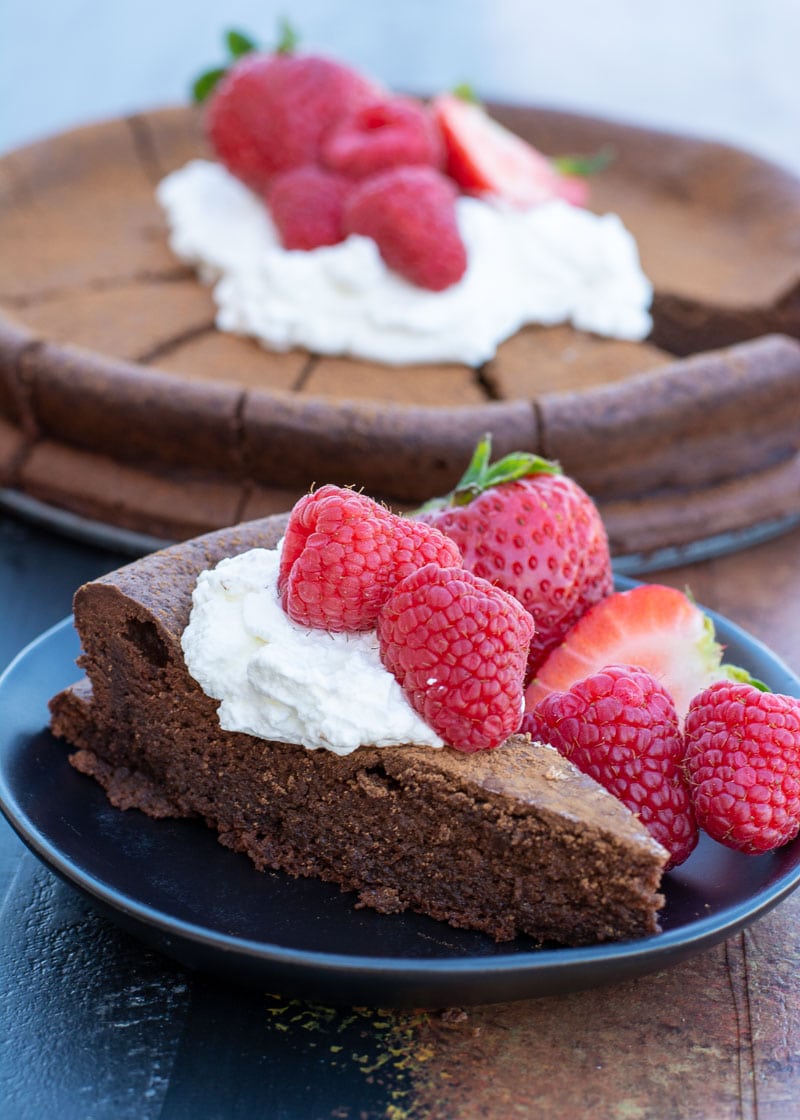 Other Chocolate Desserts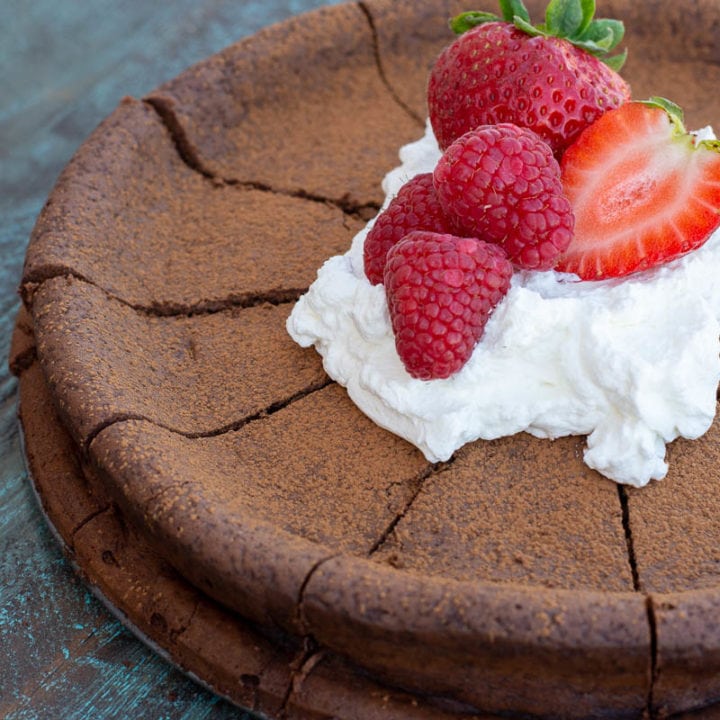 Flourless Chocolate Cake
This Flourless Chocolate Cake Recipe is perfect for special occasions! This rich, decadent, fudgy cake is low carb, keto-friendly and completely gluten free! 
Ingredients
8 tablespoons salted butter
8 ounces dark chocolate, finely chopped (Lily's Sugar Free Dark Chocolate if keto)
5 large eggs, separated
3/4 cup granular monkfruit sweetener
3 tablespoons cocoa powder
1 tablespoon espresso powder
2 teaspoons vanilla extract
1/2 teaspoon salt
Instructions
Preheat the oven to 350 degrees F. Line a 9 inch spring form pan with parchement paper, or butter the pan very well and set aside.
In a micorwave bowl or small sauce pan melt the butter completely. Stir in the chopped chocolate and stir until melted. Set aside and allow it to cool.
Beat the egg whites with an electric mixer fitted with a whisk attachement. Beat the eggs until they have doubled in volume, slowly pour the monkfruit sweetener into the egg whites and continue beating until stiff peaks form. Set aside.
Check the chocolate and butter mixture and make sure it has cooled enough to stir in the eggs without cooking. Slowly stir in each egg yolk, whisking as you go. Fold in the cocoa powder, espresso powder, salt and vanilla extract.
Turn the electric mixer back on low and stir the stiffened egg whites as you pour in the melted chocolate mixture. As soon as the chocolate and egg whites have been combined stop the mixer. **Do not overmix and deflate the egg whites**
Pour the mix into the prepared springform pan. Bake for 25-30 minutes. The cake is done when it has risen, a thin crust has formed on top and the edges have begun to pull away from the side of the pan. The middle of the cake will still have a bit of wiggle.
Allow the cake to cool completely. The cake will deflate as it cools, this is normal. Sprinkle with cocoa powder and serve with whipped cream and fruit if desired.
Recommended Products
As an Amazon Associate and member of other affiliate programs, I earn from qualifying purchases.
Nutrition Information:
Yield:

12
Serving Size:

1 slice
Amount Per Serving:
Calories:

170
Total Fat:

15.2g
Cholesterol:

97mg
Sodium:

187mg
Carbohydrates:

11.8g
Net Carbohydrates:

4.7g
Fiber:

7.1g
Sugar:

4.2g
Protein:

2.9g