These easy Keto Popcorn Shrimp are the perfect crispy, crunchy irresistible snack for a lighter game day treat!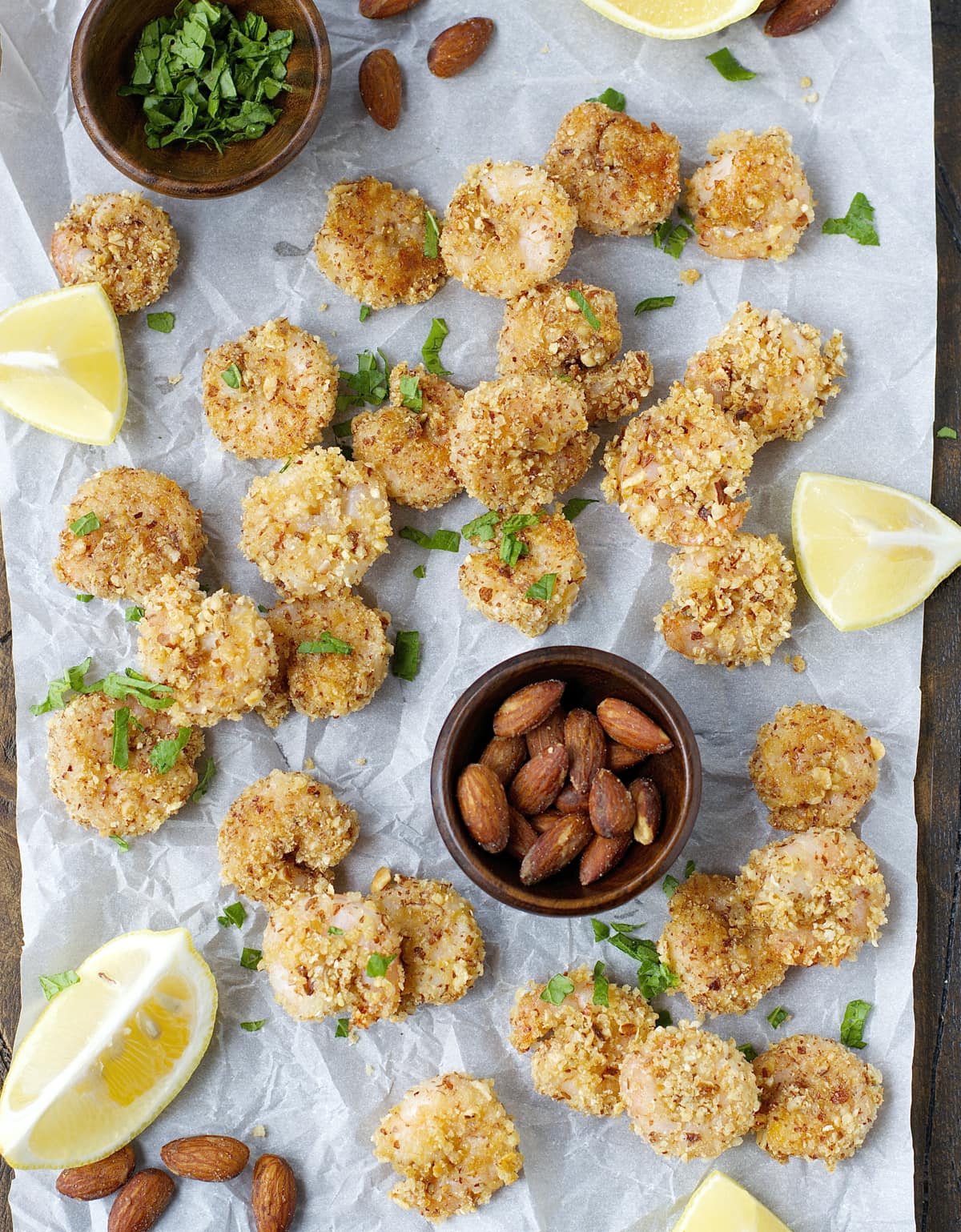 I know everyone else is sharing stuffing, turkey and cranberry recipes and if I were a better blogger I would be doing the same. But instead of holiday treats, we are talking snacks today! Crispy, crunchy, smoky little snacks that are totally irresistible!
If you have been reading long you know I have a major love for appetizers and snacks; I prefer them over pretty much anything else. But the tricky thing about snacks is how easily they can get out of control. It is so easy to over indulge in a big platter of chips and dip or wings, so today I am sharing a super easy snack that is much lighter than traditional game day snacks!
These baked Popcorn Shrimp are ready in just twenty minutes and have just four ingredients. Just four! They are great for game day treats or easy enough to throw together on a weeknight. The secret ingredient is Blue Diamond Smokehouse Almonds. The almonds are loaded with smoky flavor and are ground in a blender or food processor to create the perfect crispy, crunchy crust.
These irresistible bite sized treats are amazing on their own but I love to add a little drizzle of lemon juice over the top when they are done baking to really make the flavors pop!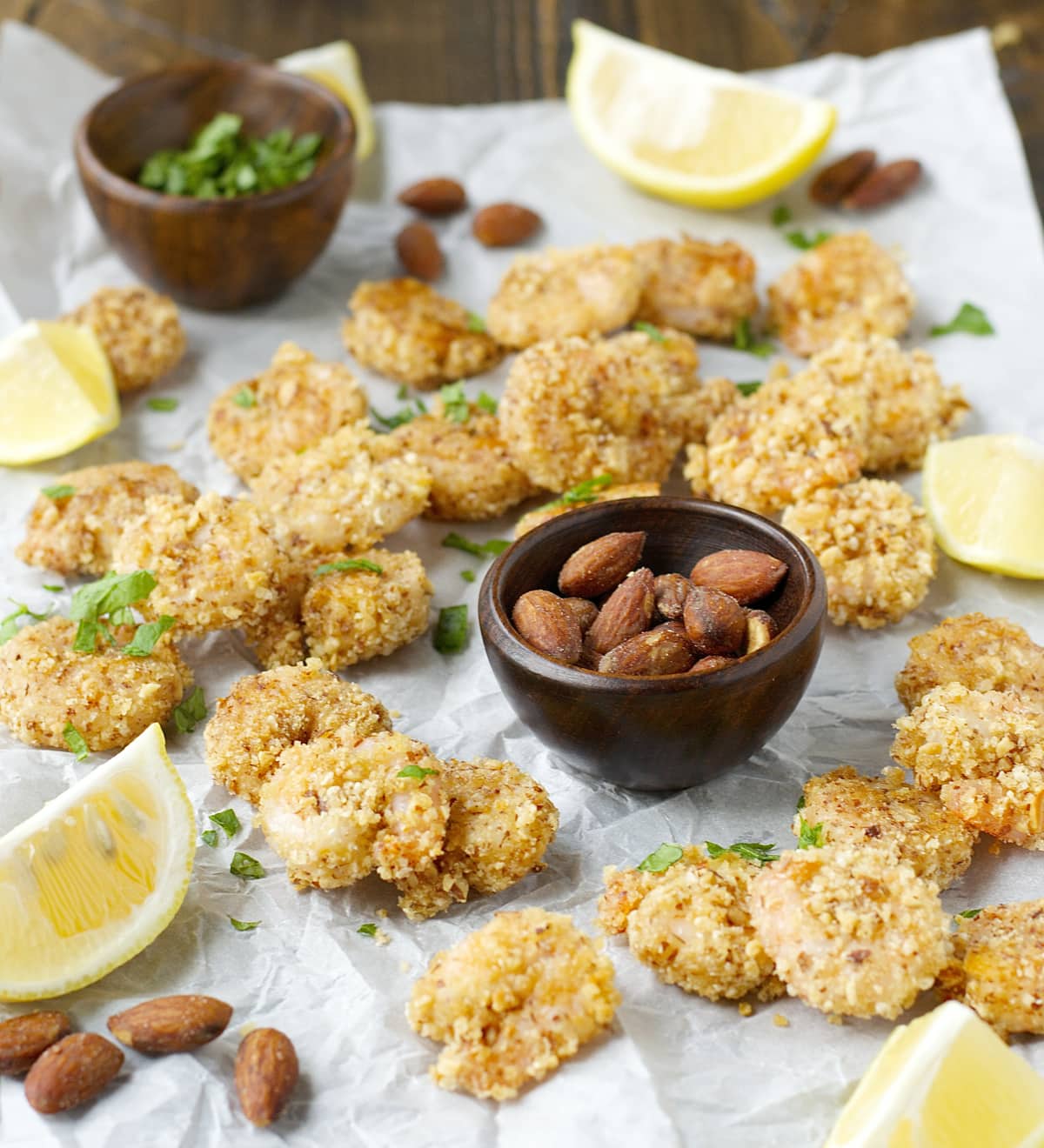 Ingredients for Keto Popcorn Shrimp
You only need FOUR things for this recipe! This is just the quick overview, but keep scrolling for exact measurements and instructions.
Shrimp: peeled and deveined shrimp work best for this recipe.
Pork Rind Panko (made just from pork rinds)
Smokehouse Almonds: can be found in the nut/snack aisle at your grocery.
Egg white: this helps the breading stick to the egg.
Do I have to use almonds?
Nope! You can use any nuts you like. I love to use the Blue Diamond Smokehouse Almonds because they seriously have enough flavor to cover the whole recipe! If you do use plain nuts, they will not be as flavorful, and you may need to add your favorite spices.
Using roasted nuts will result in a crunchier shrimp, so that's what I used in this recipe!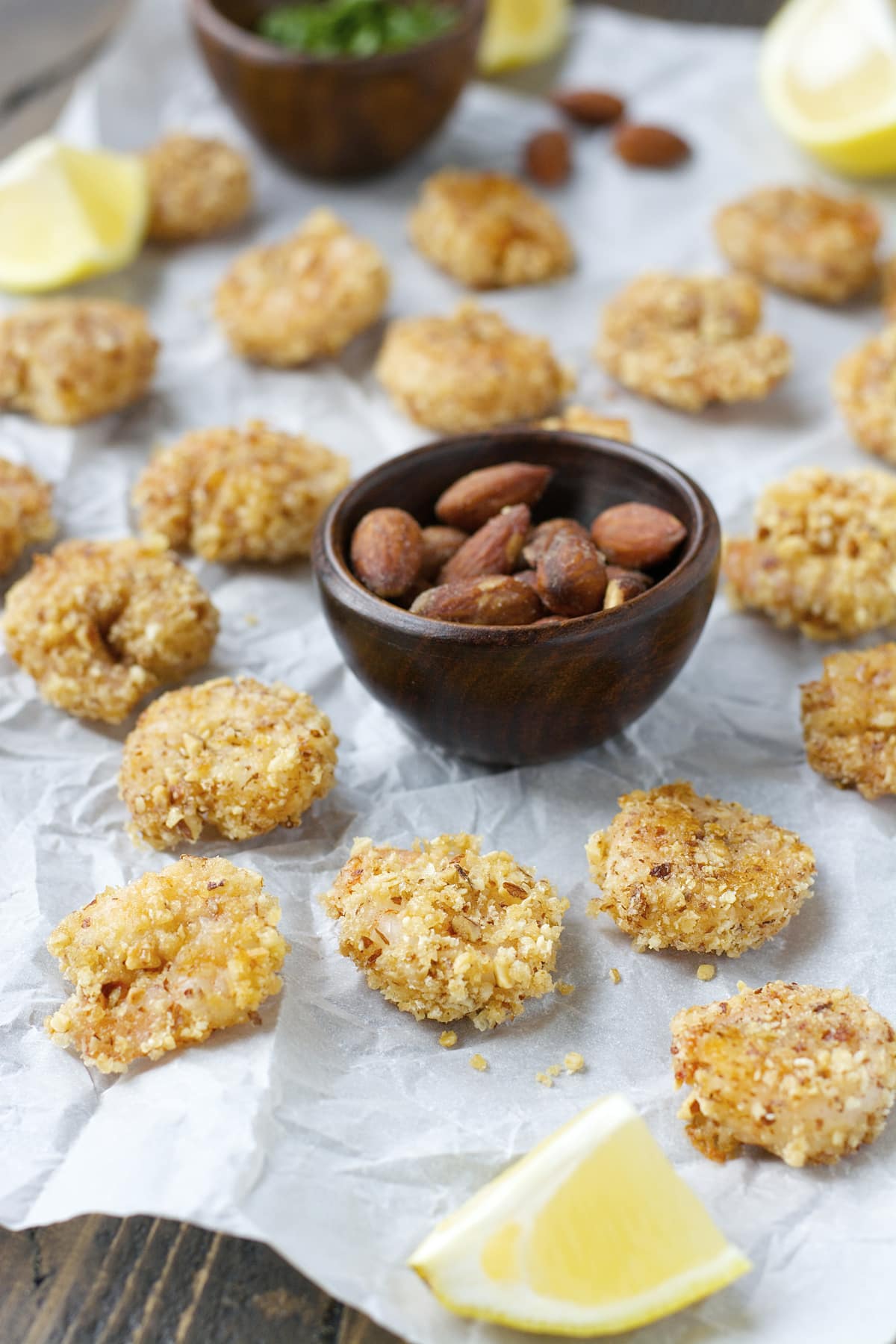 How to make Keto Shrimp
First, in a blender or food processor, crush your almonds (or nuts of your choice) until they have the same general look and feel of breadcrumbs. If you are using plain nuts, you might want to add seasoning at this point.
Next, pulse your pork rinds in the blender or food processor, stopping when they look like large panko breadcrumbs. A 2.5 ounce bag should make about 2.5 cups of this. Since you only need a 1/2 cup for this recipe, you can store the remaining panko crumbs in an air-tight container in the pantry or cabinet for up to 6 months.
Mix your crushed almonds and your pork rind panko breadcrumbs in a mixing bowl. In a smaller bowl, beat the egg white. Dip shrimp in egg white, then the breadcrumb mixture, then lay on a lined baking sheet. Spray shrimp with cooking oil and bake for 20 minutes, stopping halfway through to flip.
How to store and reheat breaded shrimp
These are best when served fresh out of the oven! If you do have leftovers, though, they will keep for 2-3 days in an air-tight container in the fridge. To reheat, you may bake at 400 degrees F on a baking sheet until warmed throughout (5-10 minutes) or warm in the Air Fryer for 3-6 minutes at 400 degrees F.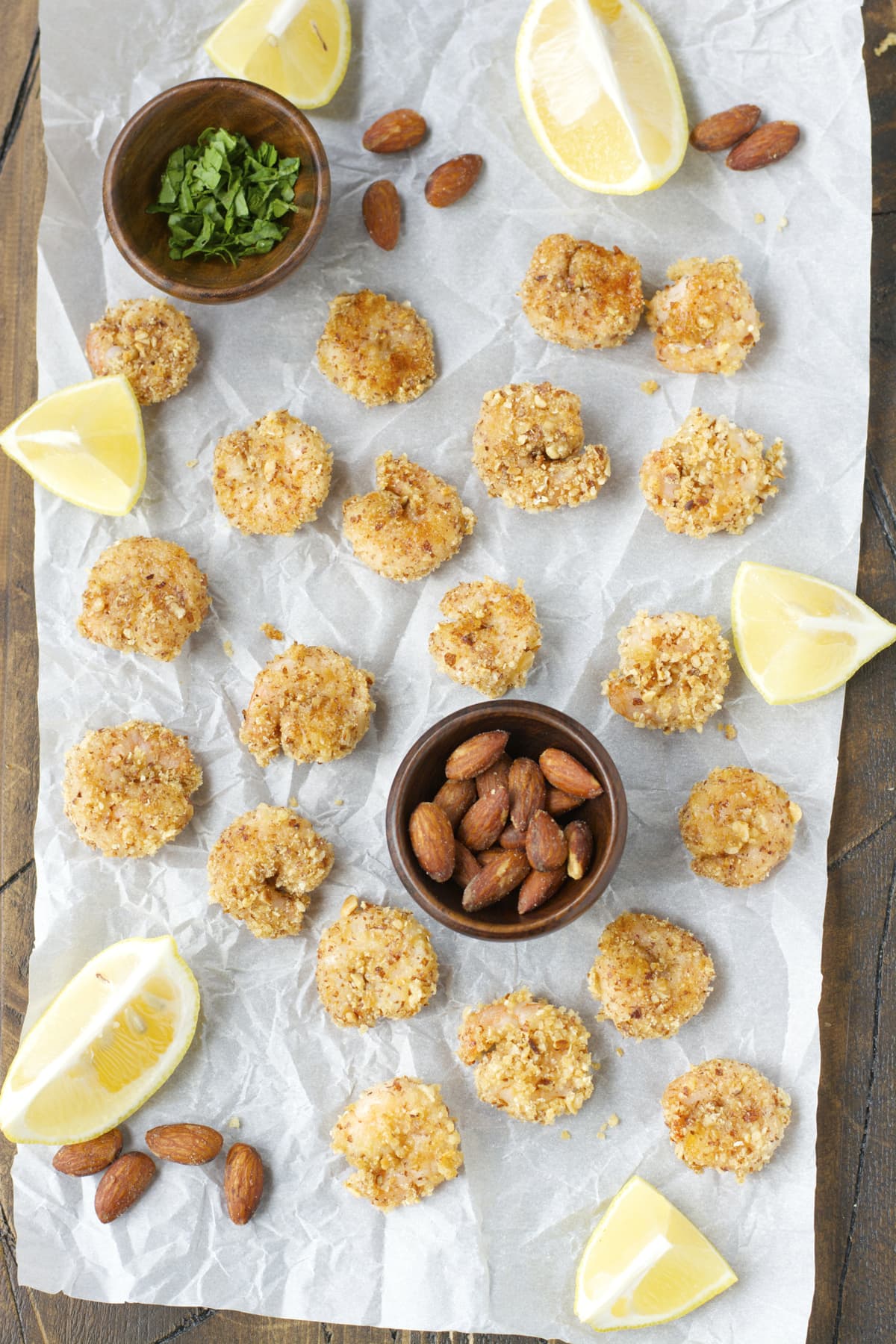 Tips for the best gluten-free breaded shrimp:
I like to have the almonds and panko crushed to about the same size so that I get a crunchy, even coating. You can go for a finer breadcrumb, but it doesn't get quite as crispy.
Be careful not to overcook! The shrimp will be rubbery and chewy if you cook it too long.
Use this shrimp to fill wraps, top pasta, or just snack on during a movie night or a big game!
More Keto Snacks:
Need more? Here are 60+ Keto Snacks under 3 net carbs per serving!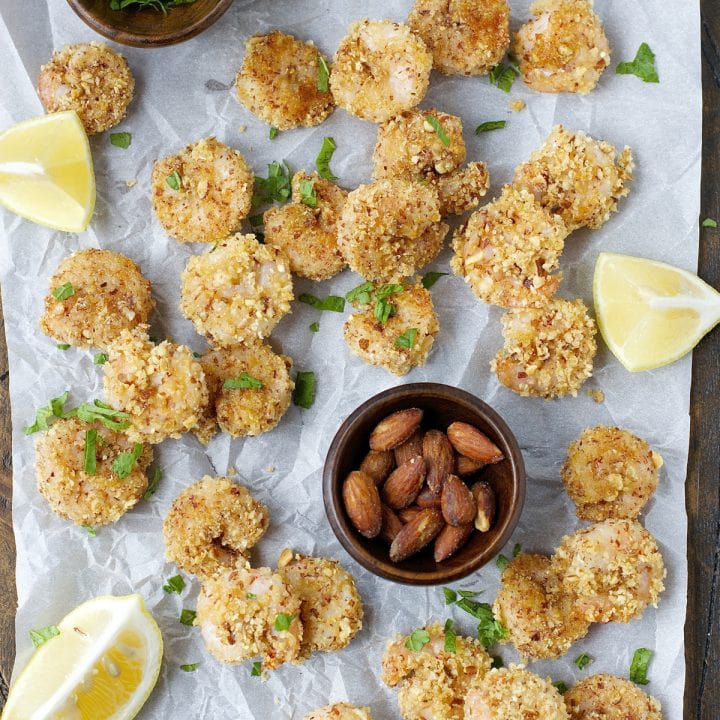 Easy Keto Popcorn Shrimp
These easy Keto Popcorn Shrimp are the perfect crispy, crunchy irresistible snack for a lighter game day treat!
Ingredients
1 pound shrimp, peeled and deveined with tails removed
1 cup Blue Diamond Smokehouse Almonds
1/2 cup breadcrumbs (regular, gluten free, or pork rind panko if keto)
1 egg white
Instructions
Preheat oven to 400 degrees.
Line a large baking sheet with lightly greased parchment paper and set aside.
Place the whole Almonds in a blender or food processor and crush until they resemble course breadcrumbs.
Place the crushed almonds and breadcrumbs in a bowl and combine.
In another bowl lightly beat the egg white.
Working with a few shrimp at a time dip them in the egg white and then in the almond mixture making sure they are well coated.
Lay the shrimp in a single layer on the baking sheet.
Lightly spray the shrimp with cooking spray and bake 10 minutes then turn and bake 10 minutes more.
Nutrition Information:
Yield:

4
Serving Size:

1/4 pound of shrimp
Amount Per Serving:
Calories:

385
Cholesterol:

196mg
Sodium:

407mg
Carbohydrates:

7.8g
Net Carbohydrates:

3.3g
Fiber:

4.5g
Sugar:

1.6g
Protein:

28g