These baked eggs are an easy keto breakfast that you can make in under 20 minutes. They're rich, cheesy, and the perfect way to start your morning.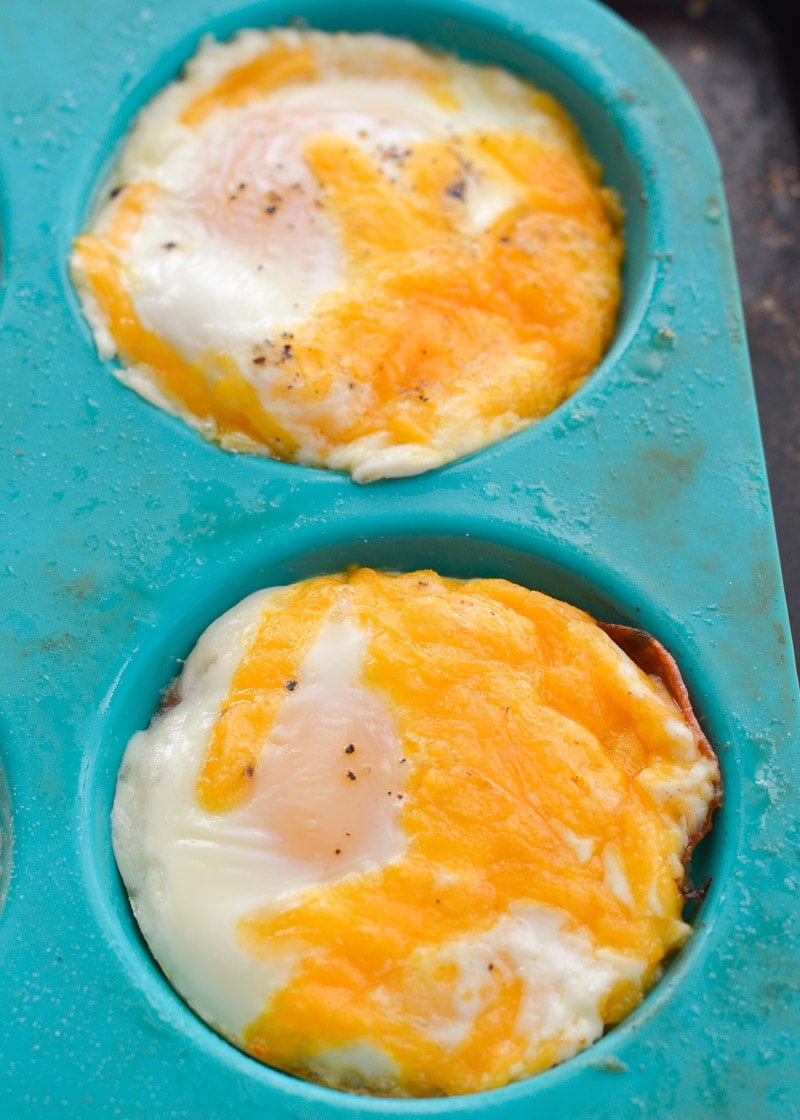 Cheesy Oven Baked Eggs
Eggs are the perfect breakfast food. And these cheesy baked eggs are one of my favorite ways to eat eggs in the morning. This keto-friendly recipe is packed with protein and flavor. Eggs, cream, and cheddar cheese cook together in a cup made out of prosciutto. What's not to like?
This recipe is also super convenient. It doesn't have a lot of ingredients or take a lot of time. You can easily make these protein-packed baked eggs in the morning, or ahead of time. And you won't dirty many dishes. They're the perfect breakfast!
Why You'll Love These Keto-Friendly Eggs
This is one of my go-to breakfast recipes. Here's why I think you'll love it as much as I do.
Easy. This is one of the easiest breakfast recipes I know. It only uses 4 ingredients: eggs, cheese, cream, and prosciutto (plus salt and pepper). And it takes less than 20 minutes to make!
Convenient. You can store these cheesy baked eggs in the fridge for up to 4 days. They're quick and easy to reheat, and also good cold. I love to make a big batch of baked eggs and have easy breakfasts and snacks throughout the week.
So flavorful. Despite only having 4 ingredients, these keto eggs are packed with flavor. Eggs and cheese go so well together, but the saltiness of the prosciutto really makes the baked eggs shine. You'll be amazed at how much flavor this easy breakfast packs.
Amazing textures. I'm a big fan of textures in food. The right textures can make a meal, and the wrong ones can ruin a dish. The textures in these baked eggs are incredible. The eggs are soft and luxurious, the cheese is gooey and melty, and the prosciutto gets a little crispy in the oven.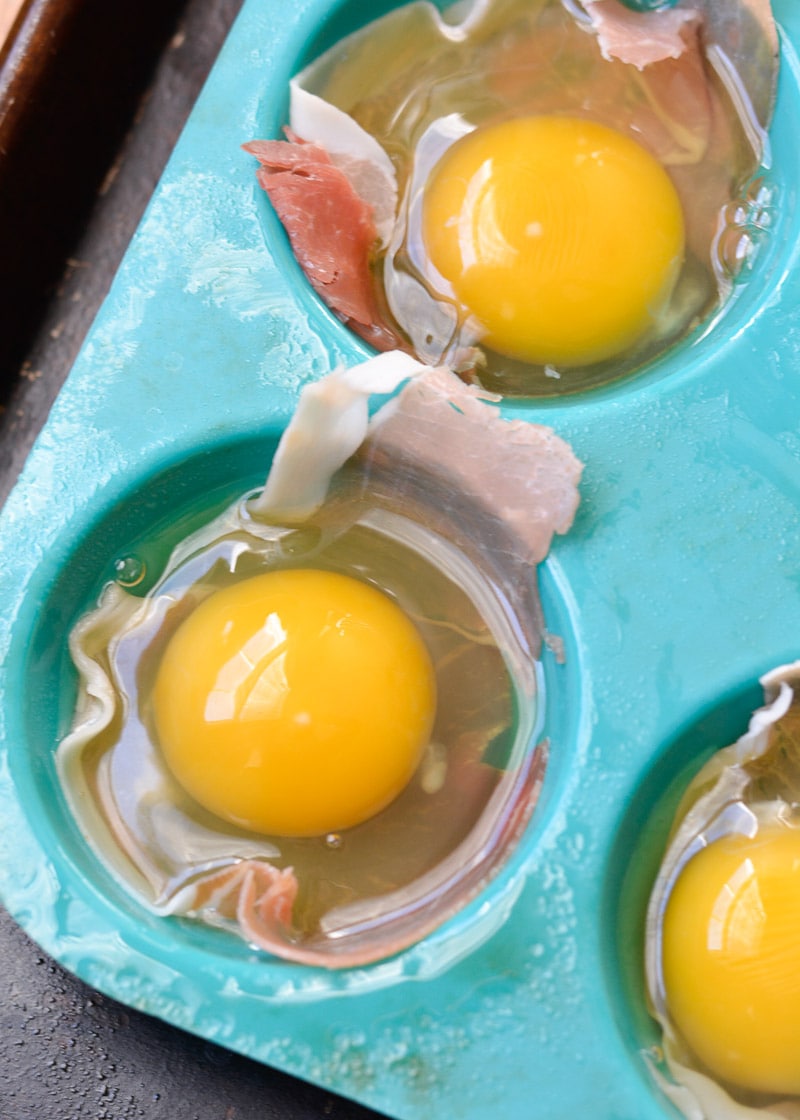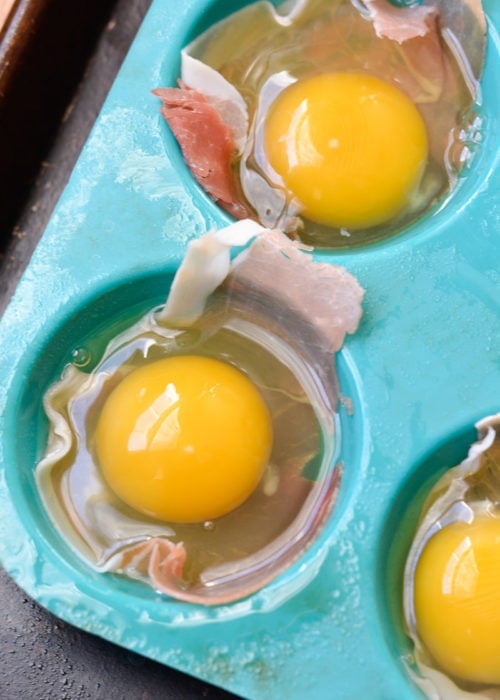 What You'll Need
Here are all the ingredients that you need to make these easy cheddar cheese baked eggs. Scroll to the recipe card at the bottom of the page to see the exact amounts for each ingredient.
Prosciutto: you can also use ham if you prefer, just be sure to opt for a thin cut meat.
Eggs: size large eggs work perfectly in individual muffin tins.
Heavy cream: this helps to provide the perfect texture for the egg bites.
Cheddar cheese: sharp cheddar is ideal for this recipe, but other options such as Colby, Pepper-Jack or Swiss will work as well.
How to Make Baked Eggs
Here's how to make this meaty, cheesy, keto egg breakfast. It only takes about 18 minutes!
Prep. Preheat the oven to 400F. Spray a muffin tin with cooking spray.
Add the prosciutto. Place a piece of prosciutto in each muffin cup, like a bowl.
Top with an egg. Put one egg on top of each piece of prosciutto.
Add the rest of the ingredients. Drizzle cream over each egg, then add salt, pepper, and shredded cheese.
Bake. Put the muffin tin in the oven and bake for 10-18 minutes, until the eggs are at your desired doneness. Remove from the oven and eat.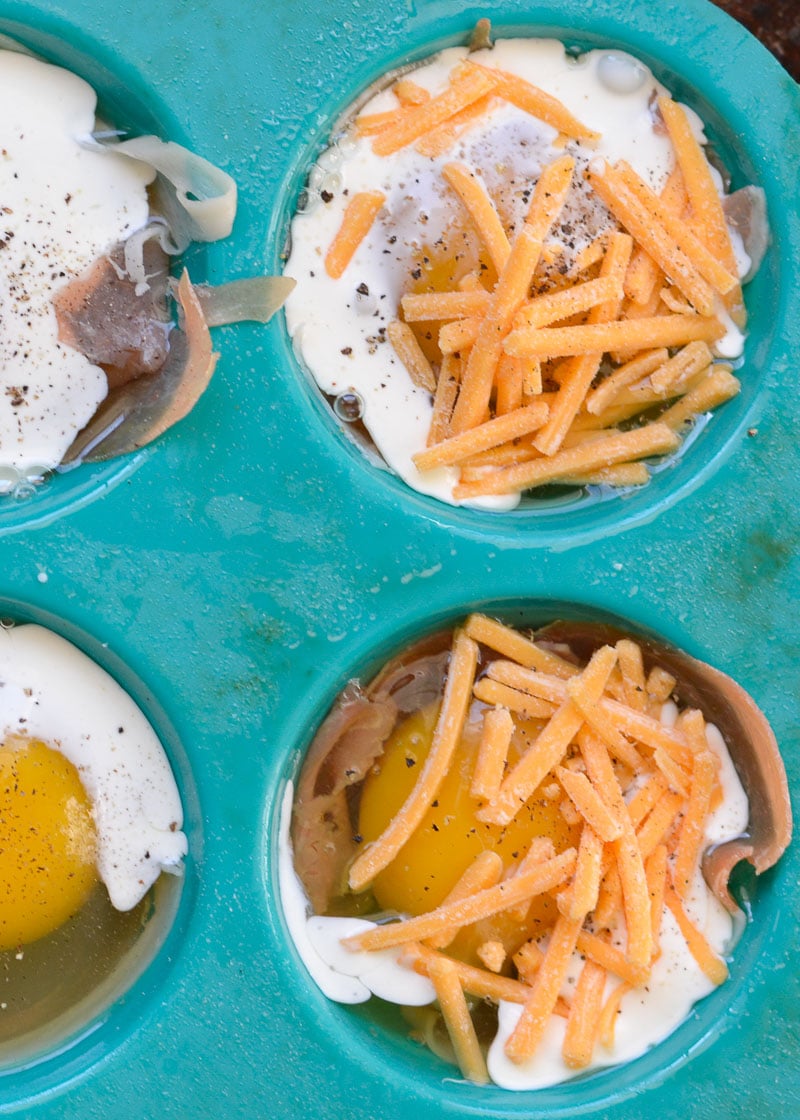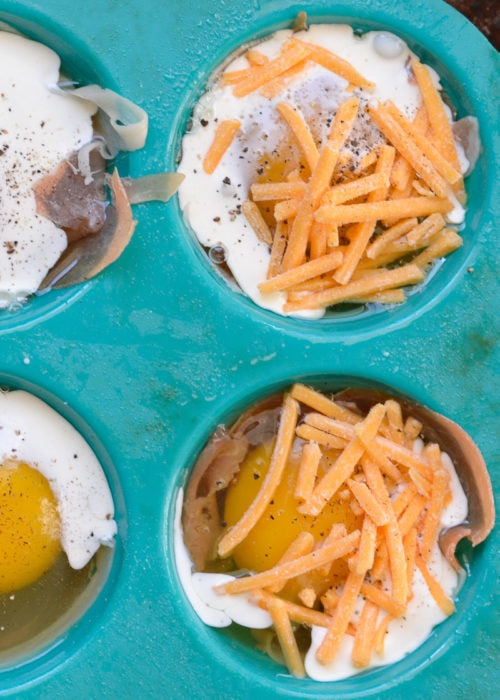 Tips and Variations
Here are some tricks, tips, and variations for making these cheesy eggs.
Use silicone. The best way to keep these keto baked eggs from sticking to the muffin tin is to use a silicone muffin pan. You can also use silicone muffin liners.
Switch up the meat and cheese. This is my favorite version of these baked eggs, but feel free to get creative with it. You can use other types of cured meats, like bacon or salami. And you can use any kind of cheese that you like.
Broil. If you want crispier baked eggs, you can broil them. After the eggs are done cooking, place them under the broiler for 30-60 seconds. Keep a close eye on them so they don't burn.
Adjust the timing. Different people like their eggs cooked to different levels of doneness. If you like a runny yolk with your baked egg, you may only want to cook them for 10-12 minutes. If you like a hard yolk, cook for closer to 18 minutes.
What to Eat Them With
These cheesy baked eggs are a complete breakfast all by themselves. But I love to eat them with a coffee drink or a sweet breakfast item. Here are some of my favorite recipes to eat with baked eggs.
How to Store and Reheat Leftover Cheddar Eggs
These eggs will last in the fridge for up to 4 days if you store them in an airtight container. Reheat in a 350F oven for 7-8 minutes, or in a microwave on 80% power in 20-second increments.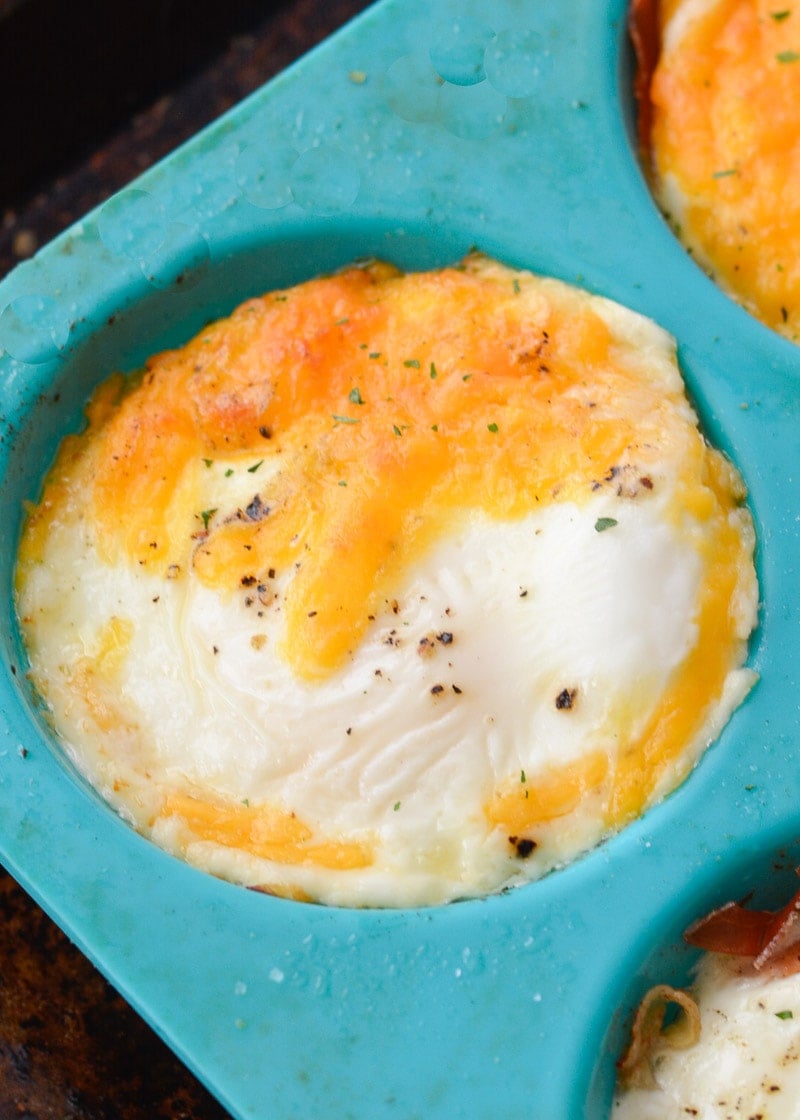 Can I Freeze This Recipe?
You can definitely freeze this recipe. Store the baked eggs in an airtight container and keep them in the freezer for up to 3 months. Defrost or thaw fully before reheating. You can also reheat straight from the freezer in a 350F oven for 12-15 minutes.
More Keto Egg Breakfasts to Make
I hope you loved these cheesy prosciutto baked eggs. Here are some more of my favorite keto egg breakfasts to make.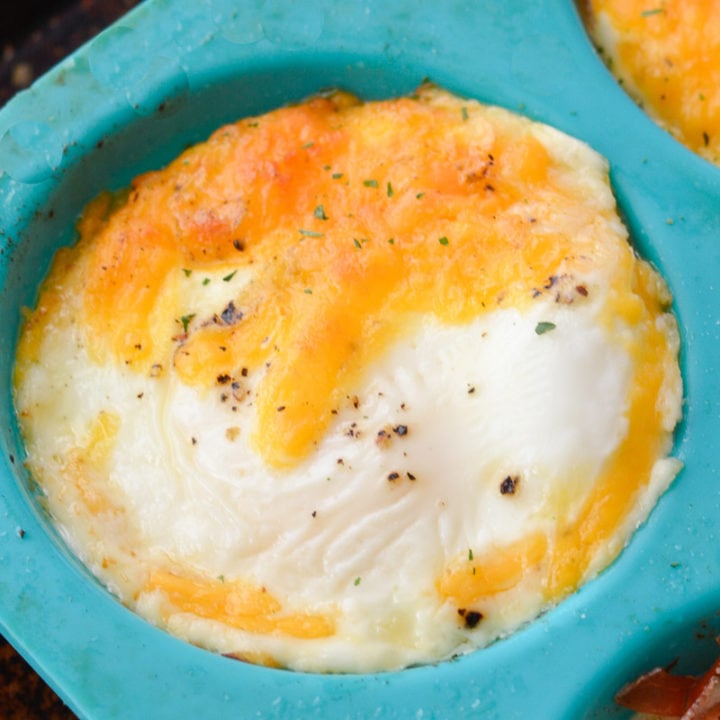 Baked Eggs
These easy baked eggs are wrapped in crispy prosciutto and covered in melty cheese. They're the perfect keto breakfast, and they're so quick and easy to make.
Ingredients
6 slices prosciutto
6 large fresh eggs
6 teaspoons heavy cream (or melted unsalted butter)
1/2 cup shredded sharp cheddar cheese
Salt and pepper to taste
Instructions
Preheat the oven to 400 degrees F.
Spray 6 cavities of the muffin tin very well. Tuck one slice of prosciutto in the muffin pan. Top with one large egg.
Drizzle one teaspoon of heavy cream or melted butter over the uncooked egg. Top with salt, pepper, and shredded cheese.
Bake for 10-18 minutes until the yolk reaches your desired texture. The lower the cooking time the runnier the egg will be.
Notes
For a more crisp top, put the eggs under the broiler for 30-60 seconds after they're done baking.
Store in an airtight container in the fridge for 4 days, or in the freezer for 3 months.
Reheat in a 350F oven for 7-8 minutes, or in a microwave on 80% power in 20-second increments.
Recommended Products
As an Amazon Associate and member of other affiliate programs, I earn from qualifying purchases.
Nutrition Information:
Serving Size:

nutrition calculated per egg cup
Amount Per Serving:
Calories:

88
Total Fat:

9.1g
Trans Fat:

800g
Cholesterol:

243mg
Carbohydrates:

0.5g
Net Carbohydrates:

0.5g
Protein:

18g