Last week, I had a friend ask if I could add some "Just for One" recipes. You know, recipes just for you, meals using regular, common ingredients to make simple, healthy meals for just one person.
Well I absolutely can!
Actually, I cook a good bit for just myself. Mr. Maebell and I don't always work the same schedule so sometimes it is just me for dinner. So, I was brainstorming ideas and I kept coming back to an egg dish. If there is one thing that is the epitome of cheap, quick, and healthy eggs fit the bill.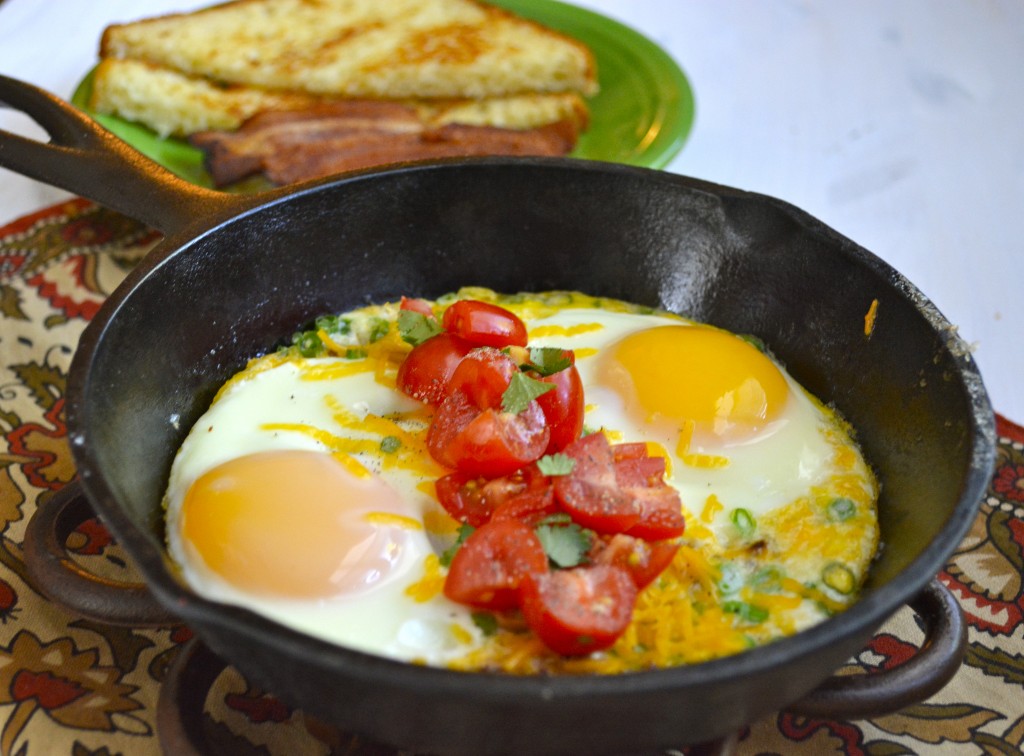 After I made this I asked myself why haven't I been baking eggs my whole life? Has everyone else been doing it? Is it a new thing? I am loving it!
Just throw some fixings in a dish, crack some eggs over the top and bake for a couple minutes. Grab a slice of toast and you have a meal fit for a king! Or a queen. 🙂
I used shredded sharp cheddar cheese, chopped green onions, and bacon, but you could use absolutely anything. For a vegetarian version you could try peppers, onions, and mushrooms. Or if you wanted to cut out the extra step of cooking the bacon you could use deli ham and swiss cheese. Whatever works for you, or more importantly, whatever you already have on hand.
Just in case you need to whip up something quick and easy this is a great one to keep in  mind!