This Keto Cheesecake with Strawberry Sauce is the perfect low-carb treat to enjoy fresh berries this summer! Each slice of cheesecake with strawberry sauce is about 5 net carbs each!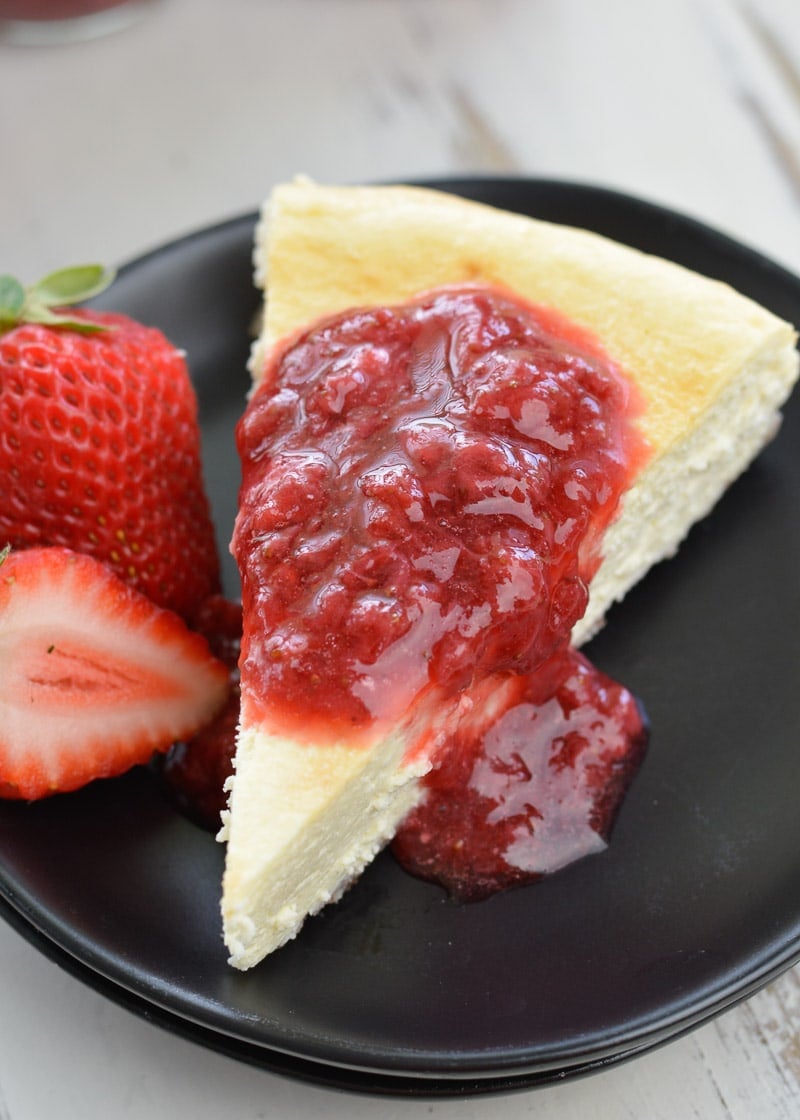 One of my sisters is a sugar fiend who always requests extra homemade fudge icing so that she can eat it by the spoonful. My other sister, though, always loves the simple, understated cheesecake. She loves when they're not too sweet but super creamy. With her birthday quickly approaching, I realized my keto recipe index was missing a basic, rich cheesecake that could be a beautiful addition to any celebration.
One of the best things about a basic cheesecake is that you can try out tons of seasonal toppings! For this recipe, I wanted to use up some bright, super flavorful, homegrown strawberries! The strawberry sauce and whipped cream topping adds the perfect blend of tastes and textures to transform this easy dessert to a company-worthy star of the hour!
If you enjoy meal prepping, keto cheesecakes are a great dessert option for you! Making them ahead of time helps ensure the top stays smooth and crack-free, and frozen cheesecakes can last 1-2 months! Make a few during your prep day and freeze the extras to ensure you have an easy offering for every event coming up this summer!
Ingredients Needed for Keto Cheesecake
As always, this is a quick overview of the ingredients you will need (and the links to products I use) for the full recipe and instructions just keep scrolling:
Pecans
Butter
Cream cheese
Sour cream
Eggs
Strawberries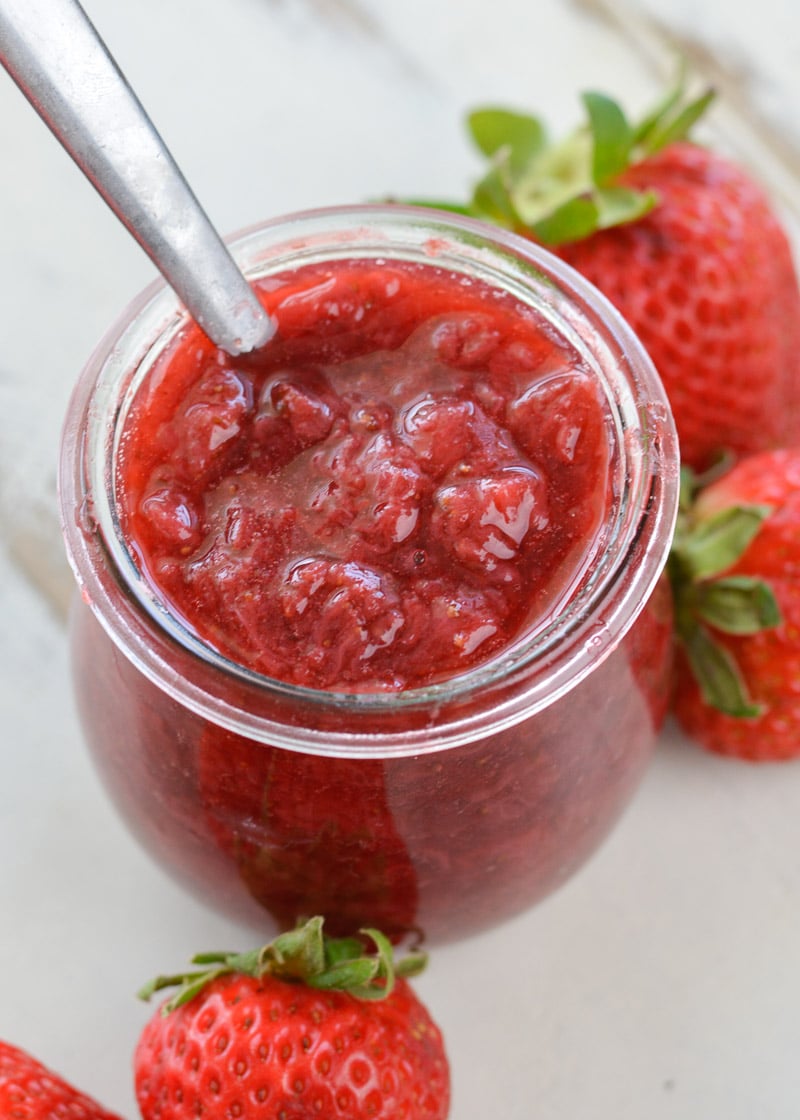 How to Make a Low-Carb Cheesecake
Heat oven to 350°F.
Mix almond flour, crushed pecans, butter, and monkfruit sweetener. Press onto the bottom of a parchment paper-lined 9-inch springform pan.
Beat cream cheese monkfruit sweetener with an electric mixture until well combined. Add sour cream and vanilla extract; mix well. Add eggs, 1 at a time, beating on low speed after each addition just until blended. Pour over crust.
Bake 1 hour to 1 hour 10 min. or until center is almost set. Run a knife around the rim of pan to loosen cake; cool before removing rim. Refrigerate cheesecake 4 hours.
Just before serving top with the strawberry sauce and fresh whipped cream.
How to Store Cheesecake
Simply store any leftovers, if you have any, in the refrigerator to keep your cheesecake fresh and moist. Covering with a plastic wrap or foil will help to keep it from drying out; nobody likes a dry cheesecake!
Your cheesecake can be stored in this way for up to one week. A top tip for storing your cheesecake is to transfer it back to the pan when you are ready to store it and cover the surface of the pan with foil or plastic wrap. This will prevent any marks on the surface of your delicious dessert.
You Can Freeze a Keto-Friendly Cheesecake
You can store in the freezer for 1-2 months. Before you freeze your cheesecake, ensure that it has cooled to room temperature. Simply thaw before serving.
First, freeze it on a baking sheet until firm and then wrap in foil before returning to the freezer for storage. When you're ready to thaw your cheesecake simply place it in the refrigerator for 12-24 hours with the covering loosened or at room temperature for 4-6 hours.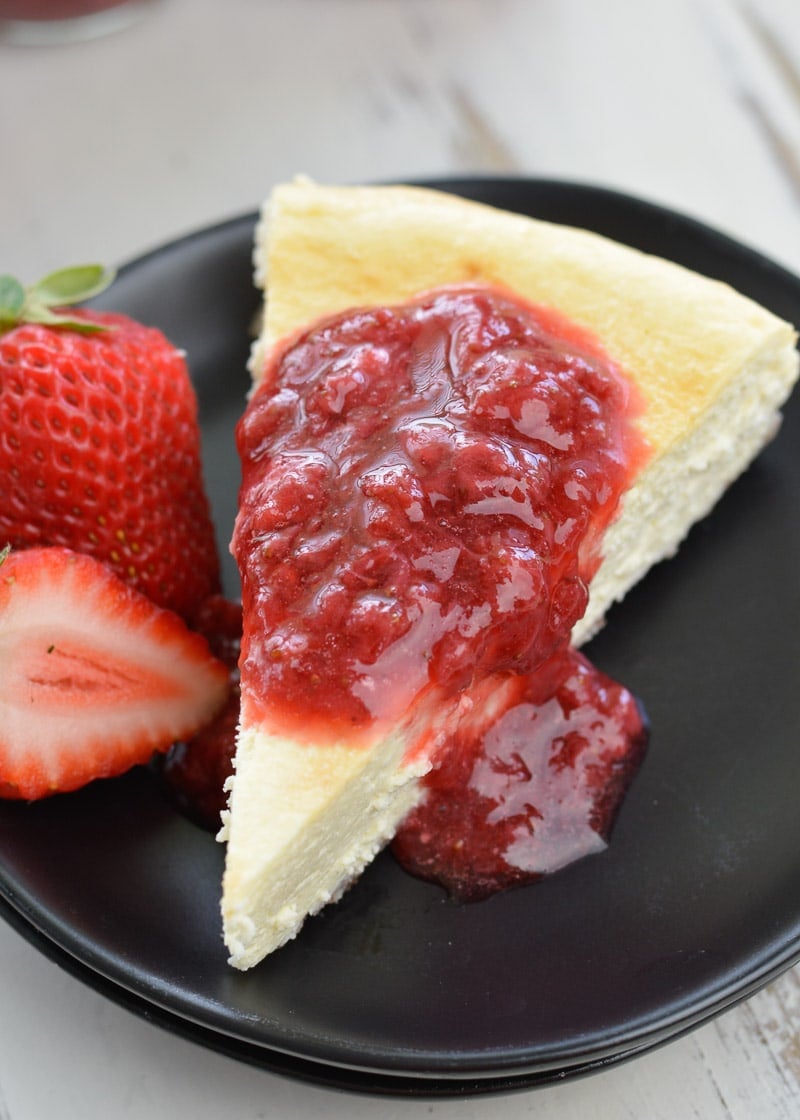 Tips for the BEST Keto-Friendly Cheesecake
If you want your cheesecake to go above and beyond all expectations, I have some fabulous tips for you to ensure that your cheesecake is top-tier!
Don't over mix your cheesecake batter. Make sure you do not over-beating the cheesecake batter. This creates too many air bubbles which cause the cheesecake to puff out during baking and crack during cooling. Nobody wants a crack-filled cheesecake! If you do happen to beat the cheesecake a little too vigorously, remember that you can let it rest for about five minutes before pouring into the pan. This will allow most of the air bubbles to rise to the surface.
Do you need a water bath? Cheesecakes like a hot humid environment, instead of baking in a water bath and risking water leaking through your pan you can place a separate dish of water in the oven as the cheesecake cooks to achieve the same goal. This is not essential, but it does help create a cheesecake that doesn't have cracks.
Chill your cheesecake properly. Allowing your cheesecake plenty of time to cool will help it to remain free of cracks. I tend to bake a cheesecake the day before it is required to make sure it can cool down completely to room temperature before refrigerating.
Don't overcook. One of the most frequently asked questions I get when it comes to cheesecakes, other than how to prevent cracks, is how do you test when it is done. Well, the best test is by its appearance. The edges of the cheesecake should be set, with a pool in the center of 2-3 inches. The cake should look like it has puffed out a little but should barely be beginning to brown. Opening the oven to keep checking your cheesecake will only cause more cracks so try to keep your hands off!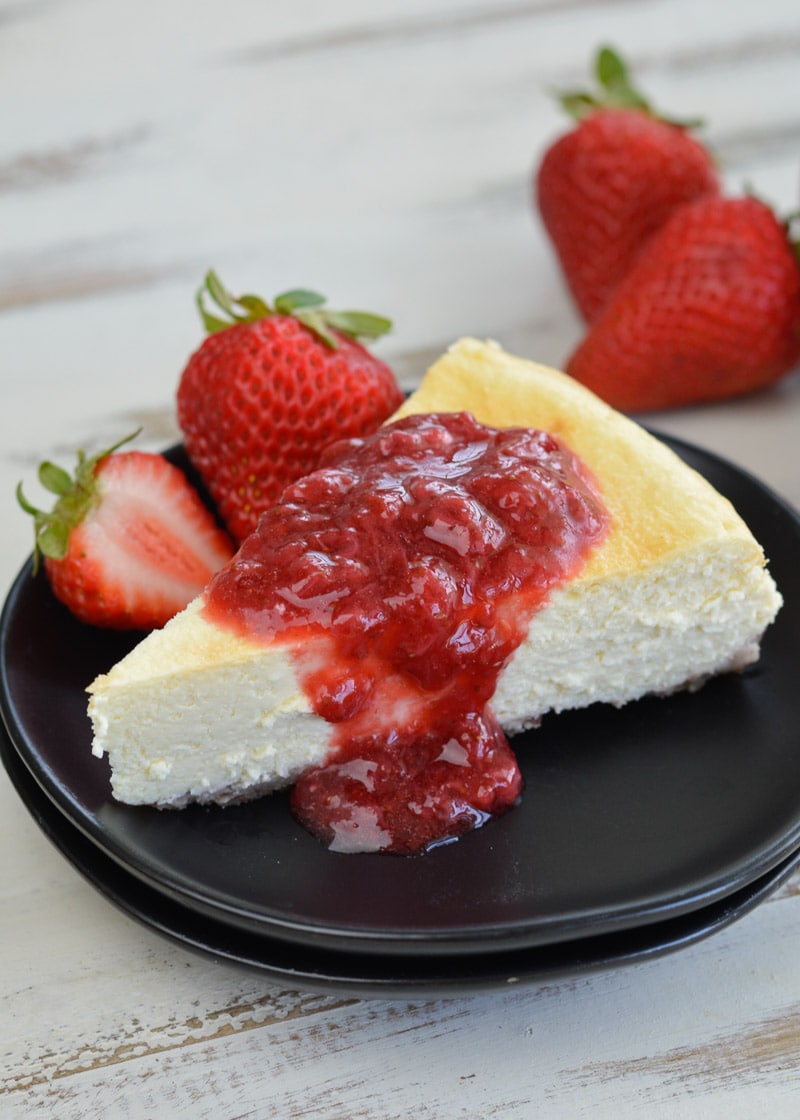 More Easy Keto Desserts: