Forget the coffeeshop and enjoy the BEST Keto Coffee Drinks at home! Lattes, frappuccinos, and more, all under 5 net carbs each.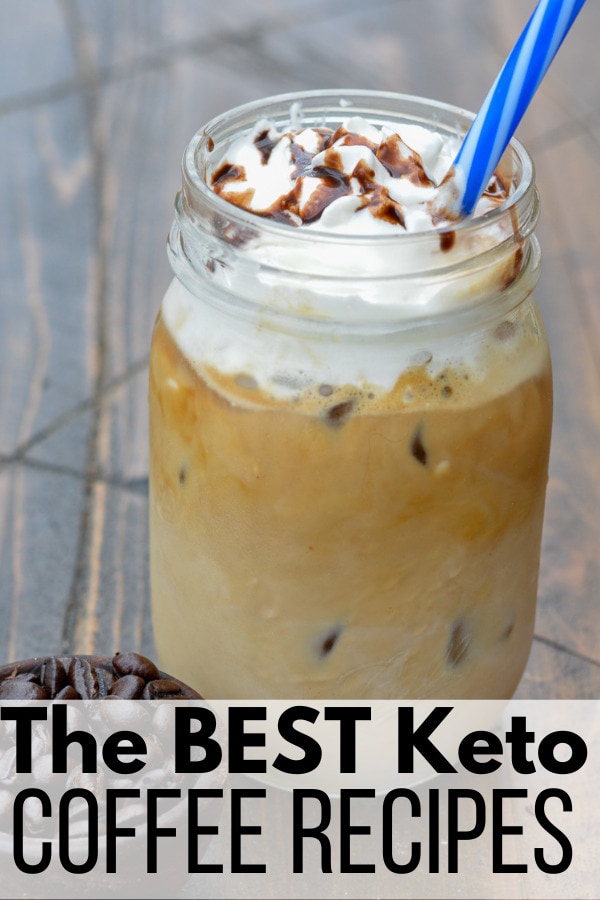 Enjoy the BEST Keto Coffee Drinks each morning to keep your energy high and your carbs low. This list includes it all — Easy or difficult, classic, holiday, and more! It even includes some keto coffee cocktails that will keep you buzzed in more ways than one.
Can you drink coffee on Keto?
Yes! Coffee is naturally low carb. You do have to be careful on what you add to your coffee. Your milk needs to be keto friendly- I use almond milk. Your syrups also need to be low carb- like this sugar free syrup.
What is Bullet Proof Coffee?
Bullet Proof Coffee is a coffee drink that is made with MCT oil (a fat supplement), butter or ghee– it is intended to be a meal replacement due to it's high fat content. To make any of these recipes "bullet proof", just add one tablespoon butter or MCT oil. If you prefer iced drinks, MCT oil would work best as it does not solidify like butter or ghee would.
There are keto creamers that include MCT oil, but those can be quite expensive. You can also use other low-carb options like heavy cream, almond milk, coconut milk, etc.
Sugar Free Sweeteners
You can sweeten your coffee using sugar-free options like monk fruit, Swerve, or Stevia! Stevia will dissolve in hot or cold coffee, but monk fruit works better in liquid form since it will crystalize in cold drinks.
Sugar Free Coffee Syrups
To add different flavors to your keto coffees, sugar-free syrups work like a champ. You can often find these in the coffee aisle at grocery stores, and I've had some success finding them in retail stores like TJ Maxx. You can get variety bundles with classic flavors including vanilla, holiday flavors including peppermint, even unique flavors like birthday cake.
For a great homemade syrup, try the Keto Caramel Sauce — It is super low in carbs and adds SO much flavor! It's the star in the Salted Caramel Frappuccino and more.
Homemade Keto Coffee Essentials
When switching your daily coffee habit up, you might need to stock up on some helpful tools and supplies. Beyond your syrups, sweeteners, and creamers, here are the things I've found handy:
Keto Desserts You May Enjoy
The BEST Keto Coffee Drinks
Enjoy your favorite coffee drinks without the guilt! These are my BEST keto coffee drinks- each drink is keto, gluten free and low carb!