These Keto Peanut Butter Cheesecake Truffles require just 6 ingredients and no baking! These low carb delights are about 2.5 net carbs each and perfect for satisfying your sweet tooth!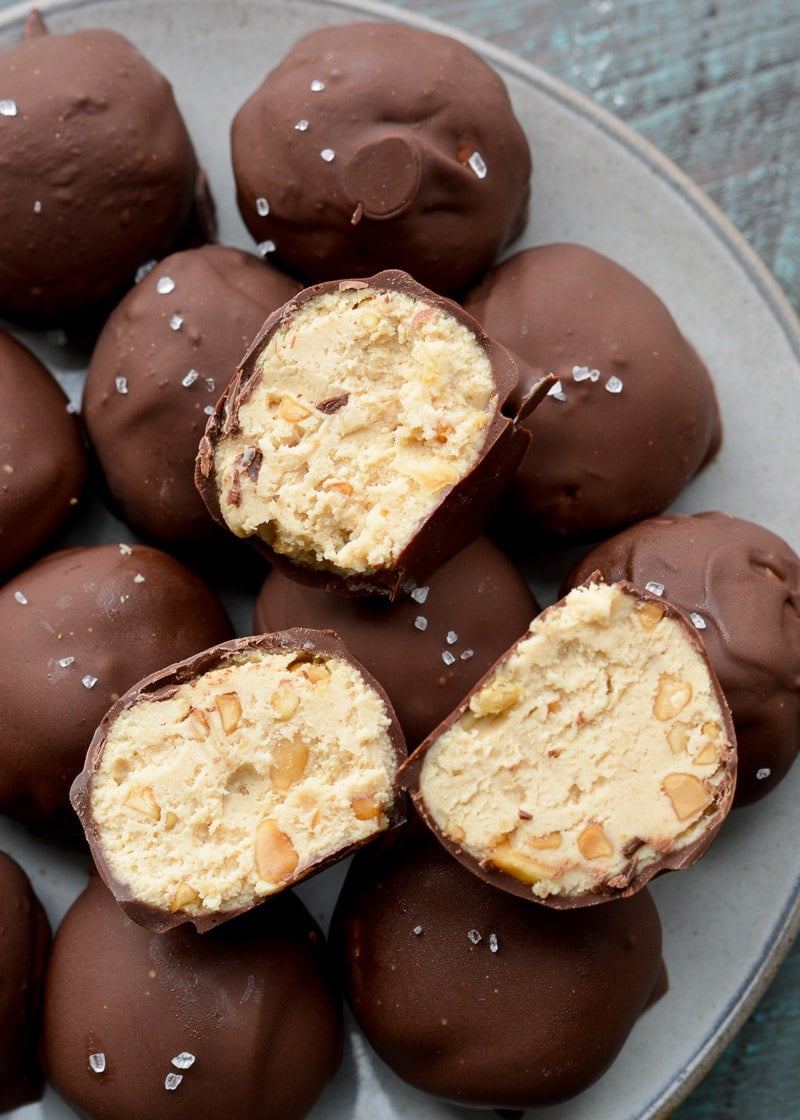 Truffles are one of my favorite types of recipes because they pack such a big punch of flavor into such a tiny package. These unassuming little balls of chocolate could contain tons of different flavors, but when you bite in and discover that these are luscious, rich Peanut Butter Cheesecake Truffles… Oh boy, you are in for a treat!
These truffles taste like good trouble (a lot like my Peanut Butter Cup Pie), but they come with barely any baggage–Just 2.5 net carbs per piece! They're perfect for a get-together–You can make them ahead of time, and even your keto guests can finally say "yes!" to dessert! Finally, a meal prep win that is sure to make everyone happy!
Ingredients for Peanut Butter Cheesecake Truffles
As always, you will find the recipe and instructions below, just keep scrolling. This is a quick overview of the ingredients you will need for this recipe.
Cream Cheese: you can use full fat or reduced fat cream cheese in this recipe.
Peanut Butter: creamy or crunchy work in this recipe, I prefer crunchy to give it a nice texture.
Confectioners Monkfruit Sweetener: confectioners Swerve also works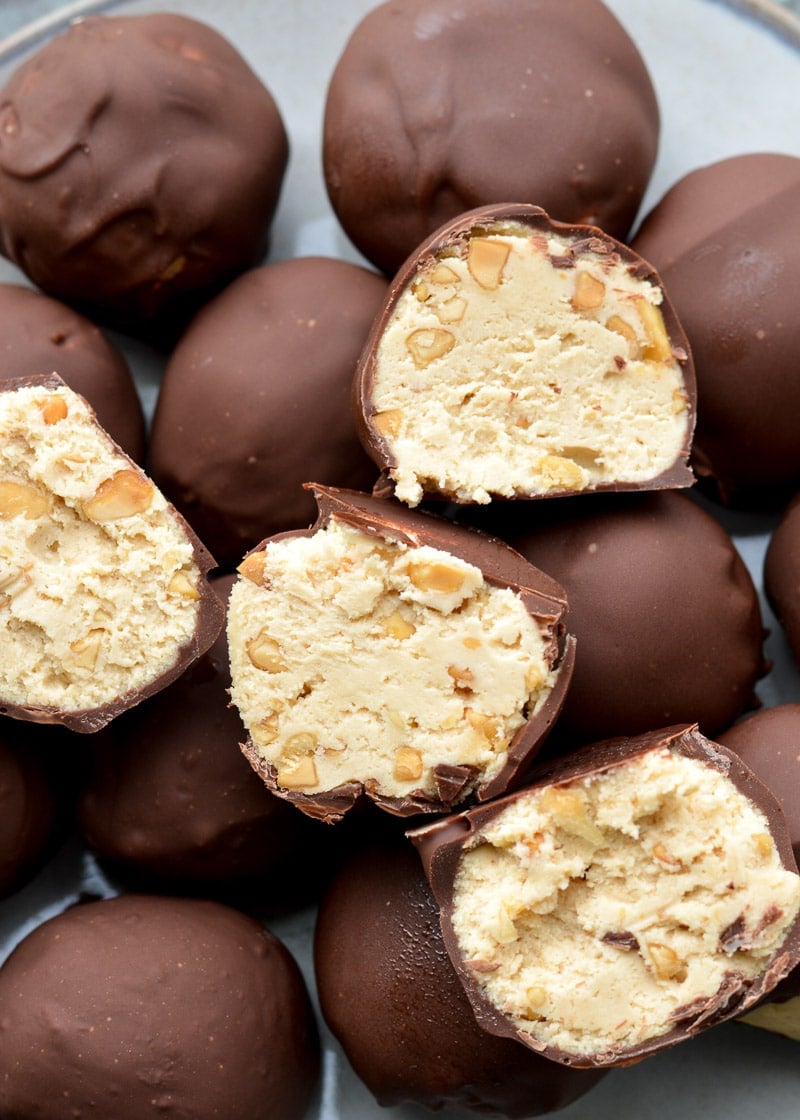 How do you make Cheesecake Truffles?
You need to follow three very basic steps to make these Keto Peanut Butter Cheesecake Truffles. And just in case you want to make these even easier, you can skip the chocolate coating and enjoy the cheesecake truffles sans chocolate!
Combine the cream cheese, peanut butter, sweetener and vanilla extract in a mixing bowl and beat with an electric mixer until smooth and creamy.
Roll the cheesecake into tablespoon size balls (this is easier if you chill it for a few minutes first). Freeze the cheesecake balls at least 20 minutes so it is easier to dip into the warm chocolate.
Melt the chocolate and coconut oil to make the chocolate coating. Dip the cheesecake balls into chocolate, place on a silicone or wax paper lined baking sheet.
How many carbs are in each No Bake Cheesecake Ball?
This recipe makes about 24 cheesecake truffles. With the chocolate coating each truffle is 124 calories, 5.1 grams of carbs, 2.5 grams of fiber. That makes each truffle 2.5 net carbs.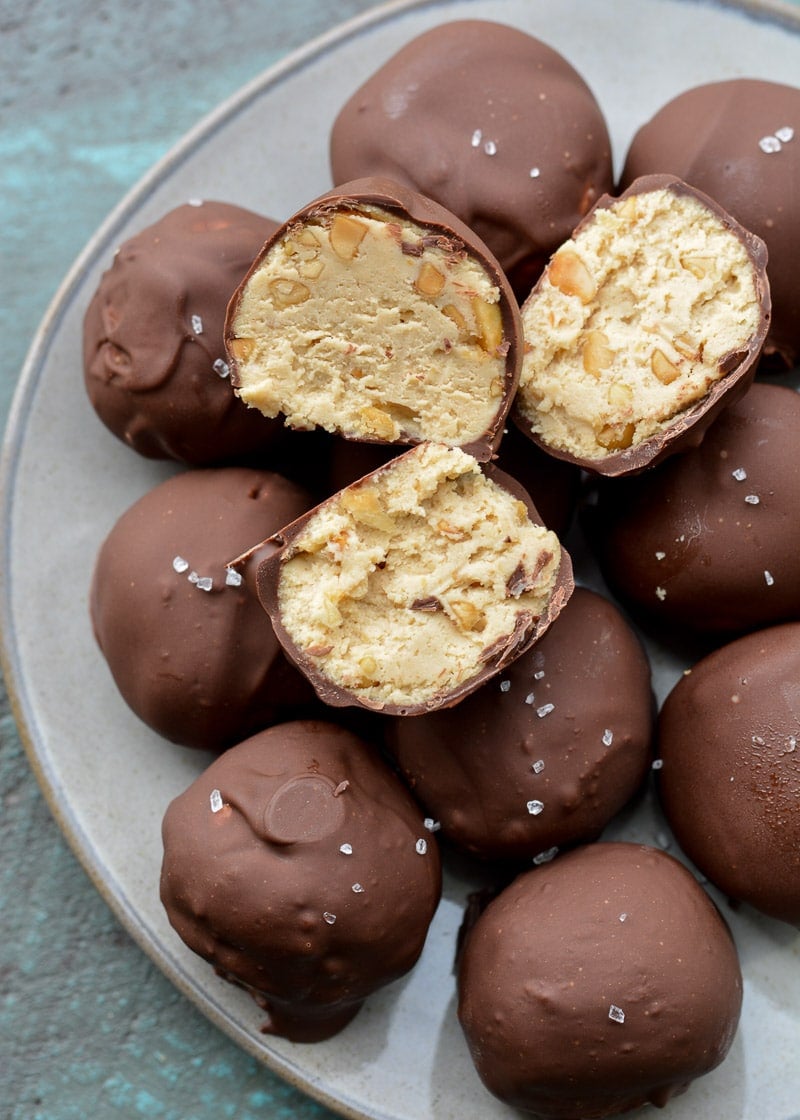 How do you store Cheesecake Truffles?
This keto dessert needs to be kept chilled. Store in the refrigerator for up to 5 days. Alternatively, you can store in the freezer in an air tight container up to 3 months. Simply remove the truffles from the freezer and allow them to thaw about 10 minutes before eating.
Other Keto Desserts