This is the perfect Keto Sugar Cookie Recipe! These almond flour sugar cookies have the delicious, soft, melt in your mouth texture, just like traditional Lofthouse sugar cookies, and contain about 2 net carbs each!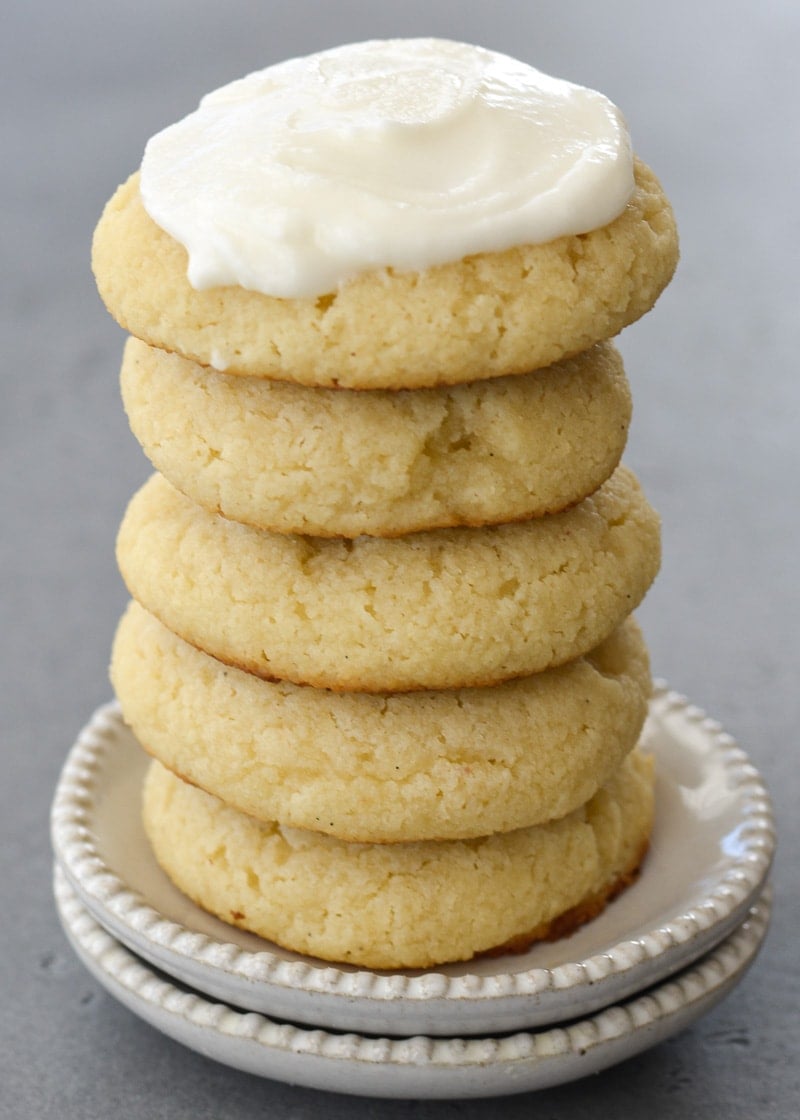 Today I'm sharing the ultimate low-carb sugar cookie recipe! If you are a regular reader, you know I've been on a mission to master keto cookies this year.
My baking obsession started with these Keto Chocolate Chip Cookies and evolved into a white chocolate macadamia and cranberry version. Those cookies are perfectly chewy and are a perfect low carb alternative to the classics we all love.
I'm happy to report that these keto sugar cookies are just as good! These soft, pillowy cookies are perfectly sweet and excellent on their own, or with frosting. This is a great gluten-free cookie to add to your holiday baking!
Ingredients for Keto Sugar Cookies
If you're new to the keto diet, you may be thinking, "sugar-free sugar cookies?" I know the concept might sound strange to some, but I promise these almond flour sugar cookies are so delicious!
Here's what you'll need to make these naturally gluten-free, sugar-free cookies:
Almond flour
Coconut Flour
Baking Soda
Baking Powder
Salt
Granular Monkfruit Sweetener
Butter
Egg
Sour Cream
Vanilla Extract
If you'd like to make the sugar free frosting, you will also need: butter, cream cheese, powdered monkfruit sweetener, almond milk or heavy cream, and vanilla extract.
Can I Use Another Sugar Alternative?
Yes, another granulated sugar alternative like swerve should work just as well.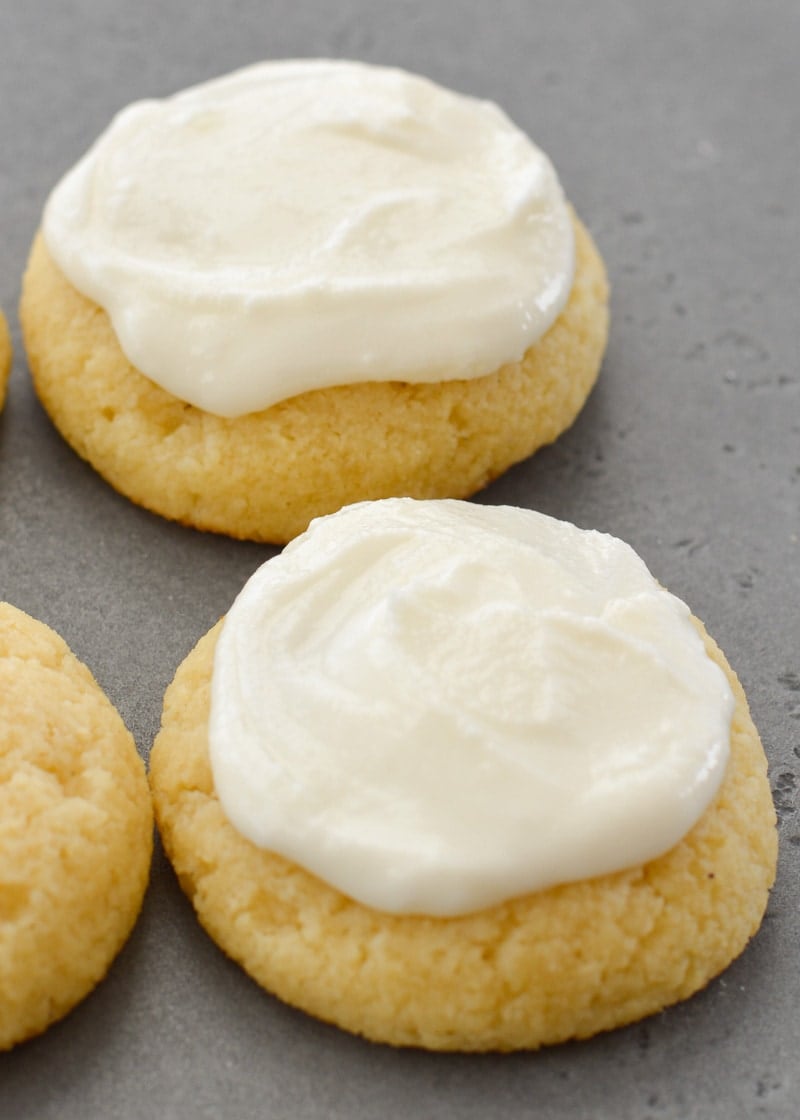 How to Make Keto Sugar Cookies
These low-carb sugar cookies can be made in just a few simple steps.
Combine the almond flour, coconut flour, baking powder, baking soda and salt in a mixing bowl and set aside.
Using an electric mixer, cream the butter and monkfruit sweetener until well blended. Add the egg, sour cream and vanilla extract.
While the mixer is on low, add the flour mixture until well combined. Wrap the dough ball in plastic wrap and chill overnight.
Scoop the dough using a 1 inch cookie scoop and bake on a silicone lined baking sheet at 350 degrees F for 9-11 minutes, remove the cookies from the oven while they are still slightly soft in the center, they will finish cooking as they cool.
Allow the cookies to cool on the baking sheet for 10 minutes, then transfer to a wire baking rack to cool completely.
How to Make Sugar-Free Cookie Frosting
Sugar-free frosting is simple to make. Frosting is the combination of a few simple ingredients, a fat, sweetener, an extract and sometimes a small amount of liquid.
For this keto frosting, I combine butter, cream cheese, powdered monkfruit sweetener, vanilla extract and a tiny amount of milk to achieve the right consistency.
I consider this recipe a base recipe because it is easy to customize. You can easily add a different extract such as almond or maple to achieve a different flavor combination.
Do I Have to Chill the Sugar Cookie Dough?
Yes! Chilling the dough is absolutely essential. The cookies have the perfect texture when they have been chilled overnight. However, it is possible to bake these cookies after the dough as chilled as little as two hours.
Cookie dough is chilled to solidify the fat in the dough, which prevents the cookies from spreading too much. If you do not chill the dough, or place the dough on an already warm baking pan it will result in a thin cookie that has spread too much.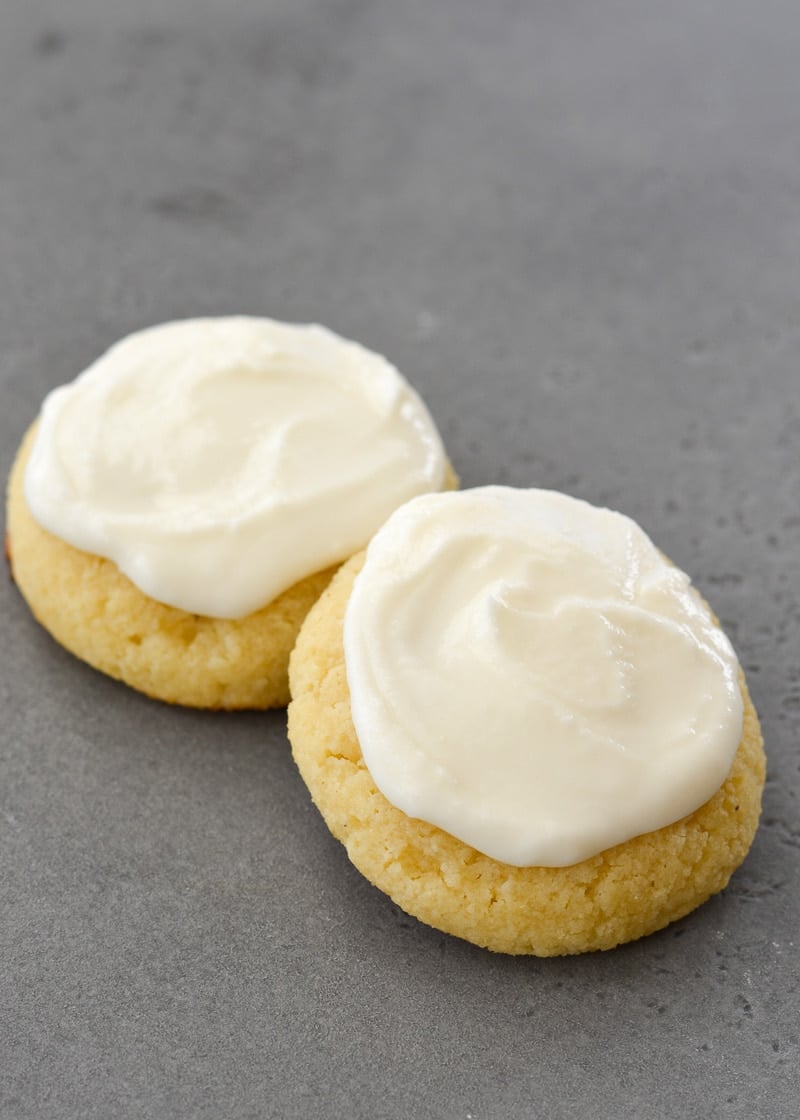 How Many Net Carbs Are in Keto Sugar Cookies?
This recipe makes 24 cookies if you use a small, 1-inch cookie scoop. When divided into 24 equal portions, these keto sugar cookies come to just 1.8 net carbs each. When you add the sugar free frosting, which is also included with this recipe, it adds 1.3 grams of fat and 0.1 grams of carbs.
Can I Roll Out the Dough to Make Cut-Out Cookies?
Yes! The dough is sticky, so it can be a little harder to work with. Make sure to flour the work surface well and do not roll the dough any thinner than a 1/4 inch. Decrease the cooking time by 2 minutes, depending on the shape and how fat you make the sugar-free sugar cookies.
Tips for Making Sugar-Free, Gluten-Free Cookies
I do not recommend using another type of flour for this recipe. I've found the ratios of almond flour and coconut flour to be perfect for this recipe and can't recommend anything else.
You must chill the cookie dough, otherwise the keto sugar cookies will spread dramatically in the oven.
The bake times listed are for cookies that have been scooped using a 1-inch scoop. If you make the cookies larger or smaller, the bake time will vary.
Other Keto Cookie Recipes:
You can never have too many cookie recipes, right? My all time favorite low-carb cookie recipe are these Keto Chocolate Chip Cookies, as of this writing this recipe has over 200 five-star reviews! They are perfectly flavored with vanilla, dark chocolate chips and pecans.
Some of my other favorite low-carb cookie recipes include: