This Peppermint Bark Latte is the BEST keto coffee drink! It's holiday spirit in a mug with just 1 net carb per drink.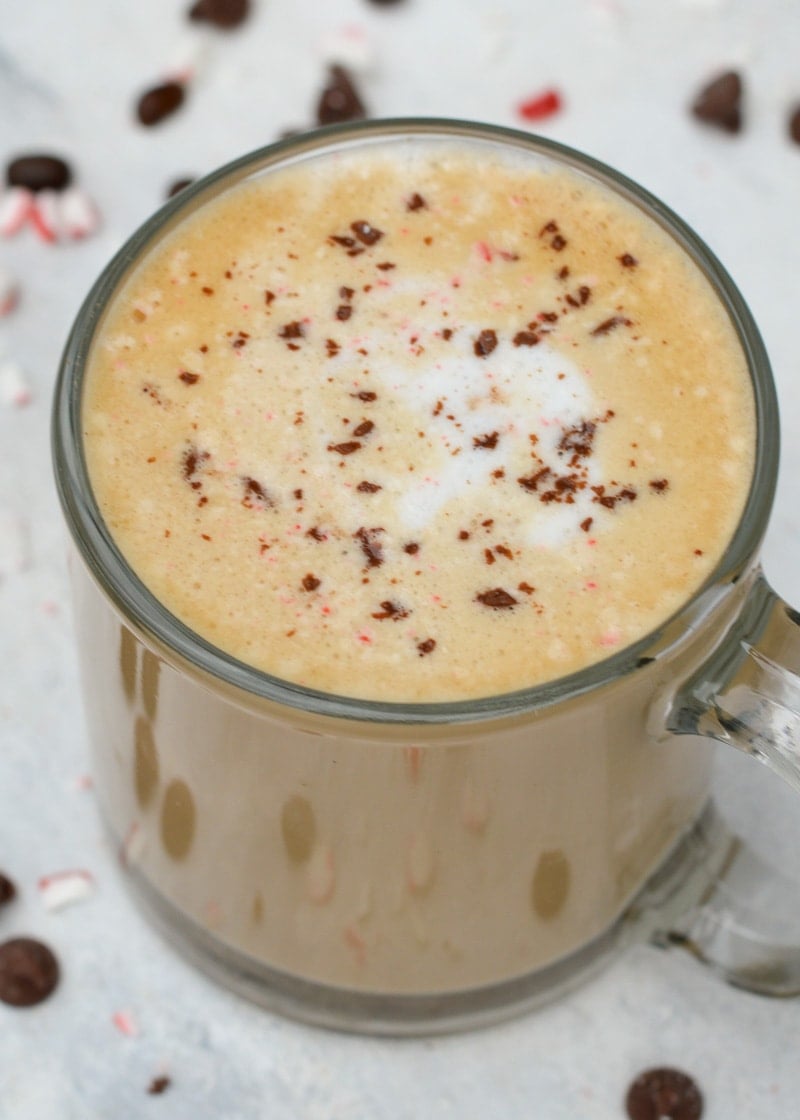 Peppermint Keto Latte
This Keto Peppermint Bark Latte is a little bitter, a little sweet, and incredibly delicious. I used this Skinny Syrup Peppermint Bark syrup to get this great flavor, but you could use any sugar-free peppermint syrup to make an amazing low-carb coffee recipe.
You only need 3 ingredients in this recipe, good for those early mornings when you want to treat yourself but you also don't have the brain power to function perfectly. You could also modify this easily to better fit your preferences!
Peppermint Bark Keto Latte Ingredients
Espresso – You can increase or decrease this based on your preferred coffee strength.
Sugar free peppermint bark syrup – I used Skinny Syrup's Peppermint Bark Latte Syrup. It's best to start with a small amount and add more if you need.
Steamed almond milk – Almond milk can be steamed just like milk for a nice, frothy top with fewer carbs.
How to Make the BEST Keto Latte
Keto Lattes are so easy to make — Just two steps and three ingredients! Here's how to make the best keto latte: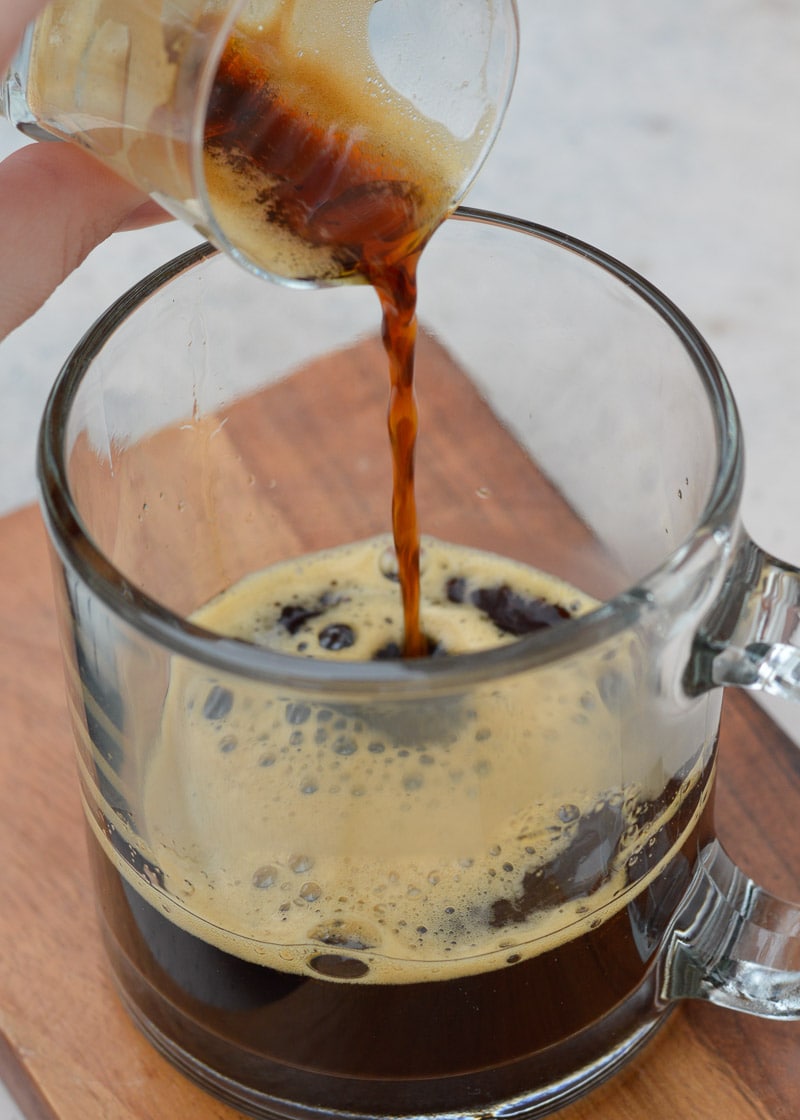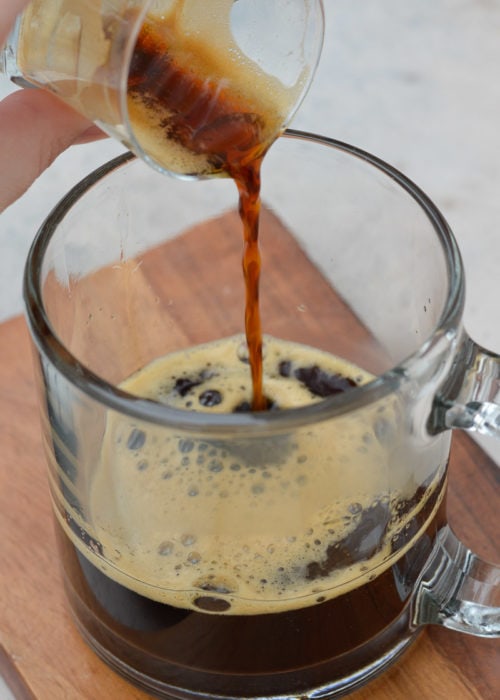 Pour the espresso and sugar-free syrup
Let's start with the coffee! I used my preferred roast — It's a dark roast, strong, not too bitter. It worked perfectly in this recipe with the sugar-free syrup. I used this Peppermint Bark Jordan's Skinny Syrup to create this latte. The taste is pretty spot on!
Note: I like to use two shots of espresso, but some may not prefer that much caffeine. You can use just a single shot of espresso if you'd like. You can also adjust the syrup based on your own tastes — Start with less and add more to taste.
Pour steamed milk
For the last step, froth 6 ounces of almond milk (or milk if you prefer). You can use a stand alone milk frother or an espresso machine's steamer wand. Once it has reached your desired consistency, split the milk and froth among the two cups.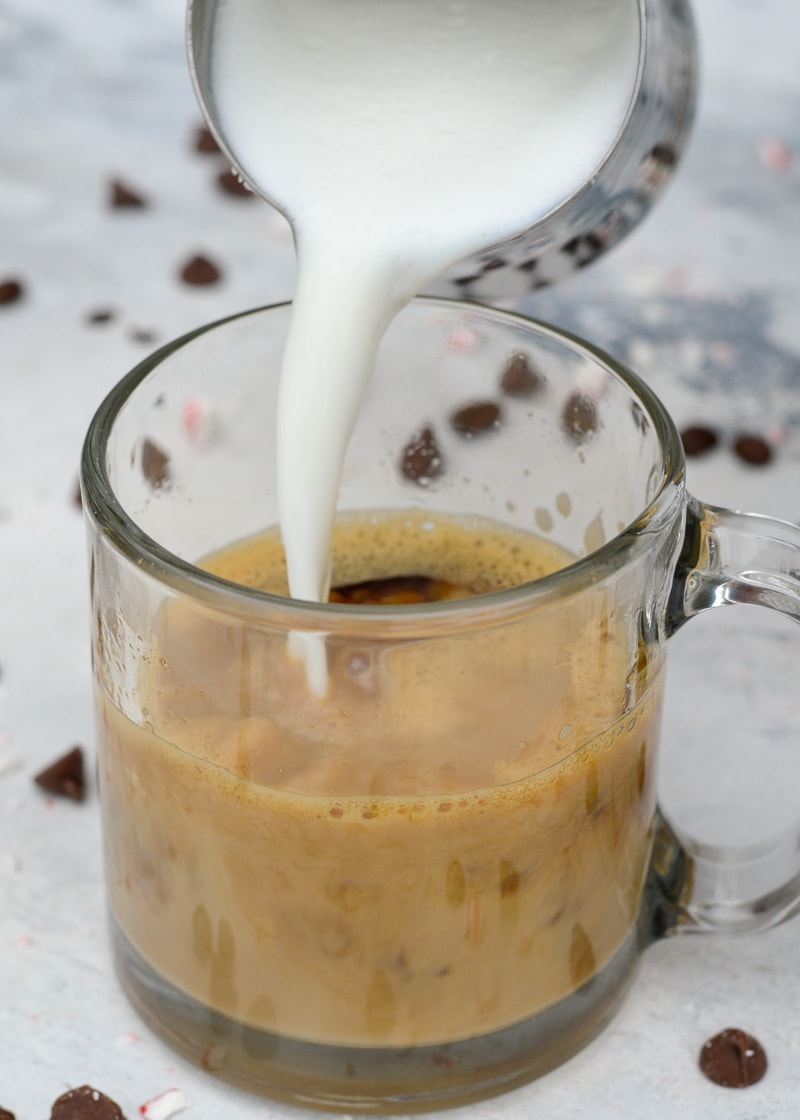 Serve
Garnish your latte if desired. I crushed some sugar-free peppermints and finely chopped Lily's Chocolate Chips.
Add a big slice of this Keto French Silk Pie for a super indulgent treat. For a smaller treat, make this Keto Peppermint Bark and enjoy a holiday overload! Pairing this keto latte with this Chocolate Keto Zucchini Bread or Chocolate Chip Muffins would be the perfect way to start the day.
If you like this Peppermint Bark Latte, you might love some of my favorites: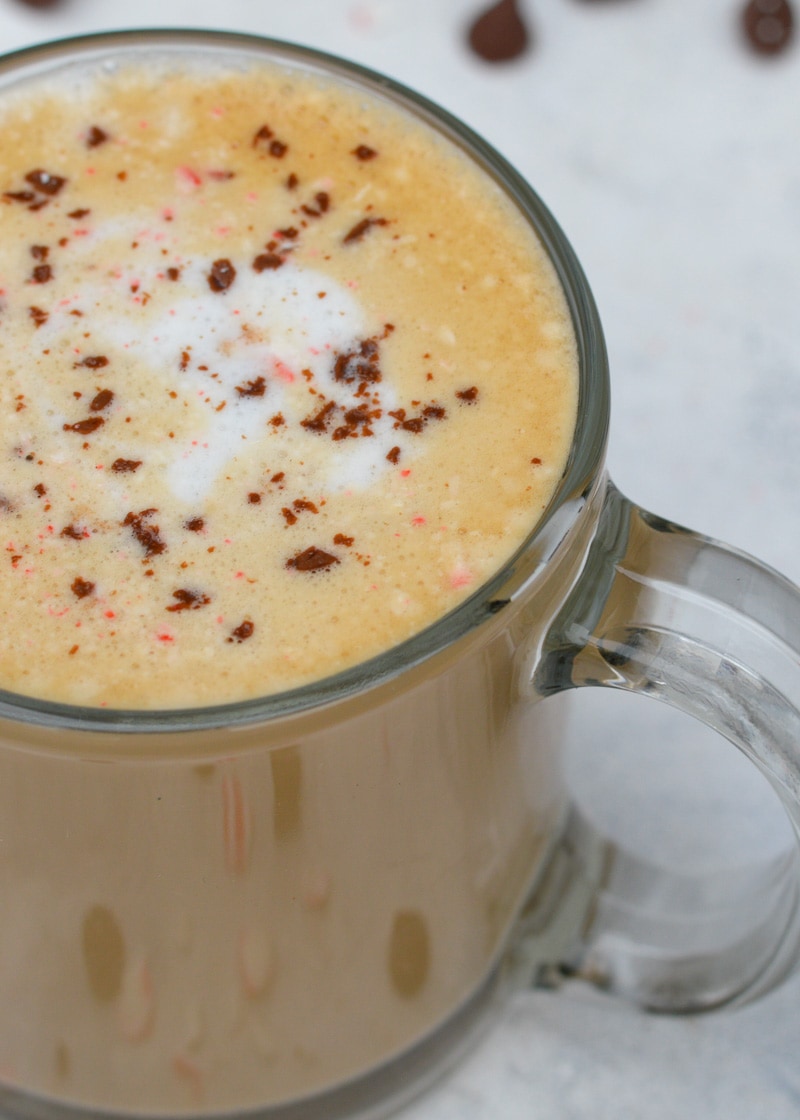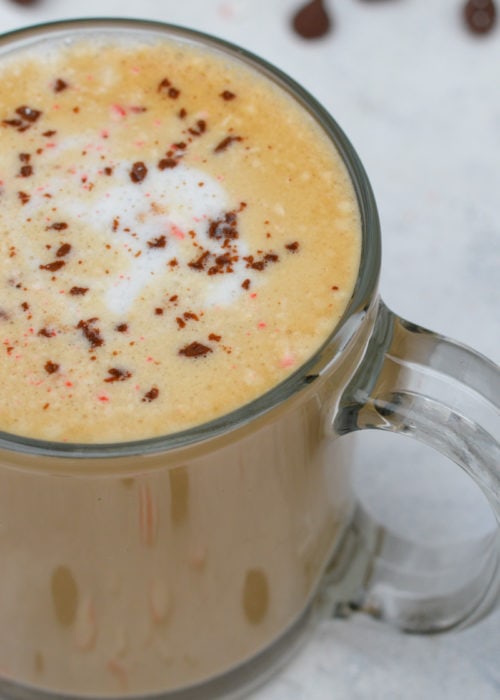 FAQ's about Peppermint Lattes
What is a latte?
A latte is a delicious coffee drink that can be served warm or "iced." You can use 1 or 2 espresso shots which are then topped with a thin layer of foam (not as much as a cappuccino). When you'd like a flavored latte like this one, simply add your syrup to the espresso before the steamed almond milk.
What if I don't have syrup?
You can still make this latte without store-bought syrup! This keto simple syrup and a little bit of extract can make any flavor syrup you'd like. Start with a small amount (like 1/4-1/2 teaspoon) of extract and a little syrup (start with about a tablespoon), then adjust each of these until the taste is right for you!
Do you have to use almond milk?
You do not have to use almond milk in this latte, but I used it for its low carbs and easy steaming ability. You can choose to use other milk or even cream for different textures (just note the carbs if you're keto).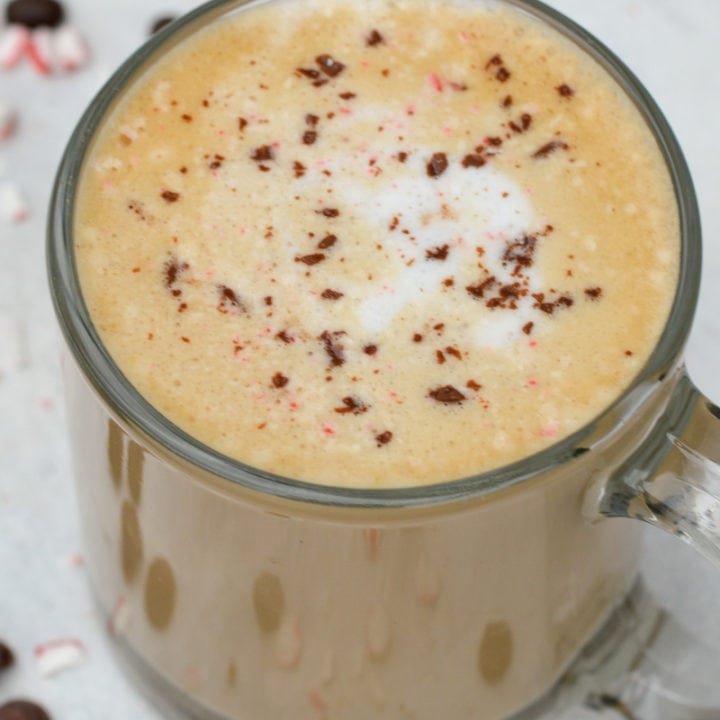 Keto Peppermint Bark Latte
This Peppermint Bark Latte is a delicious, keto coffee drink for the holidays. Sugar-free syrup gives this creamy latte that mint chocolate flavor you love!
Ingredients
4 shots espresso
1 ounce sugar-free Peppermint Bark Latte sugar-free syrup (Jordan's Skinny Syrup is the brand I used)
12 ounces steamed almond milk
Instructions
Pour half of the espresso into each cup, then follow with half of the syrup.
Add in the milk and froth, making sure each cup gets an equal share of both.
Garnish with shaved chocolate or crushed keto friendly candies.
Nutrition Information:
Yield:

2
Serving Size:

1 cup
Amount Per Serving:
Calories:

27
Total Fat:

1.9g
Sodium:

123.2mg
Carbohydrates:

1.1g
Net Carbohydrates:

1.1g
Fiber:

0g
Sugar:

0g
Protein:

1.1g