Try this Keto French Silk Pie for a decadent low-carb dessert! At about 5 net carbs per slice, this rich chocolate pie is an instant keto classic!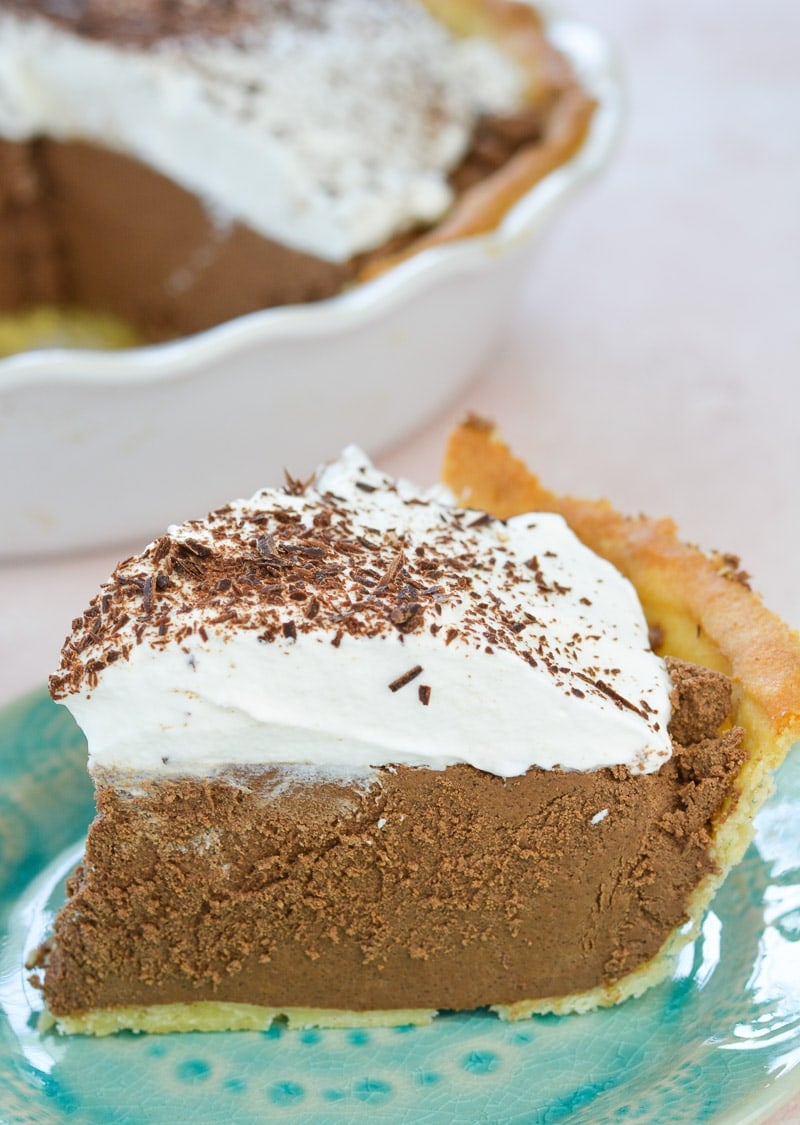 French Silk Pie gets its name from the ultra decadent silky smooth chocolate filling. This is a practically no-bake chocolate pie that is made by creaming butter, keto-friendly sweetener, eggs, chocolate and whipping cream.
This is a very easy, classic dessert to convert to a low-carb, keto friendly option. Follow along with the step-by-step guide to learn exactly how to make this easy keto dessert!
Ingredients for Keto French Silk Pie
For this keto chocolate pie, you'll need to following ingredients:
Butter
Eggs
Heavy Cream
Keto Friendly Sweetener (I used monkfruit)
Unsweetened Bakers Chocolate
Vanilla Extract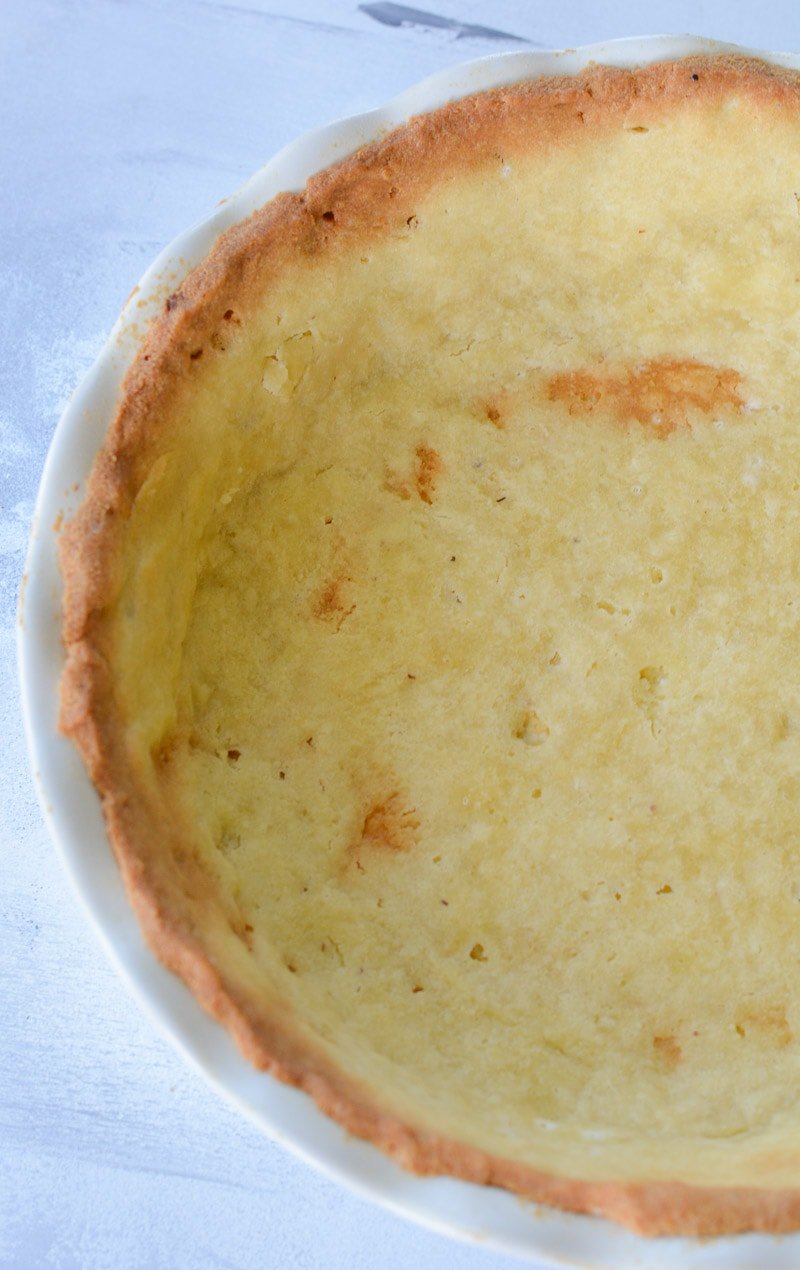 How to Make a Keto French Silk Pie
Step 1: The very first step is bake the keto pie crust. It is important to begin with this step because while the filling is not baked, the crust must be pre-baked ahead of time and allowed to cool completely before adding the filling. I used the keto pie crust linked above, which is an almond flour, butter and cream cheese-based crust.
Step 2: Next, whip 1 cup of the heavy cream until stiff peaks form. This will be added to the chocolate pie filling later on. Set in the fridge and keep cool as you make the rest of the filling.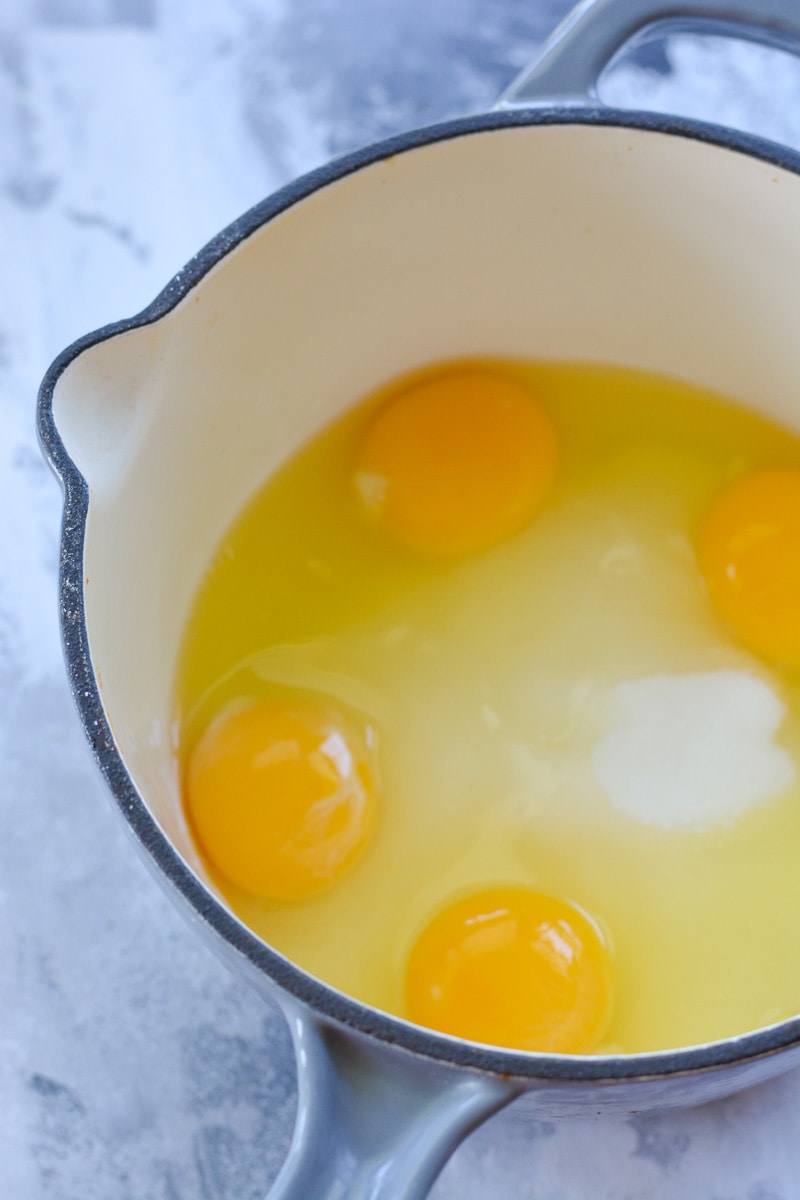 Step 3: Next, heat a small sauce pan to medium low heat. Add the keto-friendly sweetener (monkfruit) and eggs.
Step 4: Stir the egg and sugar mixture very well. Take care to stir continuously until the mixture reaches 160 degrees F.
This step brings the eggs to a high enough temperature to kill any bacteria. Often you find that French silk chocolate pie recipes use raw eggs, but this extra step ensures that your eggs are safe for consumption. When the eggs and sugar have reached the proper temperature remove from heat and set aside.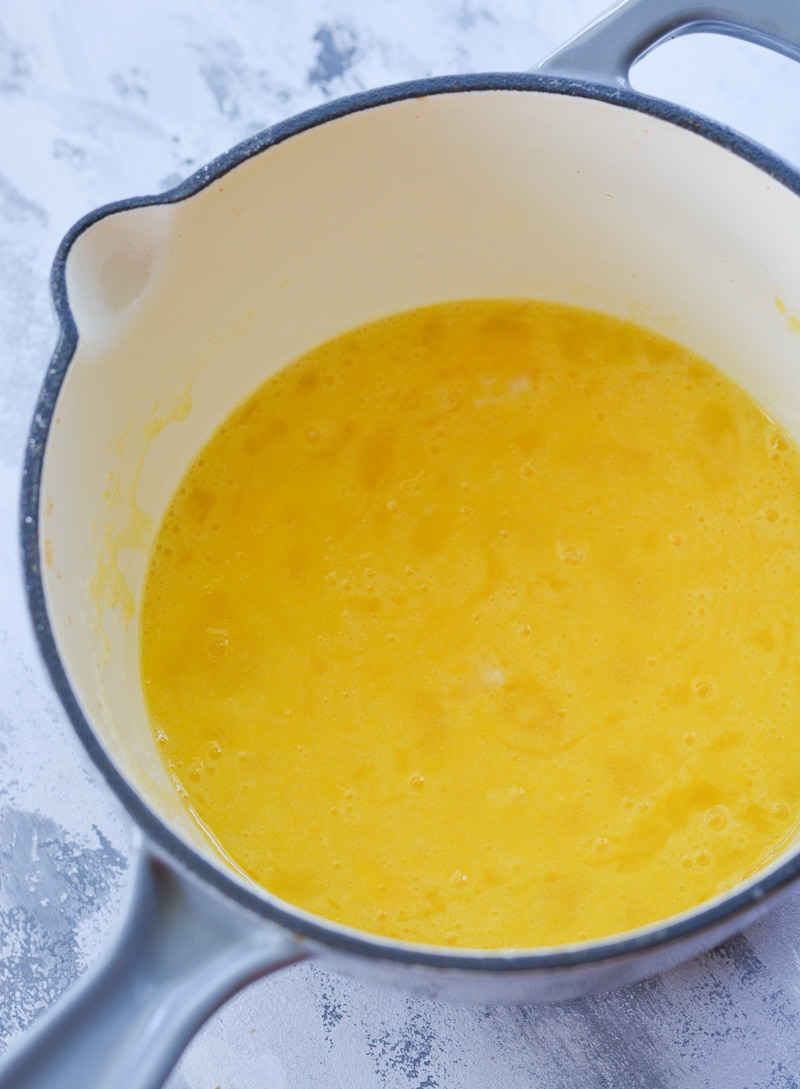 Step 5: Next, chop up 8 ounces of unsweetened bakers chocolate (this is two full packages of bakers chocolate). Heat the chocolate in 20-second increments in a microwave-safe bowl. When the chocolate is melted, completely stir in with the egg and sugar mixture.
Step 6: The next step is to use your mixer to beat the butter using your stand mixer until it is light and fluffy.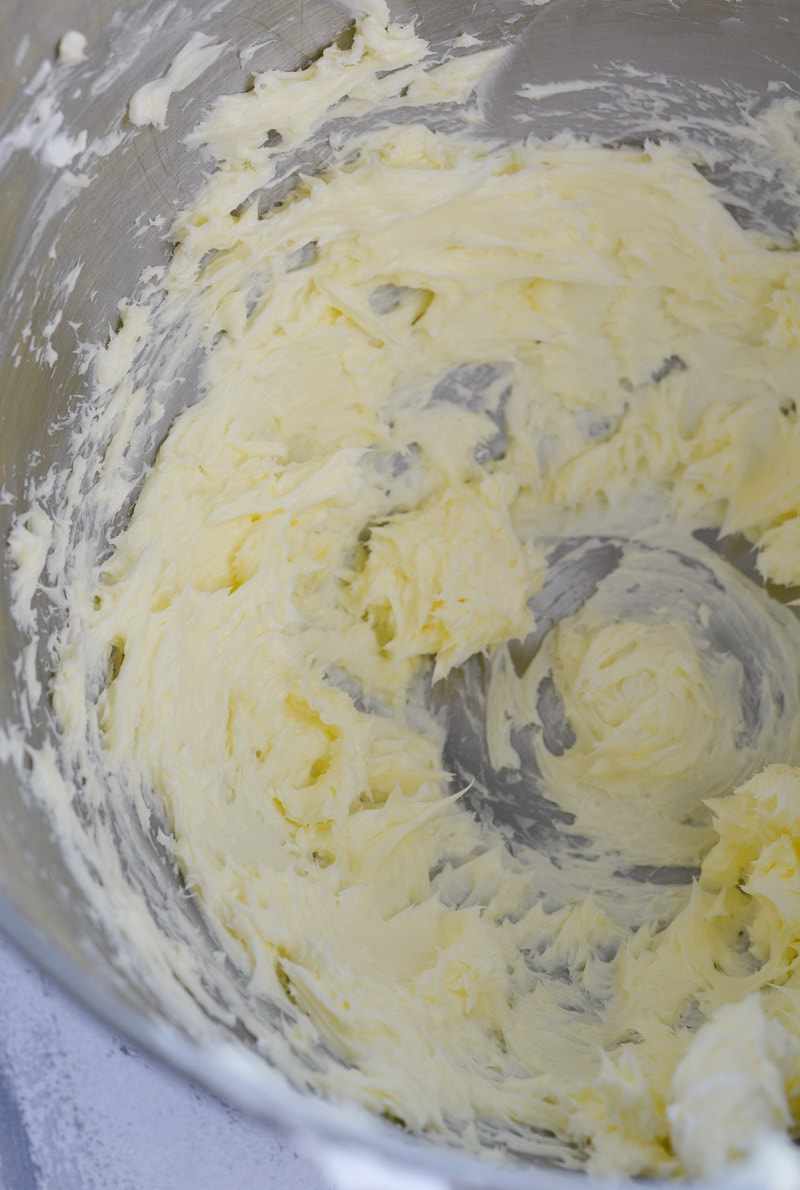 Step 7: Pour the chocolate mixture over the whipped butter and beat at medium speed until well incorporated.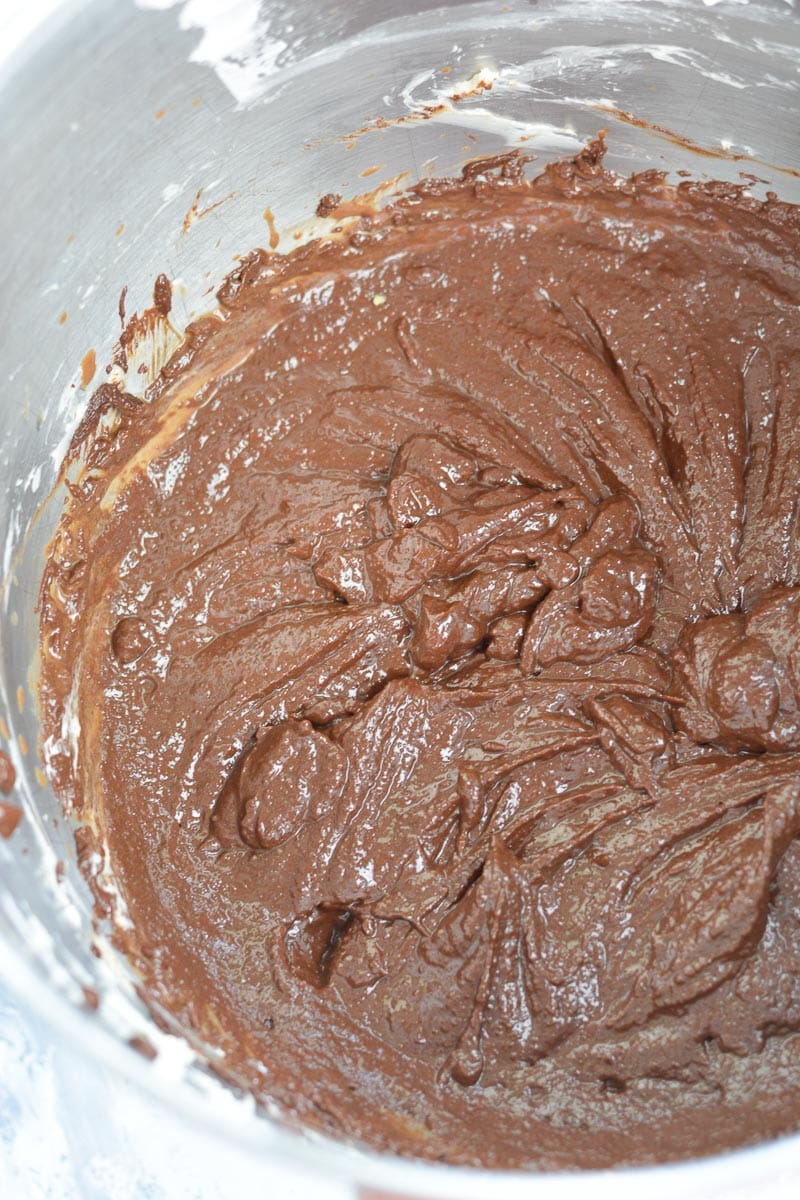 Step 8: Fold in the whipped cream you made in step 1 and beat the mixture at medium speed until the mixture is smooth and airy.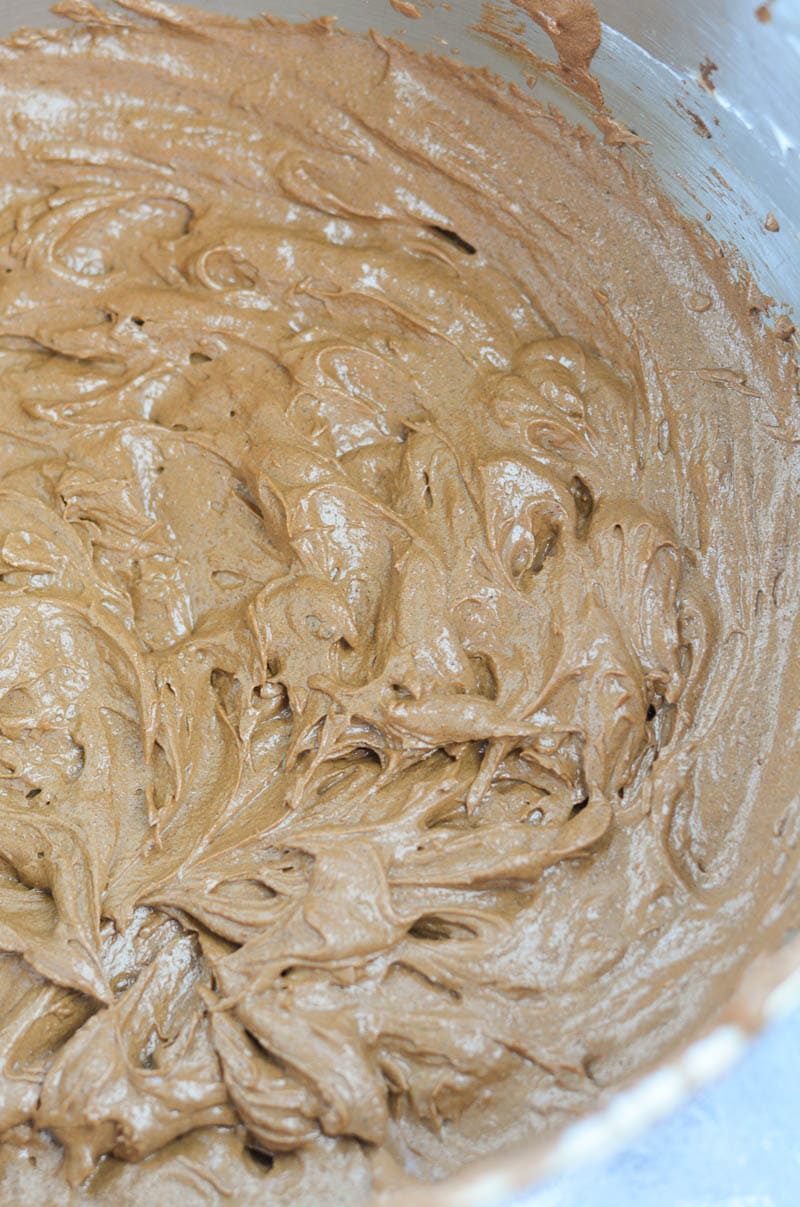 Step 9: Scoop the chocolate pie filling into the baked and cooled pie crust and top with additional whipped cream and chocolate shavings.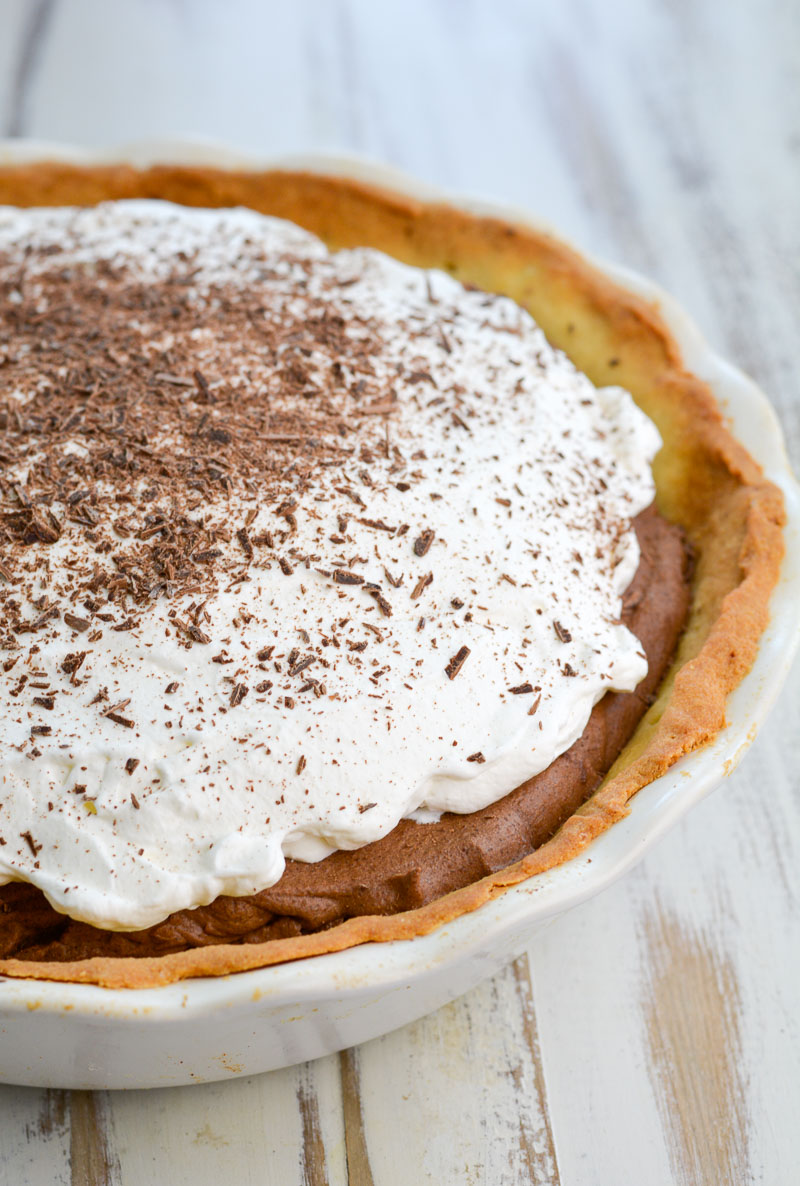 What Size Pie Dish Should I Use?
This recipe is designed for a 9-inch deep dish pie pan. This is my favorite pie dish, it is beautiful and excellent quality.
Because this is a deep dish pie, I slice this into at least 10 slices. Even at 10 slices these are still incredibly generous servings. Personally, I prefer to cut these even smaller into 12 slimmer slices since the filling is so deep. This is just something to consider before serving.
How Long Should I Chill a French Silk Pie?
In order to allow the flavors a chance to meld together and the keto pie to set well, I suggest chilling at least 6 hours. When you are ready to serve the pie I prefer to set it out at least 30 minutes. I think the texture is perfectly silky when you allow it to get closer to room temperature.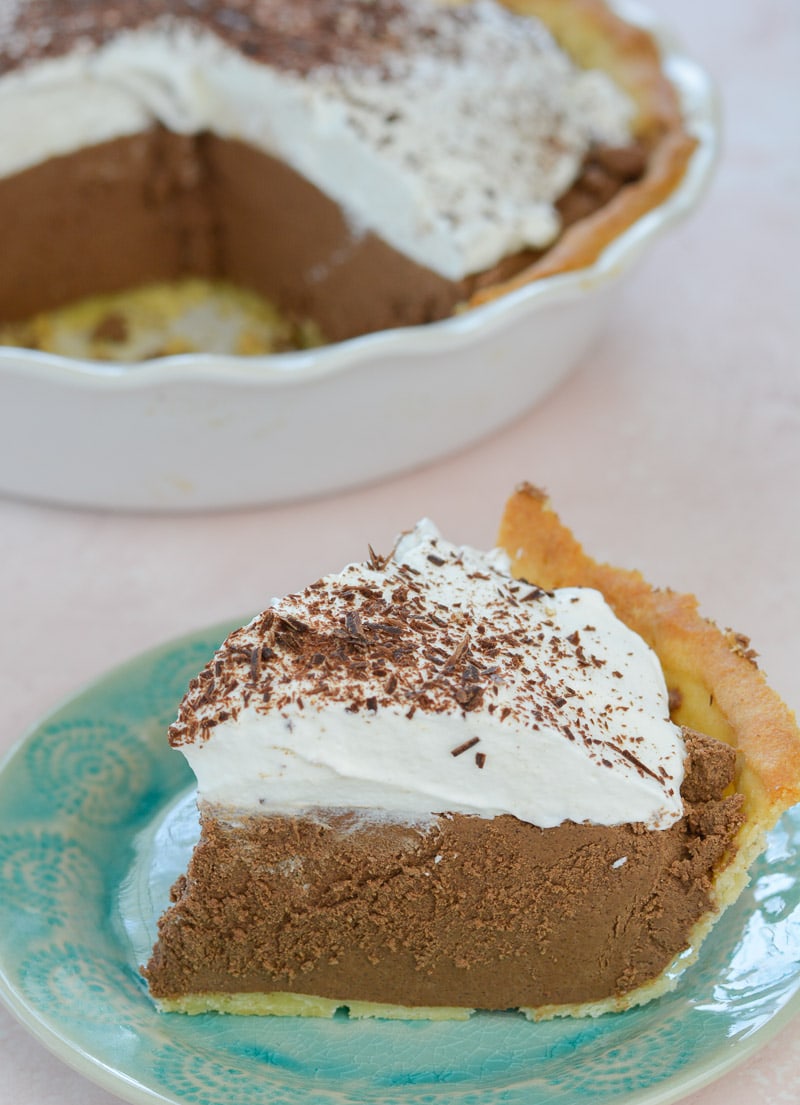 Can I Use a Different Keto Sweetener?
Yes, any low-carb sweetener should be fine. I used monkfruit, but I bet swerve would also work.
How Many Net Carbs Are in This Keto Pie?
If you slice this pie into 10 equal slices, they come to 5.6 net carbs each. However, because this pie is deep dish it is very filling and you can slice this into 12 slices if you wish. At 12 equal slices, this low carb pie comes to 4.9 net carbs.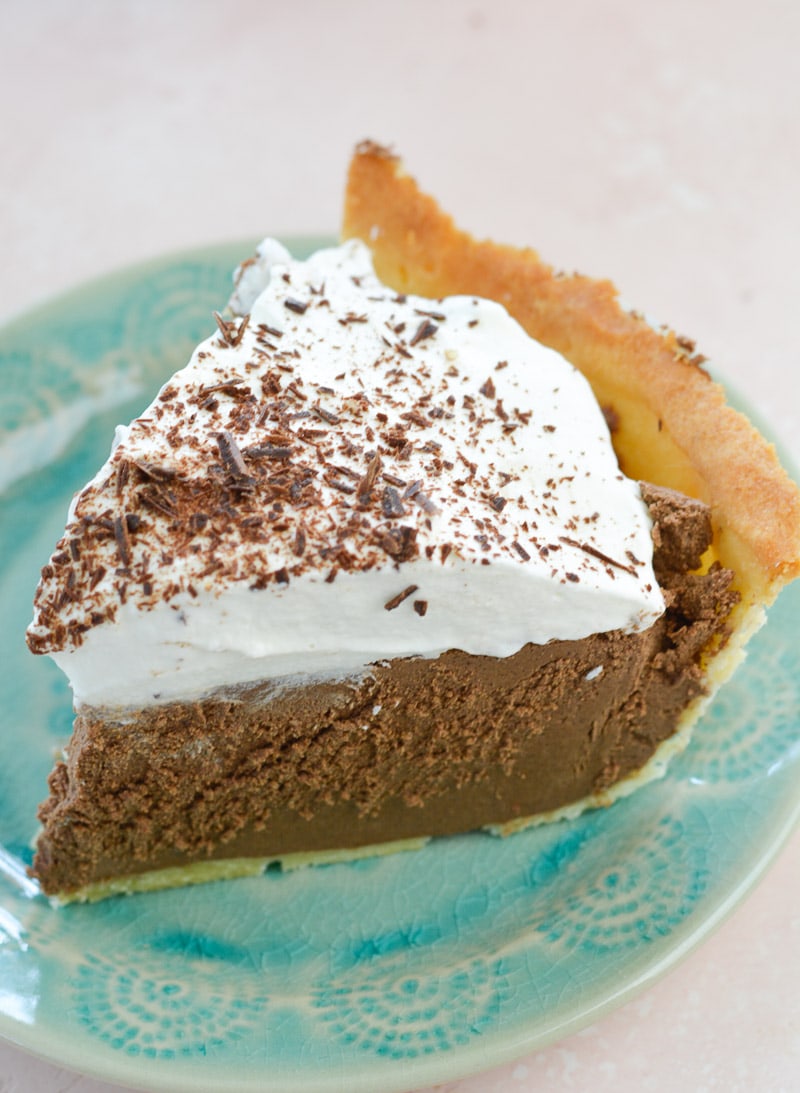 Tips for Making a Keto Chocolate Pie
Note that you must use heavy cream in this recipe, not half and half or a lower fat alternative. The fat in the heavy cream is what makes the pie filling so silky and creamy.
If you're not concerned with keeping this dessert lower carb, you can use a store-bought pie crust to make this recipe.
Make sure to buy unsweetened bakers chocolate, otherwise the chocolate pie filling will be far too sweet.
More Easy Keto Desserts:
While this Keto French Silk Pie is incredibly decadent and impressive, it is a pretty involved dessert. If you are looking for a few easier low carb options, these Keto Lemon Cheesecake Bars are at the top of my list! They feature a shortbread cookie crust, a lemon cheesecake layer, topped with a tangy lemon bar layer!
Some other favorites include: