These rich Keto Chocolate Chip Muffins are loaded with dark chocolate chips and are under 4 net carbs each!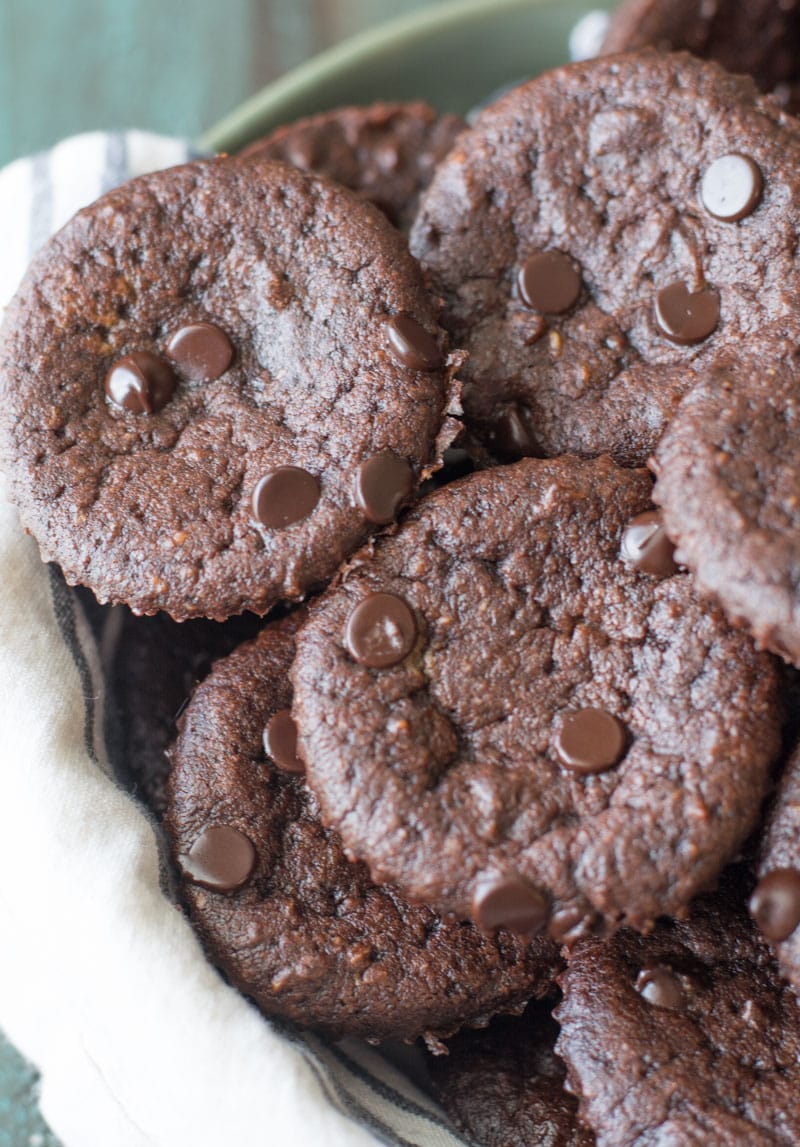 Yes, you read that right! Keto Chocolate Chip Muffins! If you have been on a keto diet anytime at all, odds are you've gone through more than one period of time where you simply cannot eat eggs anymore. I feel you!
My Mom, who is trying keto right now, just texted this week and said she was already sick of eggs. So, here I am with an easy almond flour chocolate chip muffins recipe to the rescue!
Do you want to know the best part about these keto muffins? They are under 4 NET CARBS! And the recipe makes 18 fluffy, delicious, chocolate-filled muffins you will love. To be honest, I think this recipe would work just as well as a "cupcake" with a low carb frosting on it. I'll be sharing a few different flavors of this for the holidays, so keep an eye out!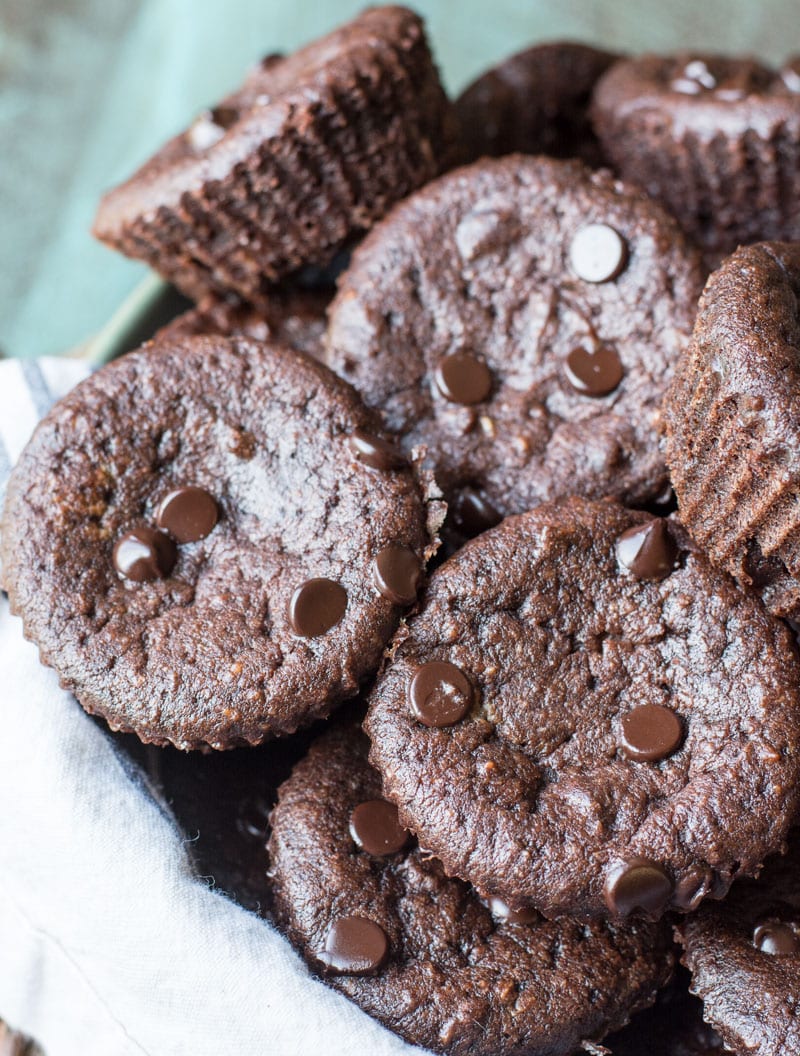 Ingredients in Keto Chocolate Chip Muffins
As always, you will find the complete recipe and instructions below, just keep scrolling. These low-carb muffins come together with minimal ingredients:
How to Make Keto Chocolate Chip Muffins
First, whip together the butter, peanut butter, and keto friendly sweetener.
After whipping the butter, sugar and peanut butter together you add in eggs, almond milk, vanilla, almond flour, cocoa powder, salt, baking powder and mix just until everything looks well incorporated and the mixture is smooth. Be sure not to over mix so your muffins come out nice and light.
The final step is to stir in the keto-friendly dark chocolate chips. I like to mix in most of them but set a few aside to press into the top of the muffins once they have been spooned into the muffin tin.
Can I Use a Different Flour?
No, I've found that almond flour works best for these double chocolate chip muffins. Using another grain-free flour won't yield the same results.
Can I Use a Different Nut Butter?
Yes! Almond butter will also work in this recipe.
Tips for the BEST Keto Muffins
The key to this particular healthy chocolate chip muffins recipe is that the butter, keto sweetener and peanut butter (or almond butter) are whipped together to add air into the batter. This is what keeps them nice and light and this is how the recipe can yield so many. This is a step you cannot skip! If you are looking for a one bowl, no mixer keto muffin recipe try these Pumpkin Spice Muffins.
This recipe makes 18 muffins for me. The batter increases in volume because the butter, sugar and peanut butter are whipped. If you skip this step, your batter will be dense and will not yeild as many muffins.
You can store the almond flour chocolate chip muffins at room temperature for up to 1 week, or you can freeze them for up to 3 months.
More Keto Breakfast Recipes:
Other Easy Keto Recipes
If you are new to Keto try my favorite Sausage Egg and Cheese Bites, they contain less than one net carb per bite and they are perfect for meal prep! One of my favorite easy low carb dinners is this One Pan Cabbage Casserole. It is so easy, cheesy and delicious and it has less than 9 net carbs per serving. Some other favorites, Keto Chocolate Cookies, Pimento Cheese and Bacon Stuffed Peppers and Sausage and Cream Cheese Pinwheels!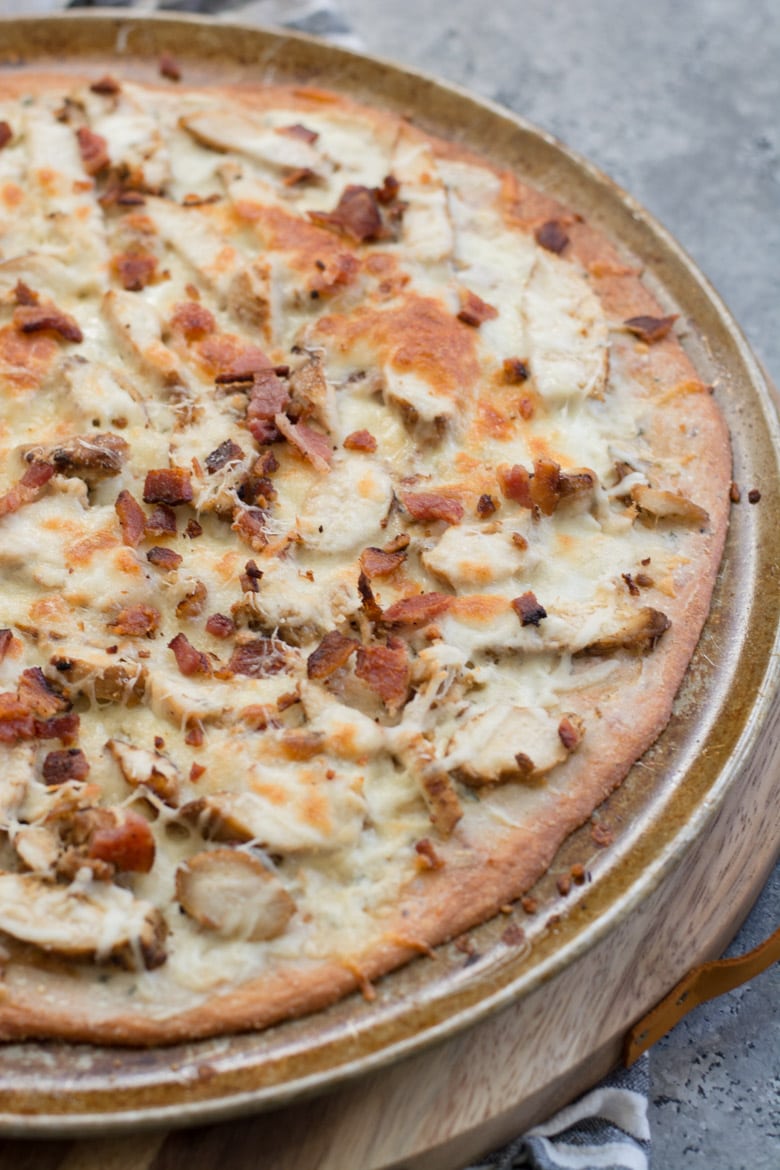 Keto Chicken Bacon Ranch Pizza