These Mediterranean Shrimp Skewers are packed with shrimp, fresh vegetables and black olives tossed in a zesty basil vinaigrette! This low carb, keto dinner has under 6 net carbs per serving!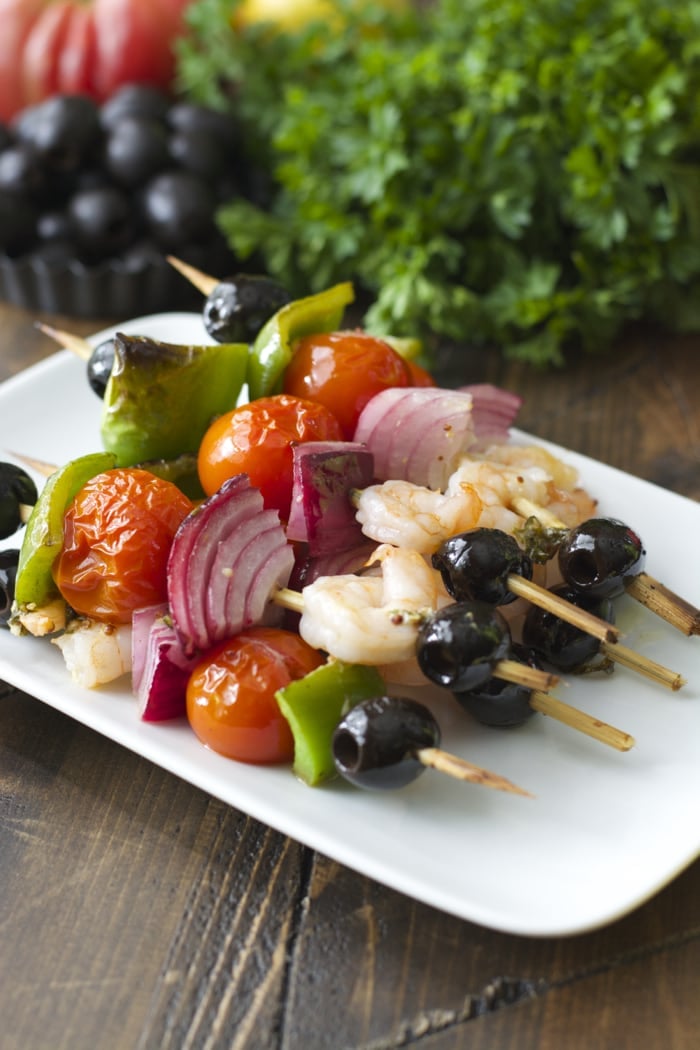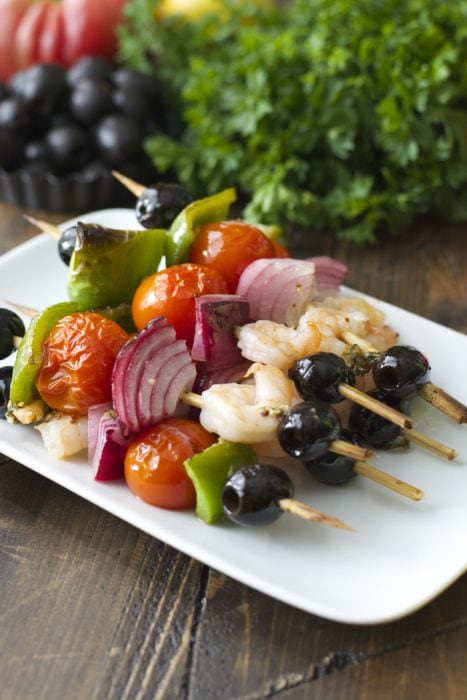 Over the weekend, I had some errands to run and everywhere I went were big displays of pencils, notebooks and back packs. It seemed crazy to me. Wasn't patio furniture just on display?
Swim suits and pool toys are gone and back-to-school time is upon us. Time just seems to be passing so quickly. Remember when only our parents ever said that?
We have had the best summer. We've spent numerous evenings with family and friends, usually gathered around a delicious meal. This summer I've loved serving up this Chicken Caprese Salad and this Grilled Jalapeno Lime Chicken!
But in the spirit of cherishing what few Summer evenings are left, I have a really easy weeknight dinner that is healthy and comes together super fast! These Mediterranean Grilled Shrimp Skewers are packed with shrimp, tomatoes, bell peppers, red onion and perfectly ripe California black olives tossed in a creamy basil marinade.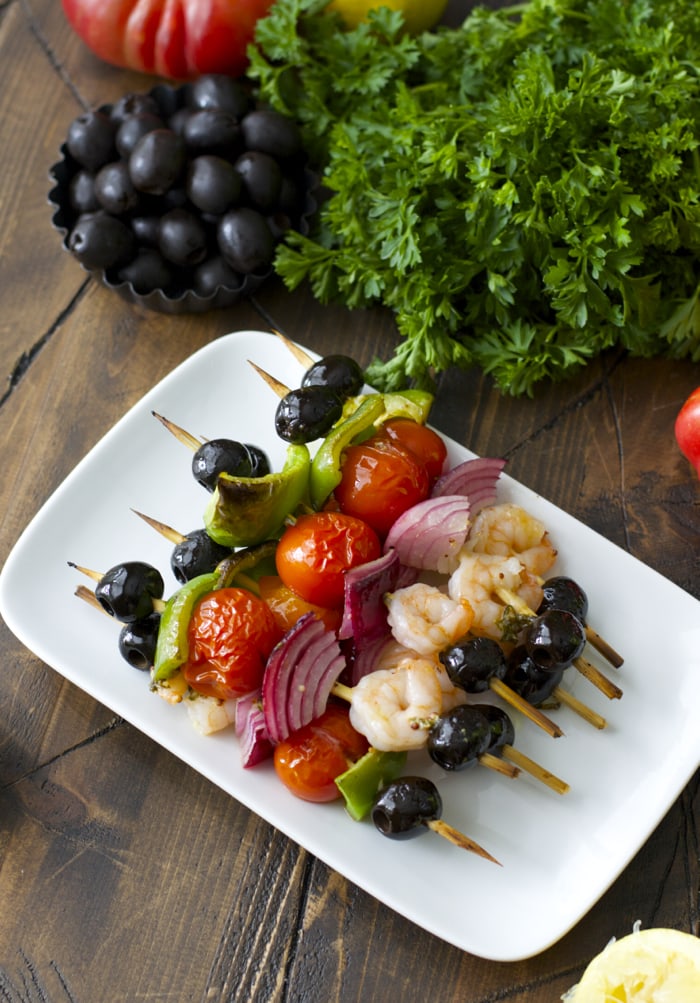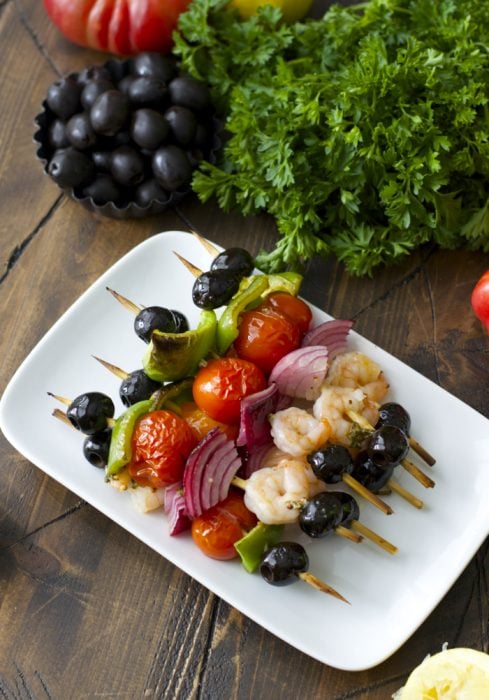 One of my favorite things about this recipe is that it has simple ingredients that I normally have on hand. I usually have shrimp in the freezer, some veggies on the counter, and a can of olives in the pantry. The ease of ingredients makes it really easy to throw dinner together when I am short on time or feeling uninspired.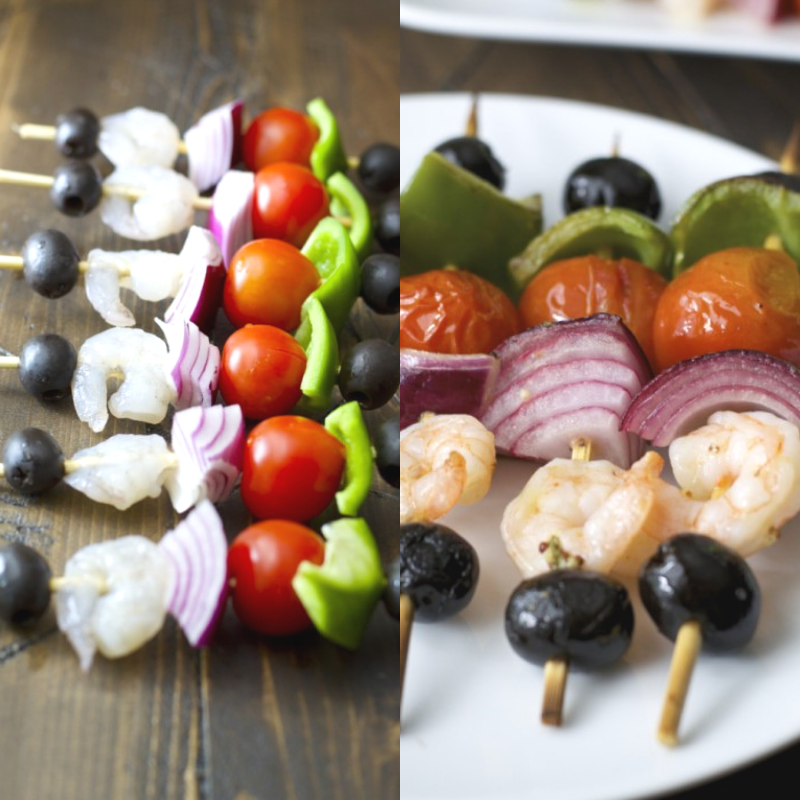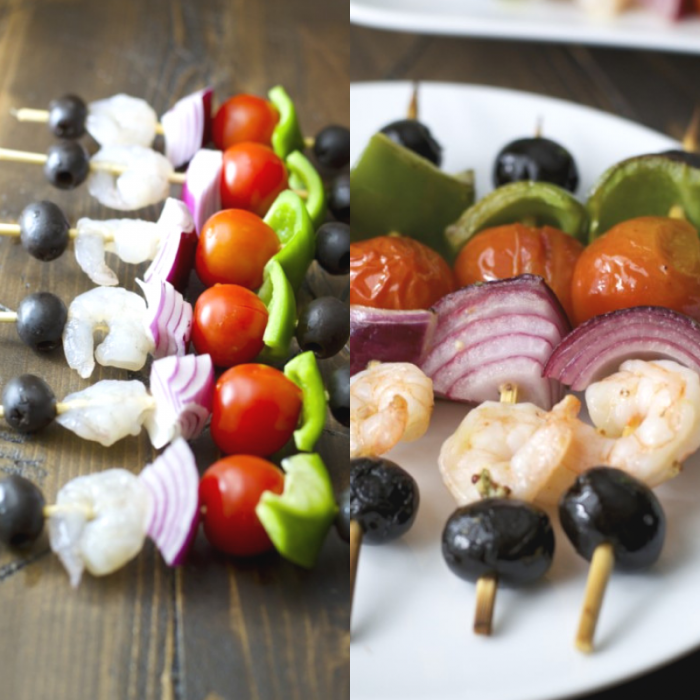 Mediterranean Grilled Shrimp Marinade- a staple!
One of the main ingredients in this recipe is a Mediterranean Marinade. This marinade combines a few staples to make a really fresh, flavor packed sauce that compliments the shrimp and veggies perfectly. You will love the ease of the flavor combinations!
To make this amazing Mediterranean marinade, just whisk lemon juice, course grain dijon mustard, olive oil, basil, garlic and a bit of salt and pepper together. This marinade is so simple to bring together and brings such a savory flavor to this dish. We usually keep a jar in the fridge on hand!
This marinade is also delicious on top of chicken thighs or boneless breasts. Just marinated your chicken overnight and you will wake up to a winning dinner! This Mediterranean Grilled Shrimp Marinade will keep fresh in the fridge for up to a week, so make some extra for a mid-week meal!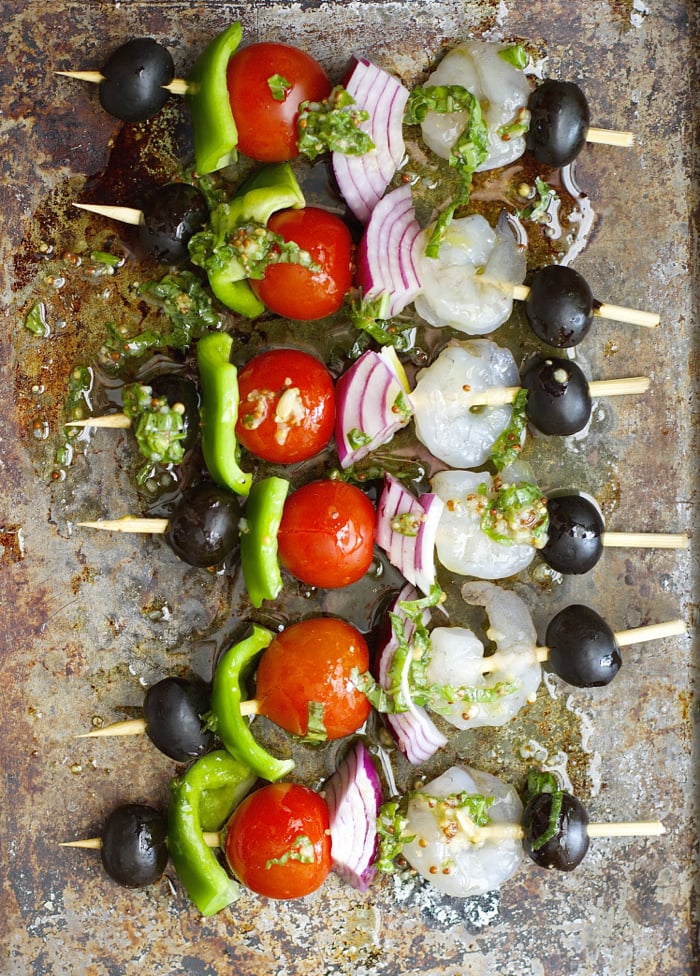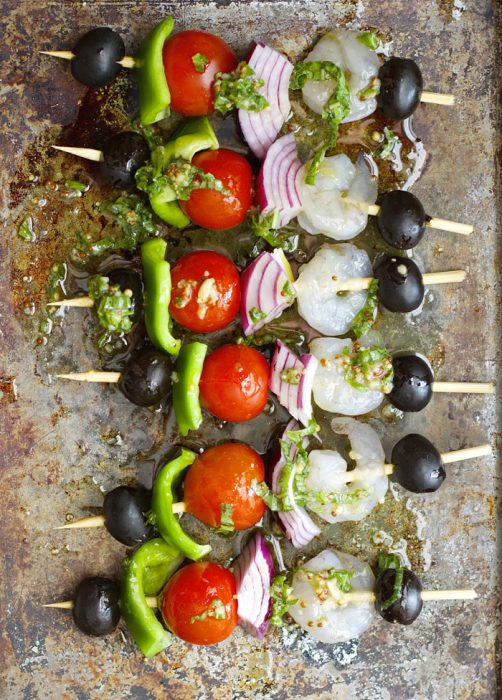 Ingredients for Mediterranean Grilled Shrimp
As always, here is a quick overview of the ingredients you will need for these Mediterranean Shrimp Skewers. For the complete recipe, just keep scrolling.
Shrimp- with tails removed
Tomatoes- I used cherry
Bell pepper- I used green bell peppers, but if you have a preferred type, any should work here
Red onion- chopped into chunks large enough to stay on the skewer
Black California olives
Basil leaves- fresh is always best!
Olive oil- I used extra virgin olive oil for these Shrimp Skewers
Lemon juice
Dijon mustard- I recommend using a course grain Dijon here
Garlic- minced or powder is fine
Salt- I used kosher salt
Pepper
What should I serve with Shrimp Skewers?
These skewers pair great with just about anything. They are a very versatile dish! These skewers would work well with these Pesto Smashed Potatoes, your favorite rice or quinoa dish.
However, if you are on a low carb or keto diet pair with a big Greek salad, zucchini fries or my favorite Asparagus and Mozzarella Salad. These skewers themselves are low carb, under 6 net carbs per 2 skewers. So this is a great dinner idea if you are trying to limit carbs or testing out a keto lifestyle!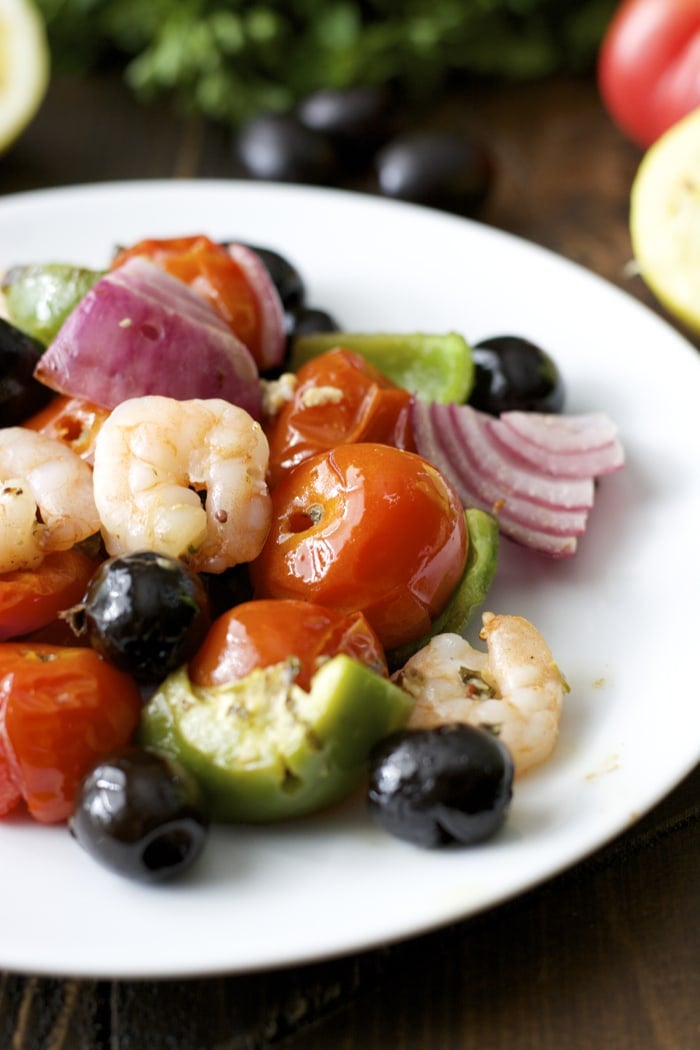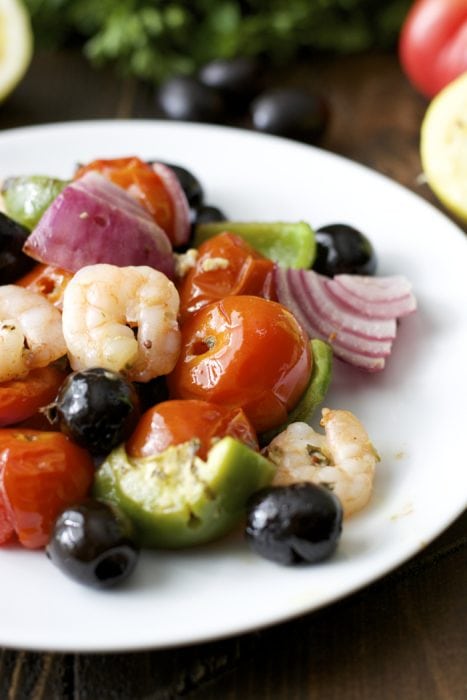 How do you make Mediterranean Shrimp Skewers?
First, make your Mediterranean Marinade. For more details on this Marinade, just scroll up. Then, prepare your skewers.
You can place your ingredients in any order on the skewers, but I like to make mine a little heavier on the veggies than the shrimp! Place your skewers on a large cookie sheet and drizzle half of the marinade over the skewers. Next, place them in the fridge for 15-20 minutes.
Following the marinating, you just toss the skewers on the grill! They cook quickly, about 3 minutes on each side, until the shrimp is nice and pink and the vegetables are lightly charred. Then drizzle the remaining marinade over the skewers-and voila!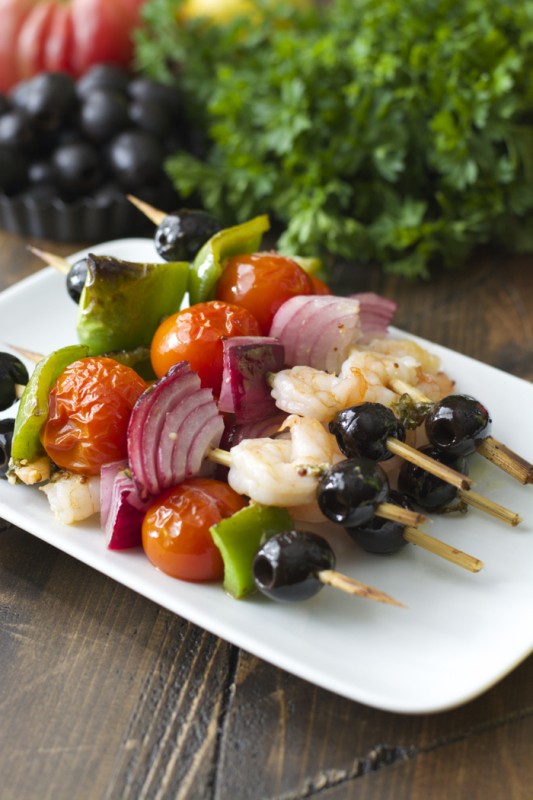 Mediterranean Keto Recipes
I love recipes with a Mediterranean flair, so I thought I would include some of my favorites here! Give any of these a try for a delicious dinner any night of the week.
Other Easy Keto Recipes
If you are new to Keto, try my favorite Sausage Egg and Cheese Bites, they contain less than one net carb per bite and they are perfect for meal prep!
One of my favorite easy low carb dinners is this One Pan Cabbage Casserole. It is so easy, cheesy and delicious and it has less than 9 net carbs per serving.
Some other favorites, Keto Chocolate Cookies, Pimento Cheese and Bacon Stuffed Peppers and Sausage and Cream Cheese Pinwheels!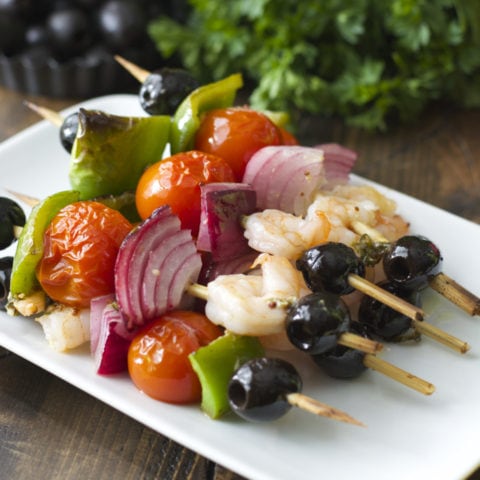 Mediterranean Shrimp Skewers
Inactive Time:
15 minutes
These Mediterranean Shrimp Skewers are packed with shrimp, fresh vegetables and black olives tossed in a zesty basil vinaigrette! This low carb, keto dinner has under 6 net carbs per serving!
Ingredients
1 pound peeled and devained shrimp with tails removed
1 cup small tomatoes
1/2 red onion, chopped
1 green bell pepper, chopped
1/4 cup extra-virgin olive oil
1 cup black California olives
1/8 cup packed basil leaves, sliced
2 teaspoons lemon juice
1/4 teaspoon salt
2 teaspoons course grain Dijon mustard
1 teaspoon garlic
1/4 teaspoon pepper
Instructions
Assemble your skewers by threading shrimp, tomatoes, bell pepper, onion and olives on your skewers in any order you prefer.
In a small bowl or measuring cup, whisk together the basil, olive oil, lemon juice, mustard, garlic, and salt and pepper.
Pour half of the marinade over the shrimp skewers and refrigerate for 15 minutes.
When ready to cook heat a grill or grill pan to medium heat. Cook the skewers 3-4 minutes on each side until the shrimp is cooked through and the vegetables are tender. Brush the remaining marinade over the skewers.
Serve immediately
Nutrition Information:
Yield:

4
Serving Size:

1
Amount Per Serving:
Calories:

282
Total Fat:

18.3g
Cholesterol:

182.5mg
Sodium:

596.2mg
Carbohydrates:

7.7g
Net Carbohydrates:

5.1g
Fiber:

2.6g
Sugar:

2.8g
Protein:

24g