Grilled Chicken Legs are the perfect easy dinner recipe! This chicken is marinaded in an Asian sauce that pairs perfectly with grilled vegetables!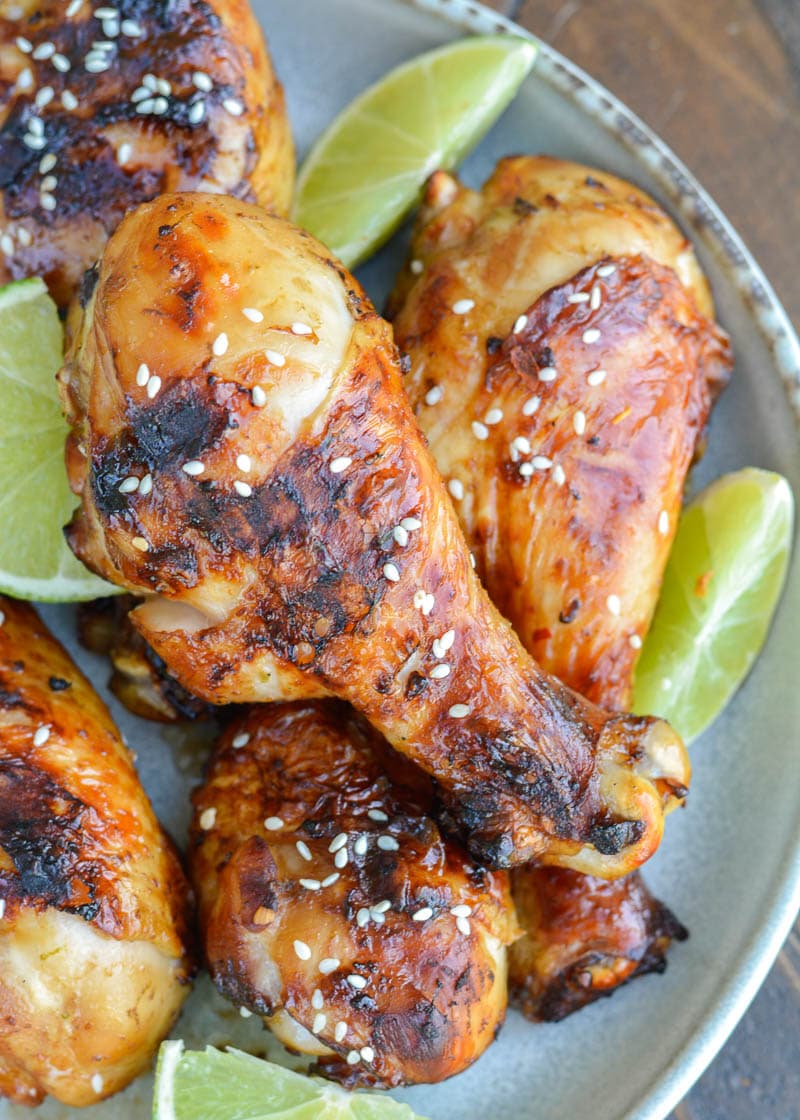 Grilled Chicken Legs
Chicken legs, also called drumsticks, are a flavorful, juicy cut of meat! Chicken legs are also very affordable and easy to prepare. This makes them a wonderful weeknight dinner option! For this recipe I make a homemade Asian inspired marinade that helps keep this chicken from drying out as it cooks.
It also happens to have amazing flavor that has a hint of sweet and savory! This recipe is also keto friendly if using a low carb sweetener, and it is naturally gluten free if you are mindful of the brand of soy sauce you use! For more keto grilling recipes, check out this list of 30+ Low Carb Cookout Recipes!


Chicken Marinade Ingredients
As always, this is a quick overview of the ingredients needed for this recipe. To get the complete, printable recipe just keep scrolling. To make grilled chicken legs you will need:
You will also need of course, chicken legs!
For this recipe you can use a sweetener such as honey, maple syrup or brown sugar. If you are keeping keto or low carb use brown sugar monkfruit.


How Long to Grill Chicken Legs
Because chicken legs can vary in size, you will want to rely less on time and more on a meat thermometer to know when chicken legs are done cooking. Chicken legs require between 15-20 minutes cooking time.
I grill my chicken drumsticks for 10 minutes, flip and grill 5 more, then I start to check the meat with a thermometer. Chicken legs are done when they have reached an internal temperature of 170 degrees F.
What temperature should I grill Chicken Legs?
Heat a grill to high heat, between 400 degrees F and 425 degrees F. Make sure to keep the grill temperature as consistent as possible while they cook. This is especially important when using a charcoal grill.


How do I know when Chicken Legs are done?
Rely on a meat thermometer to know when chicken is done. According to the FDA, the minimum safe temperature for chicken legs is 165 F, however they recommend cooking the meat to 170 degrees F.
Should I use a gas or charcoal grill for Chicken Legs?
Both gas and charcoal grills work great for this recipe. You will follow the same cooking times and temperatures for both grills.
Are Chicken Drumsticks healthy?
Chicken is a very healthy option. It contains a large amount of protein, while being low in fat. Chicken also contains many vitamins and nutrients, while also being extremely tasty!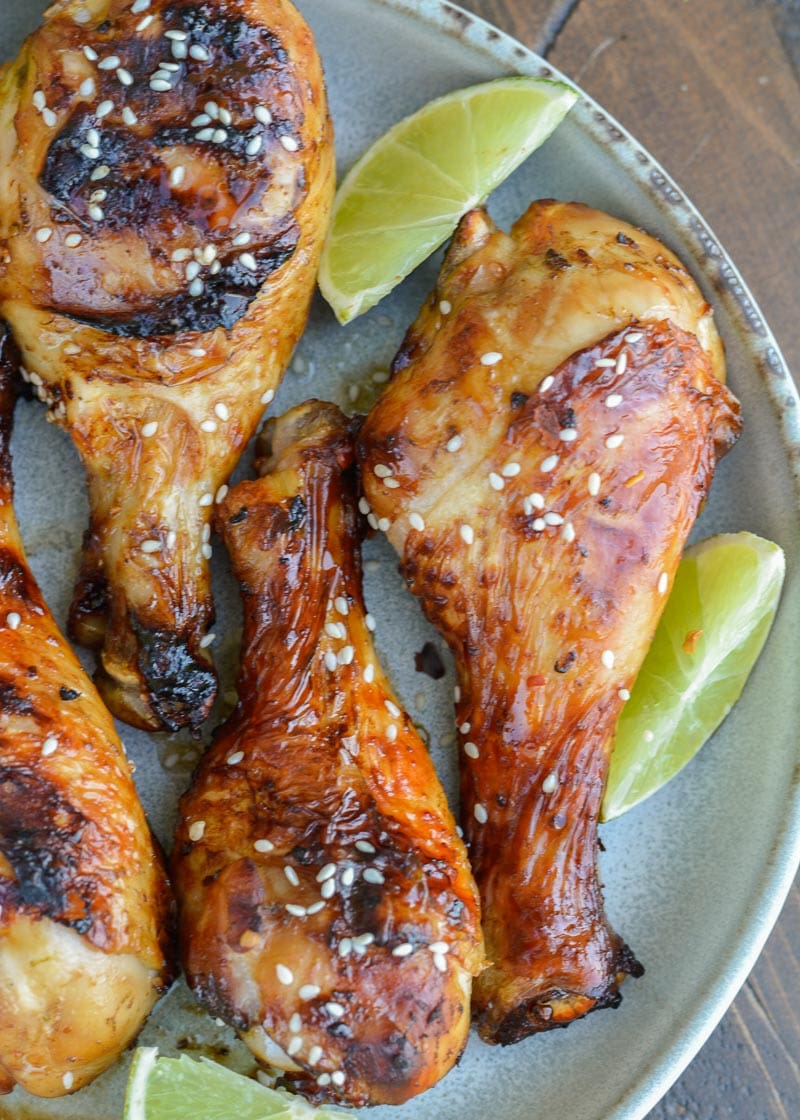 What to serve with grilled chicken drumsticks?
Some of my favorite easy side dishes are:
Other Chicken Recipes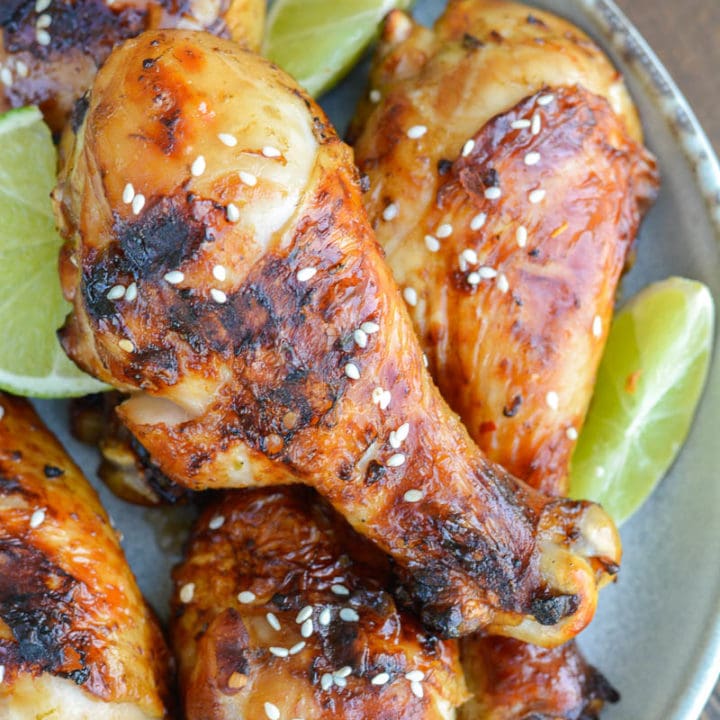 Grilled Chicken Legs (keto + low carb)
Additional Time:
30 minutes
Grilled Chicken Legs are the perfect easy dinner recipe! This chicken is marinaded in an Asian sauce that pairs perfectly with grilled vegetables!
Ingredients
2 pounds chicken legs
2 tablespoons reduced sodium soy sauce
1 tablespoon sweetener of your choice (brown sugar monkfruit if keto)
1 tablespoon lime juice
2 teaspoons toasted sesame oil
2 teaspoons lime zest
1 teaspoon sriracha
1 teaspoon minced garlic
Instructions
In a jar, combine the marinade ingredients and shake well.
Pour the marinade over the drumsticks and allow them to marinade at least 30 minutes up to 24 hours.
Heat a grill over high heat to approximately 400 degrees F. Place the chicken legs on the grill and cook 10 minutes, flip and cook an additional 5 minutes. Using a meat thermometer, check the internal temperature of the chicken. Remove from the grill when they reach 170 degrees F.
Recommended Products
As an Amazon Associate and member of other affiliate programs, I earn from qualifying purchases.
Nutrition Information:
Yield:

4
Serving Size:

1/2 pound (about 2 drumsticks)
Amount Per Serving:
Calories:

332
Total Fat:

12g
Cholesterol:

231mg
Sodium:

537mg
Carbohydrates:

1.9g
Net Carbohydrates:

1.8g
Fiber:

0.1g
Sugar:

0.7g
Protein:

51g